Now that you've decided to remodel your bathroom, you've got a lot of planning to look forward to. One such aspect of the planning process is to figure out the bathroom remodeling length.
It is so because you want your bathroom to function as soon as possible, especially if you have a large family. First, you must select and order all your plumbing fixtures, appliances, lighting, and tile/stone slabs before you even start the demo. Well, there are a lot of elements, and getting them right the first time will determine your bathroom remodeling length.
Pre-Project Checklist
Obtain Estimates
We recommend you get 3-4 estimates from licensed, bonded, and insured professionals.
Start Time
Choose a time when the weather is not temperamental, and your family can spend more time outdoors. Manage expectations by setting a schedule with the project supervisor that outlines all necessary items and time-frame.
Ask for Samples
A successful contractor will be able to show you examples from previous projects similar in scope and budget to your own. Consider companies or individuals that are proficient in remodeling a bathroom. Before beginning the remodel, you should get everything in writing. A well-written contract prevents costly mistakes, additions, and budget changes to your project.
Be sure the contract covers everything you discussed. Pay attention to how to handle and price any unexpected circumstances.
Research
In-depth research will also entail tedious details, such as finding the perfect fixtures, tiles, and other bathroom accessories at the lowest prices. This way, you will not drain your resources and budget.
Purchase Materials
Purchase as much of the materials upfront to decrease waiting time. Don't wait until the work crew shows up at your house.
Payment and Timeline
Set up a payment schedule before the start of the project. You should also know the project timeline. You can plan if some rooms, such as the bathroom, will be out of commission.
Bathroom Remodeling Length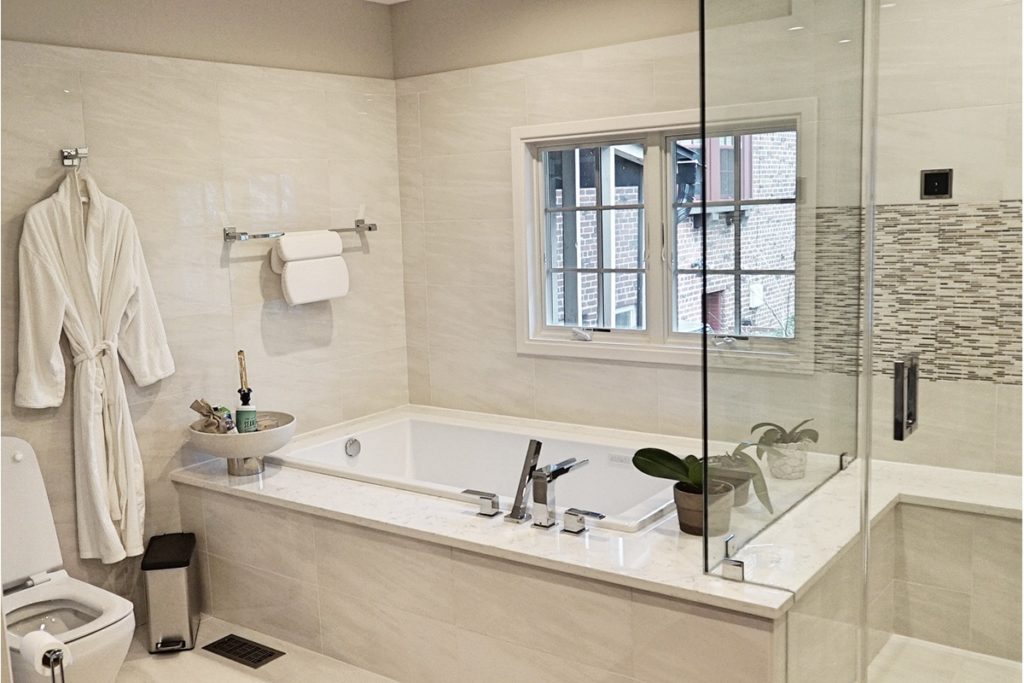 There are several bathroom remodeling steps that you need to follow. Here is what you can expect during each stage of the remodeling process:
Day 1
Site preparation.

Floor protection.

Dust barrier protection.

You can demolish cabinets, countertops, and plumbing fixtures.
Day 2-6
Demo walls.

Assess the status of existing walls, ceiling, and floor.

Frame walls.

Paint or add tiles to the walls, ceiling, and floor.

Rough carpentry.

Add modifications due to assessment.
Day 6-12
Rough-in plumbing at the exact location or introduce a new plumbing line.

Rough-in electrical (exact location for new light fixtures, outlets, etc.)

Install a good caliber exhaust fan for smooth ventilation (exact location).

Contact the contractor to talk about plumbing and electrical needs before you confirm the process.

Reroute the HVAC/ducts.

Add speakers, wires, TV connections.

Add light fixtures and other decor items.
Day 12-18 (Depends on Size of Bathroom)
Check insulation and vapor barrier.

Add finishing touches like plants, candles, makeup, and grooming products.

It is necessary to drywall areas with mud and sand.
Note A few days may be added to the drywall process, only if—
Extensive drywall work is needed.

Room temperature does not allow mud to dry quickly.

Change ceilings from textured to a smooth profile.
Also, this project timeline does not include any pre-planning or consultation. The bathroom remodeling length will begin after you pick your supplies and sign the contract.
Bathroom Remodel Costs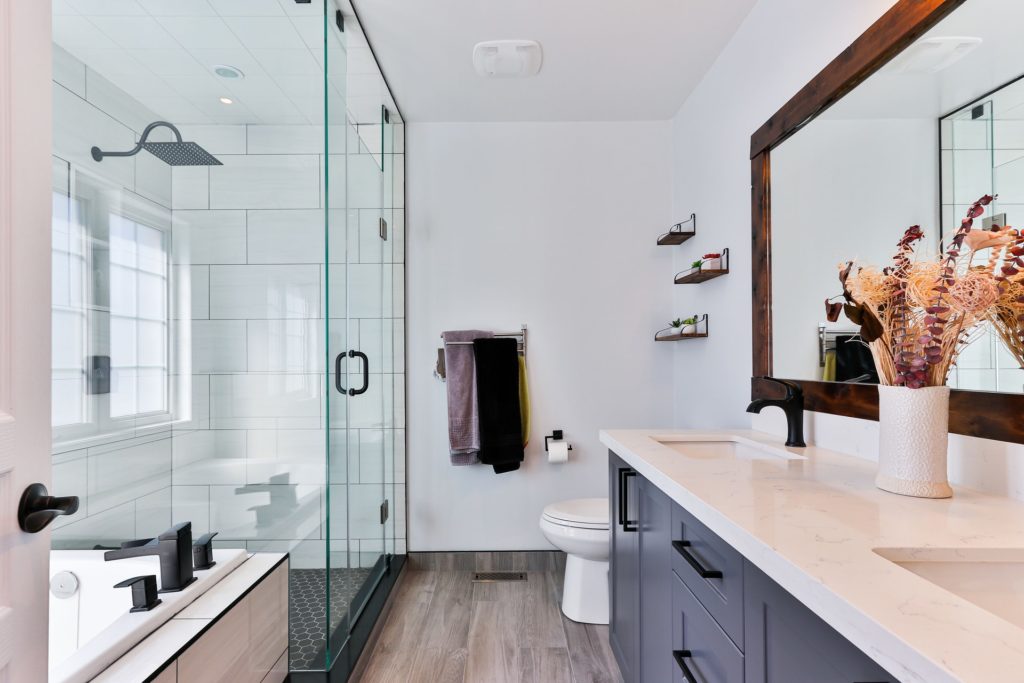 While planning the budget for your bathroom remodel, you need to be aware of what the bathroom remodel costs are. Here is a quick run-through of how much you can expect to pay for your new bathroom.
Average Bathroom Remodeling Cost: $18,000
Average Resale Value: $10,500
ROI: 60%
If you're having a tough time figuring out how much should you spend, a good rule to follow is to spend roughly 5% to 10% of your home's resale value. For instance, if your home is worth $100,000 you can spend anywhere between $5,000 to $10,000 to begin with.
Bathroom Remodel Cost Breakdown
Not all aspects of a bathroom remodel cost the same. Here's a breakdown of how you should distribute your bathroom remodeling budget:
20% Labor and Installation

16% Cabinets and Hardware

15% Bathroom Fixtures

14% Plumbing and Faucets

9% Bathroom Flooring

7% Bathroom Countertops

4% Walls and Ceilings

04% Doors and Windows

4% Design Fees

1% Others
Where Should You Invest?
There are various aspects in your bathroom remodel that provide immense value. While it's important to be financially prudent, you should also consider splurging on some high-value aspects:
Dual sink in the master bathroom.

Enormous Walk-in Shower.

Double Vanity.

Custom cabinets and shelves.

Brushed-metal faucets and hardware.

Eco-friendly and energy-efficient fixtures.

Well-lit and ventilated area.

Luxury bonuses like heated floor mats and towel racks.
Unexpected Surprises
Untimely surprises may interrupt your remodel. If any of them pop up, it can get tough to complete the job on time.
Even if it's a tedious or a minute change, any change outside of the schedule will delay your bathroom remodel. Moreover, your bathroom remodeling length can further increase if you change your mind halfway through the process.
It is best to have a clear idea and plan throughout the remodeling process. Once you start your remodel, there's no going back unless you're OK with adding extra days.
Also, the layout of your bathroom matters the most in a bathroom remodel. If you have a small room, your bathroom remodeling length will be way less than that of a full-size master bathroom.
Factors That Will Affect Remodel Time
When you're remodeling your bathroom, everything rarely goes according to the plan. There are always a few hiccups that can delay the entire process and increase your bathroom remodeling duration.
For example, are you planning to tweak and upgrade your existing bathroom or demolish it to the ground to rebuild? The nature of the project will determine whether it will take a few days or months.
One of the strenuous choices to make is to decide whether you're hiring a professional or DIY the work. Statistics show that doing the whole remodel yourself with a makeshift schedule can delay the remodeling process by a year. Instead, you can choose a remodeling contractor for tedious, technical stuff and manage your time between a few simple tasks.
Is it worth the hassle? Probably one of the most critical plus factors of hiring professional bathroom contractors is—the guarantee, which states you will get the bathroom of your dreams after the remodeling or renovation.
If you're planning to hire a contractor, ask them these questions. In the real world, bathroom remodeling length can be around a few weeks or months. However, if your contractor has other jobs to tend to at the same time, it may even take longer.
Can the contractor stick to the budget? In reality? Many times, if your wishlist and budget are rooted in reality, a professional will be able to give you want as promised. Still, you must prioritize which items and elements mean the most to you.
Does your contractor have a license? If he does, verify if it is current with the local or go agency that issued it. Also, don't forget to ask for references.
Remodeling Mistakes To Avoid
Forgetting About Permits
Building codes vary from town to town, but you will need one whenever you involve any structural work. Most contractors will take care of the application process. However, you can check-in with them or with your municipality for construction permits.
Time Is Key
The pros will finish anything quicker than those who are DIY-ing. From planning, buying the tools and materials to the remodeling process, licensed contractors will complete the job in a more reasonable time frame.
DIY-ing Everything
DIY-Ing everything will cost more to fix the mistakes you will make along the way. Leaving the job to the experts also comes with the assurance that everything is done correctly, without you having to spend some extra money.
Not Getting Any Warranties
Similarly, you must be aware of the guarantees and warranties your contractor offers even before you start the project. It ensures if anything goes wrong with the labor or material, within the contract or warranty period, your contractor must offer you repairs at no extra cost.