Sometimes, the kitchen can feel a little outdated or worn out. In that case, remodeling it can truly add a breath of new life to your house. After all, it is an investment truly worth making. After you decide, there is an extensive list of budget kitchen remodeling designs for you to explore.
A proper kitchen makeover is far more than a mere new coat of paint as it aims to reinvigorate the kitchen and assure that it stays at the heart of a happy family.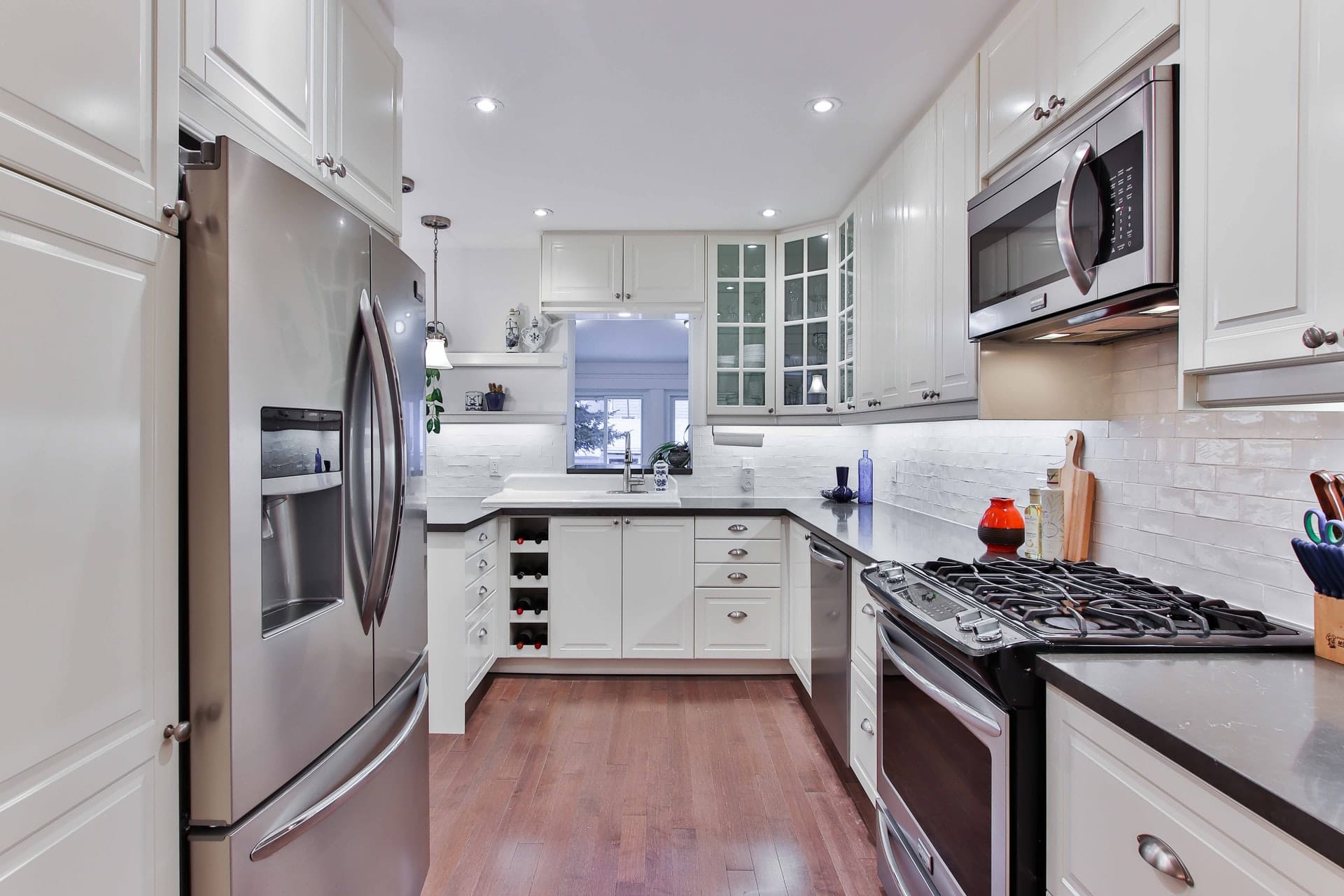 Effective kitchen remodeling designs keep this in mind and try to bring the best out of your kitchen. Taking a good look at then can even inspire you to come up with your very own kitchen makeover. In this article, we put forth our picks for the best kitchen remodeling designs.
Go For a Kitchen Island
Affordable kitchen remodeling designs include upgrading or installing your kitchen island as a standard element. That is because it is appropriate to call the kitchen island the central focus of the pantry. The style we recommend is a one-level ample kitchen countertop versatile in terms of functionality.
Similarly, when it comes to countertop materials, you can choose from butcher block, granite, marble, and quartz. You can enhance your kitchen island's functionality by adding recessed appliances beneath it. You can also try installing a base cabinet for the stone countertops in your kitchen.
Upgrade the Color of Your Kitchen Cabinets
Do not underestimate the effect of refacing or repainting your old-fashioned kitchen cabinets. White and other neutral colors can liven up your kitchen and bestow an ambiance of cleanliness and purity to it.
That is why they are featured in several budget kitchen remodeling designs. You can also upgrade your cabinets' hardware to help it match with the new coat of paint.
On the other hand, some people also choose to go for open shelves on their wall cabinets. That helps to make their kitchen roomier. You can also choose to opt for other cabinet styles like glass-front, slab, or flat-paneled cabinetry.
Choose Hardwood Flooring
The flooring plays a vital role in almost all kitchen remodeling designs in the market. In that regard, hardwood is still the top choice among customers. That is mainly by virtue of the natural grain texture of wood. It bestows natural warmth and a homely aura to the kitchen. As long as you seal, clean, and maintain them properly, hardwood kitchen floors can last for an entire lifetime.
If you prefer an option that does not demand as much maintenance and care, you can check out ceramic tiles. They closely resemble hardwood in terms of appearance and are available in a wide range of designs and colors. You can choose the best one for renovating your kitchen flooring.
Go For a Quartz Countertop
Among kitchen remodeling designs, quartz is by far the top choice for kitchen countertop materials. It is closely followed by granite. Of the two, quartz is still more recommended because it is exceptionally resistant to microbes, water, scratches, and stains. Thus, it is the material of choice for high-traffic kitchens.
The colors currently trending are white or neutral tones like beige, light gray, creamy white, and taupe. Customers have also shown a strong preference for fine veining patterns. These represent the smooth movement of water or clouds in the sky and are highly appealing.
Get Innovative With New Lighting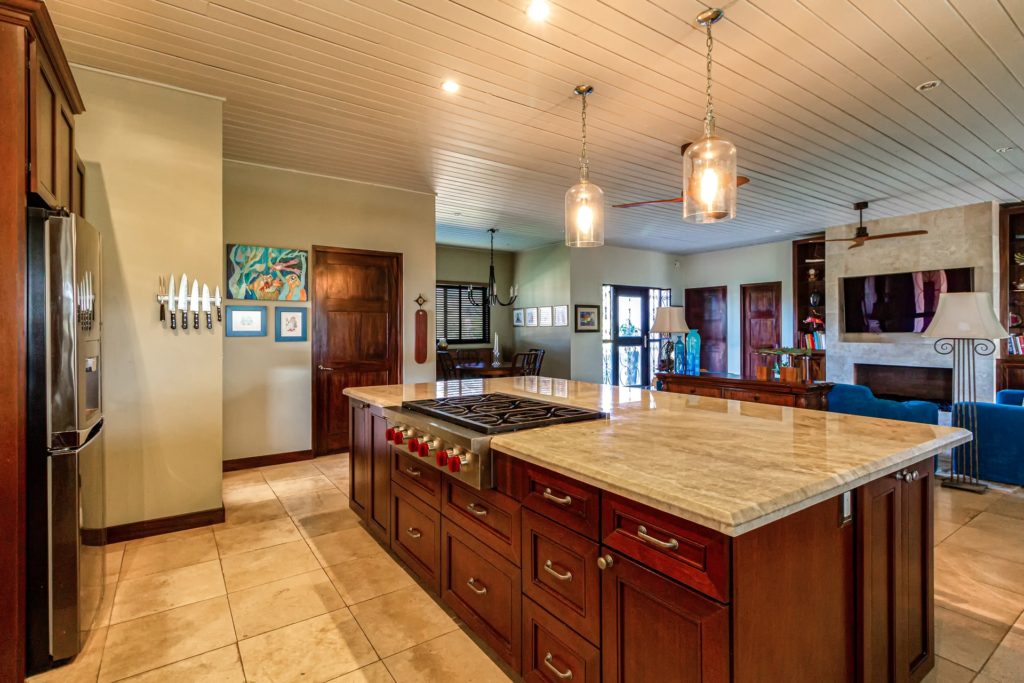 Whether you opt for dark or light hues, recessed lighting can breathe new life into your budget kitchen remodeling designs. Contemporary hanging and recessed lights are generally installed in front of the cabinets or over the kitchen island.
As a result, they better illuminate and focus on the kitchen cabinets and countertops' design and paint. You can also try adding an appealing element of technology with remote-controlled lighting systems. These are relatively new but can take your kitchen's aesthetics to a whole different level.
Engaging and Innovative Backsplash Designs
Apart from cabinet refacing, you can enhance your kitchen's remodeling economically by adding an innovative backsplash. In the same vein, many people prefer adding subway tiles while giving their kitchen a modern makeover.
Doing so gives it an alluring industrial contemporary vibe. On the other hand, you can also choose to opt for a bigger clap with bold colors and patterns. A lot of customers prefer those for their backsplashes as well. That is because they are eye-catching and also relatively easy to clean and maintain.
Upgrade Your Sinks and Faucets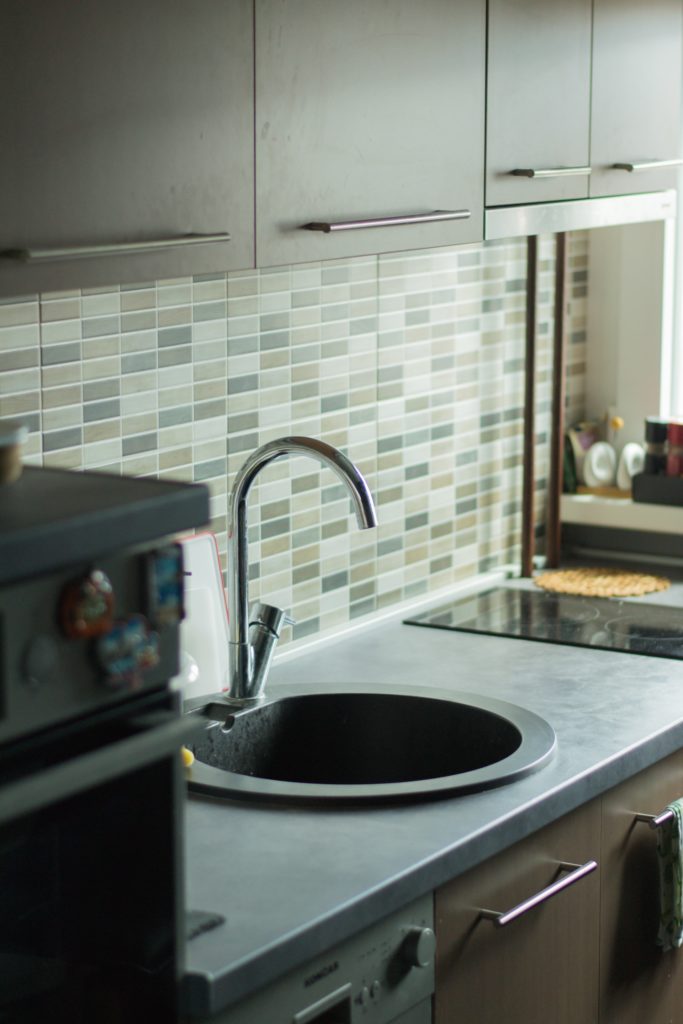 The sink is undoubtedly one of the most essential elements of the kitchen. Updating your sink and faucet is a great budget kitchen remodeling design idea.
When it comes to sinks, you have numerous quality options such as surface mounted, double basin, or drop-in sinks. However, we recommend going for a farmhouse sink. It is a classic choice in terms of both appearance and functionality.
Similarly, for faucets, you can try choosing a smart faucet with a motion-sensor for your refurnished pantry. Similarly, you can avoid clogging problems by installing a pipe drain of 2″.
Make Arrangements for an Outdoor View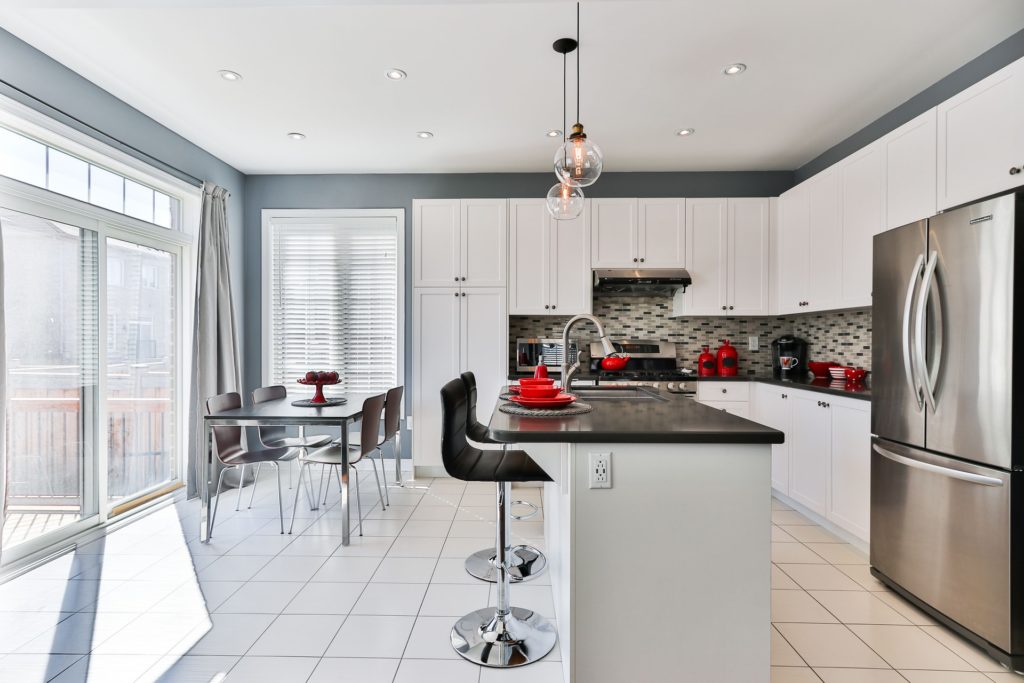 Connecting your modern kitchen with the outdoors will add a natural and warm ambiance to the place. You have two ways of doing this. Either you can install a sliding glass door leading into the patio or a window over the sink countertop.
We recommend the latter because it adds significant aesthetic value and natural ventilation to your kitchen. You will be able to enjoy a spectacular outdoor view while relaxing with your evening tea or lunch. Apart from this, it is also much less expensive.
Use Some Beautiful Pendant Lights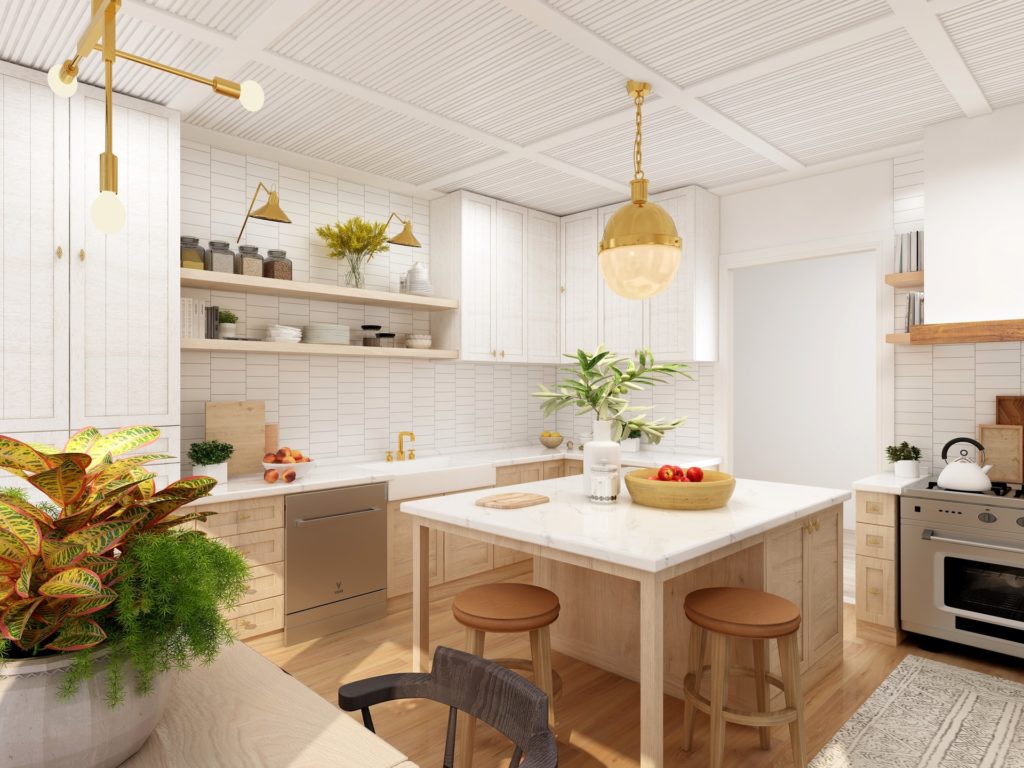 Hanging pendant lights are being featured heavily among modern kitchen remodeling designs. That is because they add significant glamour and brightness to your place. They will also highlight your kitchen island as the central focus of your kitchen.
However, while selecting them, you should ensure that they are proportional to your kitchen island.