There are many bathroom remodel ideas to choose from, but if you are someone who likes to stay updated with the latest trends, a modern bathroom remodel is perfect for you.
A bathroom is a special place in any house, and it's where you are the most laid back and comfortable. So while remodeling, your modern bathroom should focus on the functional and design aspects. Remodeling your bathroom can be intimidating, but here's our guide that will help you sail through it easily!
Some modern bathrooms are grand with all the possible features and fixtures you dreamed of, but you can still modernize it without compromising luxury and comfort if you have a smaller space. Seamless modern bathrooms are mainly trending for homeowners who want to maximize the space.
Materials Matter
It doesn't matter if you have a small or grand bathroom. Modern bathrooms work well with any square feet. Regardless of the space, it's always a challenge to shop for materials that scream modern-day elegance. Here's a tip: you'll be choosing the same wood, stone, or ceramics materials. What defines the modern design is how you display them. With a quick search and a flip through an interior design magazine, you'll be able to pair them naturally.
For example, you can combine the glass shower panels with your geometric statement tiling or follow a monochrome color scheme throughout the remodel.
Black is Back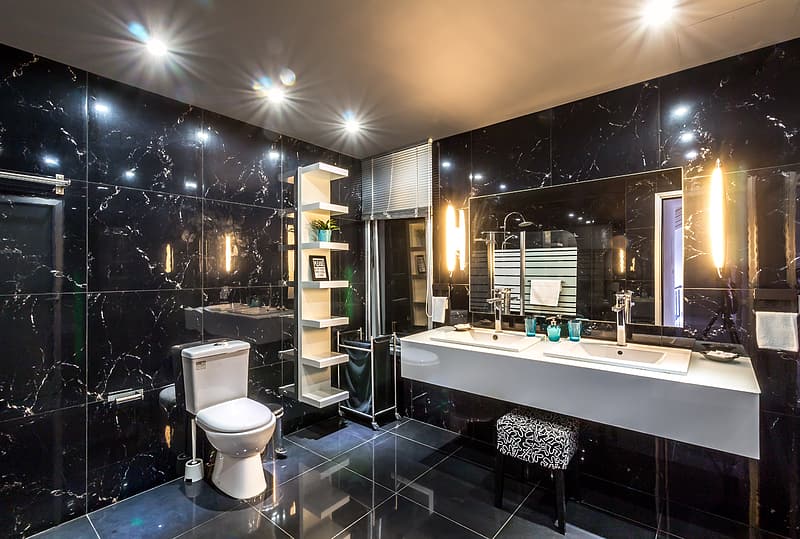 If you're ready to stray away from neutral tones like white and beige, guess what, bolder darker shades are back. Shades like navy, grey, and black are gaining popularity as we speak. If you are not into the 'black is the new black' ideology, you can still pair your neutral wall and floorings with bolder fixtures for a more seamless look.
More homeowners are ready for change and are starting to opt for bolder colors for their lights, vanities, tubs, and even mirrors. Similarly, you can even add dark shade accents in your bathroom for a minimalistic feel.
Less is More
You might have worked this out by now that most modern bathroom remodels focus on placing minimal items while maximizing the space. Similarly, while you draw out your plan for your modern bathroom remodel, it's essential to immediately put this point into effect.
Physically and aesthetically choose elements that take up as little space as possible. Refrain from buying bulky fixtures, over the top lights, and old school furniture. If you plan on adding more, make sure the items are simple and basic yet edgy. You can keep the color scheme to a minimal, mainly warm neutrals paired with darker fixtures.
Similarly, the fixtures you plan on refinishing, or buying can be monochrome to the T by keeping them white or beige while painting the decorative items black.
All About Geometry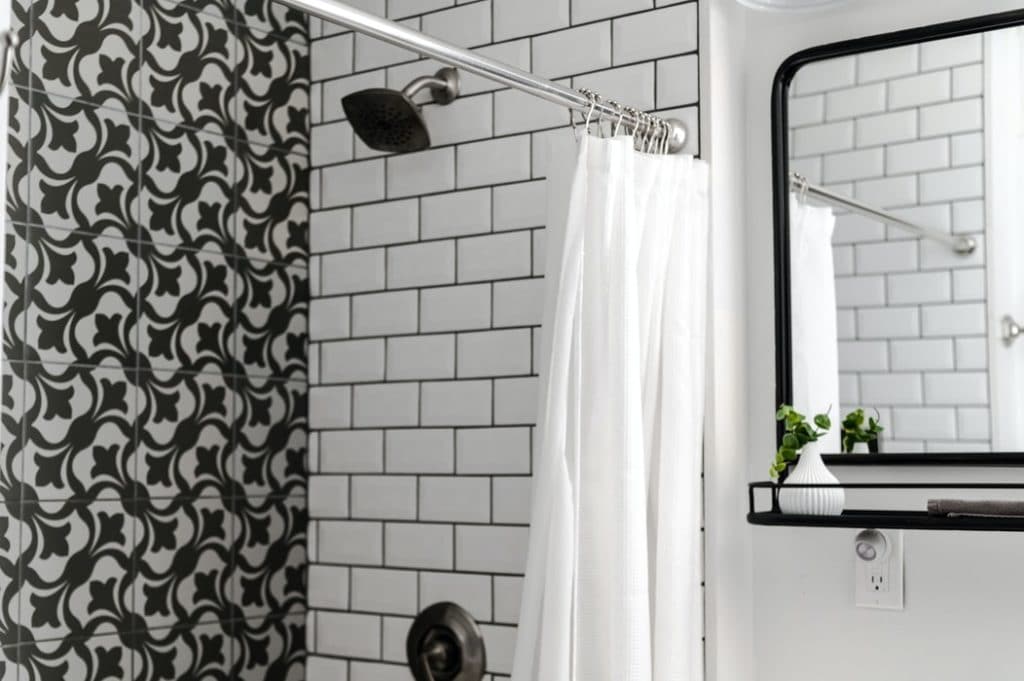 We all have seen most bathroom designs using the same old basic tiles. Be it subway tiles or large format tiles, but your modern bathroom remodel needs something more than just your regular tiles. Fret not; geometrically shaped tiles are back with a bang. They are elegant, chic and can elevate any bathroom by adding only a few pieces!
The best part is that you don't need even a whole wall for it. Add in a few to make a statement feature wall while using your regular, more budget-friendly tiles for the rest of your bathroom. These eye-catching shapes in the center of the bathroom or on the walls will create a bold statement we so desire.
All That Glitters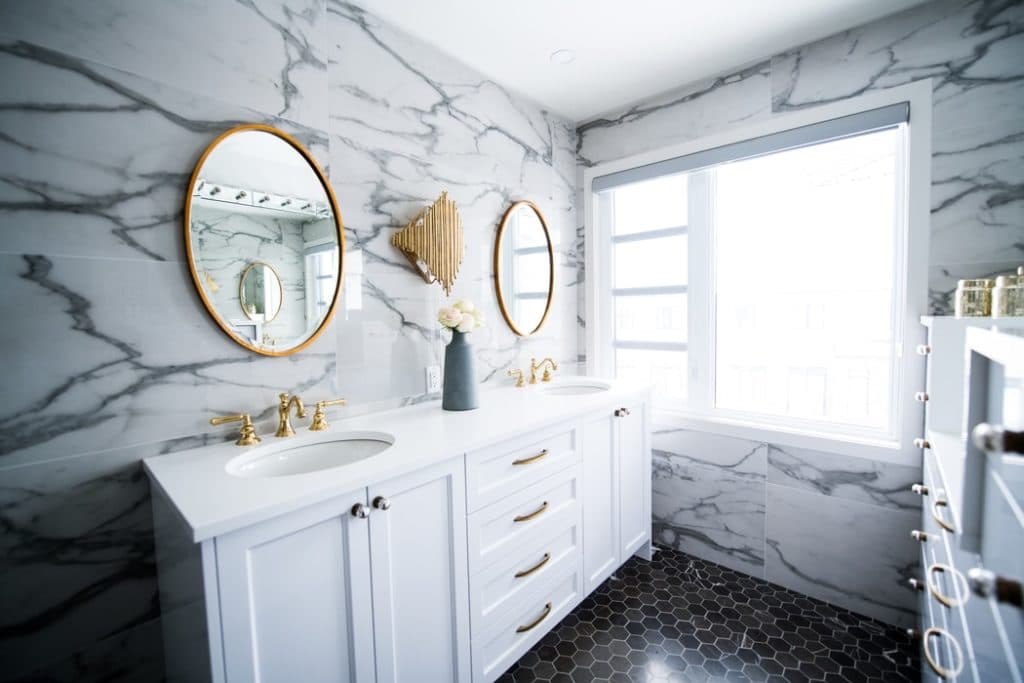 You should remove anything that doesn't glitter or reflect in your modern bathroom. Yes, we're talking about the significant comeback of gold and metallic fixtures. They are taking over sinks, faucets, and anything your modern bathroom remodel needs. An eccentric warm-toned gold or brass fixture will become your new favorite element of your bathroom space. For instance, gold faucets, brass sinks can add just the right amount of dimension and luxury to your bathroom remodel (even when you're on a tight budget).
Though the idea seems vintage, it's not the same as old-school. These warm-toned fixtures convey a more modern, sleek, and stylish feel. Homeowners around the US are implementing these unique pieces to complement the hardware, mirrors, or light fixtures. Not only that, but they also come in a variety of styles and finishes: satin, chrome, matte, etc. So, if you're looking to make some subtle contemporary changes, this spun of gold should be on your wish list.
Smart Storage Solutions
Are you tired of cluttered, overcrowded nooks and corners? So are we. A modern bathroom displays a minimal, functional, and straightforward way of life. Compact storage solutions are out and simplified; more efficient storage solutions are back in the picture. This is key while remodeling a modern bathroom. The more organized you are, the more relaxed and stress-free you'll be down the line.
Your bathroom is your sanctuary, and smart storage solutions can provide a relaxing and functional atmosphere. You can also use floating shelves, pull-out mirror shelves, or hidden cabinets will ensure your bathroom looks more relaxed than messy. This way, your new bathroom will appear more spacious and airy than your traditional bathroom.
The Future is Now
Bathrooms are getting a high-tech update for the past few years. You might have heard about Japanese smart toilets or voice-controlled lighting. While remodeling your bathroom, one thing you have to think about including some technology.
For instance, with in-built Bluetooth speakers to lights that automatically turn with your voice, you can opt for these simple tricks to elevate your modern design. By doing this, you can also transform your bathroom space by adding personalized spa-like features to make it more relaxing and convenient.
So, are you ready to take action and bring back some life to your old bathroom? If so, then minimal and modern aesthetics are a great way to start, and you can change them quickly when needed, thus making it the perfect solution for your remodeling needs.