Bathroom wall tiles have always been one of the top choices of homeowners. Of course, people have good reasons to use tiles as part of their bathroom interior design. In this post, you will learn why people prefer bathroom wall tiles to other alternatives and some of the most astounding bathroom wall tile ideas.
Why Are Tiles Popular Bathroom Wall Ideas?
There are obvious advantages of tiles in bathroom designs. Let's learn some of the most popular reasons why so many people are in love with bathroom wall tiles.
1. Wide Range Of Options
Yes, bathroom tiles come in countless design options. First, you can choose among hundreds of colors and patterns. Then, according to other bathroom elements or overall house design, you can effortlessly match the colors of your bathroom tiles.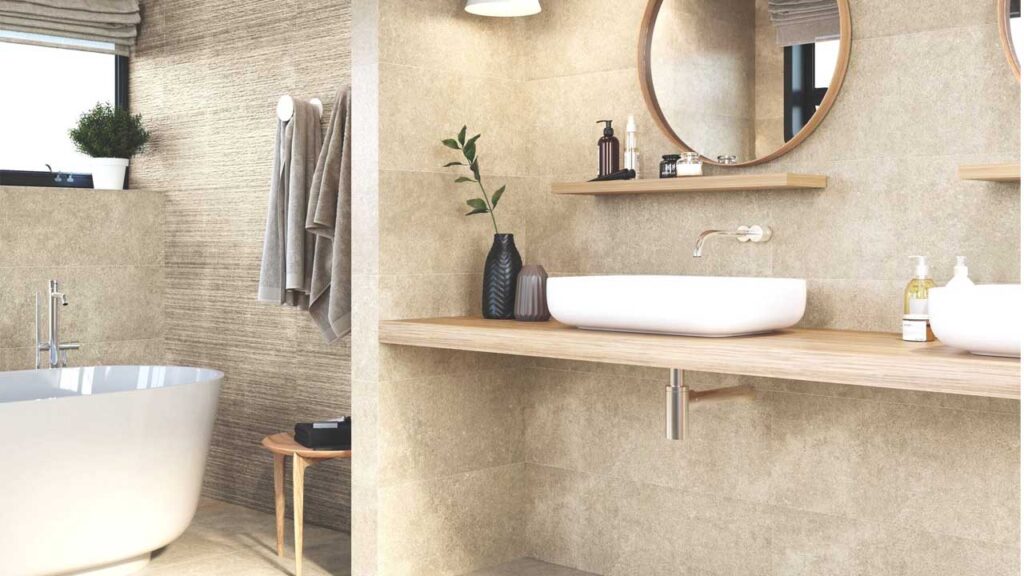 2. Easy to Clean
Bathrooms are usually steamy, and lots of water and soap splash on the walls. Being water-resistant, bathroom wall tiles are highly practical to clean after a nice bath. By using some household cleaning products, you can wipe the bathroom wall tiles.
3. Durable
Many homeowners prefer tiles to other bathroom wall ideas due to their exceptional durability. You can use ceramic or porcelain tiles even for a lifetime or until you get bored with them. This is one of the biggest motivations for people to use bathroom wall tiles.
4. Affordable
Although some high-end tiles are costly, most tiles are still affordable. Furthermore, if you compare tiles to the painted walls, in the long run, you will see that tiles are more cost-effective since they need less maintenance or restoration.
Inspirational Bathroom Tile Ideas
If you are considering bathroom wall tiles in your next bathroom remodeling project, but need some inspiring ideas, just read on!
1. Combine Shapes
The bathroom wall tiles are the same color as the floor tiles. Tones of pink are trying to persuade us to integrate the floor and wall, but something is intriguing there. Yes, the shapes! See the diamond tiles on the floor and rectangular on the walls. This combination doesn't seem boring, but energetic with the pink.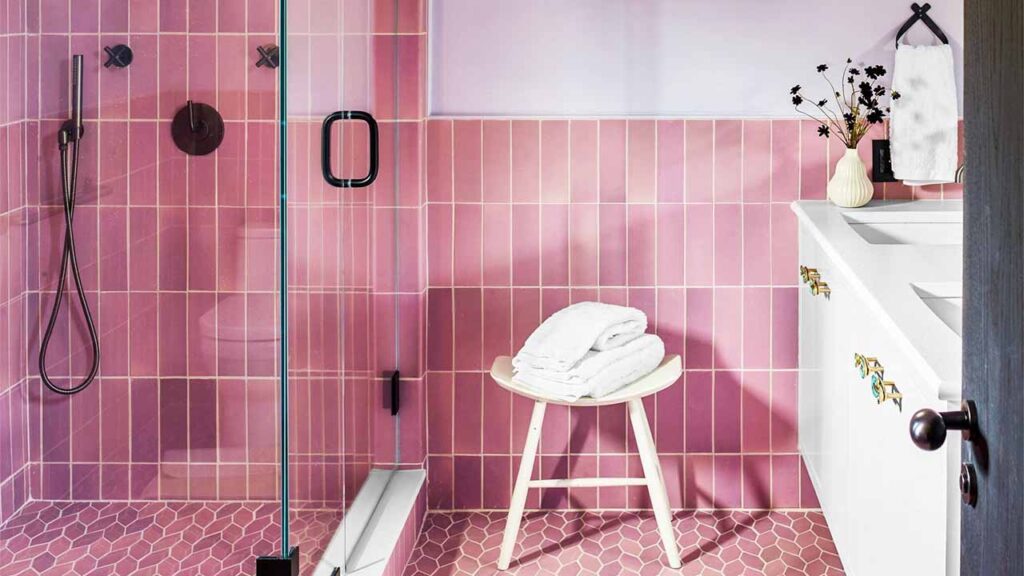 2. Use High Contrast
With the help of other elements like accents and washbasins, you can mingle the old world and new world just in your bathroom. Classical Mediterranean tiles on the wall give an ancient look while hand painted basins and black accents are trying to pull the design to the new world. If you are fond of such blends, give this contrasting design a chance.
3. Pop The Shower
Limited use of bolder tiles can help you give a statement to your bathroom. One of the most trendy bathroom wall ideas is using plain bathroom floor tiles out of the shower and going bold in the shower. You can also consider the other way around, depending on the size of your bathroom and shower.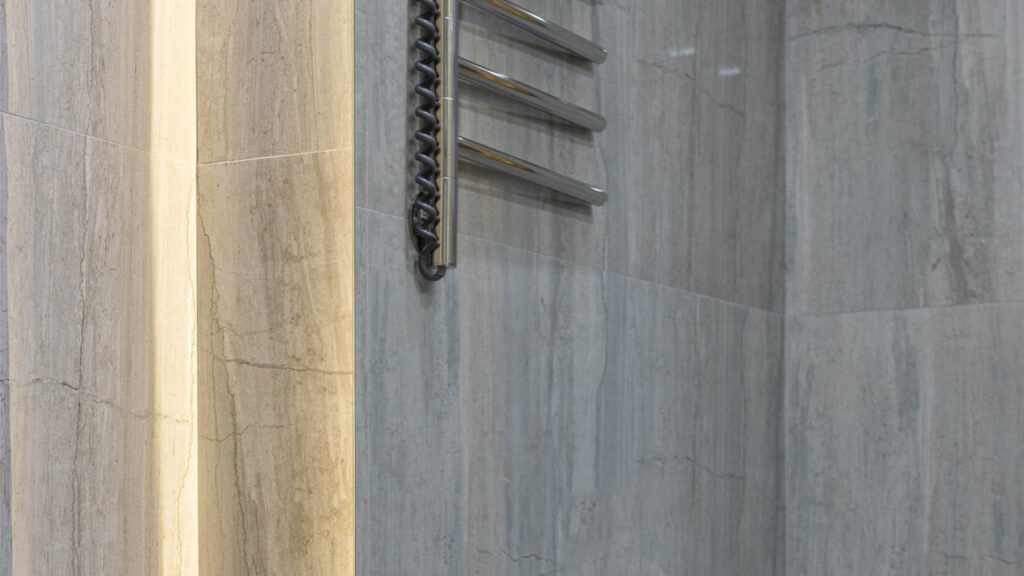 4. Checkerboard Colors
If you love the fixtures in your bathroom and are looking for some bathroom wall tile ideas that match with them, you can consider checkerboard patterns in your bathroom wall tiles. For example, checkerboard tiles with gold squares will look so good with your gold fixtures. You can follow a similar pattern with other fixture colors.
5. Turquoise Hexagons
Although the majority of the bathroom wall tiles are rectangular, hexagons are still one of the most favored bathroom tiles. Depending on the color and patterns, they can give almost any feeling in the interiors you use them. The turquoise tiles with gold grouts in-between look so breathtaking. You can complete these bathroom wall tiles with gold fixtures.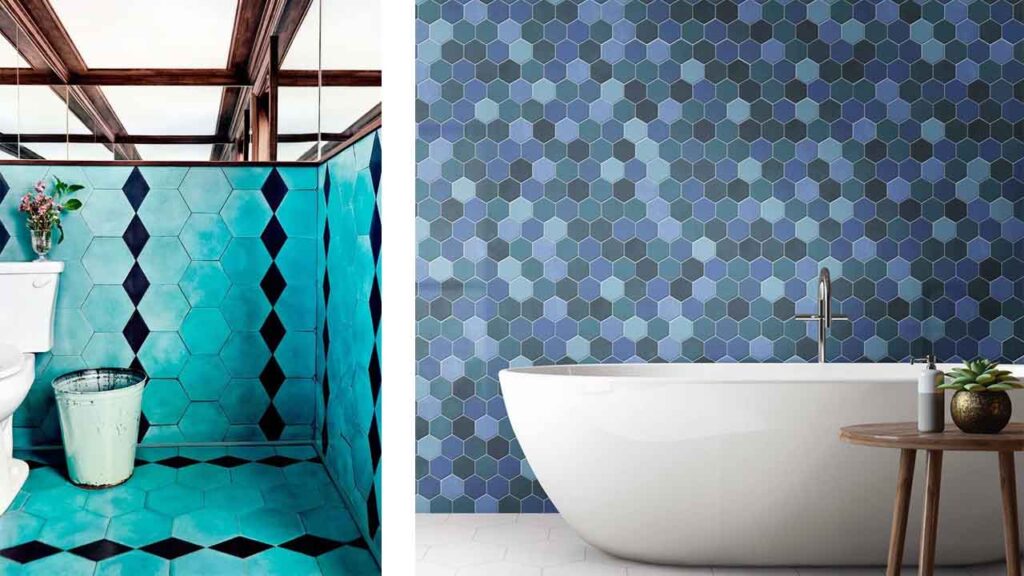 6. Consider Recessed Storage
If you have recessed storage in your shower, you can either design it uniformly with the rest of the shower or bathroom, or you can make it a statement point in your bathroom. If you are willing to have a uniform look, you can go with solid colored, larger tiles. On the other hand, if you are willing to create a focal point, you can use different colors or even materials of tiles.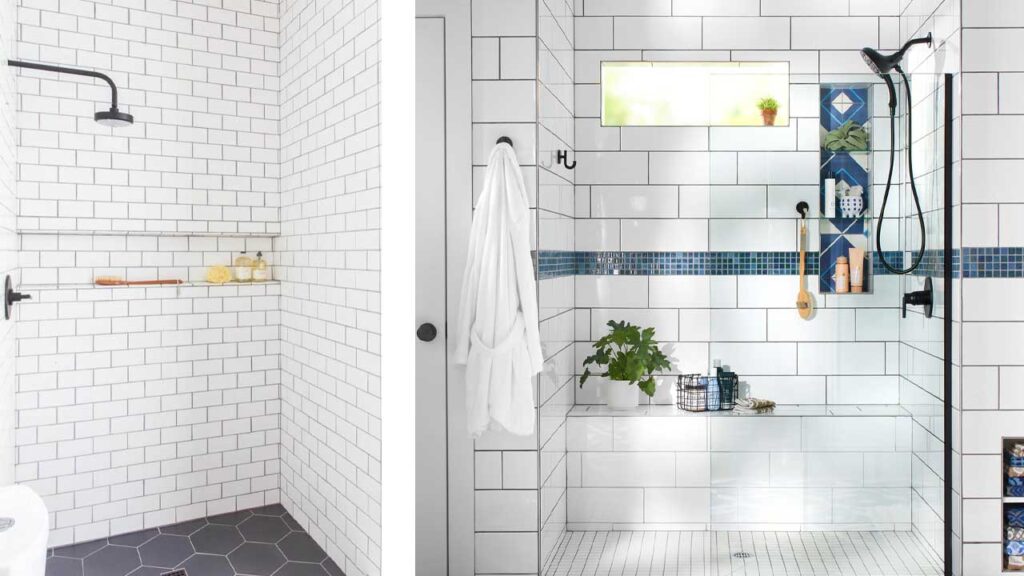 7. Alternated Directions
Small bathrooms can be easier to give a dynamic look using the small tiles in different directions, horizontally or vertically. In addition, creating a dynamic look using single-color tiles can be more beautiful than you think. Especially, the textured look of wood-looking tiles makes your small bathroom one of your favorite parts of the house.
8. Modernized Subway Tiles
Subway tiles are classical bathroom wall design elements. What about adding a modern look to your favorite classical tiles? Instead of rectangular tiles, you can prefer square ones. The square bathroom wall tiles in light colors like white will make your bathroom look bigger. Also, if you are lucky to have a rooftop shower under a glass ceiling, your small bathroom will be the place where you feel the freedom to the fullest.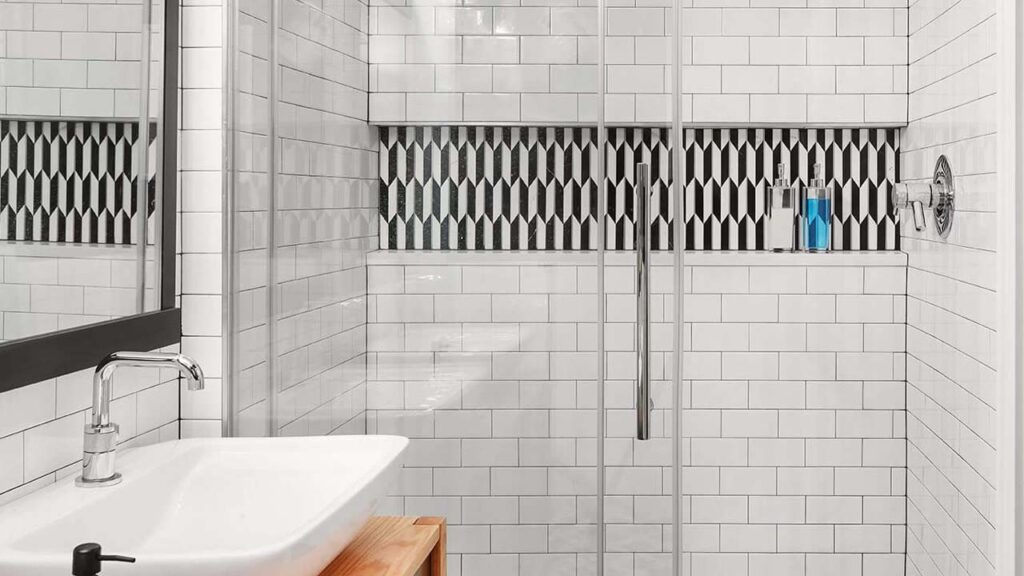 9. Make It Sexy
Mirrored bathroom wall tiles look intriguing and mysterious. If the bathroom is more than a place to clean or put make-up on, smokey mirror tiles are a good choice for you. You need nothing else to make a statement in your bathroom. Using such impressive tiles, your bathroom will also look larger and deeper. Deeper in size, deeper in feeling; sounds great, huh?
10. Varying Tile Styles
Modern and minimalist bathroom designs are getting more and more trendy. Natural tones in bathroom wall tiles are the key for you if you are fond of modern and minimalist designs in your bathroom. If you have a large bathroom composed of different sections, you can try alternating the tile materials among the sections. You can apply different colors, but we advise you to stick to one natural color in the entire space.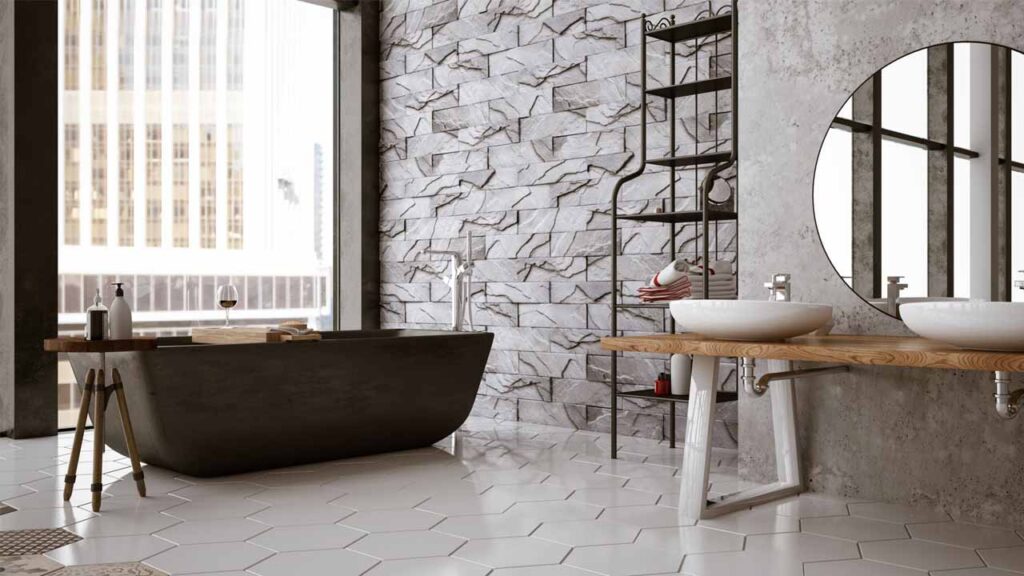 11. Consider Non-Tile Sections
As you read through this list, you can notice that there are bathroom wall tiles for several needs and expectations. However, we understand if you still want to keep a wall completely or partially untiled. Maybe, you have bathroom wallpaper ideas in your mind that you cannot stop yourself from thinking of. It is your house, your bathroom, and your design. You can, of course, try completing your bathroom design with appropriate wallpapers, especially away from the wet areas in your bathroom.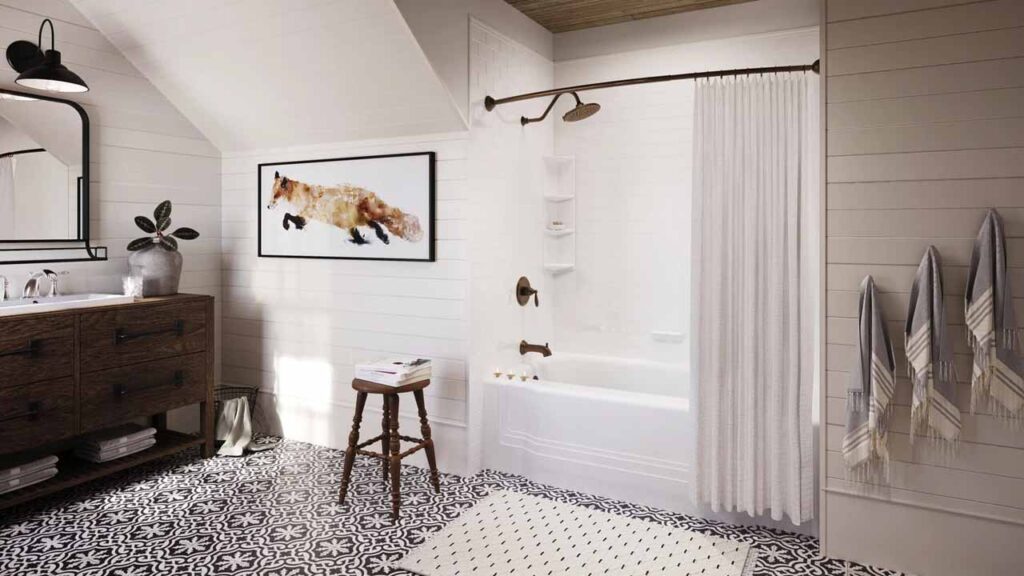 12. Create A Whole Texture
Many homeowners try to make a statement with anything possible in their interior design. However, first, it is not always possible, and secondly, it may not be a good idea. For example, using orange penny tiles on the bathroom walls can be weird, but your overall texture will be perfect if you complete the design with the right choice of cabinets and brass accents.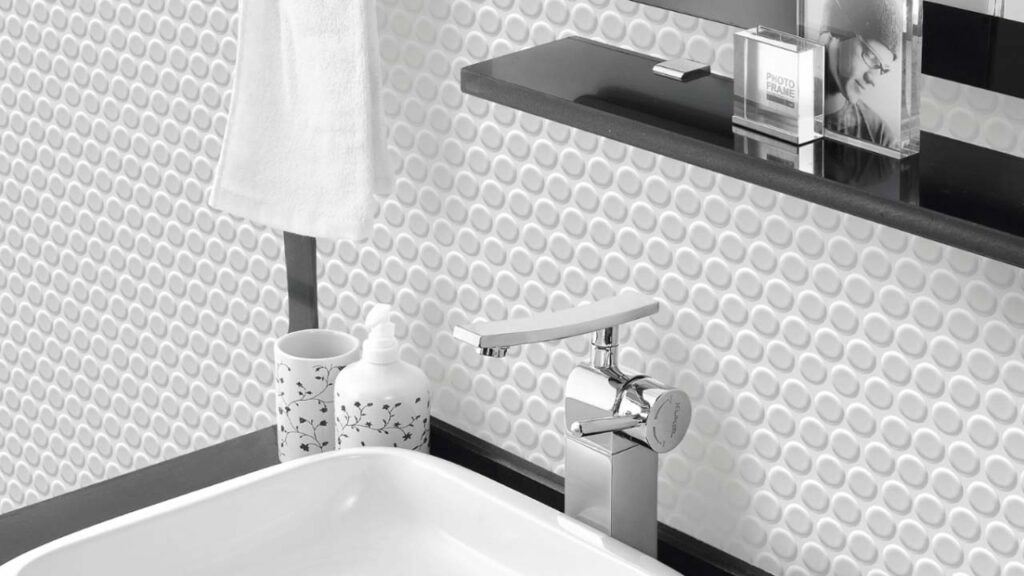 13. Statement Wall
If you are still willing to make a statement with one trick only, you can try a statement wall rather than touching everywhere and ending up with nothing spectacular. For example, if you have an all-white bathroom, you can simply use entrancing tiles with many colors and patterns. This will also give your bathroom a nice depth.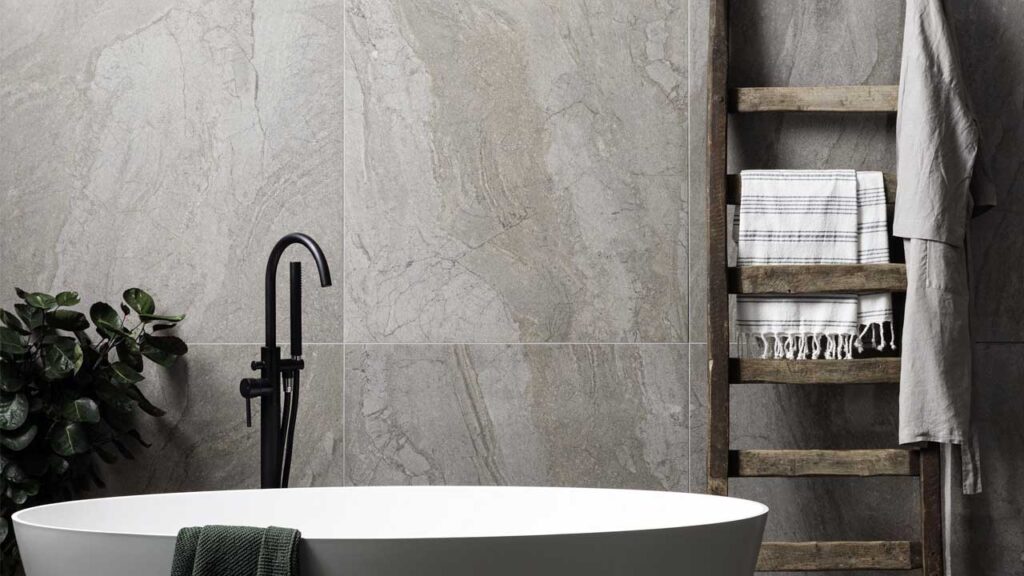 14. Go Halfsies
Wet sections of the bathroom necessarily need tiles so that you can use your bathroom without trouble. Splashing water around the sink and mirror can stop you from using wallpapers or your favorite paint colors. Here is the good news, You don't have to make a choice between the tiles and non-tiles. Applying tiles slightly above the splashing range can make it possible for you to use wallpaper or paint on the rest of the wall until the ceiling. This is also a good way of reducing the cost of the tiles.
15. Mosaic Stripes
Many people favor penny tiles solely because they can create nice patterns. In fact, you don't have to use penny tiles in the entire bathroom walls. Only a few vertical mosaic penny tile stripes are enough. Furthermore, you can alternate penny tiles with the flat ones in the opposite color to create a smarter texture. Hence, you will have a beautifully textured wall and impactful mosaic stripes adding dimension to your bathroom.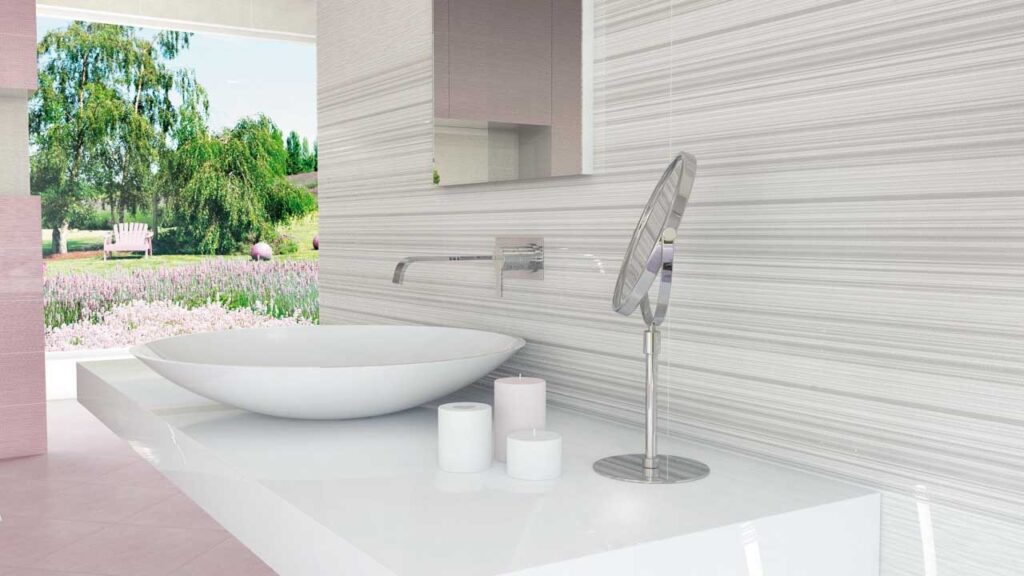 16. Mix The Tiles
Contrasting the tiles, you can add some punch to your bathroom wall tiles. Also, adding some eye-catching hardware and interesting fun accents will look so dynamic and fun. If you think that's too much for a bathroom, you can balance the design with white penny tiles in the background of the mirrors or accents. For the lower parts of the wall, you can add contrast with pink subway tiles.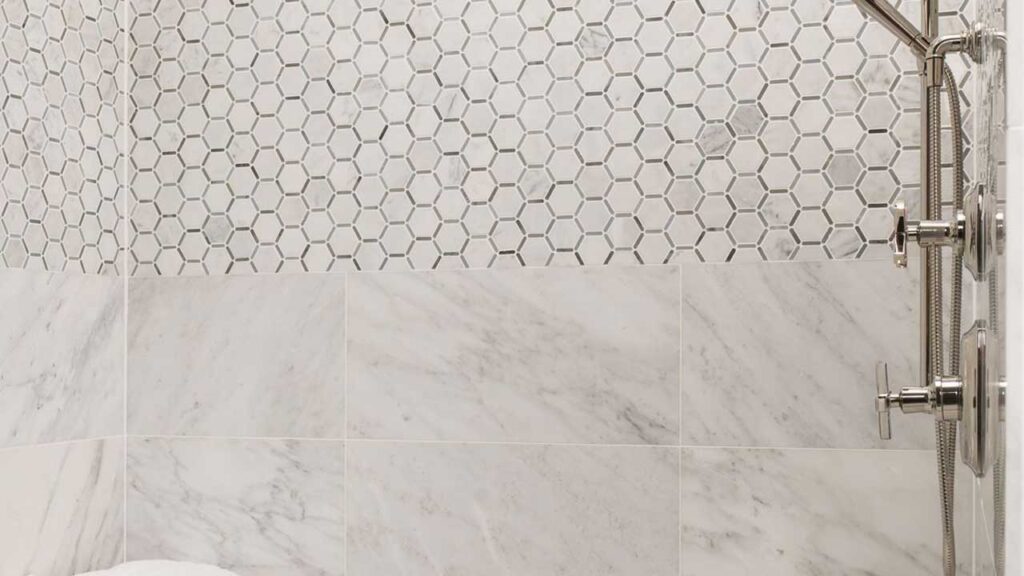 17. No Matchy-Matchy
We all like seeing patterns everywhere possible, and bathroom wall tiles are no exception. However, going beyond formulaic and repeating patterns can also impress people in a different way. Use two colored tiles and try to create no pattern or formula. The randomly scattered tile work will add a nice visual interest to your bathroom.
Bottom Line
Bathroom wall tiles are ideal for many bathrooms since they are water-resistant, easy to maintain, and durable materials. Moreover, thanks to advanced technology and mass production, you can find stylish and modern bathroom wall tiles much easier today. The cost of tiles is also pretty affordable, and they limit the sky when it comes to bathroom wall tile ideas.