Cabinet refacing is a smart way of changing the look of your cabinets and your kitchen. Homeowners consider cabinet refacing when they want to change the mood in their kitchen, keeping the layout as it is. This kitchen upgrade method brings in advantages like saving money, less construction work at home, and being more eco-friendly.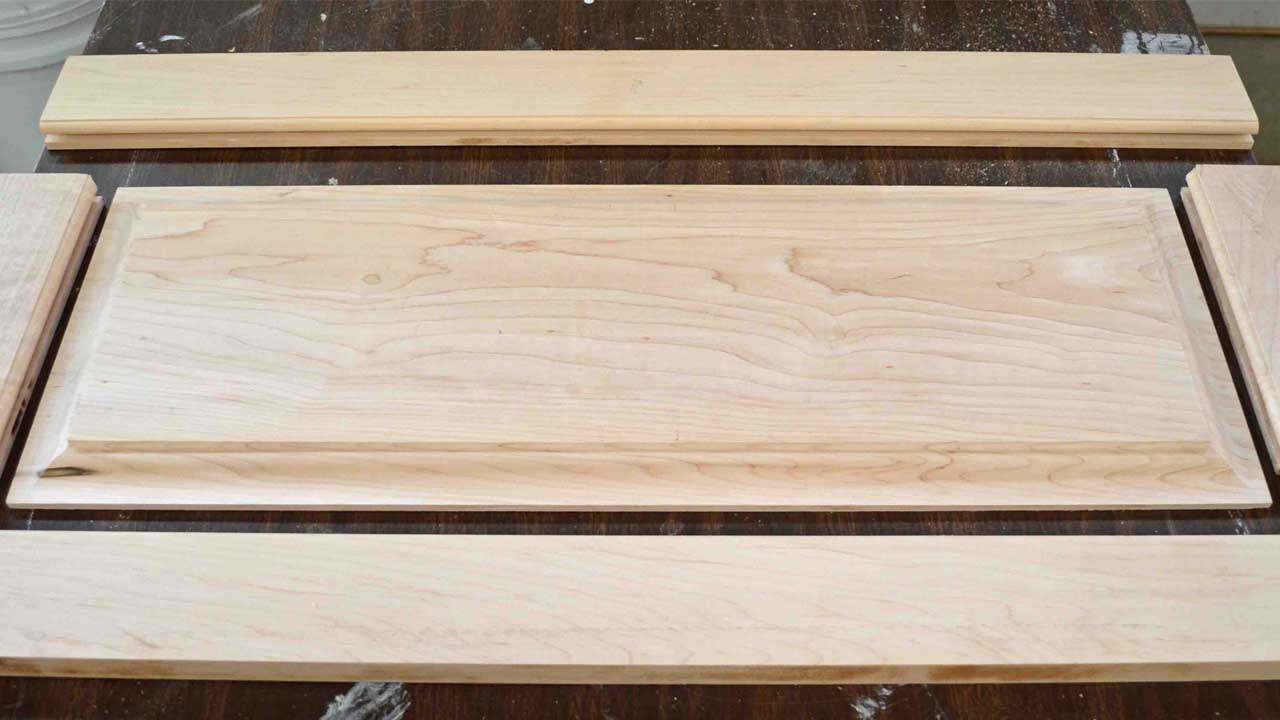 In this post, you will learn about kitchen cabinet refacing with further details, such as kitchen cabinet refacing costs and the pros and cons of cabinet refacing.
What Is Cabinet Refacing?
Cabinet refacing is one of the most practical ways of kitchen upgrade. In a cabinet refacing procedure, your existing kitchen layout and cabinet frames stay as they are while the frames are reinforced, and the cabinet doors and drawers are replaced with the new ones.
A durable ¼ plywood is used to reinforce your existing cabinet frames. This reinforcement gives your kitchen cabinets strength and durability. In addition, new cabinet doors are veneered for you to change your cabinet colors and style. You can choose among various cabinet colors.
Cabinet refacing offers you the chance of renewing the look of your kitchen just in a few days. Usually, a full kitchen remodeling takes 3-5 weeks, depending on the size of the kitchen and the works to be done. However, a cabinet refacing takes less than 5 days in many cases. Also, a kitchen cabinet refacing requires less construction work in your house, which means minimum disturbance for you and your neighbors. Plus, it saves you a good amount of money; it may be even less than half of the cost of all new cabinetry.
Is Cabinet Refacing Possible For Any Kitchen?
Cabinet refacing is possible almost for any cabinet. However, there are still some points to be considered:
The box structure of the cabinets should be in good shape.
The frame of the cabinets should have a smooth surface, preferably MDF or plywood panels, so that the veneers can adhere robustly.
Also, you should keep in mind that kitchen refacing becomes most economical when your sole concern is the faces of the cabinets. If there are some other problems with other things, you will probably need to get them fixed in addition to refacing kitchen cabinets. Then, you are advised to recalculate expenses, and a complete kitchen remodeling might be a better choice for you.
How To Reface Cabinets?
Now, let's get more into the technical details of cabinet refacing. In fact, the procedure is not very complicated. However, we can hardly say that it is a DIY job.
Step 1: Removing the doors and drawers
The first thing to do is remove the drawers and cabinet doors. It makes the cabinet frames apparent. In many cases, the drawers are taken out completely to be replaced by the new ones as a whole. However, only changing the drawer fronts is still possible though it is not often preferred.
Step 2: Laminating the frame surfaces
Once your cabinet doors and drawers are taken out, the reinforcement of the frame begins. To this end, they bond highly durable ¼ plywood onto the existing cabinets. This application provides you with a stronger and more durable cabinet frame. In addition, it means you are extending the service life of your cabinets.
Step 3: Veneers
The plywood faces are laminated with veneers of your choice. Actually, you are supposed to make two different choices: material and color. There are two common materials of cabinet veneers; wood and laminate. Many color options are available in each option.
Step-4: Installing the drawers and cabinet doors
Finally, it is time to install your new cabinet doors and drawers or drawer fronts only. In fact, only in this step you can really see what your kitchen is going to be like. The cabinet doors match beautifully with the reinforced cabinet frame finishes.
Step 5: Other changes
Since you have got your new kitchen cabinets and drawers (or drawer fronts), you might need different hinges or handles. Though they look like subtle details that sound like no one would care about, they make a great change in the outlook of your kitchen cabinets.
Pros Of Kitchen Refacing
Kitchen refacing has certain advantages compared to the other drastic renovation alternatives. But, of course, you might have more personal reasons to prefer kitchen refacing apart from these common pros.
Kitchen refacing is best when you are already pleased with your kitchen layout.
Through kitchen refacing, you can keep your layout as it is and make your cabinets look pretty new.
You can change the color and style of your kitchen through kitchen refacing.
There are many veneer options you can apply to your existing cabinet frames.
You have even more alternatives for cabinet doors and handles.
Kitchen refacing is an inexpensive way of renewing your kitchen cabinets.
A complete remodeling costs nearly twice as much as kitchen refacing. However, you should still compare the exact prices carefully, especially when there is some extra work other than cabinets in your kitchen remodeling plan.
Although you cannot change the layout of your kitchen, there are still ways of adding something new to your kitchen. For example, If you think your cabinet doors look so small, you can higher your cabinet doors. Also, you have some more space in your kitchen; you can add a kitchen island or peninsula matching your new cabinet faces and drawer fronts. But, of course, they will increase the time and cost of the renovation.
Refacing is an eco-friendly alternative to the kitchen upgrade. You can save the planet by keep using your cabinet frames and saving them from landfills. Also, you save trees from being cut down by not consuming more wooden material. Therefore, kitchen refacing is called one of a green kitchen remodeling ideas by interior designers.
Cons Of Kitchen Refacing
Although there are some obvious advantages of making a cabinet refacing, you are still advised to consider these potential disadvantages.
There might be some additional steps needed for your kitchen that cannot be foreseen initially, such as staining or varnishing.
These extra procedures might increase the time and cost that you planned at first.
Kitchen refacing doesn't allow you to make a layout change. Although you can add a kitchen island or peninsula paired with your new cabinets, they will increase the total cost and renovation period.
Since the box interiors are kept as they are in a kitchen refacing procedure, if you need extra shelves or maintenance for the existing ones, you will have to pay some more for adding new shelves, replacing, or painting the damaged ones.
Kitchen refacing is not much promising for DIYers. Although removing the old cabinet doors and drawers and installing the new ones is possible for you to do them yourself, veneering is highly difficult considering the precise measurement and lamination.
Generally, the drawers are replaced with completely new ones, rather than just the drawer fronts, including the track mechanism inside.
That and some other small last-minute changes affect the total expense.
Although kitchen refacing can give your kitchen a fresh and clean look and thus help you sell your house faster when you want to, it doesn't add value as much as other kitchen renovation alternatives.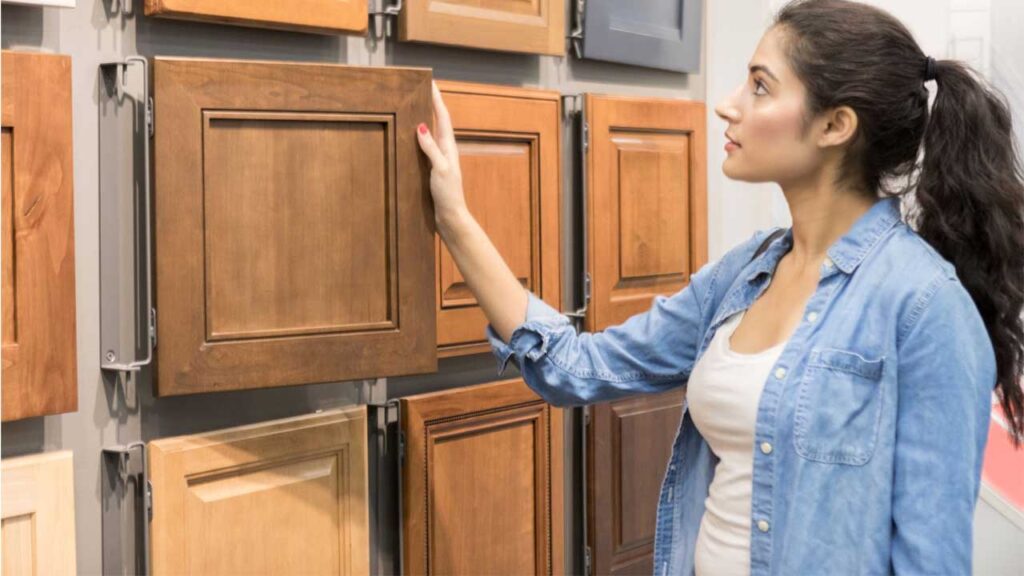 Is Kitchen Cabinet Refacing Worth It?
Kitchen refacing is a feasible solution for you if;
You are about to undergo a partial kitchen renovation
You are on a tight budget
You are OK with the existing layout of the cabinets
Basically, cabinet refacing is a viable option for outdated kitchen cabinets and drawer styles. If you think cabinet doors and drawers are your only problem, you should seriously consider a kitchen refacing. You can even start searching for kitchen cabinet refacing ideas on the Internet right away.
However, it would be best to consider the pros and cons listed above before starting any project. You should also contact more than one contractor and ask your specific questions about your own kitchen, especially your kitchen needs more than kitchen cabinet replacement doors.
How Much Does Cabinet Refacing Cost?
Generally, kitchen refacing costs as much as half of the full kitchen renovation expenses. It sounds amazing, but you should still consider the needs of your kitchen and cabinet refacing options thoroughly. If you need further changes in addition to your cabinet doors or drawers, such as replacing your countertop or backsplash, you should consider the expenses much more diligently.
To have a broad idea, you can assume that the number of the cabinets and their size will affect the kitchen cabinet refacing cost considerably. This is because the bigger cabinets mean more cabinet products are needed.
Also, the cost is affected by the amount of hardware you use. The hardware may include hinges, knobs or drawer pulls. Finally, you should remember that you should always spare some extra money for the last-minute expenses for any project.