Bathroom color is of great importance since the place is basically for relaxation and refreshment. Quite a lot of people simply use neutral and popular bathroom colors in their bathrooms so that they can pair other accents, towels, or cabinets. They think the color they use is the best bathroom color possible in their house. However, there are numerous good bathroom color alternatives to get an idea of a nice bathroom.
Let's Have a Look At Bathroom Color Ideas
Some of the bathroom color ideas 2023 listed here are already popular, while others are for those who want to be different with their extraordinary bathroom color schemes.
Cinder Rose
Bathrooms are also the places where people would like to add some romance to it. Cinder rose might seem bold at first, but you will enjoy this sense of romance as you spend more time in your bathroom.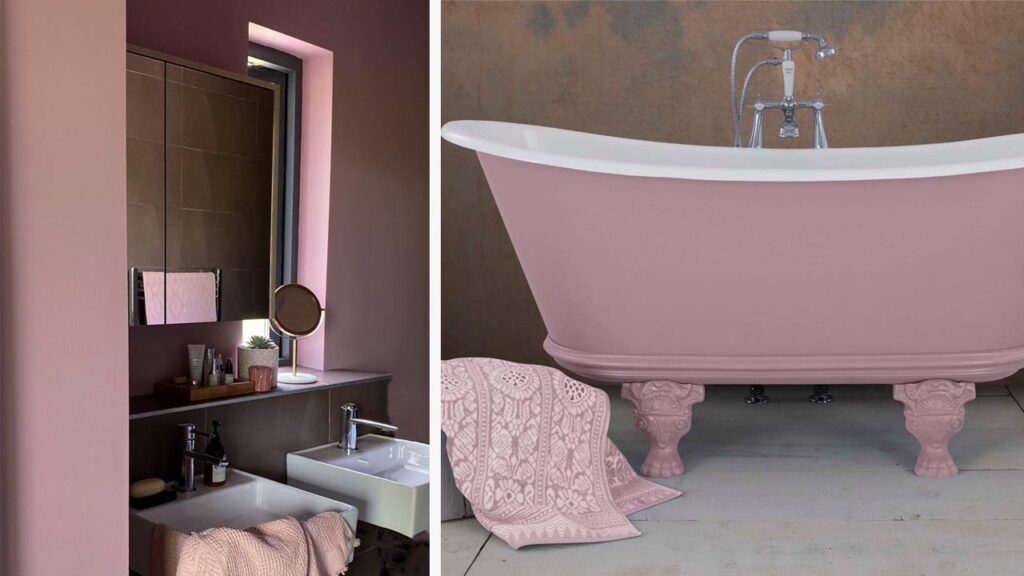 Stone Blue
For small bathrooms, bolder colors in small amounts look wonderful. Stone blue is particularly beautiful if you want to give it a bright and clean look. 
Powder Blue
For many people, bathrooms are for relaxation and tranquility. Powder blue is one of the best bathroom colors to give you what you want from a bathroom.
Pistachio
Pistachio gives your bathroom the energy that you need. Singing and even dancing are more likely in this cheerful bathroom.
Tan
Neutral colors are timeless. White can be perfectly paired with tan bathroom walls. If you think it is ok at the beginning, you will love it for long years.
Mustard
Yellow tones like mustard can be a lifesaver if you really want to use wooden accents in your bathroom. Also, you will not be bored with that for a long time.
Lavender
As you may already know, lavender color is associated with grace, beauty, and elegance. As for home decoration, lavender gives the feeling of refreshment, which anyone expects from a bathroom.
Dusty Blue
If you can't think of a bathroom without white, but you still don't want it to be boring, dusty blue color can be a good option for you. The color can be easily paired with stark white.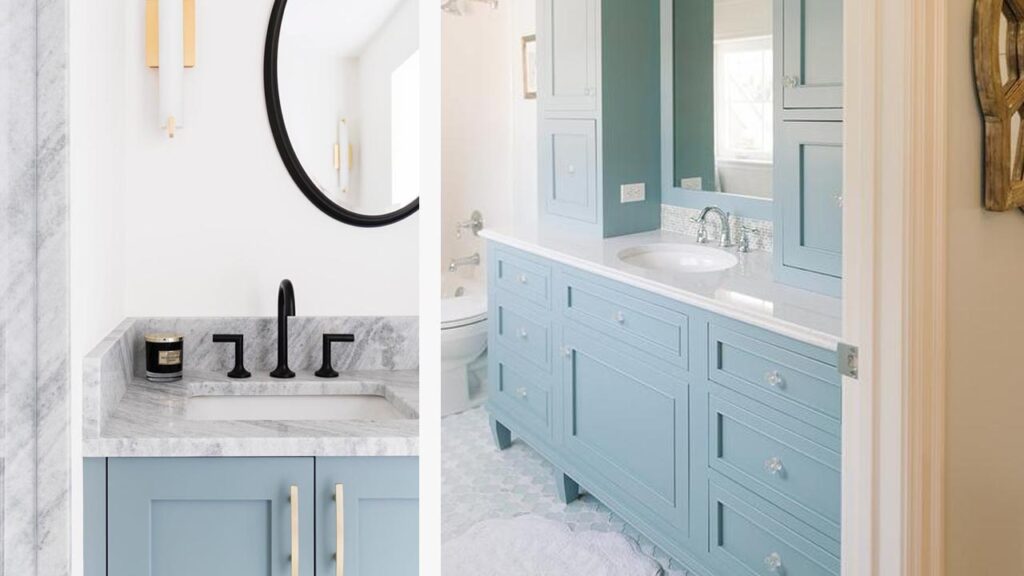 Griege
A good combination of gray and white can give your bathroom a depth and classy look. This combination also does allow you to use wooden accents to add a punch to your bathroom.
Hunter Green
Many people are in love with earthy shades. It is so much that they want their bathroom painted with brown or rust colors. Hunter green is a good complement for their bathroom.
Deep Navy
For some people, bathrooms are better when it makes you tranquil while some others enjoy it cheerful. Whatever your choice, you can still make it a bit bolder with a bit of deep navy.
Peachy Pink
Although pink is often associated with femininity, it also represents love and kindness. Thus, peachy pink is preferred by many people who want to add a little bit of glamorousness to their bathroom.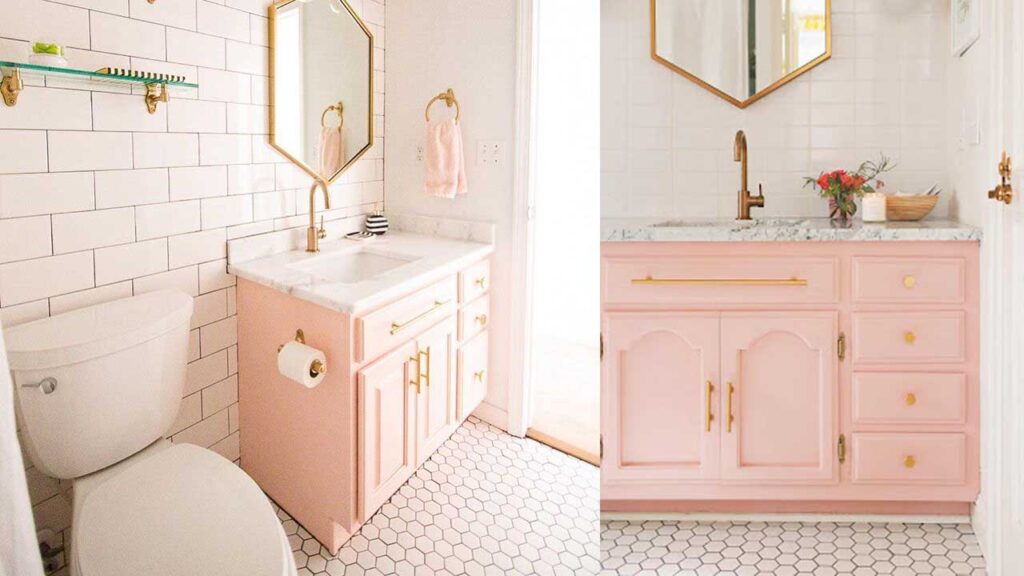 Stormy Blue
Dark colors might require greater courage or passion for using in the bathroom. Dark navy style blue is definitely worth it. Copper accents or a bathtub can be paired with stormy blue beautifully.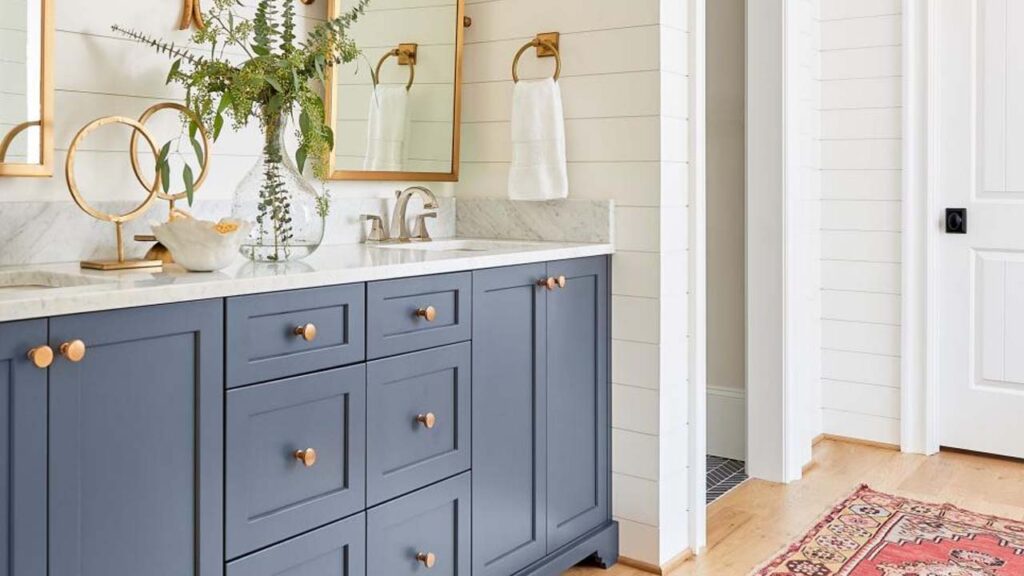 Off White
For those who seek for warm feeling without being boring, off-white is a good alternative. It is also a timeless color that you can use for a long time.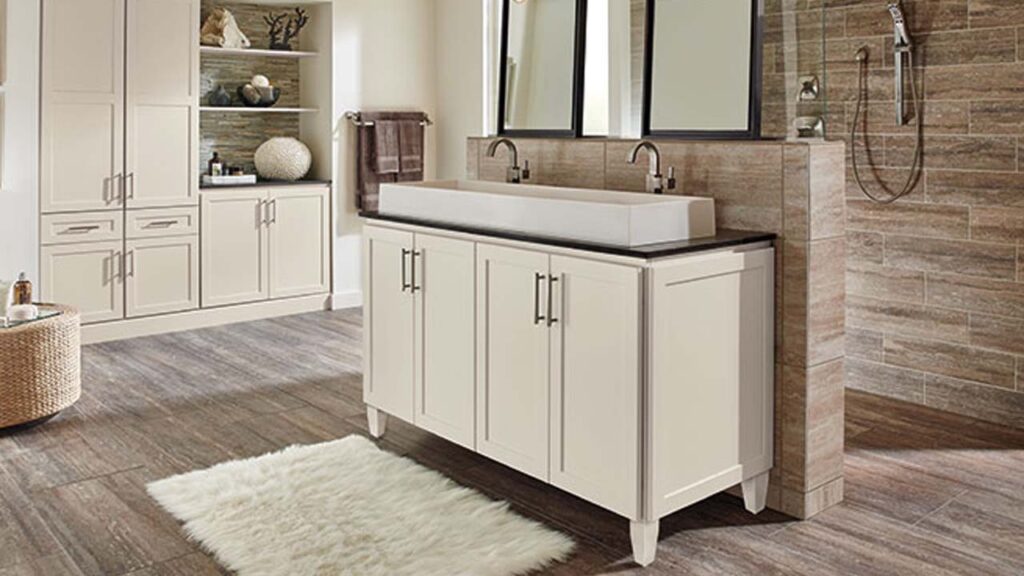 Periwinkle
Your bathroom can give you a more soothing feeling when you use periwinkle on the walls. It looks like a pale purple and can be easily paired with grey to white shades.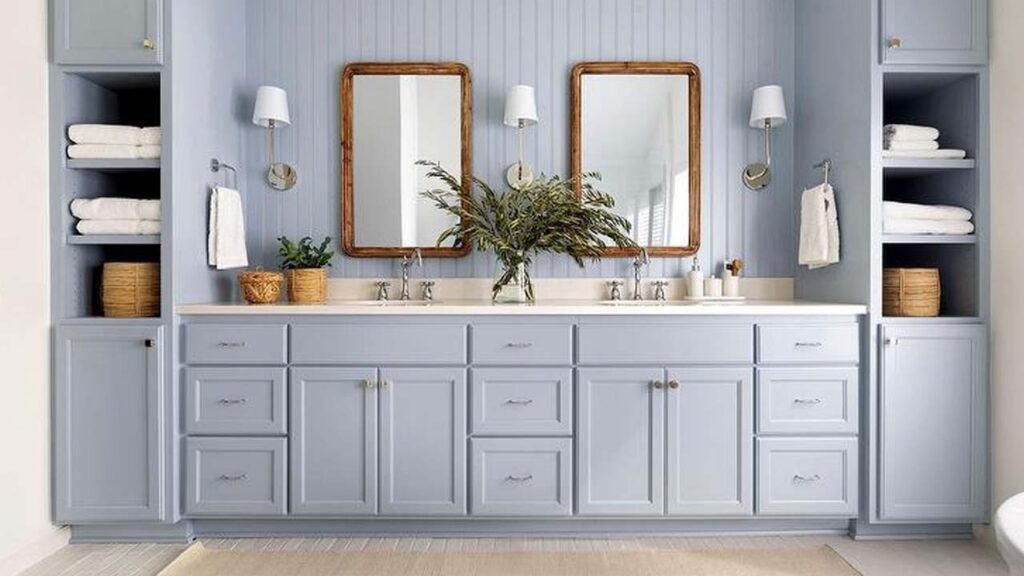 Black
Color lovers may not like black in their bathrooms, but a good amount of black can give you the elegance and relaxing sense. Especially, tiles with black and white combinations will make you more than satisfied.
Powder Blue
Powder blue is a good choice if you want to make your bathroom look cold but soft. In fact, it is not only for bathroom walls, but you can also use a matching tone on your cabinets as well.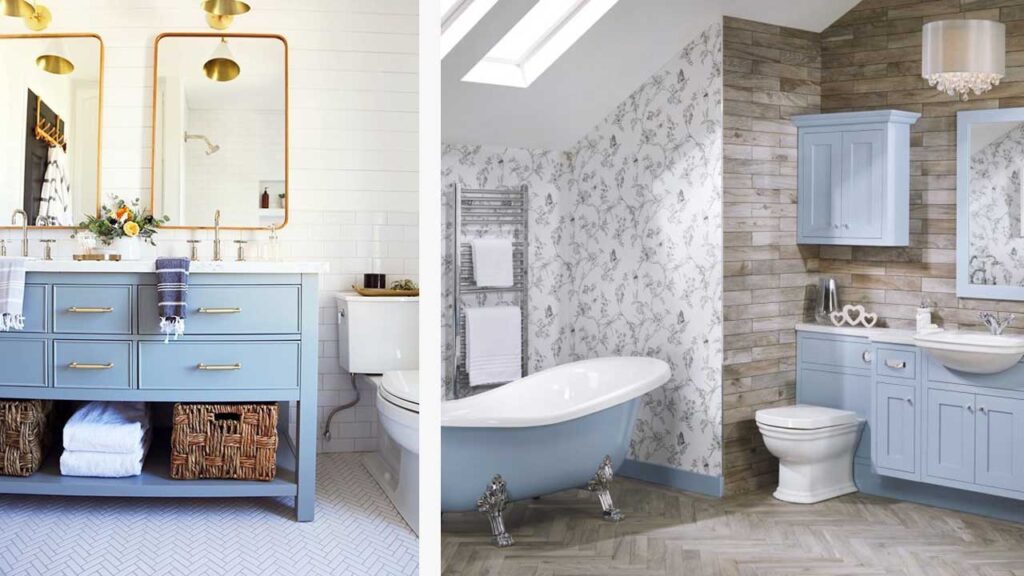 Ink
Ink bathroom color is usually used a little bit on tiles or part of the side walls. However, you can fully paint your ceiling in this dark tone. This bathroom color will make your bathroom shinier and more sophisticated.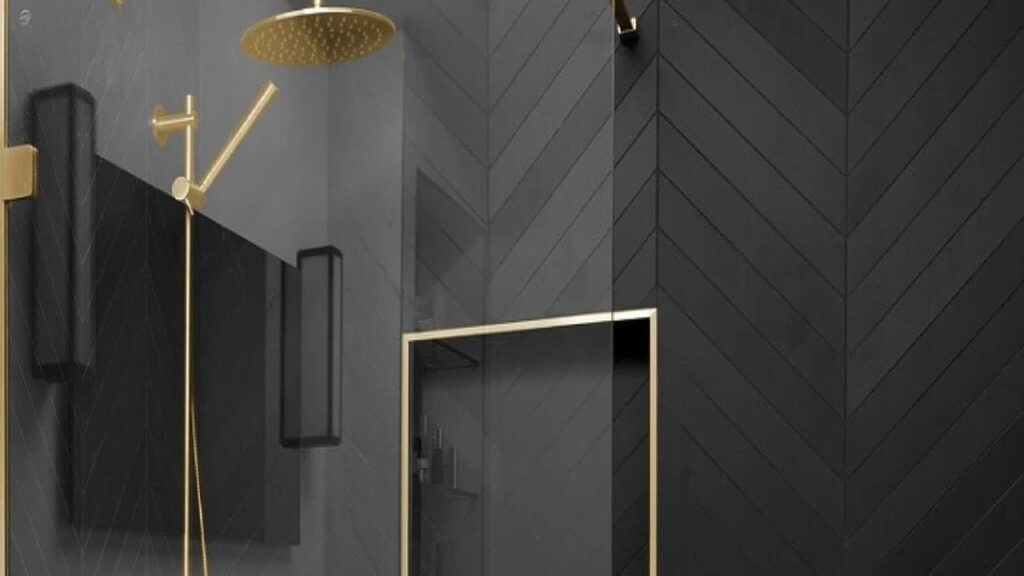 Cerulean
Marine tones are always trending among sea lovers. If you want to find a clue of waves and sea in your bathroom, you can get this bathroom color on your walls or cabinets.
Warm Gray
When it comes to bathroom colors, many people simply go with neutral colors like warm grey. It is easily paired with other colors in your bathroom.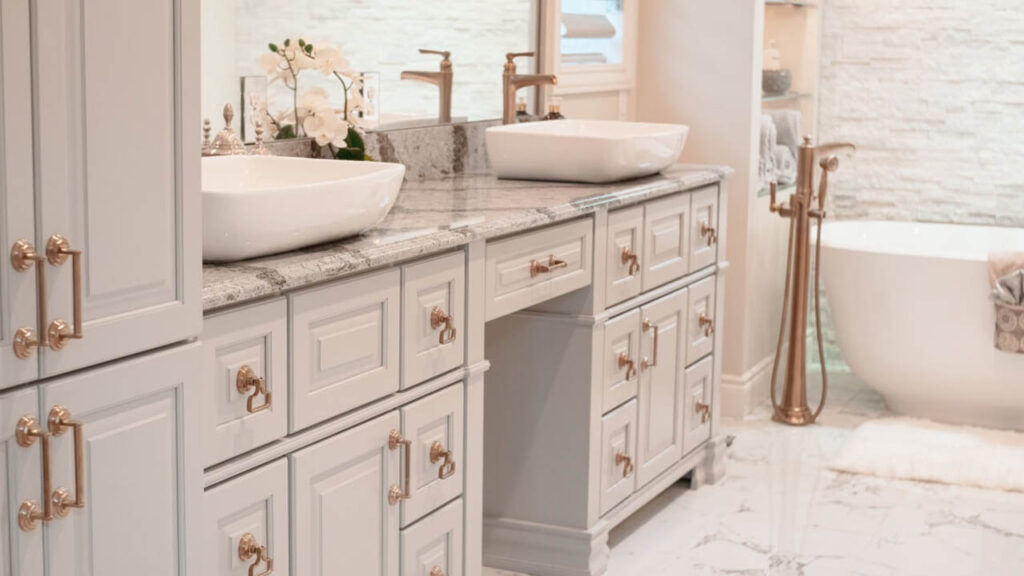 Light Green
A fresh look is one of the most demanded things from bathroom colors. Light green with a few greenish yellows is a good choice in this regard.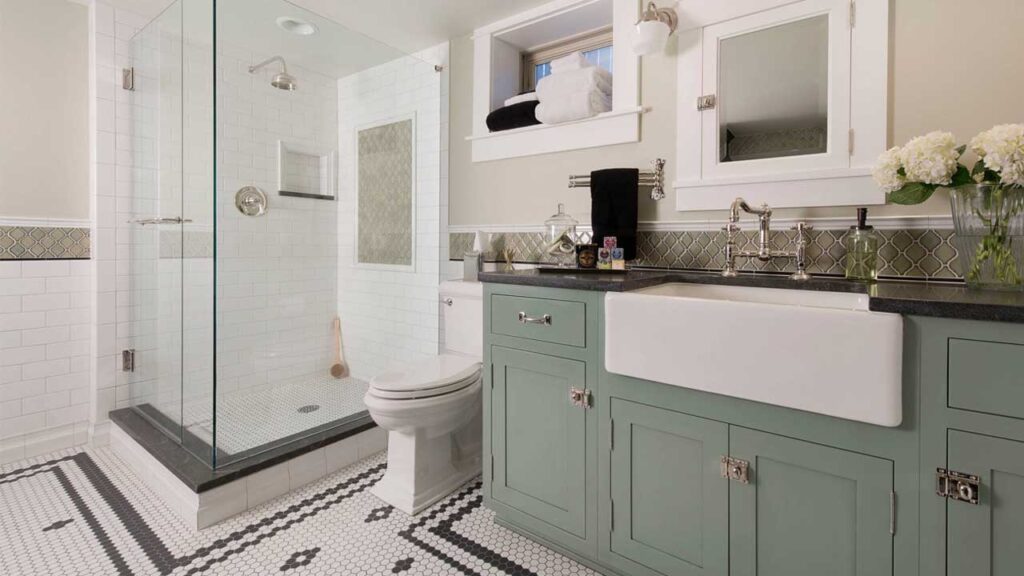 Charcoal
If you think bathroom colors should be inspiring and reflect your personality, you can go with dark coal tones and spice it up with pop-art or vintage fixtures.
Clean White
Small bathroom colors are typically located somewhere around white. When you are short of space in your bathroom, a clean white can do the trick. Besides giving a larger look, it also provides a sense of freshness and hygiene.
Mint
Mint color has a good cooling effect in interior painting. If freshness is the primary feeling you expect from a bathroom, mint color can be a good choice.
Taupe
Taupe is one of the best bathroom colors that you can pair with many colors. Especially accents of natural colors in your bathroom look awesome with this earthy color.
Arctic Blue
Soft tones of blue feel like you are somewhere that is really relaxing. Arctic blue with gray tones is a good choice for those seeking their personal spa.
Cool Gray
Gray with some white accents always look warm, clean, and classy. Also, your bathroom looks larger than it actually is.