When you want to remodel your old bathroom for some reason, the intention is to have a better one functionally and aesthetically. However, this dream might turn into a disaster if you don't take your steps in a planned way. The plans might include adjustment of your expectations to your existing bathroom, considering the budget and elapsed time for the project.
If timing is highly important for you, you should be knowledgeable about each step of the procedure to estimate the duration of the project with the highest accuracy possible.
Bathroom Remodel Project Steps
If you ask, "how long does a bathroom remodel take?", you are in the right direction. In this post, you will read about the project steps of bathroom remodeling, and you will have a better envision of your bathroom remodeling project. The project phases mentioned here are given in a logical order considering a typical bathroom remodeling. However, you should keep in mind that each project is unique, and thus yours might require skipping, adding, repeating, or switching some steps.
| | |
| --- | --- |
| Steps | Expected Duration |
| Finding The Contractor | 1-2 weeks |
| Design | 1-2 weeks |
| Sourcing The Materials | 1-2 months |
| Demolition | 1 day |
| Rerouting The Plumbing And Electrical | 1-2 days |
| City Inspection And Permit Sing-off | 1 day |
| Wall And Floor Work | 1 week |
| Installation Of The Bathroom Furniture And Layout | 1-2 days |
| Decoration | 1 day |
| Clean Up | 1 day |
Bathroom Remodel Project Steps
1. Finding The Contractor
Considering that bathroom remodeling is not a DIY job, you should find a contractor who can plan and execute all the work for you. If you want to find the best contractor in all terms (cost, timing, communication…etc), you should do thorough research in your area. First, you should interview a few contractors and tell them about every detail of the project in your mind. This stage should last 1-2 weeks, depending on your satisfaction with your interviews.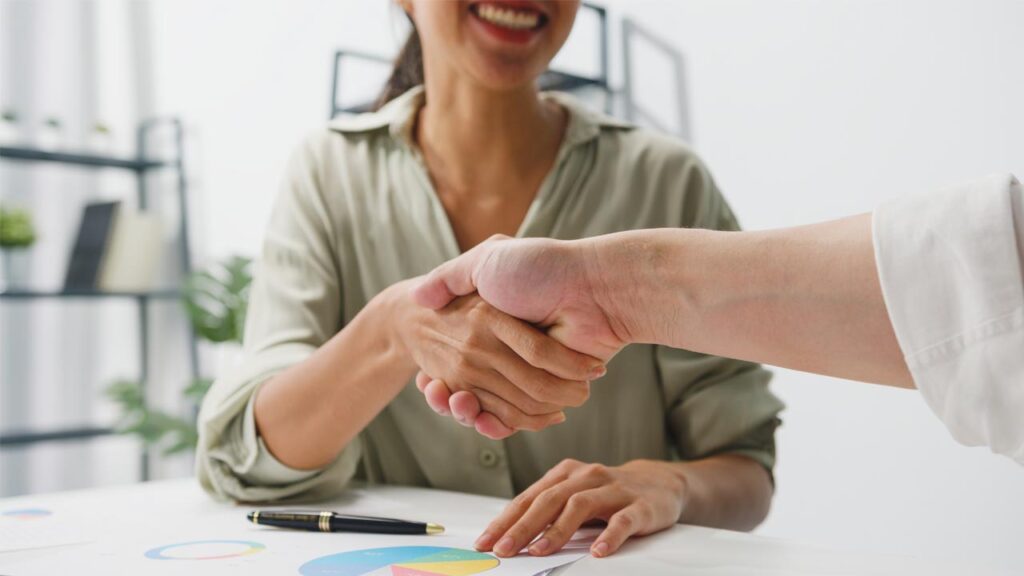 2. Design
Most renovations begin with a need and following design ideas. If you are to have a bathroom remodel, probably, you have an amateur draft design in your mind. You might even have inspiration photos that you have found on the internet or else. Once you have found your contractor, tell more details about your needs and expectations for your new bathroom. Next, try to turn your sketch into a well-detailed project through your contractor's professional view and tools. This stage might need a few meetings in your home and the contractor's place. Depending on your schedule, this period should last around 2 weeks.
3. Sourcing The Materials
Once you agree on the final plan and the cost, your contractor should get the required products and materials ready for you. In some cases, you can do it yourself and save some money and/or time, though. At this point, you should bear in mind that customized products and materials take a longer time to reach you. Therefore, if you are short of time, it could be better to opt for the materials and products in the suppliers' stocks in your city. Although one month is normal, this step can take up to 2 months depending on your preferences. However, you still move to the next stage if you think your orders are coming with no problem. Meanwhile, it would be a good idea to inform your neighbors about your renovation work, which is a potential disturbance for them.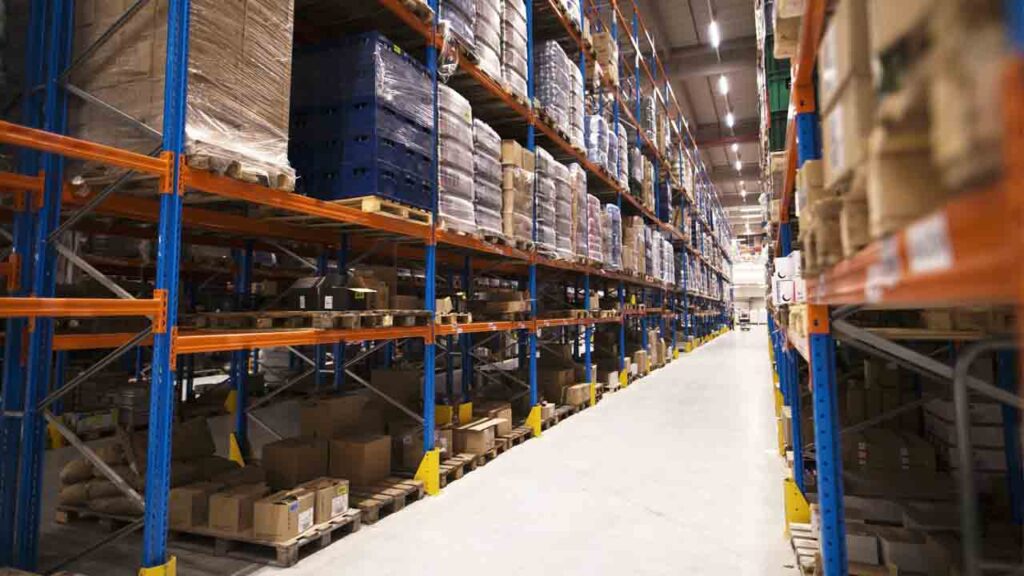 4. Demolition
Before starting the construction, you will need a demolition process to remove the old bathroom. For example, in some bathroom remodeling projects, removing a wall might be required in addition to removing the sink, bathtub, cabinets…etc. Following the demolition and removal of the old items, your bathroom should be cleaned on a surface level to see the new bathroom area to plan the following steps more accurately. Although the demolition procedure is noisy and dusty, fortunately, one day is enough for this step in many cases.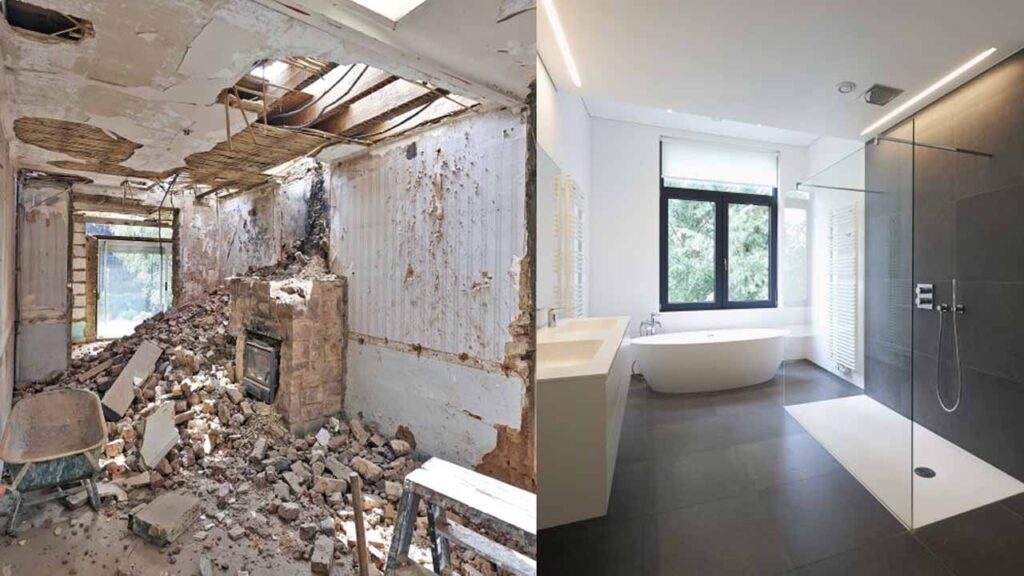 5. Rerouting The Plumbing And Electrical
Looking at your final design in the project, you should establish the frame of your new bathroom. This framing includes new plumbing and electrical infrastructure. The cables and other stuff should be arranged to run the water and electricity in your bathroom in the best way possible. You should consider the new cabinetry, new bathtub, and other future installations carefully. This step typically takes 1-2 days. However, since a sub-contractor executes plumbing and electrical in many renovations, the scheduling of the workers can be.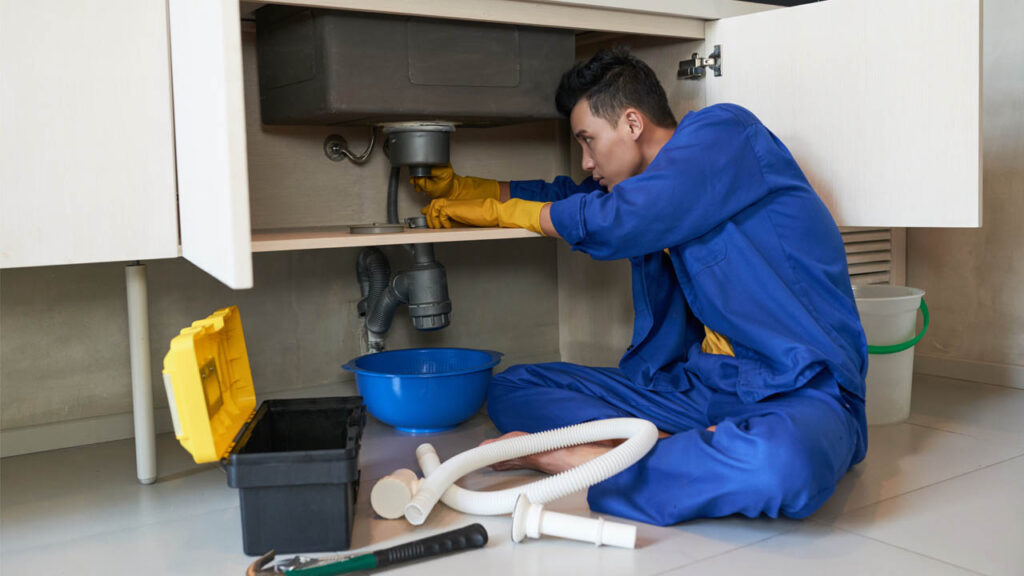 6. City Inspection And Permit Sing-off
Although this step's sequence or procedure may vary depending on the local administration, you will need a city inspection and permit sign-off for both plumbing and electrical works. In fact, each inspection takes less than an hour, but scheduling the inspectors at your convenience is not easy. Therefore, it can take more than a week to finish this step.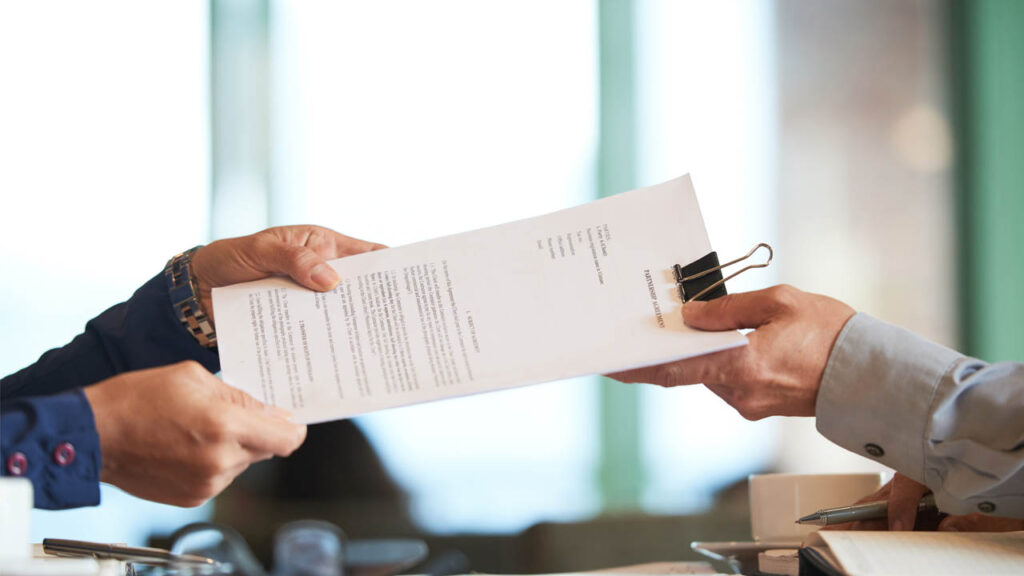 7. Wall And Floor Work
This step involves different sub-steps. Most renovations need a drywall job to make your walls ready for painting. Also, insulation is another concern in bathroom remodeling. You should do your best to insulate the areas around the bathtub and shower cabin. Once your walls are dry and ready for painting, you should get them painted and tiled. Considering all these works together, you can estimate it as one week in total.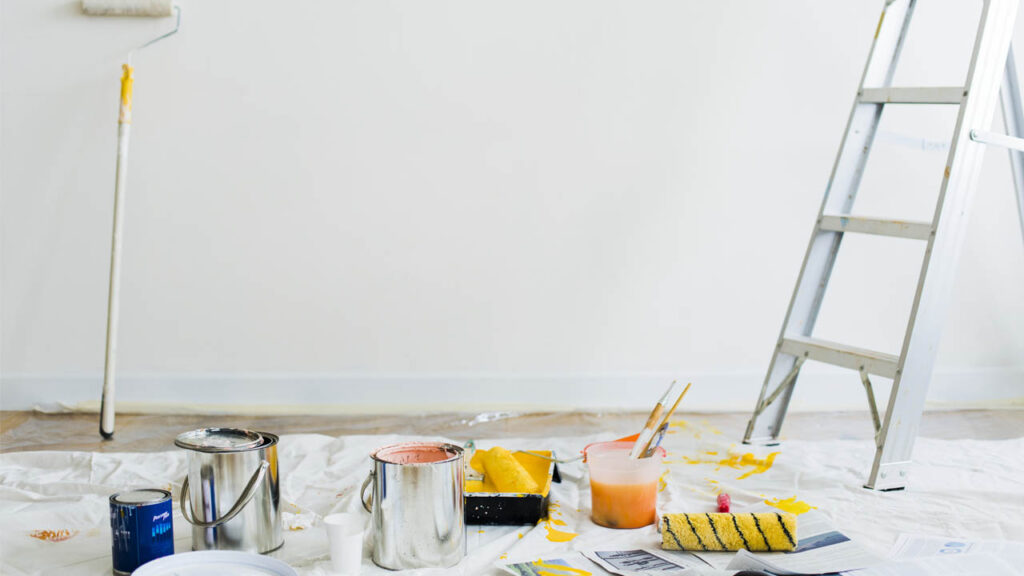 8. Installation Of The Bathroom Furniture And Layout
This might be the best part of the remodeling since your new bathroom becomes more apparent now. In this step, the cabinetry is usually very small in the bathroom, bathtub, sink, toilet, shower cabinet…etc. are installed. It is also a good time for trim carpentry if needed. The whole process should take 1-2 days.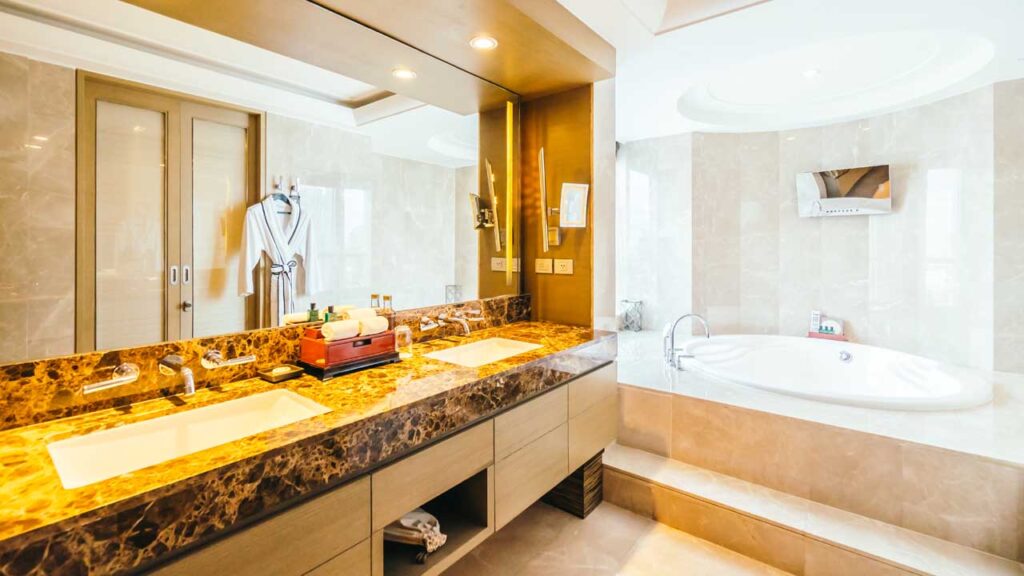 9. Decoration
The decoration step is also enjoyable, and if you are a DIY person, you can enjoy doing this yourself. If your new bathroom decoration items are ready, you can just install the lighting, mirrors, hardware…etc. It should take less than a day.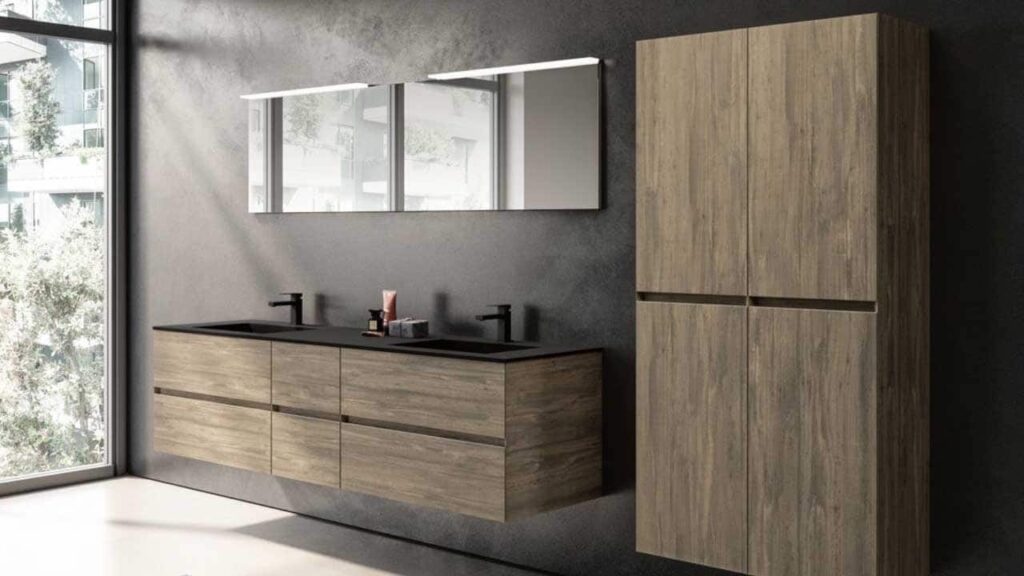 10. Clean Up
Here comes the final stage, clean up. After all this hard work, there must be dust and particles of wood, tiles, cables…etc. Once you clean your new bathroom, it is ready to use. Enjoy the first bath there. The cleaning should take a few hours, only.
Bottom Line
The answer to the question "how long does it take to remodel a bathroom?" depends on your preferences, your organization skills, contractor's punctuality, and some legal issues in your local area. If timing matters to you, you can go with the shorter options reconsidering each step listed above.