You don't need to have a big kitchen to execute your vision of a dream kitchen. A small kitchen is nothing but hidden opportunities to tap into during your small kitchen remodel.
That being said, it also becomes tricky to make the most of small square footage. You have a million things to consider during the remodeling, and it can get overwhelming. Hence, we have compiled some useful small kitchen remodel tips to help you get one step closer to your dream kitchen!
Small Kitchen Remodel Tips
Keep it Simple
A lot of homeowners struggle with their small kitchen remodel project because they want practically everything. Most people forget that your kitchen is the heart of your home and it needs to function well for your home to run smoothly.
Hence, you need to prioritize the functionality of your kitchen during the remodeling process. Focus on repairing or replacing the necessary appliances, adding the right kitchen countertops, storage solutions, etc.
After that's out of the way, you can add any element that you want to add to your small kitchen's beauty.
Say Goodbye to Upper Cabinets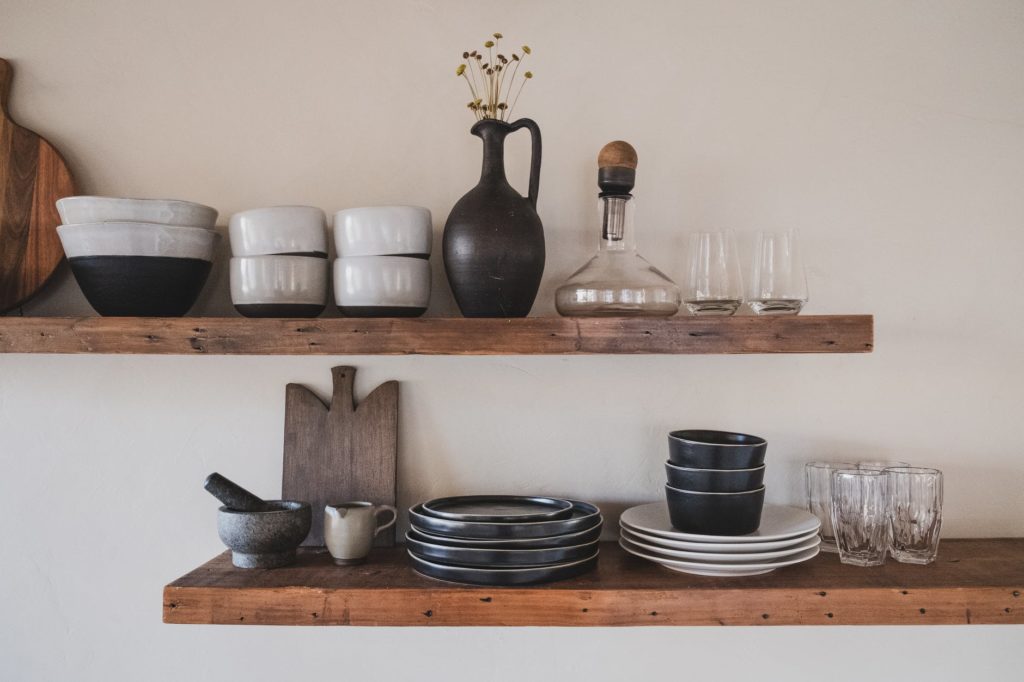 Cabinets are a practical and efficient storage option for kitchens. However, it gets a bit complicated with small kitchens. While you want the storage, upper cabinets also close the room and boxes the kitchen.
Hence, you should either minimize the use of upper cabinetry or remove it altogether. If you do that, then what's the alternative? Open shelves!
Open shelving is a perfect small kitchen storage solution. Not only do they help in the storage aspect, but they also help add character to your kitchen design. What more could you want?
Start Scaling Down
If you're struggling for space in your small kitchen, it's probably because you have too many things in it. We don't want you to get rid of all your items, but we want you to think smartly.
For instance, do you really need a four-burner gas stove? Or a double-door freezer? It's safe to say that appliances take a massive chunk of your kitchen real estate. By using scaled-down appliances, you can save a ton of space! Say, you replace the four-burner stove with a two-burner one. It will still get the job done and save you a lot of that precious counter space. Chances are you won't even miss those two burners.
Simple scaling down of appliances can have a massive impact on your small kitchen remodel. Regardless of your kitchen's size, countertop space is a precious commodity, and you should try and make the most of the available real estate.
Use Glass in Your Small Kitchen Remodel
Do you want to double up your kitchen space for a low price? No, we are not offering some shady real estate deal. What we are offering is a rather nifty small kitchen remodel hack.
If you want to 'expand' your kitchen space, all you have to do is use glass! You can add a mirror to add a decorative element. You can also use a glass tile kitchen backsplash or mirror backsplash to make the most of this hack.
The glass surfaces' reflective quality will help the light in your kitchen travel better and make your kitchen seem much larger than it actually is.
Play With the Lighting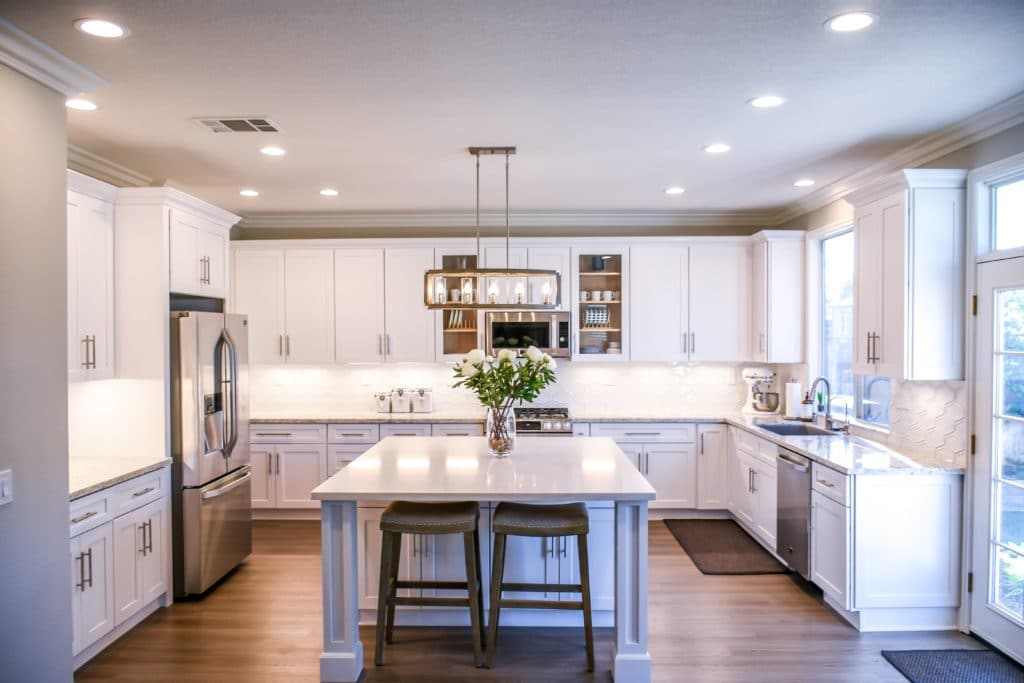 Speaking of light, you can achieve so much with the right lighting technique in your kitchen remodel. Most homeowners stick one focal light in the kitchen and call it a day. However, it does not do the kitchen any favors. Instead of just one focal light, consider adding multiple light sources in your small kitchen.
You can add pendant lighting, recessed cabinet lights, floor lights, etc. The even distribution of light will give your kitchen a uniform look and accentuate your kitchen design effectively. Similarly, you should also find ways to incorporate natural light in your kitchen.
If you can, install a large window behind your sink or anywhere else to ensure lighting and proper ventilation in your small kitchen. To take it to another level, you can also break down a wall, bringing us to our next small kitchen remodel tip.
Open the Kitchen
With the emerging popularity of open kitchen and open living, there is absolutely no reason for you to hold back. If you have to knock down a wall to let your small kitchen breathe, so be it!
Opening up the kitchen layout has many advantages. You aren't restricted to your small kitchen anymore; it becomes part of your living space and makes it more cohesive. To smoothen things out, you can add a breakfast nook as a transitional piece and seamlessly tie things together.
Add Smart Storage Solutions
The key to an efficient small kitchen remodel to make the most of what's available. Like any kitchen space, there are so many unused or awkward corners that make it difficult for you to utilize. It's all about tapping into the untapped potential of your small kitchen and making the most of your kitchen space.
With the right storage solutions, you can make the most of these spaces. For instance, Lazy Susans, revolving cabinets, etc. are just some of the organizational hacks that you can use to make your small kitchen remodel more efficient with storage solutions.
Do you feel inspired by these small kitchen remodel ideas? If so, it's time to start planning and working towards making these ideas your new reality!