Every month the internet is flooded with articles on home improvement. Every week there's a new trend to watch when remodeling your kitchen. And every day there are countless Pinterest boards being put up and pulled down trying to help you get the most out of any project you undertake.
But as most of us have experienced, a lot of these tips and tricks are designed for an 'ideal' scenario. You set out to overhaul your kitchen based on such generic advice and, more often than not, end up making things worse. Especially if you have a small kitchen.
Well, small kitchens are definitely not the worst thing that can happen to you. But they aren't the best either. With a small kitchen, you have to be mindful of every little detail, and generally, there are little to no resources online to help you through the journey.
One of such major issues with a small kitchen is the limited storage space. No matter how deep you are into Marie Kondo-ing everything you own, you still need storage to keep basic things like flour, spices, eggs, and a lot more. The lack of dedicated pantry space is not a problem you can ignore easily.
But we've got you covered! Here are a few ways to successfully tackle the storage problem in a small kitchen.
● Utilize the Wall
Pegboards are your friends which considerably increase your kitchen's storage capacity. And all they ask for in return are blank walls.
Just like in a garage, pegboards can even be used as a style statement in a kitchen. You can set up the pegboards garage style or even have shelves and baskets. The customizability is also a huge plus.
Once you go pegboard, you will loath storing your utensils in the back of a drawer or a cabinet.
● Shelve It Up
Granted you don't have enough space to incorporate an island, but the last time we checked there were no constraints on using the vertical space.
Hang as many shelves as you can, and you might even end up with too much storage space. Apart from their unmatched utility, shelves are also great design elements, especially in an open concept kitchen.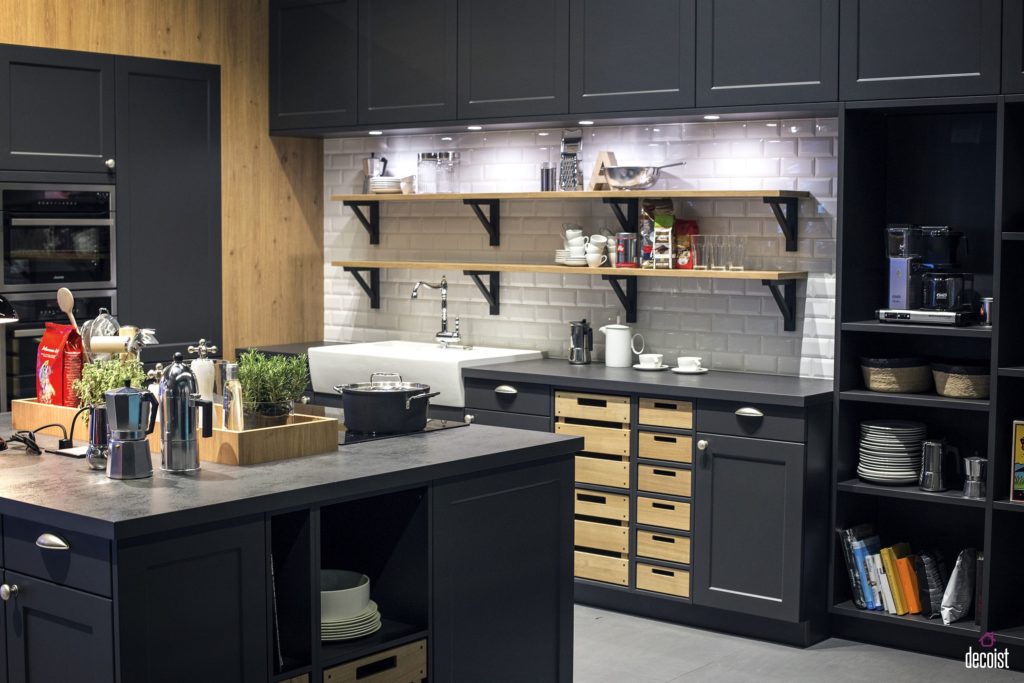 If you have a small setup, embracing the open concept with layered shelving is always a good option.
● Depth is Your Friend
Deep drawers are the often underrated yet extremely useful hack that most people don't use. In fact, your first thought after discovering a deep drawer is — why didn't I think of this before?
Deep drawers are basically taking advantage of the vertical space beneath your counters, and have the added benefit of keeping you in check. After all, those candy jars won't find any space in such a valued real estate.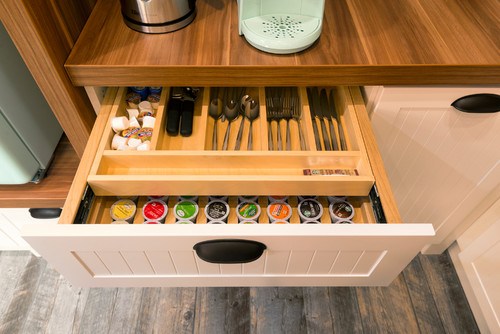 Related: How to Paint Your Kitchen Cabinets
● Rolling Pantries
Rolling pantries are literal godsends! In fact, they are so good that people actually prefer them even in regular sized kitchens.
All of your stuff fits between the fridge and the wall, or any other narrow nook you can find…And you don't even have to compromise on dropping anything from your inventory.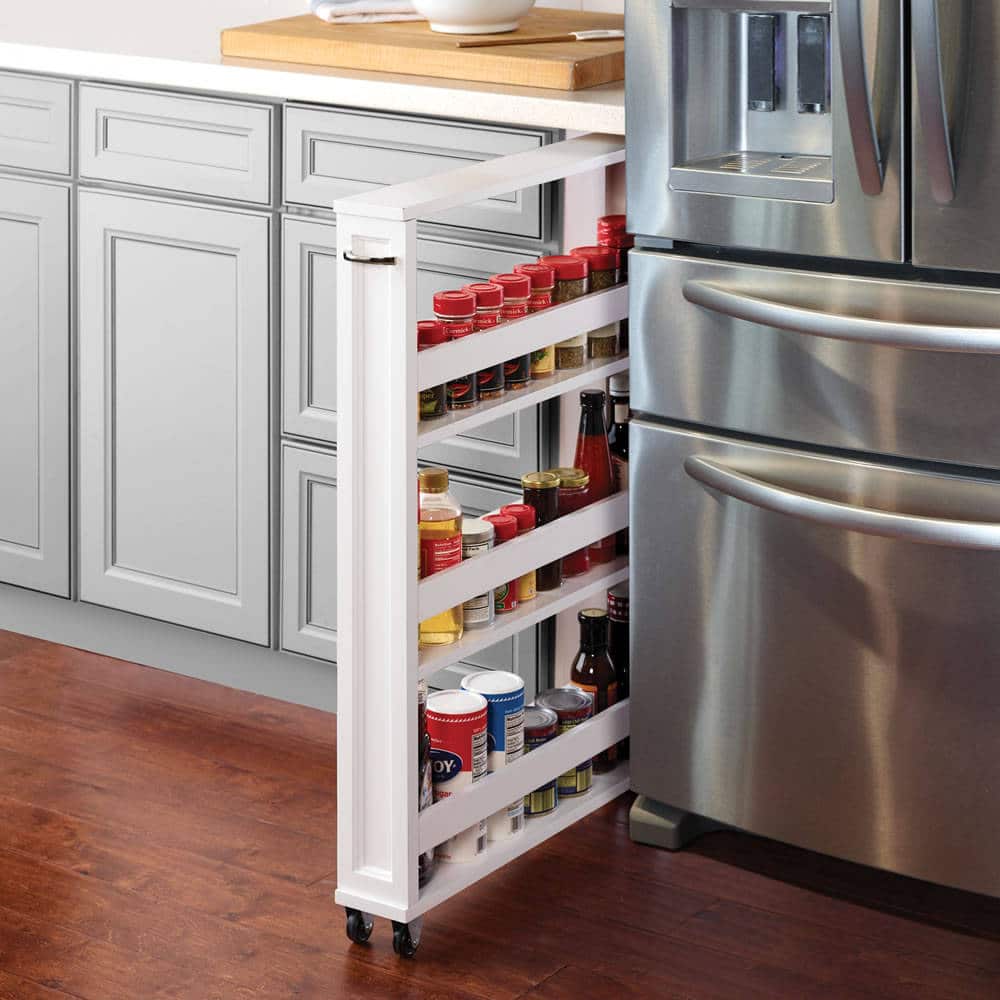 ● Go Three Dimensional
We have alluded to this before, and we will do it again because that's how important vertical storage is to a small kitchen!
Use under-shelf baskets, hanging rods, labeled plastic boxes stacked on top of each other, shelves, etc. to take full advantage of the vertical space. No matter what you do — if your cupboards/cabinets are not storing on multiple levels, you will never extract the maximum out of your available storage space.
● A Behind Doors Policy
Wire racks (or any other type you like) behind cabinet doors are great for storing spices and jars of condiments and a lot more.
Utilizing the space behind the door is also a great way of keeping everything in one place. You can just open the cabinet and know which spices you need to buy or if you're out of flour or other supplies. No need to inventory three different cabinets every time you go shopping.
● Put in on Display
Don't have enough storage space for your spices? Great. Because now you can display the colorful panorama that is a spice rack right on the countertop.
Spice racks, rotators, holders, etc. — there are plenty of products out there which will make your spice collection the center of attraction, and thus saving you a lot of closed storage space in the process.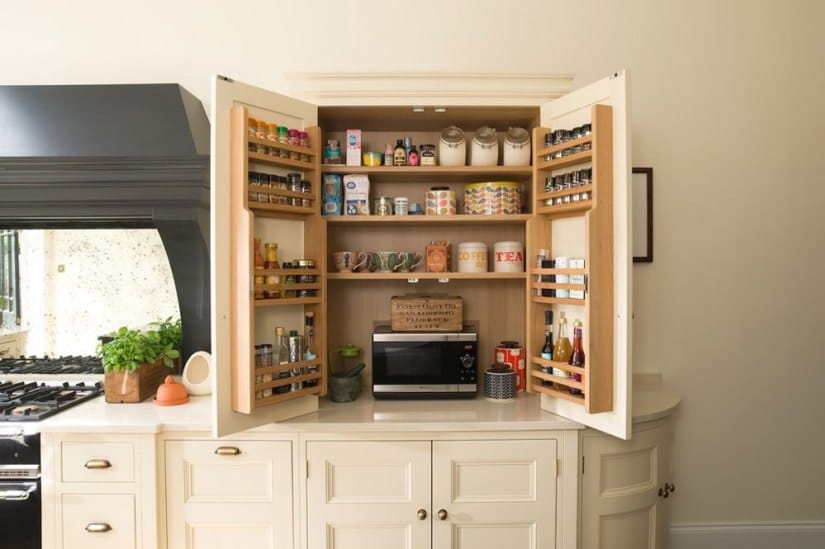 ● Hide the Produce
In smaller kitchens, people tend to keep the produce that doesn't need to be refrigerated right on the countertop, be it veggies or fruits.
However, a better way of organizing it is dedicating a drawer with different sections for different items to the produce. This way, you declutter your countertop while simultaneously creating a far more efficient storage solution for out of the refrigerator produce.
● Get Out of the Kitchen
What we mean to say is, you have that broom or coat closet right? Maybe clear it out and transform it into a pantry?
Most of the goods that go into a dry pantry are not used too often. Thus it will be easier for you if you could just turn a different part of the house into your own pantry. It gives you plenty of storage space and also takes some pressure off the kitchen.
● Label 'em Up
It is not uncommon to hear a designer say — you do not have a space issue, you have a management issue. And it's true most of the time.
Use labels on bins, baskets, containers etc. Categorize the items. And always make sure everything is accessible with minimum intrusion to their surroundings. That's about as condensed as we can get.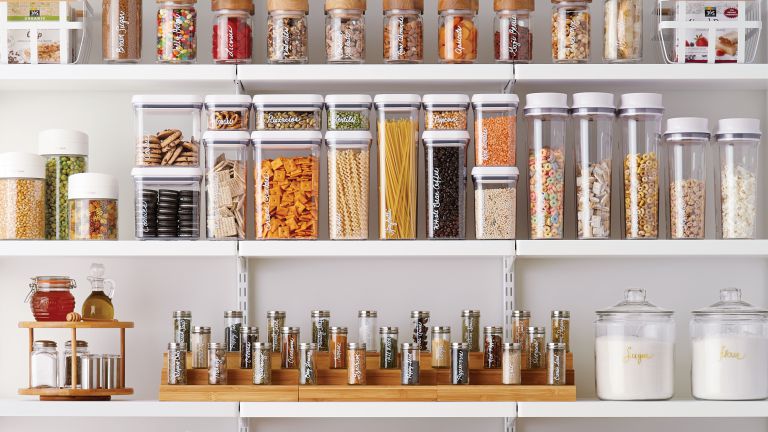 Making the Right Storage Choices
Storage in a small kitchen is all about ingenuity. According to your own specialized needs, there are so many other things you can check out in this space.
Magnetic jar holders, plate racks, slide-out prep stations, storage islands, tiered shelves, magnetic knife strips, and on and on and on. There is absolutely no shortage of solutions for your small kitchen. The only thing is, are you ready to take 'em on?
Related: Kitchen Remodeling Ideas: 12 Amazing Design Trends in 2019