A kitchen remodeling is usually the best time to reconsider the ventilation system in your kitchen. Even if you have your dream kitchen in terms of style and functionality, you might be disappointed soon if your kitchen is filled with grease, smoke, odor, moisture…etc. Therefore, neglecting ventilation can cost you a lot of time, money, energy, and health as well. According to the study by Harvard T.H. Chan School of Public Health, released in 2022,  gas appliances can release hazardous chemicals into homes, even when they are not in use. Improving ventilation is one of the easiest and most crucial measures to minimize indoor pollution sources. 
In this post, we are shedding light on the most critical aspects of ventilation installation. We will start with the benefits of kitchen ventilation, and then you will learn about the different ventilation types. We will also explain the important factors to consider while upgrading your ventilation system as well as give you some tips on how to do a successful installation.   
What Are The Benefits Of Improving Kitchen Ventilation?
Upgrading the kitchen ventilation comes with a lot of benefits. Here are the most important ones listed for you:
Improved Air Quality/Removing Cooking Odors
Proper ventilation helps you remove household pollutants such as grease fumes, smoke, or other types of odors caused by cooking in the kitchen. Also, improving the ventilation system offers you healthier air quality by eliminating air pollutants and reducing excess moisture and humidity.
Reduced Risk Of Respiratory Problems
Inhaling the concentration of airborne pathogens can lead to airborne infections. An effective ventilation improvement eliminates respiratory problems by diluting the concentration of airborne pathogens.
Increased Energy Efficiency
A ventilation upgrade including an air economizer helps your interior keep the thermostat setpoint using the outdoor air. So, you get the desired temperature in your kitchen without using the air conditioner, which reduces the energy cost.
Longer Lifespan Of Appliances
Proper kitchen ventilation eliminates moisture build-up and provides the appliances with better working conditions. Also, effective ventilation prevents overheating which can damage the surface and internal components of the kitchen appliances.
Preventing Grease Buildup And Fire Hazards
Grease or other particles can fuel a fire in your kitchen. A well-planned kitchen ventilation improvement reduces the risk by removing grease build-up and other potentially dangerous particles regularly.
What Are The Different Types Of Kitchen Ventilation Systems?
Ventilation is achieved in three different ways; natural ventilation, mechanical ventilation, and hybrid ventilation.
Natural ventilation refers to the ventilation through natural forces such as wind or the temperature difference between inside and outside. We usually use windows, doors, and skylights for this type of ventilation.
Mechanical Ventilation refers to ventilation using mechanical devices such as fans, hoods, or air conditioning systems. Mechanical ventilation is used when the natural ventilation is not enough to move air out of the room.
Hybrid Ventilation refers to mixed-mode ventilation systems. It is achieved through some smart devices that can make use of both natural and mechanical types of ventilation at different times depending on the users' preference.
What Are The Different Types Of Mechanical Kitchen Ventilation Systems?
Here are the different types of mechanical kitchen ventilation systems:
Recirculating Range Hoods
Recirculating range hoods filter and recirculate the air into the kitchen. You can install these hoods almost anywhere in your kitchen. Range hoods are not the most effective ventilation type, but homeowners prefer them as it is practical and easy to install.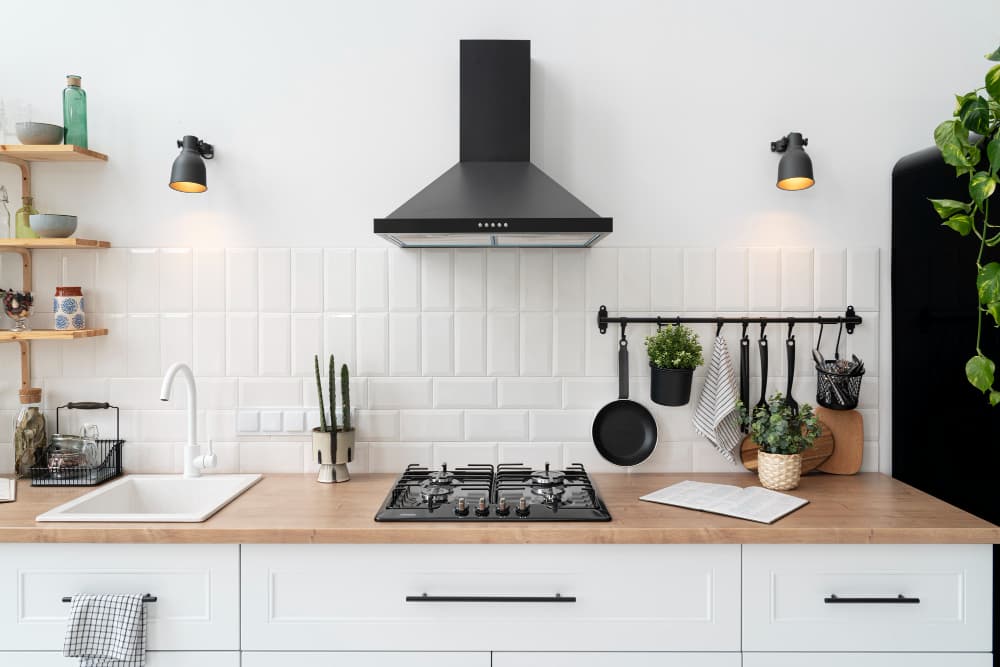 Ducted Range Hoods
This type of hood is designed to vent the air through a duct. It is a very effective way of ventilation as it moves all the odor and smoke to the outside. However, it might be not very practical for some homeowners since ducted range hoods require access to the outdoors.
Downdraft Ventilation
This type of ventilation system is installed on the cooking surface, so you don't need to have an overhead vent. Downdraft ventilation systems suck the steam and odor down through a vent. Some downdraft systems are built-in telescoping platforms that can be hidden when it is not used. Thus, it is a great solution for minimalist kitchen plans.
Ceiling-Mounted Exhaust Fans
In this type of ventilation, an exhaust fan is mounted on the ceiling. The smoke and odor in the kitchen are expelled upwards and exhausted outside through this ventilation system. They are durable and reliable, but installing them on the ceiling can be a hard job.
Wall-Mounted Exhaust Fans
Wall-mounted exhaust fans are similar to ceiling-mounted fans. The only difference is they use walls to install these fans. They exhaust the hot and polluted air outside. Wall-mounted fans are easier to install, but they may not be as effective as ceiling fans.
What Factors Should You Consider When Choosing A Kitchen Ventilation System?
You should consider the following factors choosing your kitchen ventilation system:
Kitchen Size And Layout
Size and layout are important factors in deciding the type of ventilation you need. For example, open-floor plan kitchens are generally larger and they need more powerful ventilation unless natural ventilation is enough.
Cooking Habits
You can suffice with smaller or simpler ventilation if you cook rarely, or you have alternative cooking plans for frying or grilling. However, if you cook in your kitchen frequently including grilling or frying, you should look for a more powerful ventilation system.
Noise Level
Some ventilation types make noise that can disturb you, especially if your living room or bedroom is adjacent to the kitchen. Look for more quiet ventilation systems if you are concerned about the noise in your kitchen.
Energy Efficiency
Energy bills might be a big concern for some people, and you don't want ventilation costs to break the bank. Consider energy-efficient options choosing kitchen ventilation for your home.
Maintenance And Cleaning
Some ventilation systems require harder maintenance or cleaning compared to others. Opt for low-maintenance alternatives if you are worried about the cleaning or maintenance of the ventilation system.
Budget
Last but not least. There are various types of ventilation systems, but financial issues can be an important consideration. Therefore, you should clearly plan your budget and look for the ventilation system that fits your needs at the best price point.
How To Properly Install A Kitchen Ventilation System?
You can install a kitchen ventilation system by taking the following points into consideration:
Height and Distance:
The hood should be 24-30 inches, and the distance between the cooking surface and the hood should be as wide as the cooking surface or more.
Ductwork and Venting:
Venting can be with or without a duct. If it is a ducted system, the ductwork should be as straight as possible.
Ventilation Capacity:
The size of your kitchen and cooktop width are important factors. Your ventilation system should move a minimum of 100 CFM for 10 inches of cooktop surface width.
Control Options:
An ideal ventilation system should allow you to adjust fan speed depending on what you cook and the amount of odor or smoke.
How To Maintain A Kitchen Ventilation System?
You can maintain a kitchen ventilation system following these guidelines:
Clean the filters regularly.
Clean the kitchen ventilation fan regularly.
Inspect the system for leaks.
Have the system inspected by a professional every few years.
Use the cookware properly.
Get some indoor plants for air purification.
Consider natural ventilation options.
How To Ensure that Exhaust Fan is Properly Ventilating the Kitchen?
Check the following points to make sure your ventilation system is working properly:
Kitchen exhaust should be vented outdoors, not in an attic.
insulate the ductwork running through the attic to minimize condensation since condensation in the duct might damage the ventilating mechanism.
Use smooth-walled ductwork where possible for the vent fan.
Clean the filters regularly and give the required maintenance.
Use your vent fan whenever you cook.
FAQs about Kitchen Ventilation
Here you can find some of the most frequently asked questions about kitchen ventilation systems.
How Much Does Range Hood Installation Cost?
The average cost of installing a range hood ventilation system is $750. It can vary between $175 and $3,150.
How Much Does A Kitchen Exhaust Fan Cost?
The installation cost of a kitchen exhaust fan falls somewhere between $160 and $850. The cost is lower if you use the existing connections, and it climbs higher if you need new connections for the new ventilation system.
What Is The Best Fan Size For A Kitchen Exhaust?
Generally, the size of exhaust fans varies between 4 and 12 inches. The ideal fan size depends on the size of your kitchen. You should also consider the CFM (cubic feet per minute) value. For example, a 1000 CFM fan is ideal for a kitchen 1000 sq. Feet X 8 ft height with the ACH rating of 7.
What Is The Best Brand Of Kitchen Exhaust For A Small To Medium Kitchen?
You can buy any ISI brand with a 3 to 4-star rating for a small or medium-sized kitchen.