Changing your bathroom tiles can make a big difference in bathroom remodeling. If you design your bathroom using the right floor tiles, you can get the most of your bathroom upgrade. In this list, you will find some awesome bathroom floor tiles. You can pick your favorite one(s) that fit your home and bathroom style.
What Types of Tile Fit Your Bathroom Style?
Just as your home as a whole, your bathroom has an identity too. This identity may depend on your artistic point of view, the location of your house, the climate in your area…etc. Knowing your bathroom style or having an idea of bathroom tiles design can help you decide the perfect floor tiles fitting your bathroom.
Best Bathroom Tile Ideas
Here is a list of fantastic bathroom floor tiles that you can consider in your next bathroom upgrade.
1. Blue Diamonds
Blue is a common color in wet places like pools or bathrooms. It might sound a bit ordinary at first, but you can create a more sophisticated look by using it in diamond shapes. It balances the striking white with two or three tones of blue in geometric shapes.
2. Gold Slate Tiles
Some people expect more than relaxation from their bathroom, and they tend to make more ostentatious selections for bathroom floor tiles. Gold slate tiles give you the feeling that you wish for with their rustic magnificent. Gold blush on the natural stone surface looks highly prestigious.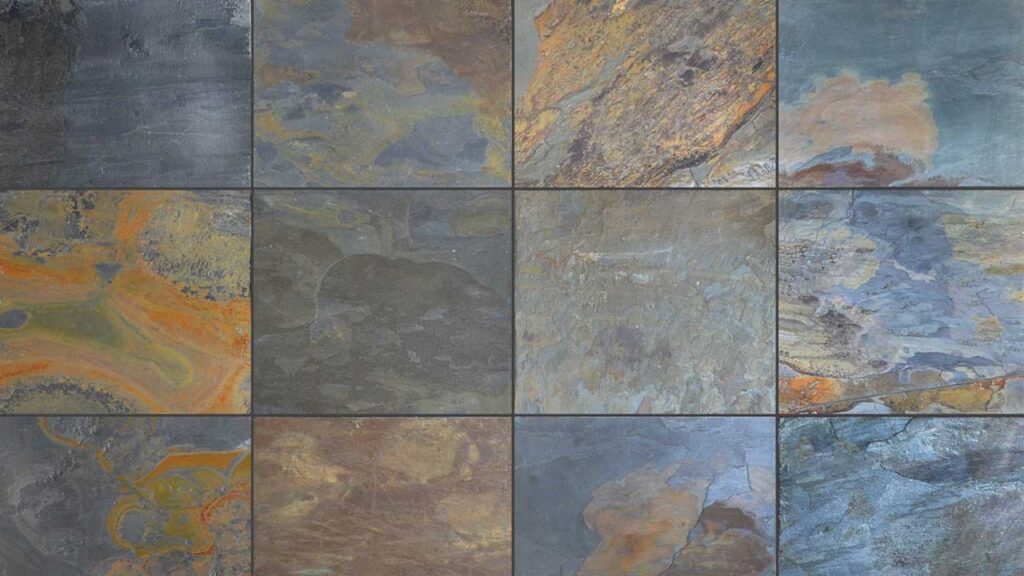 3. Etched Tile
Etched bathroom floor tiles are quite controversial. They offer slip-free surfaces, whilst many homeowners find it harder to keep clean. However, it is a fact that they give a unique identity to your bathroom with stunning patterns and colors.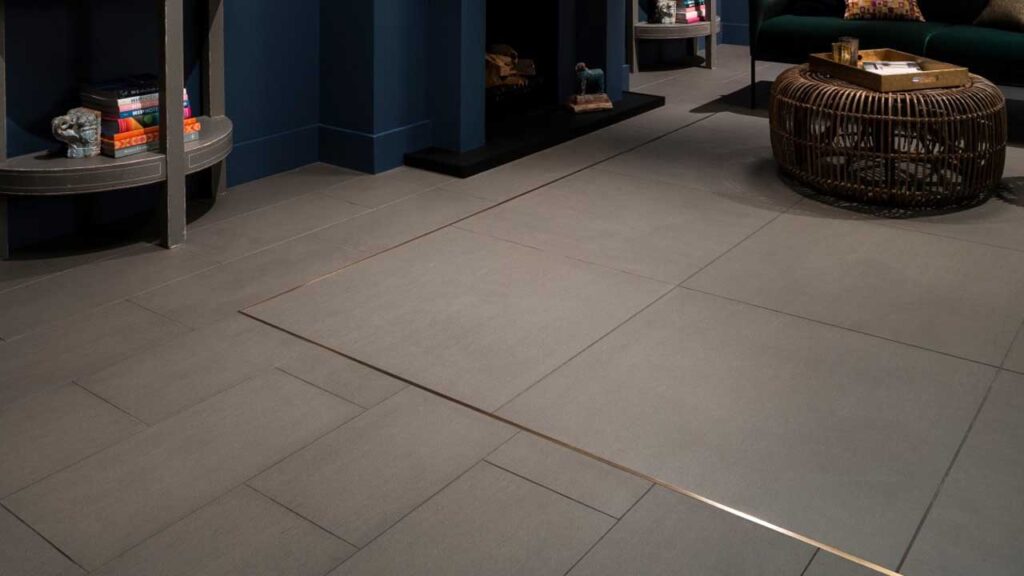 4. Stone And Glass Mosaic
Stone may sound weird when you are thinking about bathroom floor tiles. However, beautiful stones blended with glass mosaics can change your mind. This tasteful combination offers a unique pattern and classy texture for your bathroom floor.
5. Black Hexagons
Black will add elegance to your bathroom on the floor. Hexagon shape symbolizes balance and structure. If they are the keywords representing you or your family, you should go with these black hexagons. You can prefer matte or bright black, depending on the overall statement of your bathroom.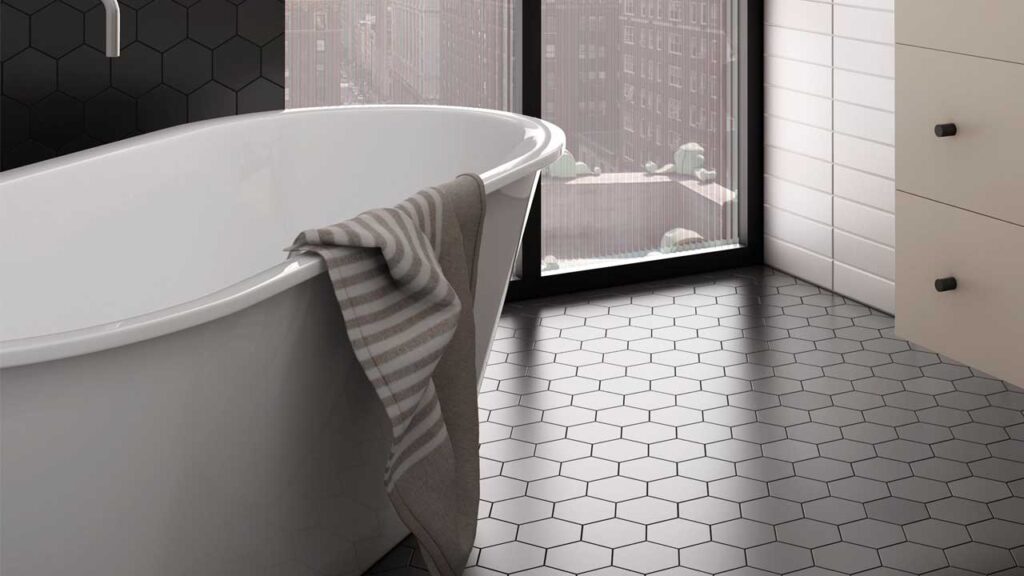 6. Rustic Wood Tiles
There are awesome tiles looking like hardwood on the market now. If your dominant bathroom color is white on the side walls or cabinets, these rustic wood tiles will match perfectly. This is one of the best ways of upgrading your bathroom into a natural warm place.
7. Basketweave Tiles
Basketweave bathroom floor tiles can bring joy and a sophisticated look to your bathroom at the same time. The lovely texture and pattern will make your bathroom your favorite part of the house.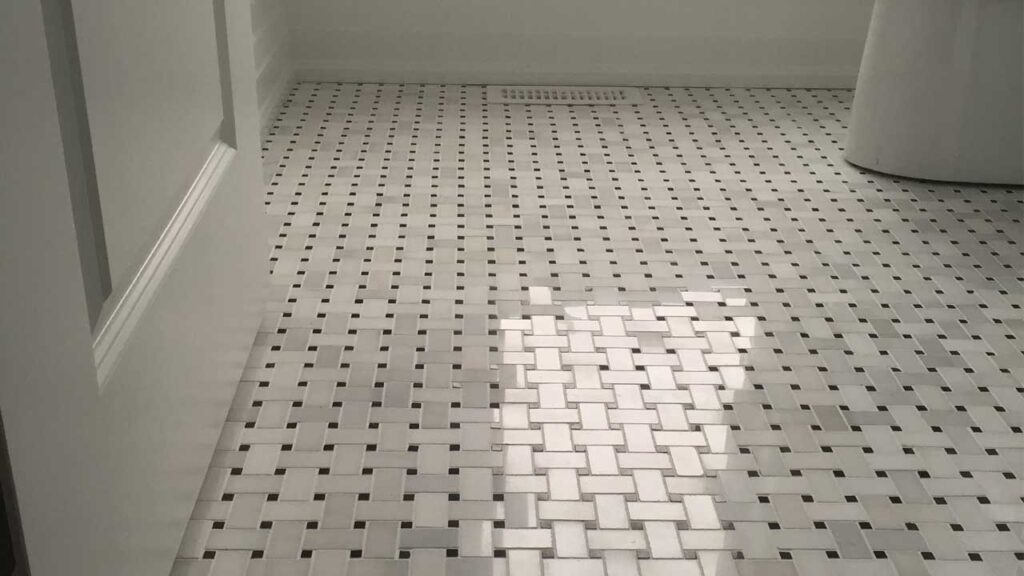 8. Sea Green Pebble Tile
If you think the bathroom should feel like a luxurious spa, you can give this sea green pebble tile a chance. The texture is so relaxing, and the colors are a bit of everything from nature.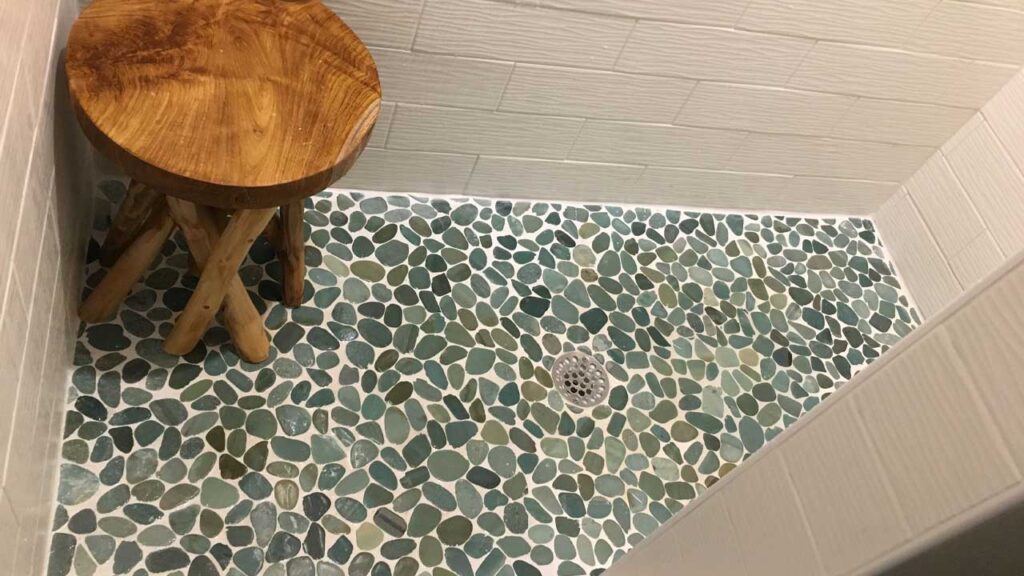 9. Marble Mosaic
When you think of luxury in a bathroom, most probably, an image of a bathroom full of marbles will pop up in your mind. But, you can easily have that luxury and beauty in your bathroom by using marble mosaic bathroom floor tiles.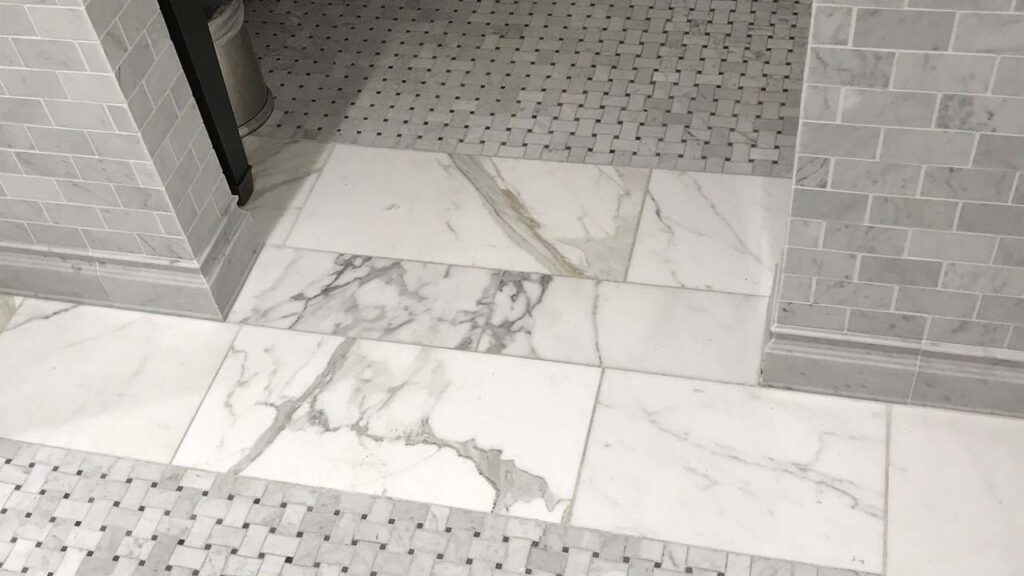 1o. Chocolate Slabs
Who doesn't love chocolate? If bathrooms are for pleasure, why don't you enjoy them to the fullest? These big chocolate slabs offer you some of the best times of the day. Though it is often paired with white, you can try some other colors on the walls or cabinets.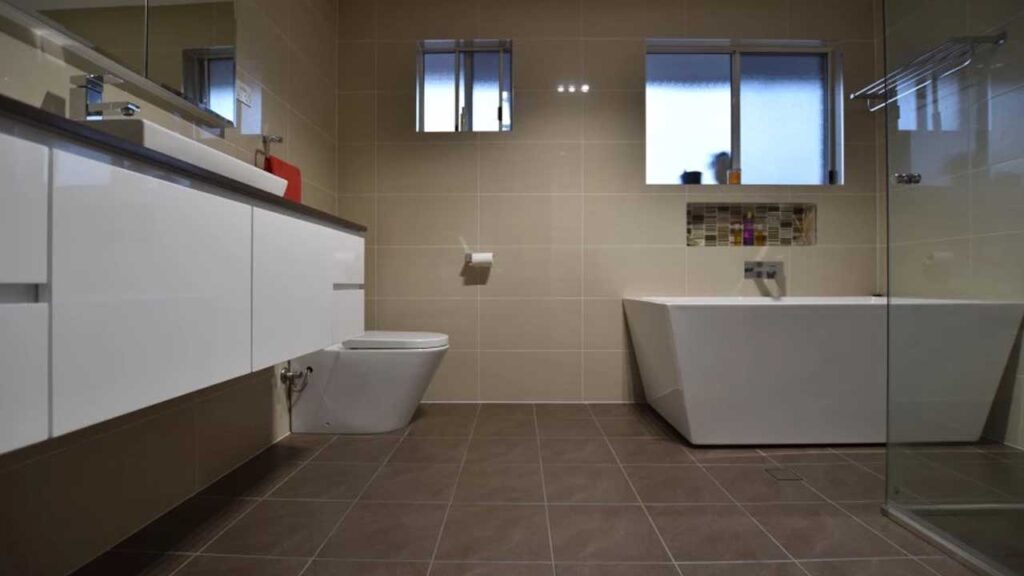 11. Modern Concrete
If you are looking for something modern and simple for your bathroom floor, you should go beyond the boundaries. Paired with white walls on the sides, a modern concrete bathroom floor with a gray and brown surface will give you the unadorned but breathtaking beauty.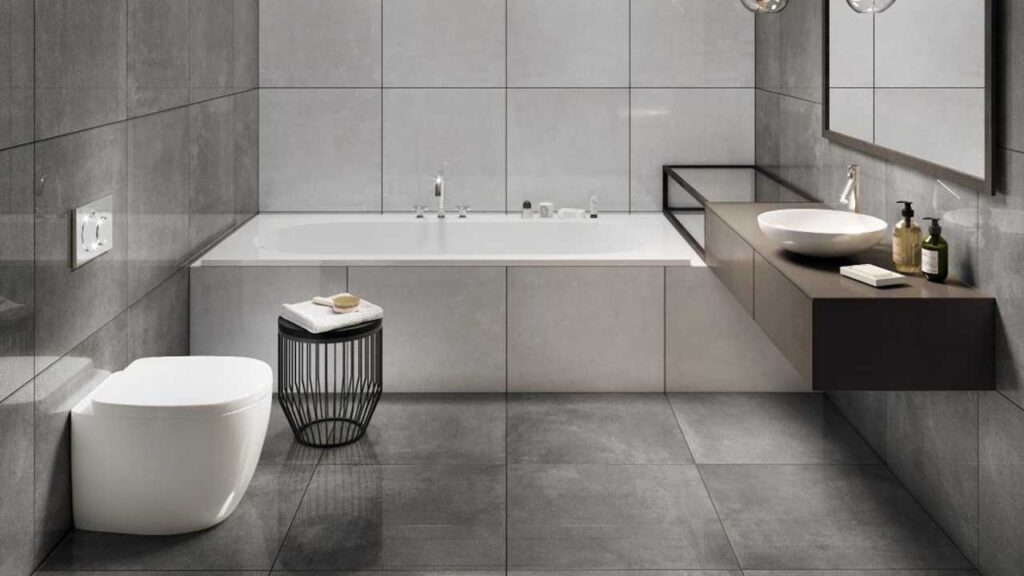 12. Penny Tiles
Slip-free tiles are always on demand, especially if they are shiny and beautiful. Penny-shaped little pieces under your feet will feel like you are walking on a shingle beach. Though there are different color schemes, light colors give a more brilliant look to your bathroom.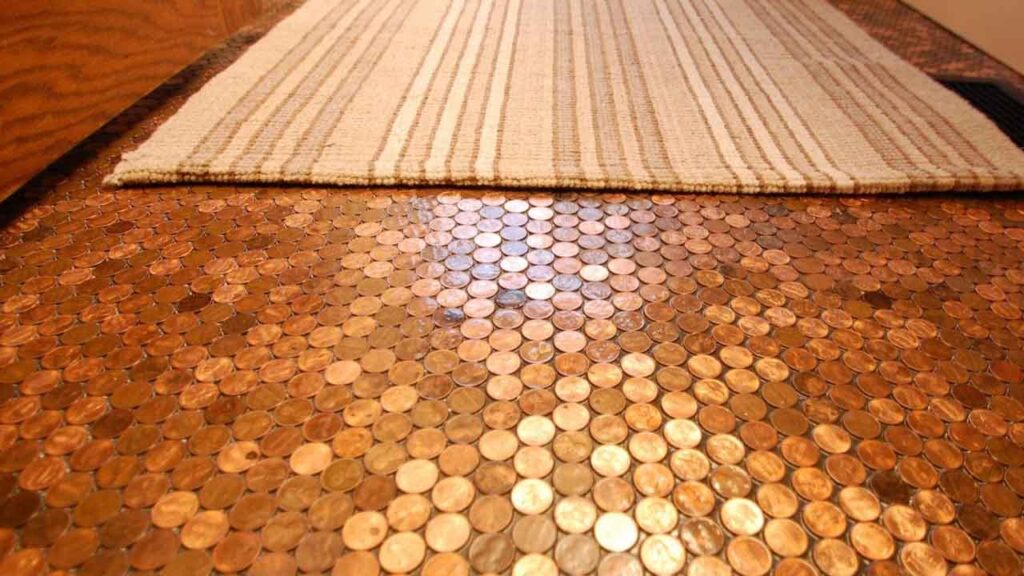 13. Blue Dandelions
Interesting bathroom floor tiles can make a big difference if you want something extraordinary. White dandelion patterns on a dark blue surface look so chic and sophisticated. Though it might seem too much showy for some homeowners, it can be just what you have been seeking for a long time.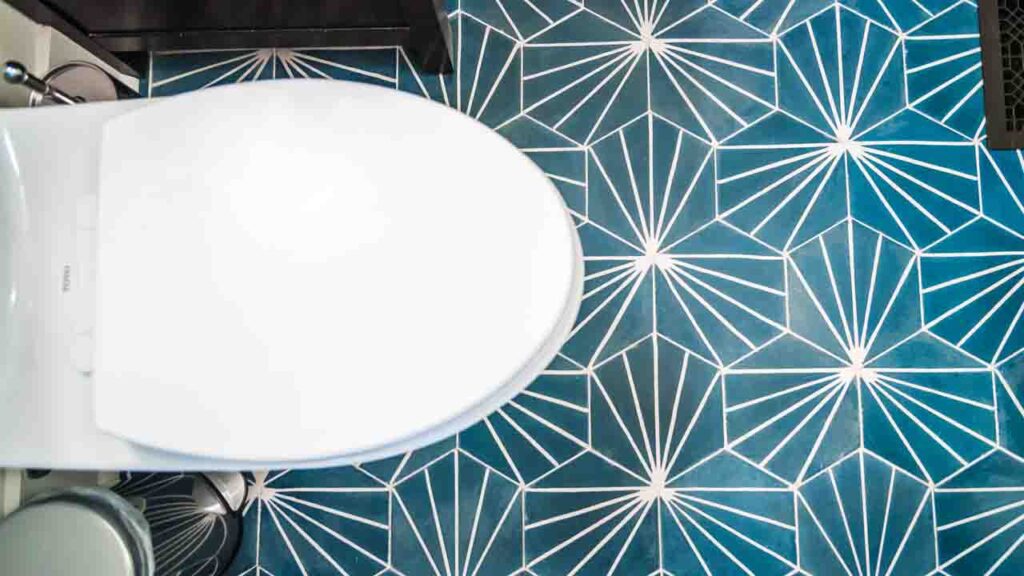 14. Black And White Chevron
Many homeowners are fond of black and white On these bathroom floor tiles: you can find black and white in chevron patterning, which adds a furry twist effect to your bathroom. It can be easily paired with gold fixtures and white walls.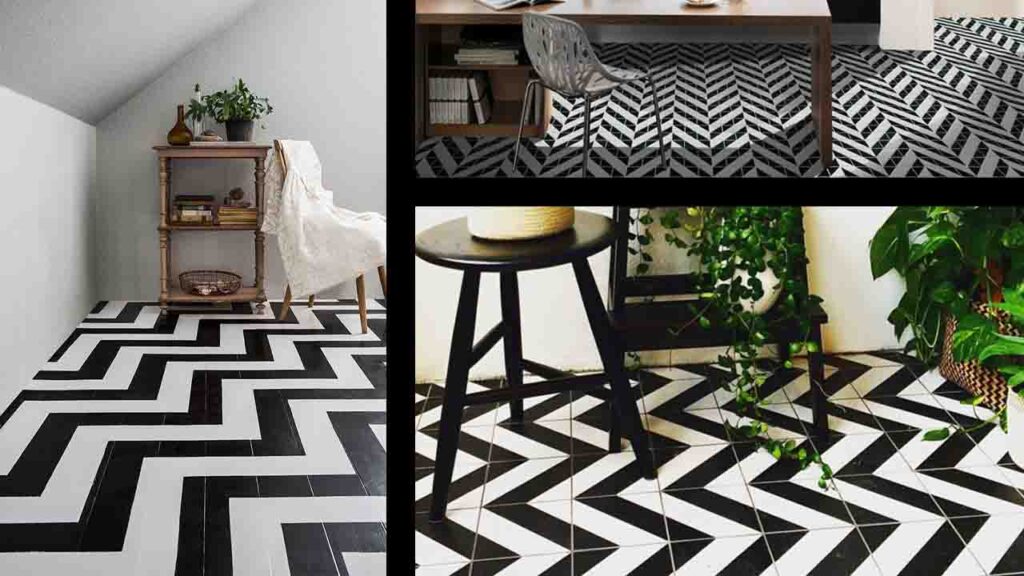 15. Stone Pavers
You can mimic some of the outdoor experience in your bathroom. Using these stone pavers, you can get a significant change in your bathroom. Also, this sort of stone pavers allows you to use irregular colors, shapes, and shades on the floor. Also, you are not limited to using certain colors on the walls or cabinets with these stones on the floor.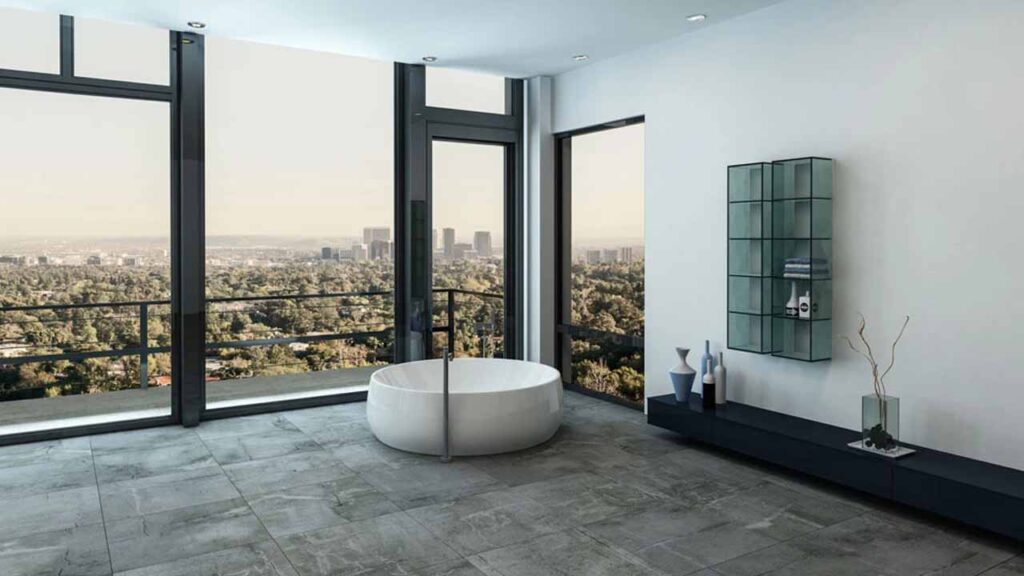 16. Colored Triangles
For some people, most bathroom floor tiles are the same unless they offer colors. These colorful triangle tiles are perfect for those looking for some fun and attraction in their bathroom. Depending on the colors on the floor, you can match the colors of other bathroom appliances, or you can keep the rest of the bathroom neutral while enjoying the colorful bathroom floor.
17. Blue Stones
Little blue textured stones are great for nature and outdoor lovers. The bathroom floor looks pretty breezy with these randomly scattered stones in different tones of blue. You are advised to use solid colors on the walls like white.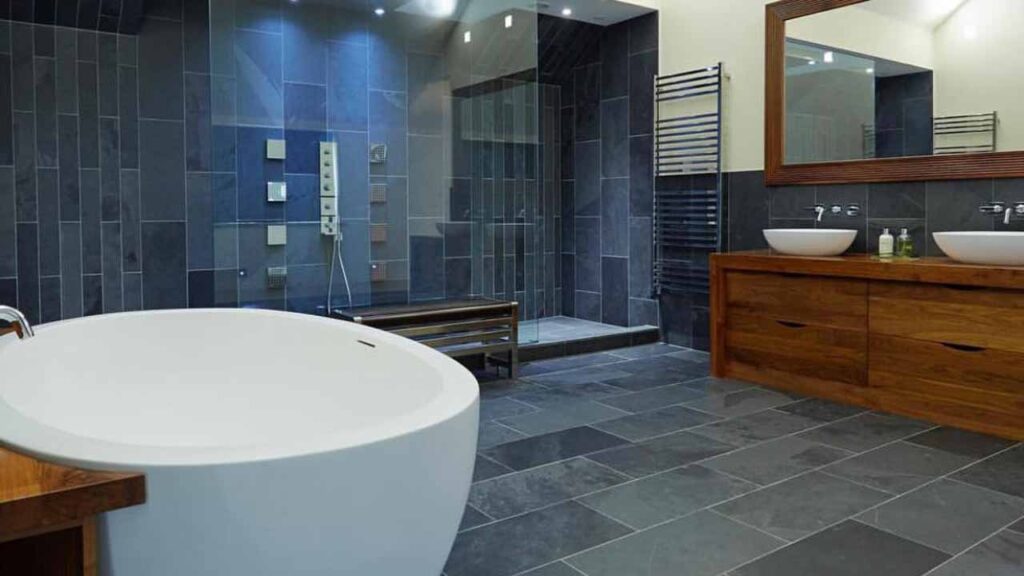 18. Black Herringbone Tiles
If you are into Herringbone patterns in other aspects of life, your bathroom floor tile ideas can involve something of these patterns. These black tiles look glamorous and prestigious. You can contrast these floor tiles to white subway-style wall tiles. The larger and less crowded bathrooms look much better with this tile design.
19. Black And White Arabesque
Black and white are the popular colors of many bathroom design ideas. They speak of minimalism and simplicity with a smart contrast. However, quite a lot of people find solid black and white monotonous. These Arabesque style patterns add a vintage and exotic flavor to your bathroom while ensuring simplicity.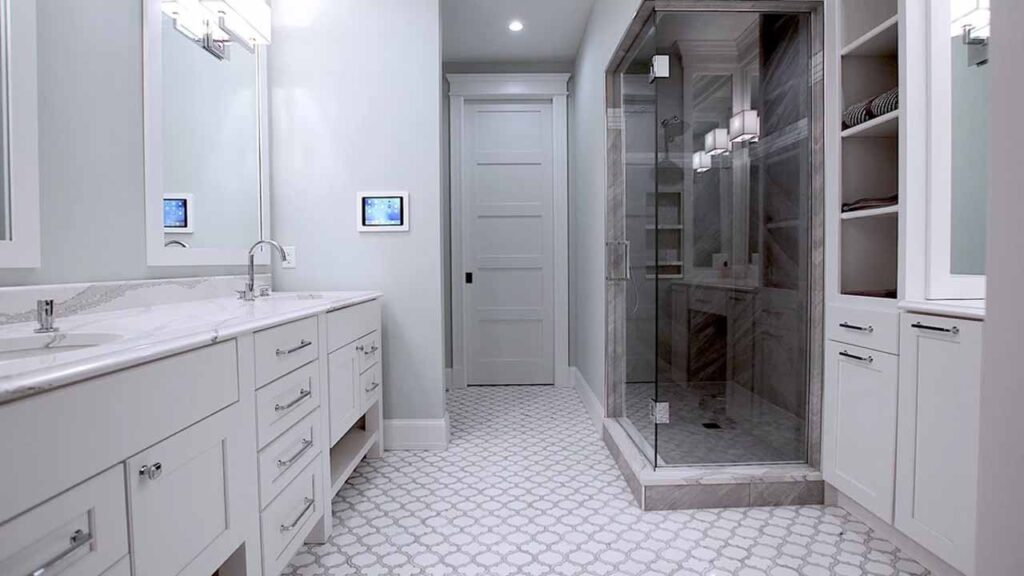 20. Floor And Wall Accent Tiles
Concrete grays on the floor look nice but a bit dull. The austere look can create monotony for some people. However, using beautifully patterned tiles partially, you can make your bathroom livelier. The partial use of tiles between concrete grays is also one of the most popular shower tile designs.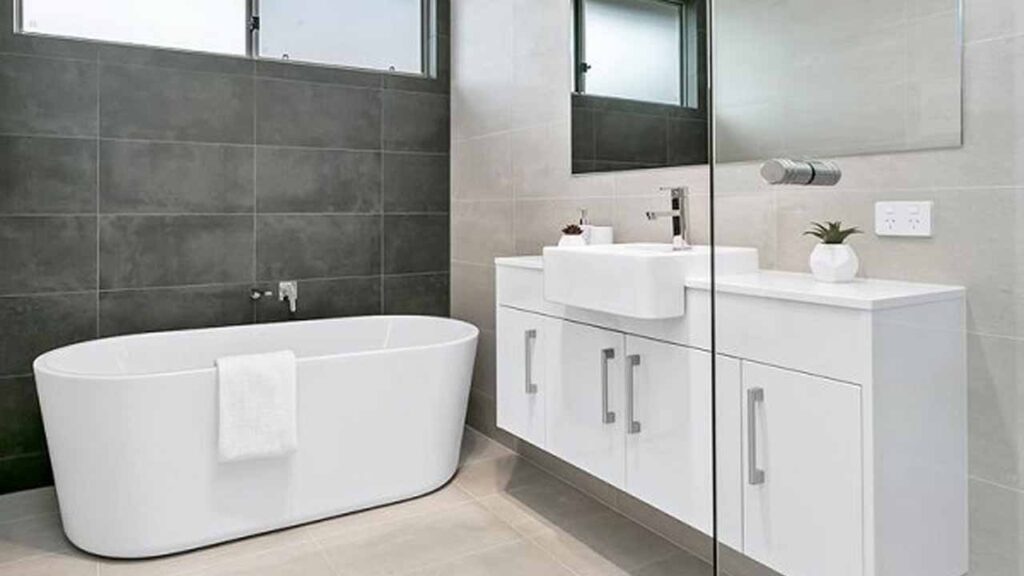 21. Marble Squares
Soft-colored bathrooms are best completed with marble floors. However, you may want to use tiles to break the austere look on the other hand. Marble squares are just for you, then. You can use marble patterned tiles as square islands between white marble floors.
22. Fishscale Cement Tiles
For some homeowners, uniqueness is the sharpest criterion. If you are one of those seeking wild and different, this fishscale bathroom tile design is an awesome choice for you. Once you decorate the rest of the bathroom harmoniously, your bathroom will become the most captivating part of the house.
23. Modern Gray Slate
Big neutral colors in your bathroom help you feel calmer. However, homeowners want to have a beautiful space there in addition to a soothing bath. These big gray slates are chic and modern, which never fail to give you the relaxation and calmness that you have always wished for.
24. Patchwork Tiles
There are many people who are in love with white walls, and they prefer white everywhere possible in their house. The bathrooms are no exception. However, too much white seems boring unless it is electrified with some lively colors. You can achieve that with a colorful patchwork pattern on your bathroom floor tiles. It is also one of the best shower tile ideas.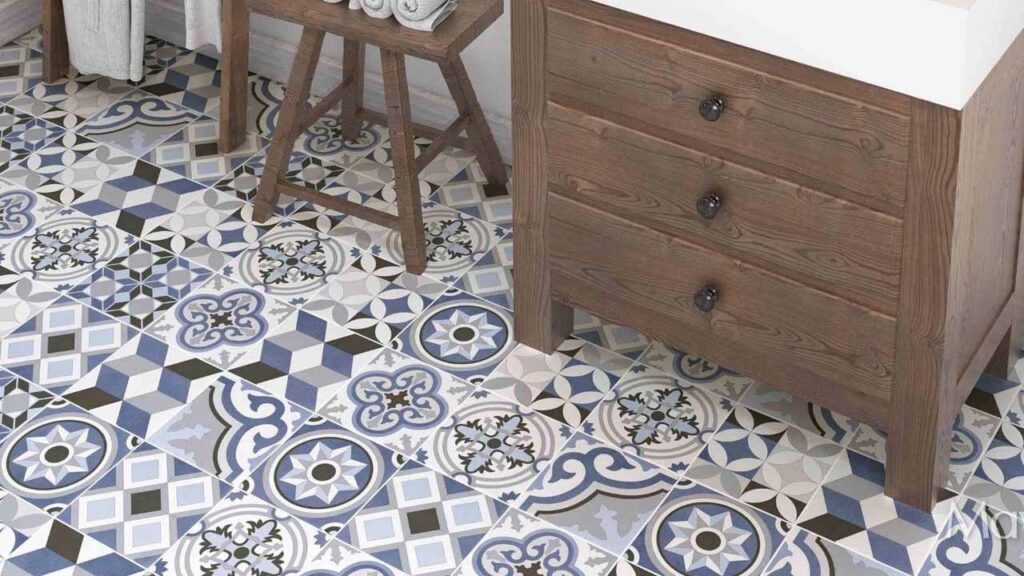 25. Dark Glass Tiles
Glass tiles offer you an effortless glamour. If you stick to the rule that the floor should be darker than all around, dark glass tiles are the perfect choice for you. Aside from the fascinating color effects underwater, dark glass tiles are also amazing due to their lower maintenance. However, you should be more careful about the slippery surface.
26. Colorful Honeycombs
You can have a more energetic bathroom with these colorful honeycomb-shaped tiles on the floor. If you are bored with all white walls, but still cannot think of any other color on the walls, the colorful combs on the floor will relieve you significantly.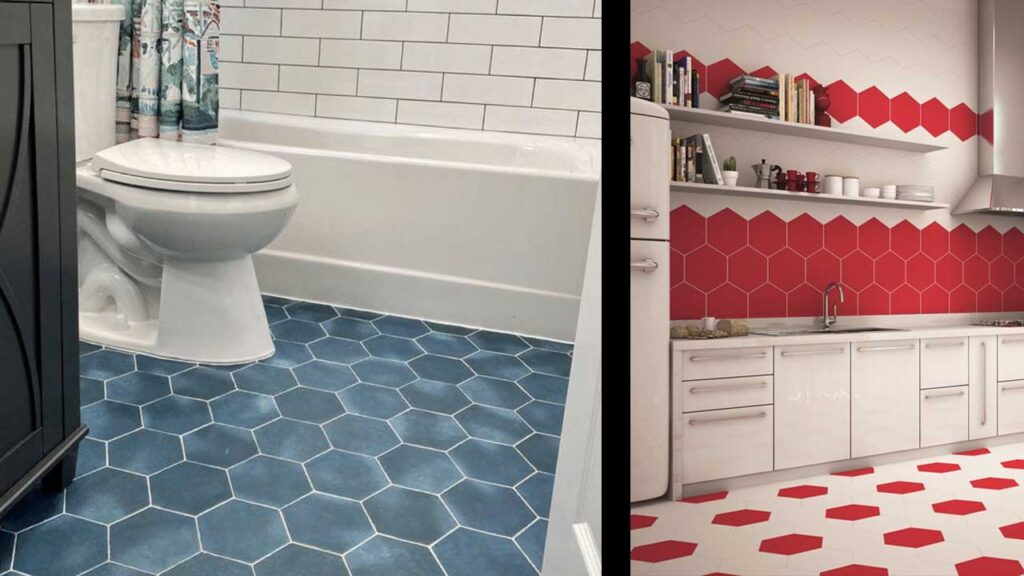 27. Dark Wood Tiles
You wish to have a wood floor, but the bathroom is not a good place to use wood material on the floor. Then, go with ceramic or concrete tiles exactly looking like natural wood. They give the rustic and modern look that you have desired for a long time.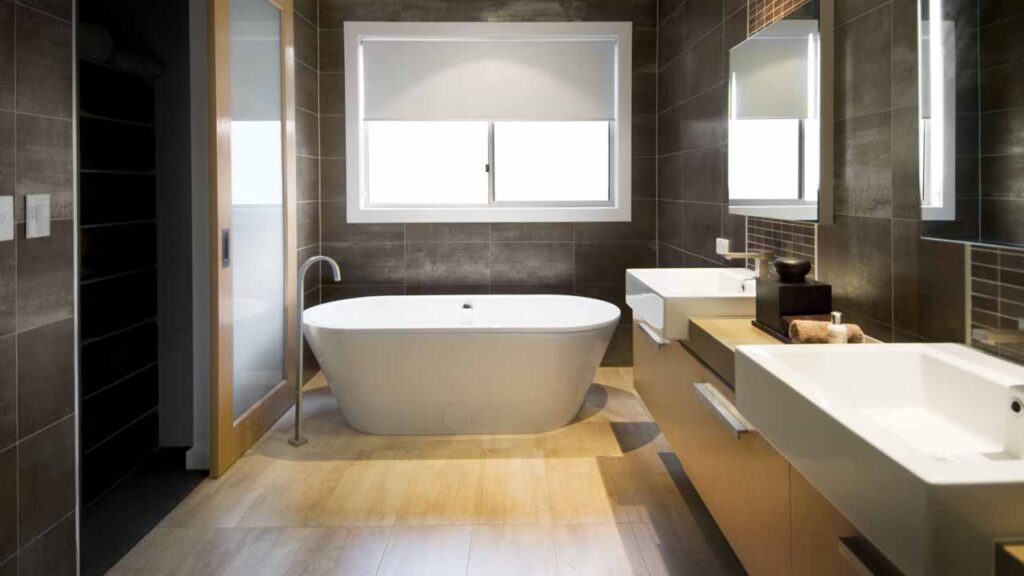 To Conclude
As you see, you are not limited to a few samples that you have seen around. There are many alternatives for you. Considering your style, you can make the most of your bathroom floor now.