Kitchen remodeling services are many, and people want to give the job to the best kitchen remodel service. Considering the average cost of a kitchen remodeling, $50,000 to $75,000, any homeowner wants to pay that money for a flawless job.
For some people, there are not many options in their neighborhood, and they have no choice but to hire one of the few contractors to get kitchen remodeling services. But if you have many alternatives, you had better know which kitchen remodel services to avoid or which kitchen remodelers to hire.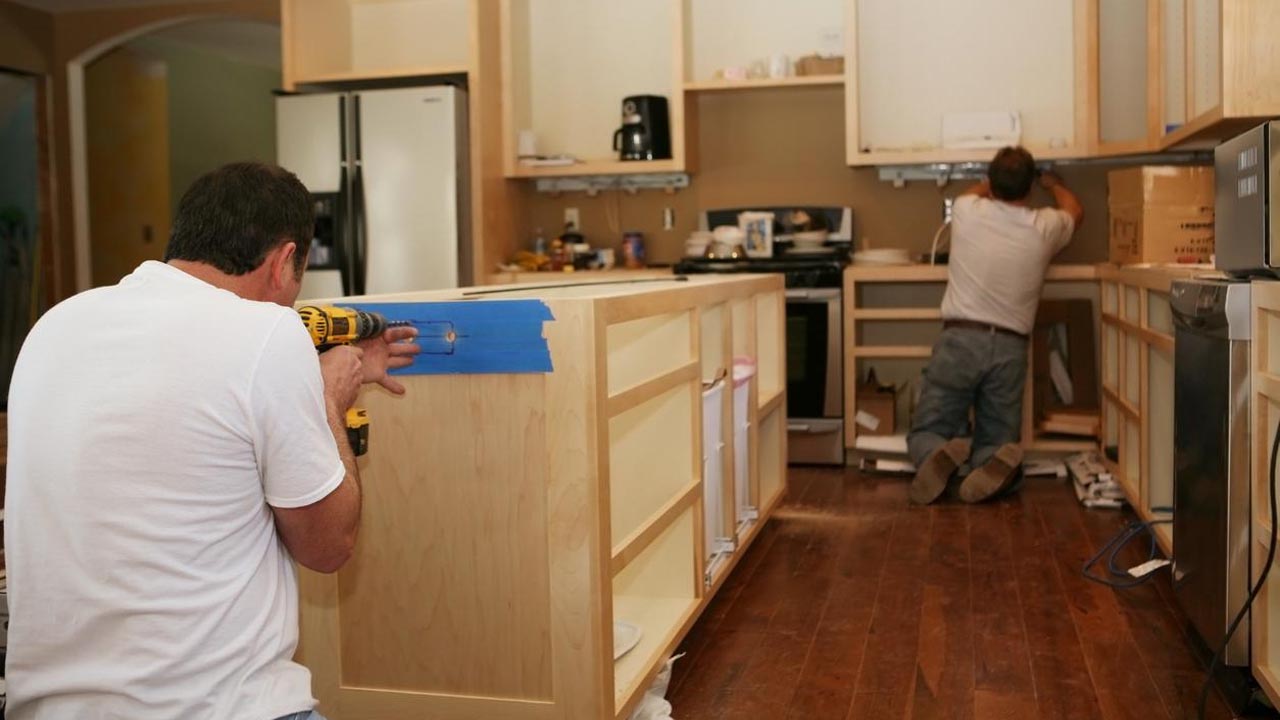 In this blog post, we give you many tips that will help you make up your mind before deciding on the contractor for your kitchen remodeling project. Reading these simple but effective suggestions, you can feel more confident when it comes to picking the best contractor for kitchen remodeling service.
1. Ask Friends, Neighbors, or Family for Referrals
Referrals are one of the best ways to get an idea of different kitchen remodeling service options. You can learn about reputable contractors, skilled installers, and the way they conduct the projects. Most importantly, you can see the work done in front of you with the naked eye. Additionally, you can touch it and test some functions yourself.
However, sometimes you may not be able to find a friend, neighbor, or family to get a referral. Then, you can still get referrals through an internet search. Websites of the companies, some online forum pages, or simply the communities on social media can help you to get some idea, though you will not be able to see and touch the products and work in person. You can even see helpful testimonials on the websites of some contractors.
2. Mind The Experience, License, Awards, References
Each item in the list is important in its own right. For example, suppose a reputable contractor is well known for its bathroom remodeling projects but not for kitchen remodeling. In that case, you should ask for some more information about their previous kitchen remodeling service, thinking that the quality of kitchen and bath remodeling services may differ.
Asking for their license is another good point you can keep in mind when getting a kitchen remodeling service. We all know that almost any profession in today's world needs some formal certification, which shows the professional's education and dedication to his/her job. And renovation jobs are no exception.
Hiring a certified contractor with a valid license can save you from various potential disputes, troubles, or accidents. For example, only certified contractors can get liability insurance, which can compensate for any damage to your property during the work. Most importantly, if any worker is injured while giving kitchen remodeling service, you might be legally responsible for the accident unless the contractor does have valid liability insurance.
Finally, awards and references are of great importance; especially there are a lot of kitchen remodelers offering you the service. You can make a great way just by looking at their awards and references are given by trustworthy authorities.
3. Interview Several Kitchen Contractors
When we talk to a contractor about the project, cost, and other details, it is very common that we tend to hide that we are also in touch or about to get in touch with some other contractors. In fact, everyone, including the contractors themselves, knows that clients are interviewing with many contractors at the same time. So you don't have to be ashamed of that at all.
Furthermore, interviewing several contractors can bring some important details to your notice. You, then, understand why the price is higher or lower at some contactors, why they can finish the work earlier or later… etc.
Also, you can make use of their kitchen visualizer or see their kitchen remodeling portfolio to get an idea of the project. In sum, interviewing different contractors will not only help you find the best price but also make you more knowledgeable in the procedure even before your kitchen remodeling service begins.
Bottom Line
As you see, visiting just one contractor and signing the contract right away might not be a great idea before spending a good amount of money and time. In addition, kitchen remodeling service is something that you can get only a few times or less, so you should be more meticulous before choosing your contractor.
In fact, it is not only a matter of time or money. The kitchen is where you will spend a lot of time with your family and friends. Eating gets the families and friends together, and your newly remodeled kitchen is where it will happen. You don't want to cook or eat in a kitchen, which is a total failure. We know you are entirely occupied with many things during the day but searching for the best contractor for your kitchen remodeling service is still worth it!