A small bathroom is challenging to work with, especially when it comes to storage. That being said, it is not something to get too stressed about. You can make it work amazingly well, especially with the right bathroom storage ideas.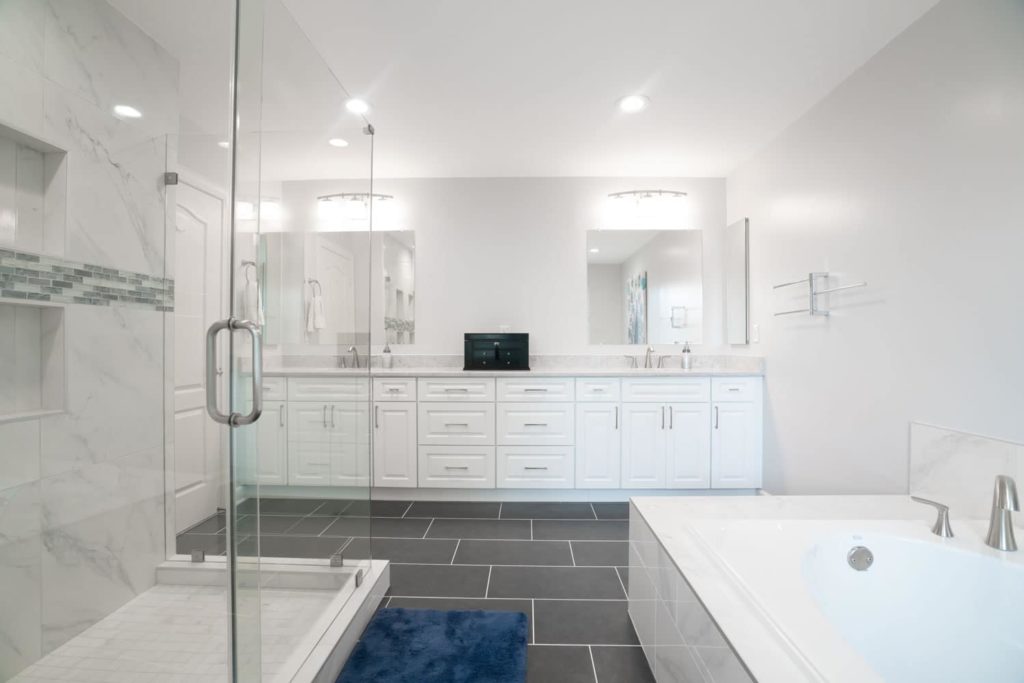 With the right ideas and styling tips, you can arrange sufficient storage space, even in small bathrooms.
Install a Large Shower Bench
While not directly related to storage, a large shower bench can come in handy too. It is of both formal and functional value and will help you conserve space for shelves, thus adding more storage in your bathroom.
Begin with Allocating Deep Storage
Yes, it is painful to know that your bathroom is too small to accommodate that sleek linen closet. But why not make the best of what we do have! A mirrored medicine cabinet or vanities with sufficiently deep shelving can work wonders. You can use this space to store towels, bottles, and other accessories.
Opt for Vertical Arrangements
Considering the limited space in your bathroom, everything you include should be for a reason. You can utilize your wall space to build cabinets for storage. These come in a variety of colors that you can choose from. If you don't prefer a conventional medicine cabinet, you can go for mirrors with shelves or drawers.
Check Out Floating Shelves and Vanities
Floating shelves or vanities can be of great help for optimizing storage in a small bathroom. They will come in handy for storing candles, soap, tissues, and washcloths. Even a simple glass shelf installed under your mirror can be quite handy.
Consider Utilizing Outside-The-Box Surfaces
Even in a small bathroom, a small shelf can spice up an otherwise bland corner. You can use it for minor storage, such as cosmetics or a flower vase. You can keep it at your sink's level or just between the sink and mirror.
Be Prudent with Sink Surfaces
A double sink vanity in a small bathroom can be inconvenient and cumbersome. On the other hand, a long sink design can aptly help you conserve space and optimize storage. In this case, both the sink and countertop are a part of the same piece. It is just long enough to serve two people at the same time. Some models also provide ample space for you to store towels.
Recognize the Value of Shower Niches
In case your massive tub is taking up a lot of space, and you can't remove it, don't worry. You need to ensure that you are conserving space somewhere else. Yes, you guessed right. It is wise to install built-in shelves and niches into the wall just behind your tub. You can use these shelves to store towels and other items.
Conceal Your Storage
For small bathroom storage, you can hang a mirror at an angle over a corner sink for maximizing every little inch. You can also push back all clutter behind the fabric skirt. You can also add a table with an open base. That way, it will not close off any space. It will also give additional space for you to store candles, flowers, and magazines.
The Power of Innovation
Yes, there are some innovative ways for you to allocate more storage space in a small bathroom. For that, you can put a tray over the hamper to the soap dish and towel bars and get more storage. By doing this, you can get storage efficiency nearly equivalent to a large bathroom if done correctly!
Ledges are Better Than Furniture
There is no need to worry if your bathroom does not come with a built-in vanity. A handy ledge installed over your sink will do the job just fine. Not only will it hold plenty of your necessary items, but it will require much lesser floor space than regular furniture.
You can also put up a floating shelf over your sink for décor and other miscellaneous objects. If you do not have a concealed cabinet behind the sink, this can be particularly useful. Floating shelves installed over the toilet can help you conserve even more space.
Baskets And Bins are Your Allies
Baskets and bins can neatly go hand-in-hand with your open shelves for your small bathroom storage solution. Although shelves are convenient, the absence of cabinetry can compromise your storage. Bins and baskets, however, can help you largely rectify that. You can easily store your linen towels inside these.
Go for a Floating Basin Sink and Towel Bars
A floating basin sink can be an excellent replacement for huge and cumbersome cabinets. Not only do they look cool, but they can help you conserve space in a small bathroom. Similarly, towel bars can conveniently save surface space for you. Using a washstand along with them can be even more useful.
Use a Ladder for Additional Storage Space
Whether your bathroom is big or small, a ladder can significantly enhance your available storage space. Put up a wooden ladder against the wall just behind your toilet. You can use it for hanging towels, accommodating a shower caddy, and other similar purposes.
Install a Sliding Door
A conventional swing door with hinges can take up space when you open it. Instead, for your small bathroom layout, you can go for a door on a rail. Such doors work by sliding and run parallel along the wall. It can help you conserve a lot of space in your bathroom which can be used for storage.
Make Good Use of Hooks
Even if you do not have sufficient small bathroom storage space or cupboards available, don't worry. A handful of simple hooks can prove to be extremely helpful to you. Put them up on walls and use them to hang your towels, robes, or undergarments. Hooks with a metallic hue can add a spark of suaveness to your bathroom.