If a broken sink or dripping shower has you dreaming of aesthetically pleasing, radiant bathroom tiles and Instagram-worthy goodness in a remodeled bathroom, you're not alone. Along these lines is the confusing phenomenon of bathroom remodel costs as well.
We all fantasize about expensive hardware, luxurious bathtubs, His & Her sinks in the early stages of bathroom remodeling. However, you need to think about money first. For instance, can you still create your desirable bathroom within a budget? In order to do so, you need to understand the different aspects of bathroom remodel costs.
Our Ultimate Guide to Bathroom Remodel Costs
Do the Math
Ask yourself if your bathroom needs just a facelift or a full remodel and work around it. The most important thing about remodeling your bathroom is knowledge.
An average midrange bathroom remodeling costs anywhere between $5,000 – $20,000. It's easy to go with the flow and spend more money than you initially planned on doing. Not just that, contractors can often nudge you to spend more on unnecessary items and improvements. Hence, it is important to select the right contractor to work with.
Research, understand and have a clear mind when it comes to your budget and stands your ground. Draw a rough draft and try making changes to it. Once you and your contractor are happy with the final output and are on the same page, they only get started on the Remodeling. This method will help you prioritize better and spend more efficiently.
Remodel in Phases
It's always better to remodel in phases, and it's more convenient in today's busier times. Make a schedule, hire a contractor, and get the shower, tub, and groundwork done first. While you're at it, do not forget about bathroom storage as well.
That is also going to cost you the more significant chunk of your budget. On average, $2000-$5000 is for labor, fixtures (such as the toilet), tile replacement, sink replacement, flooring, and general plumbing.
When that's out of the way, you can shell out the remaining bathroom remodeling costs on brushing up the design. Carefully follow your plan because these decisions can make or break your budget.
There are a lot of things you can DIY like painting the walls, changing the faucets, redecorating the bathroom as per your liking, and so much more. So, what's keeping you from having a little fun?
Bathroom Remodel and Design Costs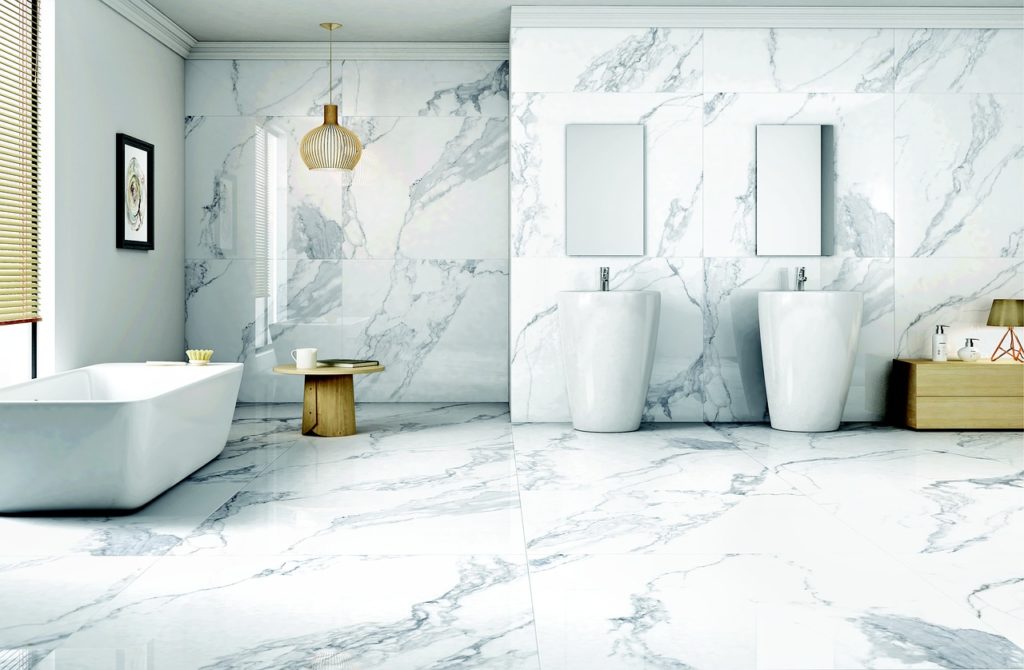 Be it Classic White, Retro, Victorian, or Asian-Inspired; everyone has their personal preferences and lifestyle.
Whatever you choose will influence the total bathroom remodeling costs profoundly. For example, subway tiles are less expensive than designer mosaic tiles. Your average tiles will cost you $3-$5 per square feet, and more modern bathroom designs can go upto $50-$80 per square feet. Also, a $400 bathtub works just as well as a $4000 tub.
As you work on the designs, ask your contractor for a firm cost breakdown. Design choices are where the expenses add up, and once you're happy with the figure, get started.
Light up the Bathroom
A bathroom serves many motives — it's your sanctuary—a place that soothes your soul and lifts your mood whenever needed.
The lighting usually does a lot of it in your bathroom space; spotlight, vanity lights, dimmers, etc. When it comes to the lights, please don't overdo it, but don't under-do it either.
Make sure your bathroom has bright and clean lights that can adjust to your mood. Dimmers play a massive role in setting the field as they add flexibility and can be changed as you like.
An essential aspect of choosing your light is the direction. Avoid clear bulbs that cast a shadow and result in unflattering asymmetrical lighting.
Choose opaque or frosted lights instead of a well-rounded appeal. One thing to keep in mind is the lights are resistant or accustomed to wet, moist areas.
Add That Extra Pop of Color
A fresh pop of color on that big dusty wall can help bring the whole remodel together. Painting is one of the most cost-effective ways to brighten up your bathroom without spending much.
Opt for bright whites, blues, ivory, or grey tones to make your remodel come to life. Semi-gloss and satin formulas that are resistant to mold and mildew would work best in the long run.
You don't have to go big on the tiles and save upto $100 if you choose to paint the walls yourself.
DIY-ing your bathroom also has its appeal and satisfaction. The process might seem stressful, but the result would make everything worth it. Let's get messy, shall we?
Make a Statement
Keeping the basic out of the way, it's time to add some wow-factors. With enough boards pinned on Pinterest, the possibilities are endless.
Stick to your theme, look for pieces that add value to your bathroom remodel without hampering your budget. Pick items without overcrowding the space; remember less IS more. Statement pieces play a huge role in adding to the bathroom remodel costs but they provide significant value as well.
Mirrors are one of the essential items in any bathroom. They play a huge role in making even a small bathroom appear larger than life. Pick mirrors that are big and add a sense of style.
Vintage, elegant mirrors with metallic brushing or just a classic rectangle mirror can add a statement to your bathroom. Make sure they're well lit and go well with your overall theme.
Planters and succulents are huge on the market. They add vibrancy and a piece of nature every time you walk-in. With several options online, you can get your pick for under $20.
Add some beautiful artworks, shower curtains (under $30), and non-slip rugs ( under $100) to elevate the whole look. Remember, it's all in the details.
Understanding Bathroom Remodel Costs
While a bathroom is a general, substantial functioning space, it doesn't mean it has to be boring. Adding comfort and style, even beauty, will only perk up space. Consider what details will serve you and your bathroom the best before worrying about the bathroom remodeling costs.
Take your time and do your homework when deciding your bathroom remodel. Check online and offline prices before finalizing anything concrete. Remember, the final bathroom remodel costs depend on various factors such as size, layout, scope, and other similar factors. Once you get it out of the way, you're all set to start your bathroom remodeling!