Bathroom decoration ideas are simple ways of upgrading your bathroom. Since many bathroom interior design ideas don't require a substantial renovation, it is a matter of minutes to make a big difference in your bathroom. We believe that a beautiful bathroom design is not necessarily luxurious with golden fixtures and high-tech showers or bath tubes. Though, the feelings of refreshment and elegance are still possible with some smart tricks.
Bathroom Decoration Ideas
In this post, you will find a lot of bathroom decoration ideas, and many of them are budget-friendly. You can pick the ones that fit your needs and match your bathroom. You can even combine a few of the bathroom decoration ideas in the list.
1. Oversized Map
Bohemian style is becoming more trendy these days. However, getting a dramatic makeover is not possible in a short time with a limited budget. Simply artistically putting an oversized map can change the overall look of your kitchen. You can consider using a bigger map if your bathroom is a large one.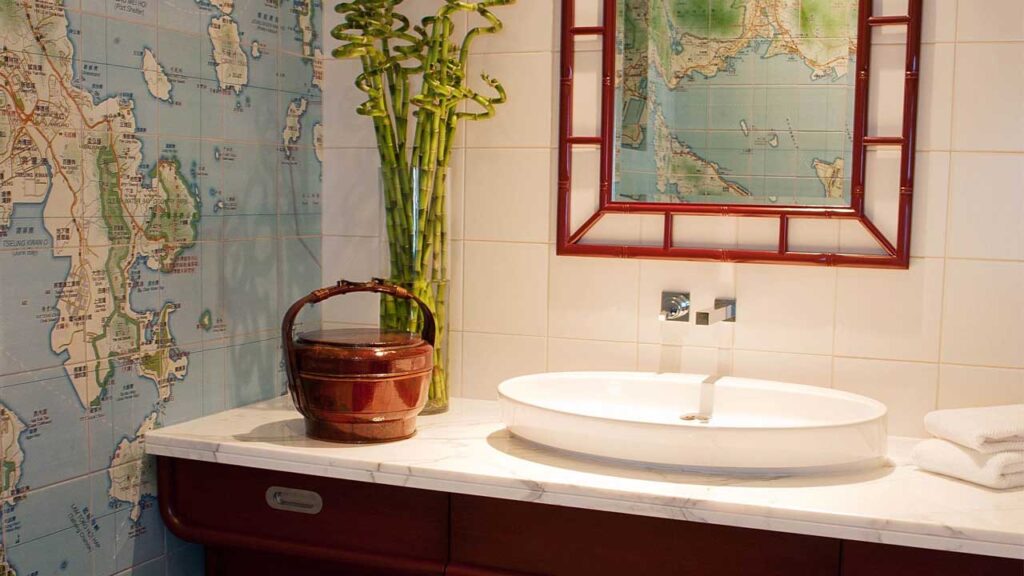 2. Incorporate Brass Accents
If you think your bathroom looks old or outdated, it might be because of the bathroom fittings like mirrors, faucets, tissue box, soap dispenser… etc. You can simply replace them with brass accents. This overall brass replacement will make your bathroom look more luxurious and organized.
3. Sink Skirt
Everyone wants to have a vibrant look when they step into the bathroom. Unfortunately, outdated or ugly bathroom cabinets might make it impossible in your bathroom. Instead, you can make use of a decorative sink skirt to hide your things under the sink. Pairing the skirt with bathroom wallpaper or wall color, your new decoration will blow the negative energy away from you.
4. Small Table
Do you need bathroom decoration ideas that are aesthetic and functional at the same time? A small table or a wood stole can make your space much more luxurious. Your bubble bath will be more fun with this small table next to your bathtub. You can put your drink, book, speakers, or candles on; and you can make the most of your bathroom time.
5. Old World Look
There are many bathroom decoration ideas around. Maybe the thing you want to see in your bathroom is a piece of nostalgia. You can simply give an old look to your vanity by replacing your mirror, light fixtures, or beadboard with vintage-style products. This old-world feeling might feel you better in a simple way.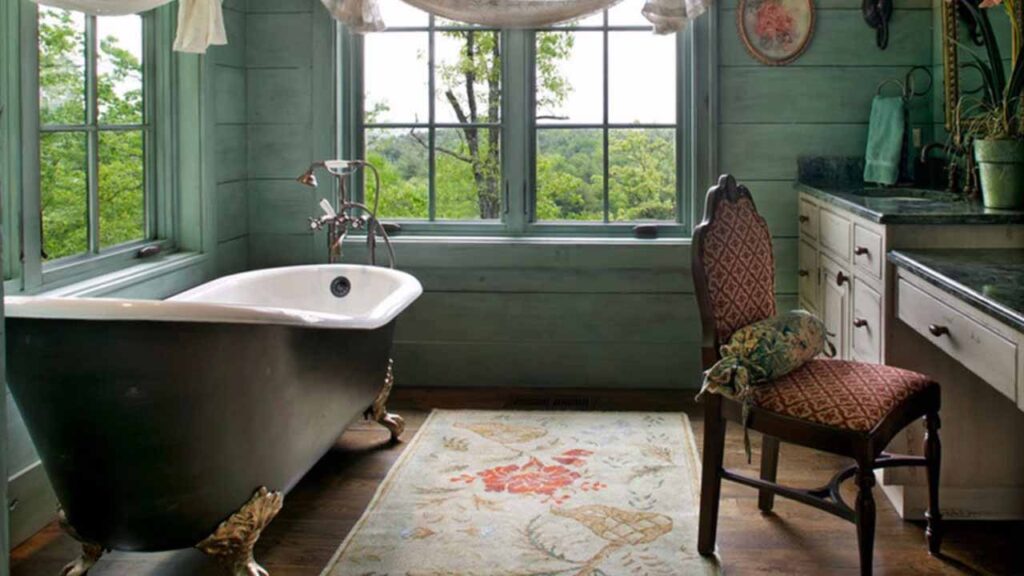 6. Tree In the Corner
An indoor tree has absolute transformative power. They look fantastic, especially in austere-looking bathrooms as well as filtering the indoor air. However, it would be best if you didn't buy an indoor tree randomly. Additionally, you should consider some points before buying an indoor tree, such as the size of your space and the tree, lighting, and water need of the tree.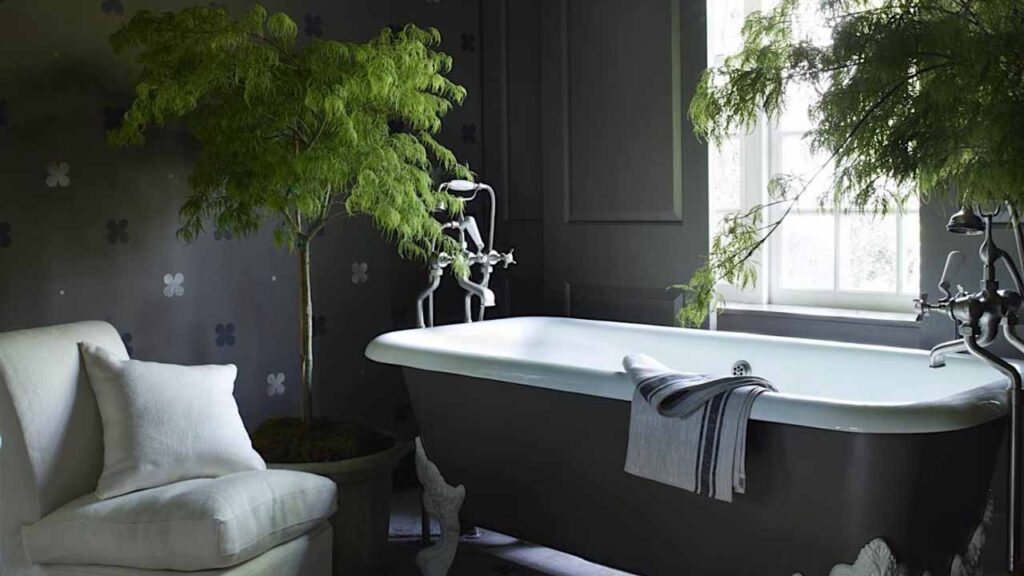 7. Floral Wallpaper
Many people are already familiar with wallpapers in the bathroom, but graphic wallpapers might sound a bit bold to some people. However, using a floral type of graphic wallpaper can make a big difference in smaller bathrooms. In addition, you can complete the decoration with woven mirror frames and other possible accents.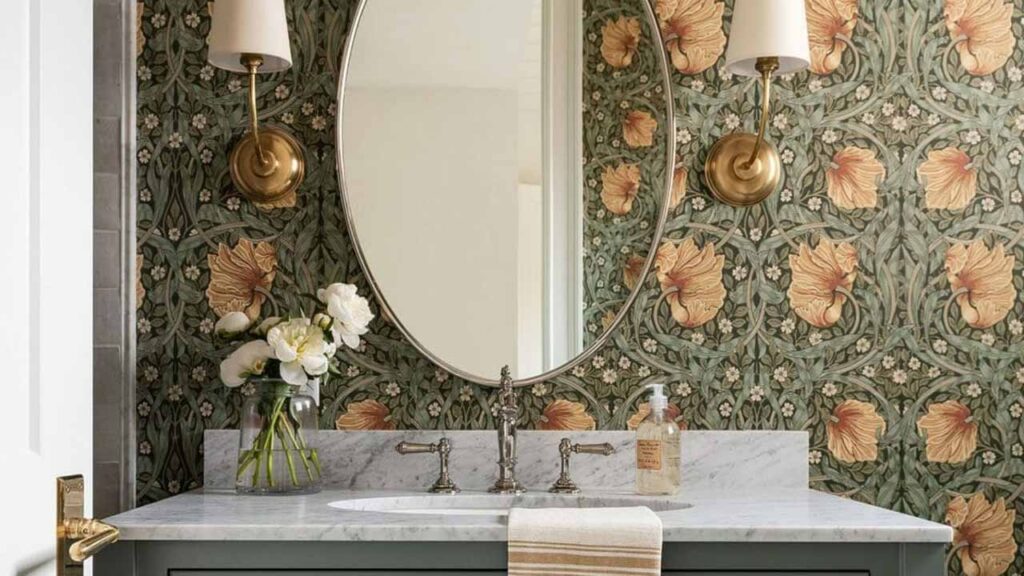 8. One Color Only
Picking just one color and using that color everywhere possible doesn't mean your bathroom is colorless. Sticking to one color like white gives your bathroom a tonal look rather than colorful. You can even replace your faucet and other fixtures with white ones. Your bathroom will look visually tidy but straightforward. It is highly recommended if you are tired of the messy look that your bathroom has gained throughout the years.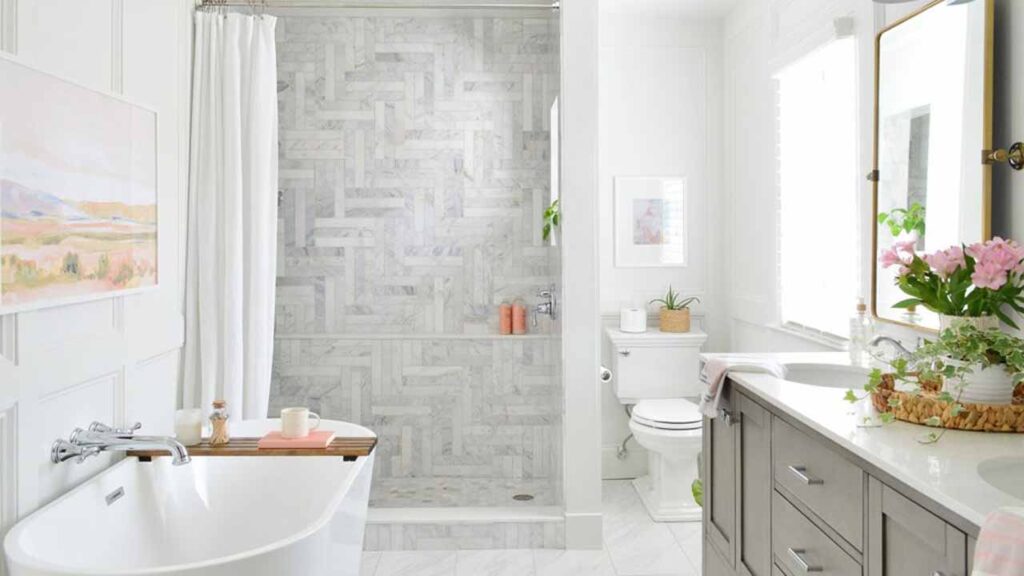 9. Animal Print
If you have a larger bathroom, you can consider using animal prints on one of the items in the room, such as an ottoman or a laundry basket. Covering them with a few meters of cloth with patterns of animal prints on can make your bathroom more lively. You can also consider the animal prints as bathroom wall art. Prints of any animal are possible. To name a few, you can pick try zebra, leopard, cat, or dog prints.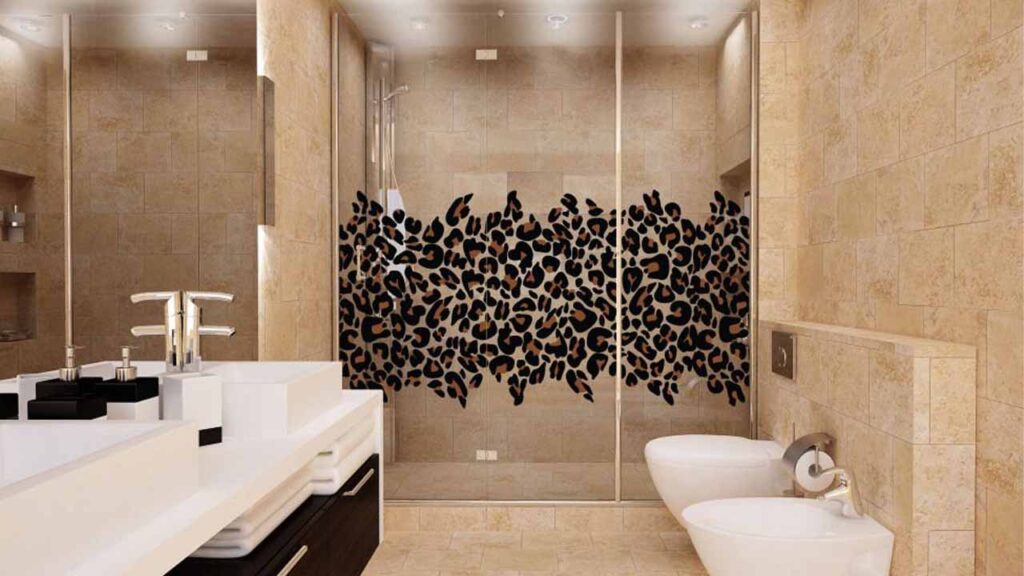 10. Colorful Rug
Everyone wants to have a warm-looking bathroom, but many homeowners quit the idea thinking that it will cost them a lot. But a simple touch like a colorful rug can give your bathroom that warm feeling. Laying a small rug on the floor, you can add color, texture, and print to your plain bathroom floor.
11. Bathtub Shelf
You might already have a few shelves in your bathroom. What about putting a shelf across the bathtub? This simple shelf is an excellent way of putting your special candles, flowers, mobile phone, or a glass of wine. Aside from such a smart function, the shelf adds elegance to almost any tub and any bathroom decoration.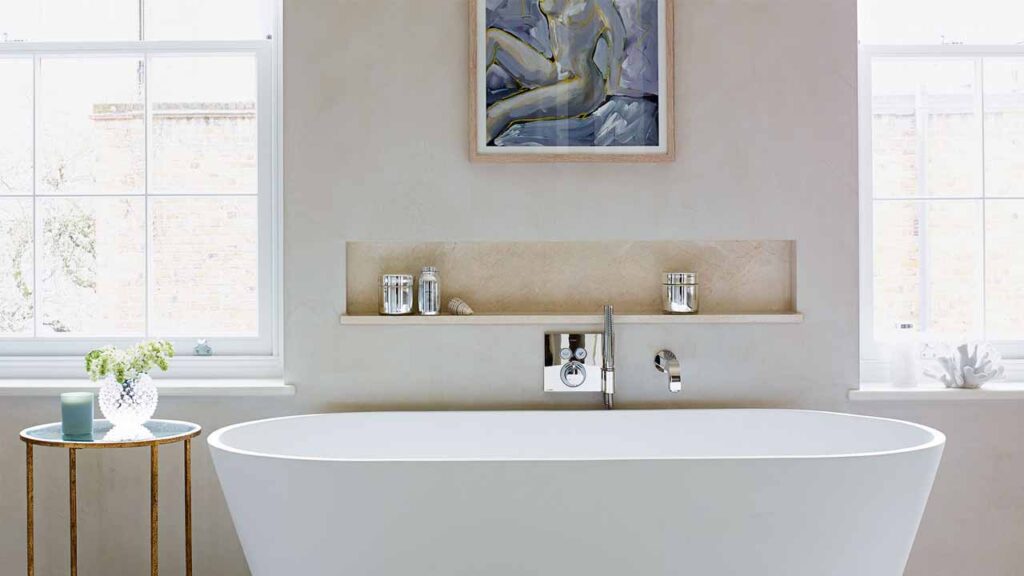 12. Eye-Catching Additions
If you have a large bathroom, you can consider adding extra storage that freely reflects your style. For example, box-like storage next to the bathroom vanity top will help you keep your bathroom tidier. Gold handles will look classy, while a marble tray on the storage instead of a traditional countertop reflects your free spirit beautifully.
13. Invest in Soap
You want to impress your guests with your bathroom decoration, but your plans just stick as they all require a big bathroom renovation. Actually, a few tricks can help you. For example, you can buy special kinds of soaps and change the type or the decoration of the soap according to your guests' tastes. This highly personalized yet cheap service can do more good than a new countertop for your guests.
14. Garden Stool
A garden stool is one of the most functional items you can keep in your bathroom. It serves as a seat in the shower and looks like a piece of decorative art near the tub. You can leave your things on it and move freely in front of the mirror. Stools come in various sizes, patterns, and colors. You can pair it with the style and color of your bathroom accessories set. It can be easily paired with other bathroom decoration ideas, as well.
15. Artificial Plants
Many homeowners love plants, but they are not sure if they can deal with the caring that a plant needs. Although some plants need relatively less care, keeping a plant alive can be a big deal for many people. Here is the good news! There are awesome artificial plants in various sizes that you can use to decorate your bathroom. You can display them in a vase or cachepot, considering the overall design of your bathroom.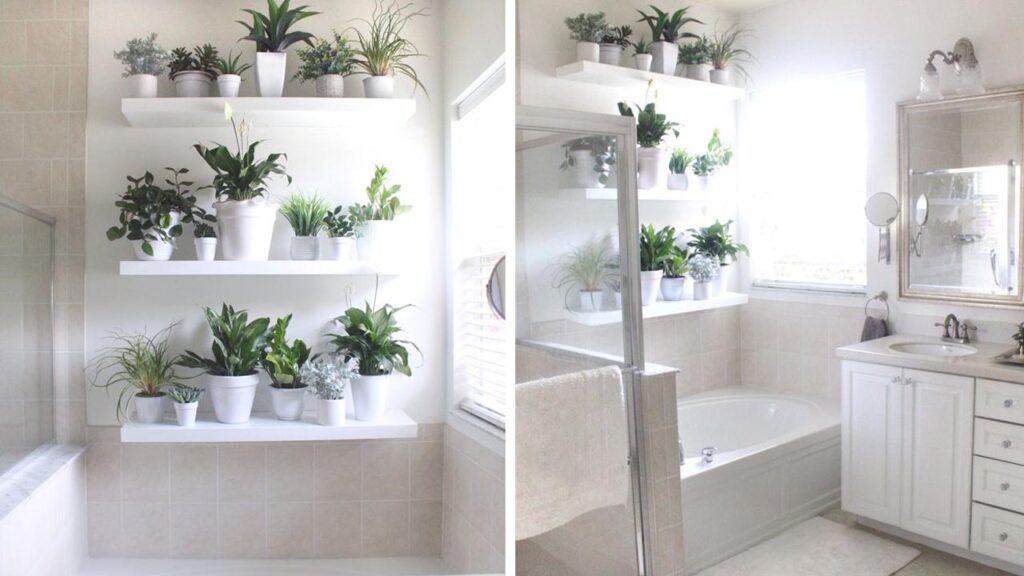 16. Warm Pink
Soft pink is a very flattering color in a bedroom, bathroom, or dressing room. You can get a cabinet refacing or dye the bathroom cabinets and walls in a warmer tone of pink at a highly reasonable cost. Every morning, getting ready in this lovely bathroom will make you feel more energetic, positive, and confident. Warm pink tones are also one of the best master bathroom ideas.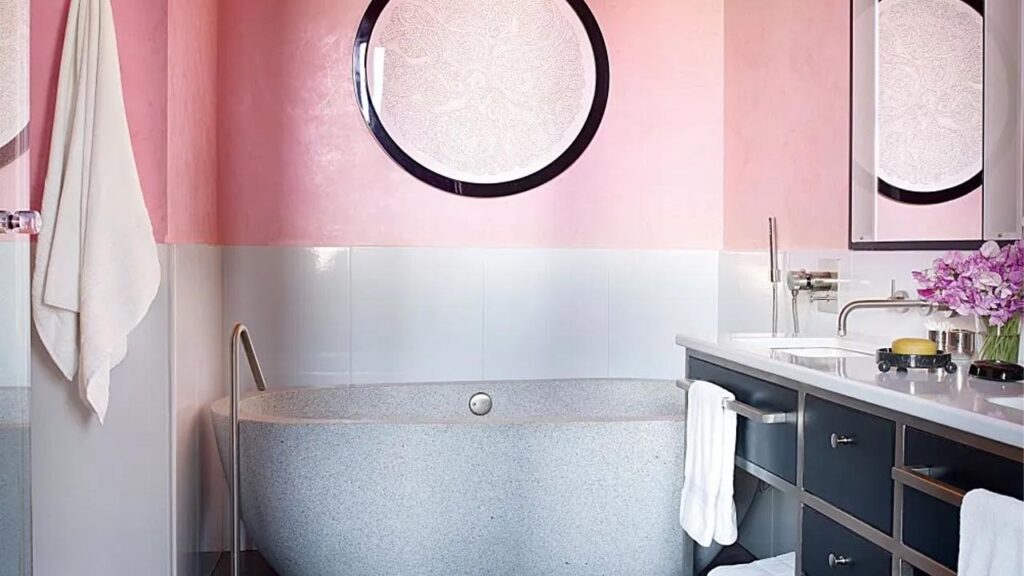 17. Metallic Details
Traditionally, people avoid metalwork in their bathrooms, and it is rare to see bathroom decoration ideas with metal accents. However, a good amount of metallic touch can feel a lot fancier than other materials in your bathroom—metal console sinks, stools, soap dishes…etc. Therefore, you can use metal almost anywhere in your bathroom as long as you ensure the overall harmony in your bathroom design.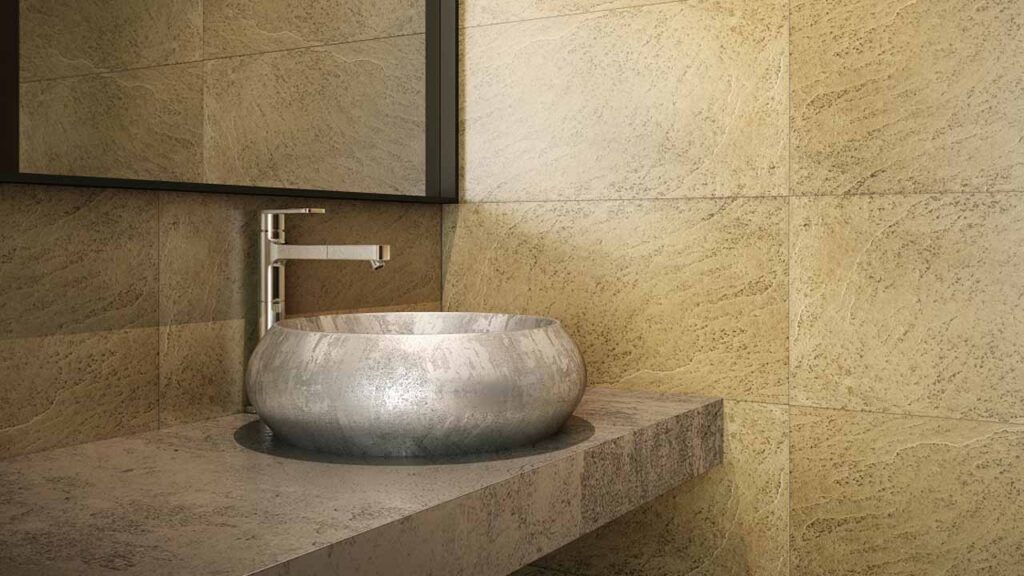 18. Cool Blue
Some bathroom decoration ideas depend on what you expect from a bathroom. The bathroom is supposed to be relaxing and refreshing. If you opt for the refreshing aspect of the bathroom, then cooler tones might work better for you. Cool blue colors and a matching bathroom wall decor can take your mind to the sea and blue sky. Moreover, the cost of such an upgrade would be very low. If you are into nautical bathroom decor ideas, you will find it thrilling absolutely.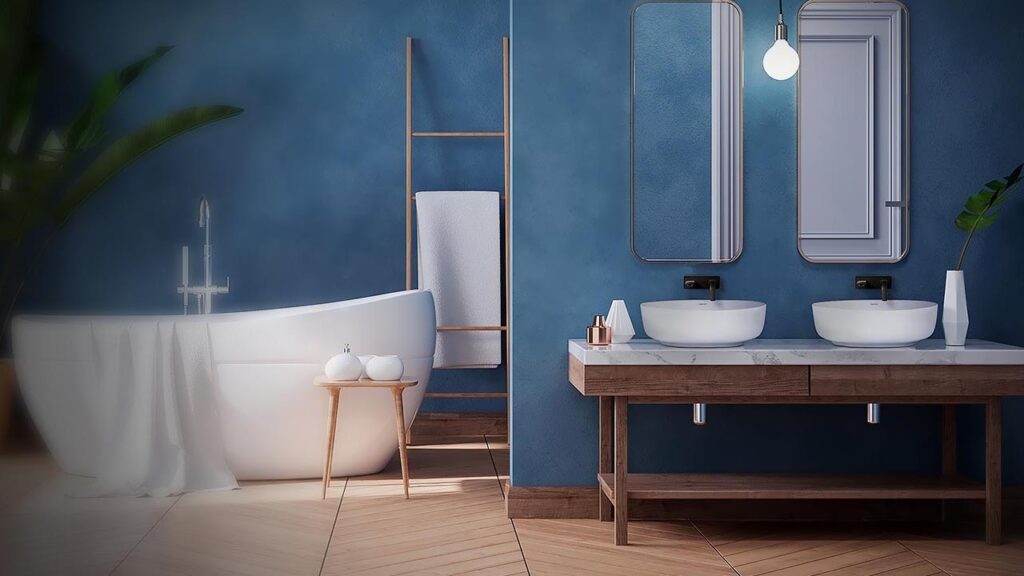 19. Display Robes
We tend to hide our robes to maintain a tidy and organized bathroom. However, we ignore the decorative aspect of beautiful robes hanging on the bathroom wall. Not too many but 1-2 robes hanging on the wall give the sense of a spa center, and it feels so inviting for the family members and guests. Of course, you should consider your bathroom color before considering bathroom decoration ideas.
20. Reconsider Lighting
Many homeowners who want to make a simple bathroom upgrade make plans of changing the wall color, sink, faucets…etc. But, sometimes, what they should change is just above their head. Yes, the light! Replacing your old austere light with an oversized retro one, you can polish the things off in your bathroom. Upon changing to a new light, you might even feel you have made an exhaustive bathroom renovation.
21. Reconsider Mirrors
What makes you look for bathroom decoration ideas might be the monotonous look of your mirror or mirrors. Try to understand what is good and what is bad in your bathroom. If you think the mirror is too boring, you can try putting on a more glamorous one. If it is already too flashy, you can change it to a modest one.
Conclusion
Bathroom remodeling is not always possible for some reason. It needs detailed planning, a decent amount of budget, and time. However, you can go with simple bathroom decorating ideas. You can try one or more of them at the same time. If you don't like the result, you can easily switch to another idea.