Bathroom wall art is getting more common these days. More people are transforming their bathroom into an inspiring, pampering place where they can have a rest and isolate themselves from the busy life outside.
The bathroom is, interestingly, both a refreshing and relaxing place. People are more into the refreshing side of it by spending long hours in the tub or putting their favorite lotions on. People also stop by their bathroom to touch up their make-up or check their hairstyle during the day.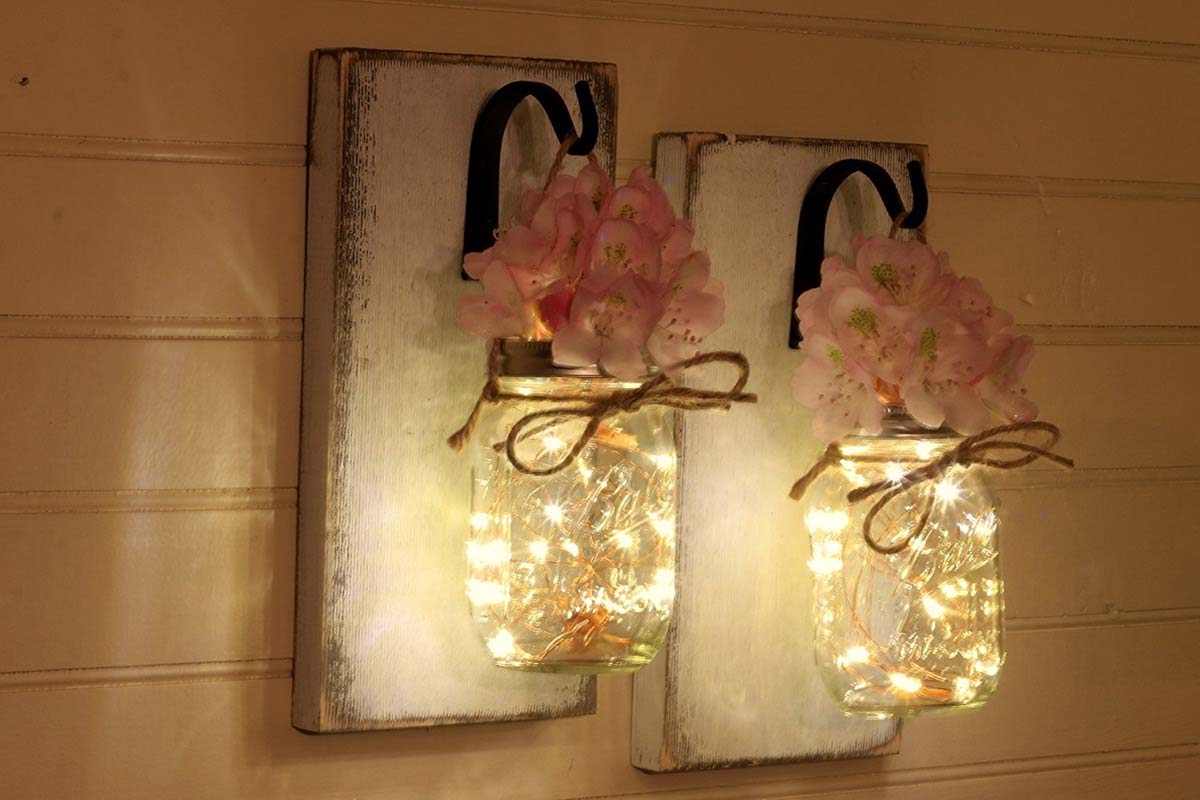 The design and decoration of this very special part of a home are worth considering. You should consider your bathroom floor tiles, bathroom wall tiles, wall paint colors, wallpapers, cabinets…etc. In this post, you will learn some of the best bathroom wall decor ideas. You can find the best one(s) by looking back at your own bathroom design. You can even combine some of these bathroom wall art ideas.
Why Should You Consider Bathroom Wall Decoration?
Many homeowners neglect the bathroom wall art thinking that it is not on display as much as other rooms in the house. Yes, we spend less time in the bathroom than in the kitchen or living room, but we still have considerable time in the bathroom. Another reason why people tend to ignore bathroom and bathroom wall art is that they focus too much on functionality, and they don't take their bathroom as a stylistic unity. In fact, style doesn't mean less function at all. There are lots of bathroom wall decor ideas and products that can change the clinical look of your bathroom now.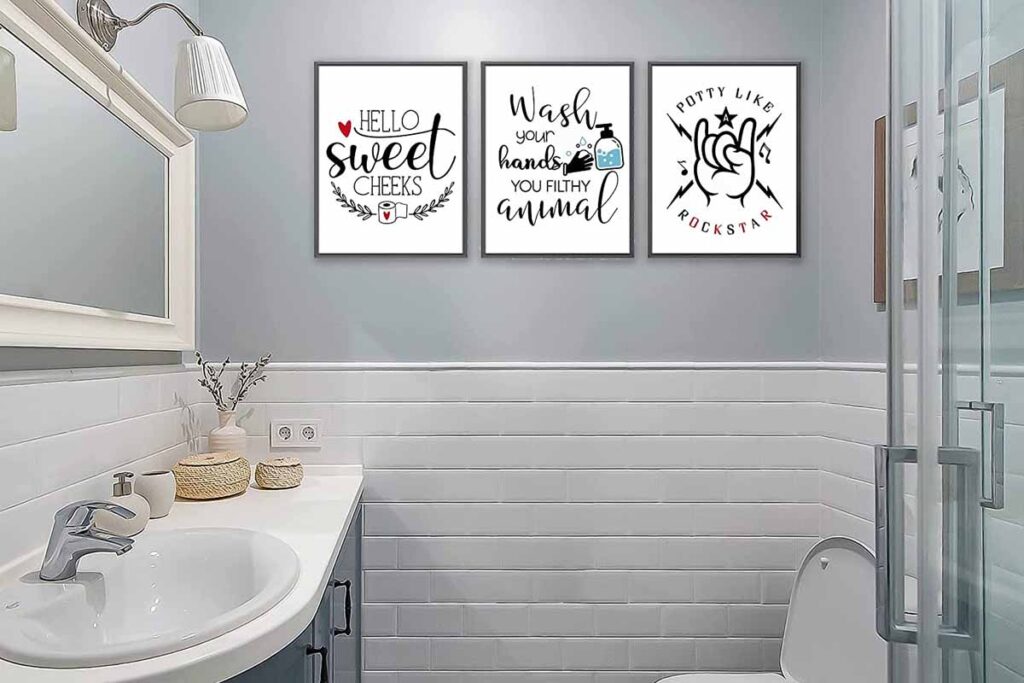 Bathroom wall art decor is also much more affordable and simpler than those major remodeling projects. You don't have to spend a big amount of money and time on the construction. You can keep your existing floor and wall tiles products as well as your cabinets. You can even go with DIY alternatives. Here are a bunch of bathroom art ideas to inspire you.
Bathroom Wall Art Ideas
Decorating your bathroom is pretty easy these days. There are awesome bathroom wall decoration products on the market today. You can also try a DIY way of bathroom decoration if you think you can deal with that. Here are some of the best ideas for your bathroom:
1. Decorative Shelf
Adding an extra shelf or two can change the dull look on your bathroom walls. Also, you can put your favorite plants, photos, or cosmetic products on these lovely shelves. Additionally, there are many color and style alternatives to such decorative shelves. Taking your bathroom wall tiles and cabinets, you can get one of these practical and stylish shelves. The installation is not a big deal, but if you are not a DIY person, you might need help with that.
2. Backlit Bathroom Mirrors
If you want elegance in a contemporary way, decorative lights are always feasible for almost in any interior. Bathrooms are no exception. In fact, your mirror makes an amazing match to backlit LED lights. You can even use these backlit LED lights alone to create a dimly lit spa ambiance in your bathroom.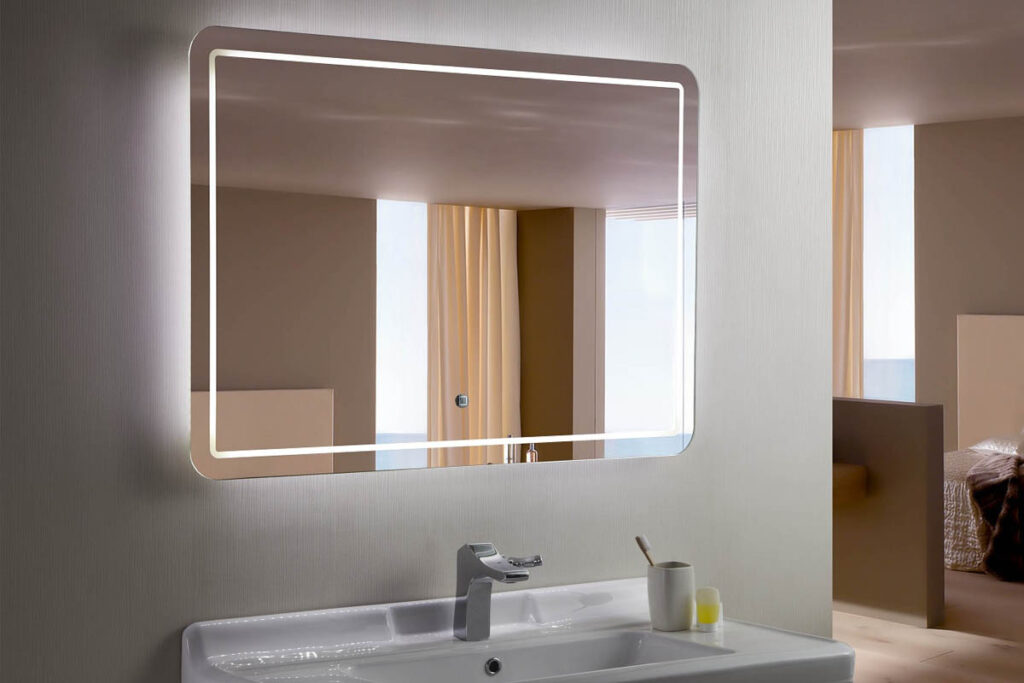 3. Abstract Watercolors
A bathroom is a perfect place for you to enjoy the serenity, but your bathroom might not be giving enough of this feeling. We have an excellent idea for you! You can paint some abstract watercolors on small canvas boards. You don't have to paint them all in blue, but you can add variations with some red, green, or lavender tones in your painting. You can simply buy such a bathroom art canvas or do it yourself or with other family members as a weekend activity.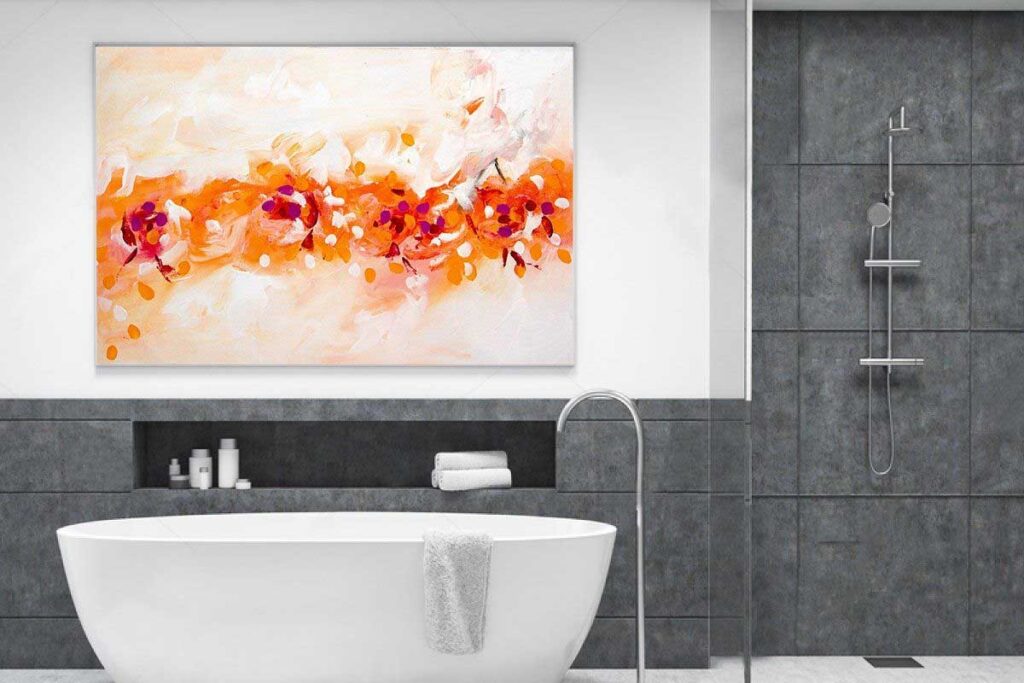 4. Giant Mirror
Typically, bathroom vanities come with a mirror over them. These mirrors are perfect for seeing yourself, brushing hair, or putting on make-up. A mirror definitely helps you, but what about the bathroom decoration? Putting a big slender mirror on your vanity top will make your bathroom will give you better chances of seeing yourself while making a sleek bathroom wall art.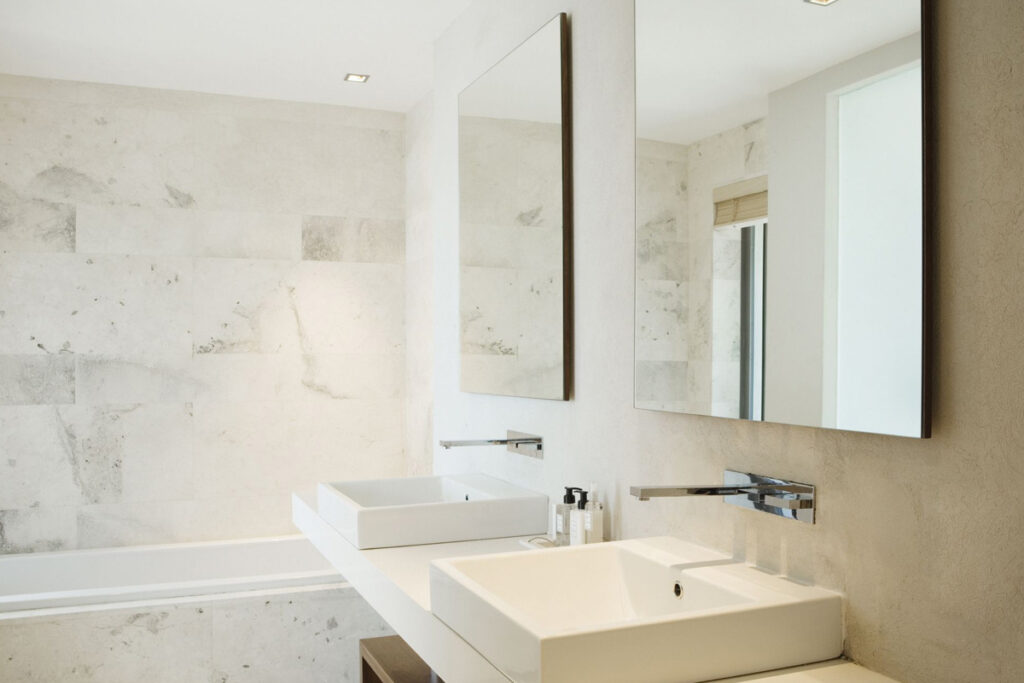 5. Acrylic Photo Panel
Your favorite landscape or your dream city can be there with you in your bathroom now. Acrylic wall prints are gaining popularity among homeowners and interior designers nowadays. They meet the need for art and self-expression in the bathroom in a modern way. If you are not satisfied with the traditional paintings in your bathroom wall decorations, you must try these acrylic photo panels.
6. Wooden Cubbies
Bathroom wall decor ideas are more favored when they help homeowners with style and function at the same time. Wooden cubbies are one of the best examples of it. You can create a fantastic bathroom wall decor with utmost functionality by putting wooden cubbies. In addition, you can organize your bathroom essentials like hair gels, perfumes, tweezers…etc. Thanks to these decorative wooden cubes.
7. Love Themed Art
Art is beautiful in any form, but it is much more meaningful when customized for you. Love-themed artwork is good for master bathrooms in particular. You can add some romance using a red and pink colored board with love words on it. The terms can be a piece of lyrics from your favorite love song. If there are more things to add, you can even use multiple boards considering your bathroom space.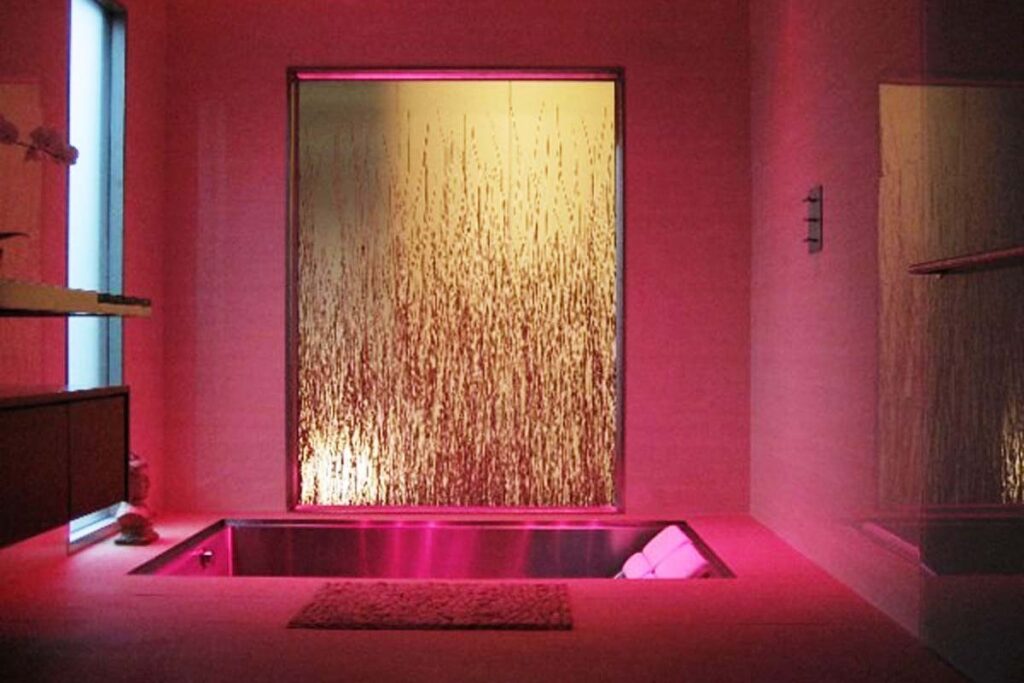 8. String Art
A bathroom can be a better place to display your artwork. Making a string art yourself and finding a good place to showcase it will do more than good to your bathroom. You don't need a lot of things to make it real.
Just you need a board, nails, string and some free time. This simple DIY string art will add color and fun to your bathroom. You can arrange the size of your design according to the space you are planning to put it in.
9. Pressed Flowers
You want to see some plants in your bathroom, but you are worried about caring for them? Pressed flowers are just perfect for you. Pick some fresh flowers and press them on a board with glass. You can frame it with any material or color you like. If you want to display more colors and different kinds of flowers, you can make a few more. Since they are usually smaller than regular painting frames, you can use more than one.
10. Vinyl Wall Decal
Vinyl wall decals are super practical and safe since they are easy to remove. There are many creative vinyl decals you can use in your bathroom. Aside from artistic images, you can prefer scripts. For example, as a bathroom wall art decor, you can prefer little scripts reminding people of the bathroom rules or any other message you want to give to other people. If you are renting the house and want to avoid damaging the wall, this bathroom wall art is a life-saving product.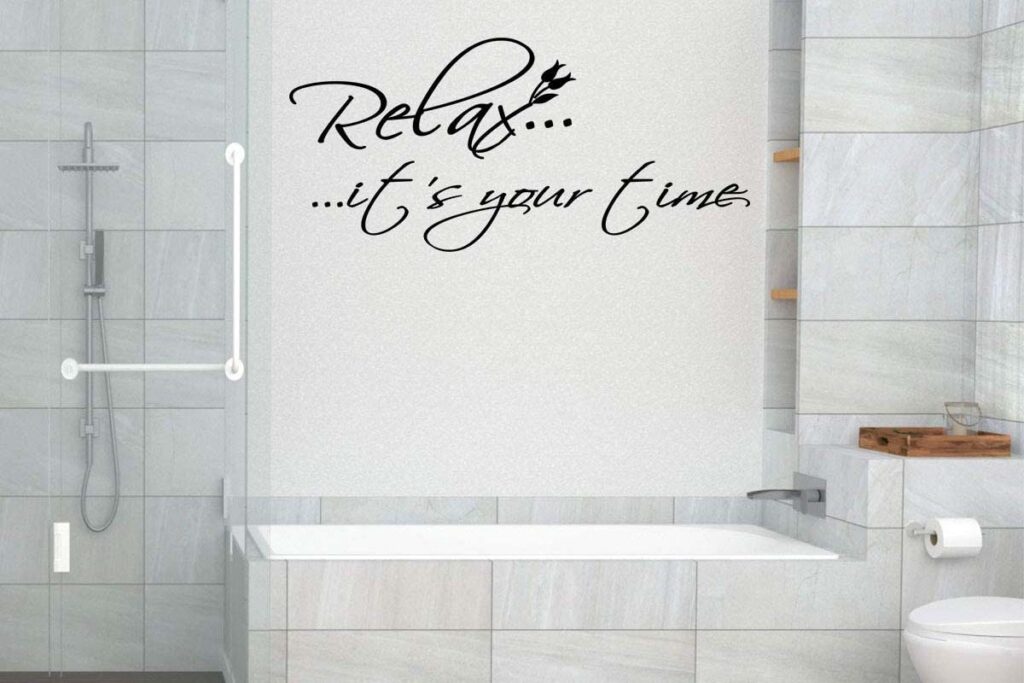 11. Funny Cartoons
Many of us feel the most relaxed when we are in the bathroom. The relaxation in the bathroom is not limited to showering or putting on face masks. There is also a toilet seat, which means a lot for us (!). Toilet seating can be more fun with some bathroom wall art, like the images of funny cartoons on your bathroom walls. You can put your favorite anime characters, pictures of awkward cats or dogs, superheroes, or Disney characters.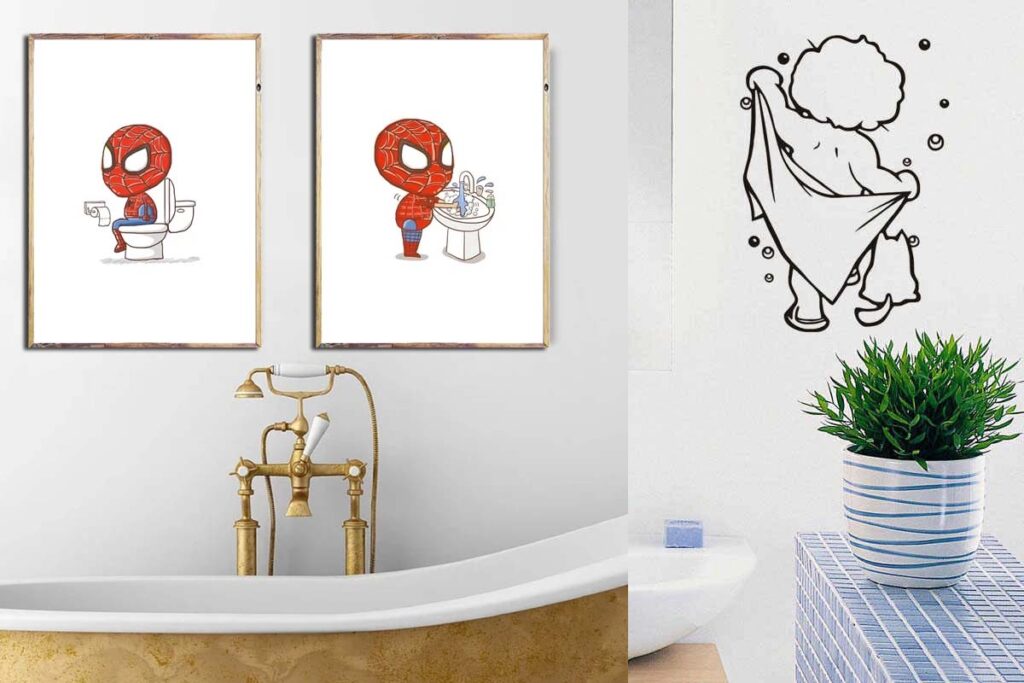 12. Stock Toilet Paper Holder
Are you tired of storing your toilet paper stock? They are not easy to hide in the cabinets or cupboards. Maybe you shouldn't try to hide them anymore but display them beautifully. A toilet paper holder is a smart way of holding your toilet papers decoratively. Especially, cloud-shaped holders can hold up to ten rolls at once. This highly functional bathroom wall art provides you with a lovely look on your wall.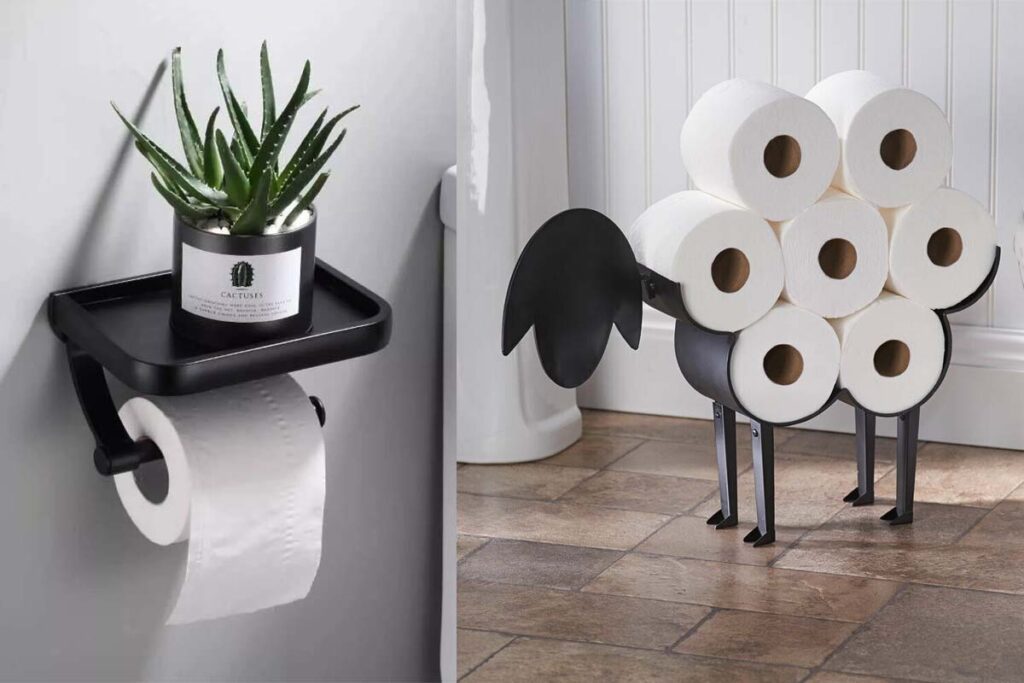 13. Mason Jar Sconces
If bright light in the bathroom is not something that you would like to use all the time, a dimly lit bathroom can be a good option for you. Adding a spa-like ambiance to your bathroom, mason jar sconces are highly decorative, too. They are practical flameless alternatives to candles. You can enjoy a warm bath better in your dimly lit bathroom. You will feel more than relaxed after such a pampering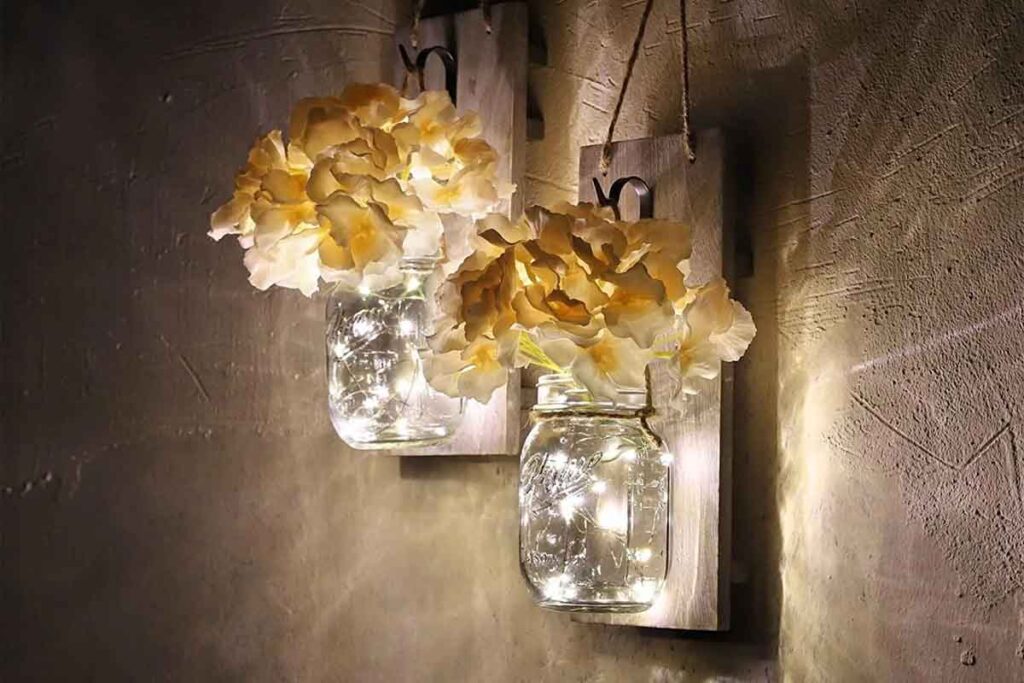 14. Mason Jar Rack
If bright light in the bathroom is not something you would like to use all the time, a dimly lit bathroom can be a good option. Another beautiful use of jars would be a rack. For this DIY work, you only need a few empty jars, a wooden board, and clips to attach the jars to the board. You can use these jar racks to organize your vanity top and other stuff in your bathroom.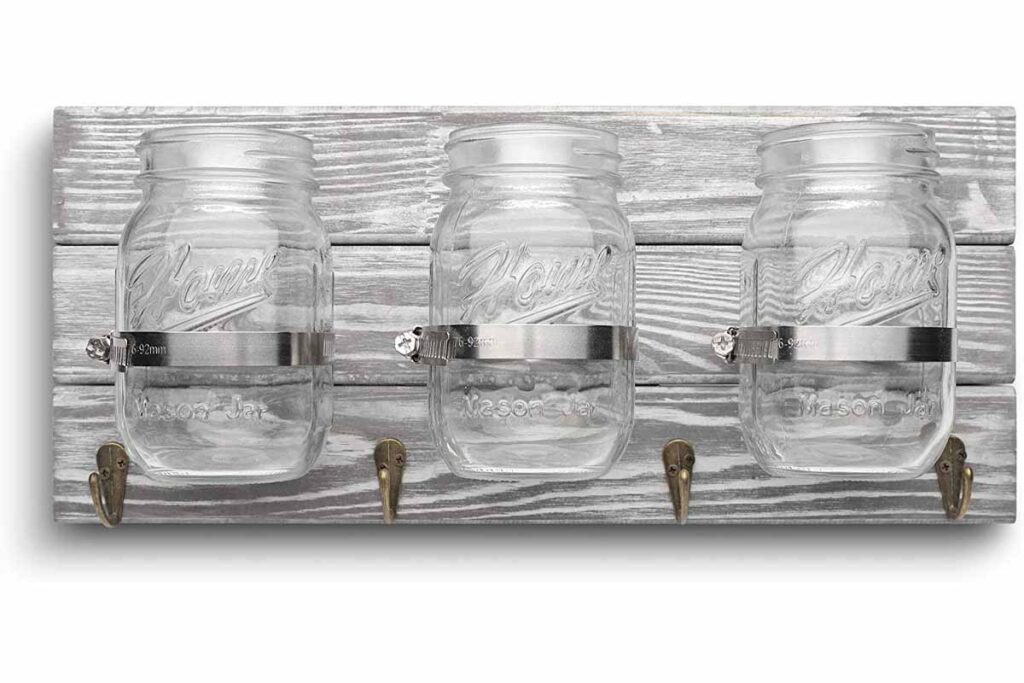 15. Ladder Frame
You can display some of the most beloved people in your life in your bathroom. Trending bathroom wall art highlights the customized designs in most spaces. Using one or two ladder frames enables you to put photos of your family members or special moments from your outdoor activities. You can buy such frames or go the DIY way if you have time and the materials. They are easy to install, and you can change the photos in them anytime you want.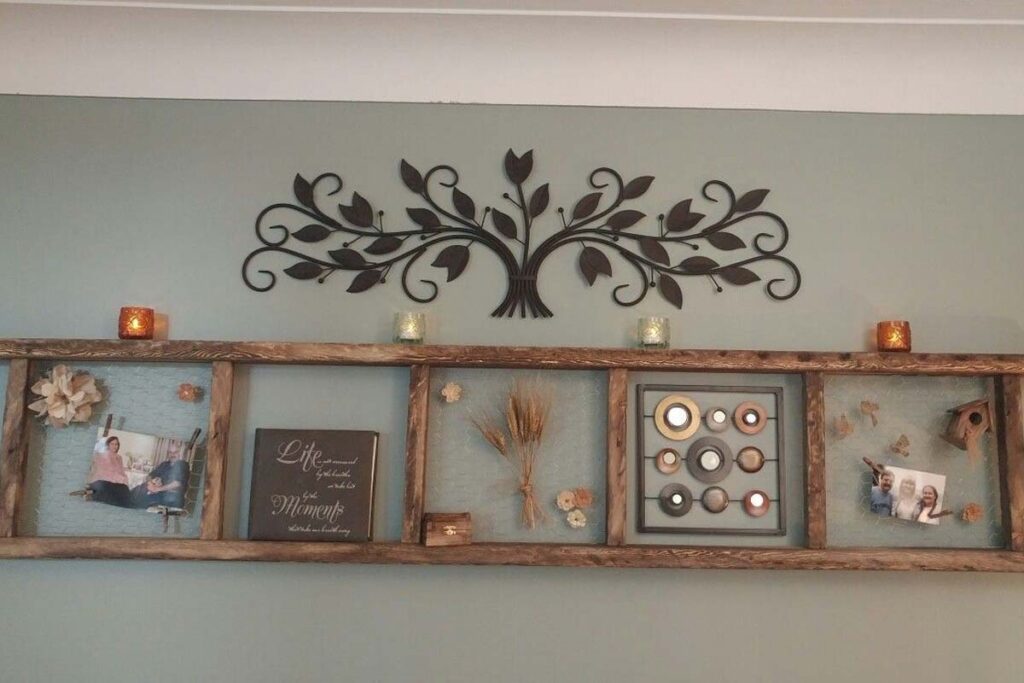 Bottom Line
As you see, there are numerous bathroom wall art ideas that can apply to various bathroom designs. The majority of them are DIY, while the others are easy to find on the market. Getting your bathroom more beautiful is pretty easy now.