Unfortunately, many of us are not as lucky to buy a new house when we are bored with the design, or when the kitchen seems old-fashioned. So, kitchen remodeling sounds like a better idea in many senses. However, many of us still cannot afford or find time to get a complete kitchen makeover.
At this point, budget kitchen remodel ideas can save us a remarkable amount of money and time. Like anyone else, you, too, might have already toyed with the idea of getting a full kitchen remodeling. But, if you are reading this post, we can guess what happened. Most probably, you ended up doing nothing since getting a full kitchen remodeling would require removing walls, renewing the plumbing, changing the doorways, and many other costly and demanding works.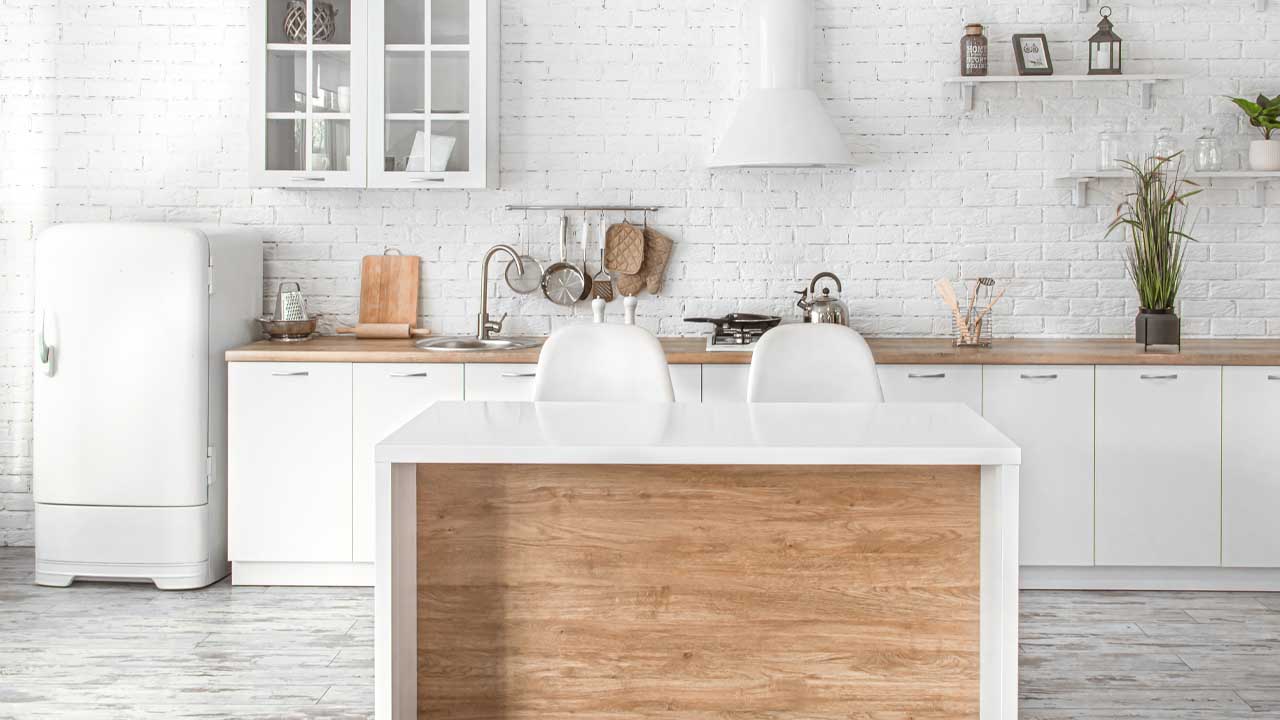 In this blog post, we are giving you 5 budget kitchen remodel ideas that you might consider to save money, time, and energy while adding new touches to your kitchen. We are on the same page with you, we believe that there must be ways to feel better in the kitchen without paying a fortune. The following budget kitchen remodel ideas will hopefully work for you.
1. Change Cabinets or Hardware
Sticking to the existing kitchen layout can save you a good amount of money and time. Keeping this in mind, one of the most substantial changes that you can make in your kitchen would be changing the cabinets. Imagine you enter a kitchen for the first time. What would be the most dominant thing in the kitchen at the very first sight? Most probably, it would be cabinets. In fact, we see a kitchen as a puzzle made up of cabinet doors.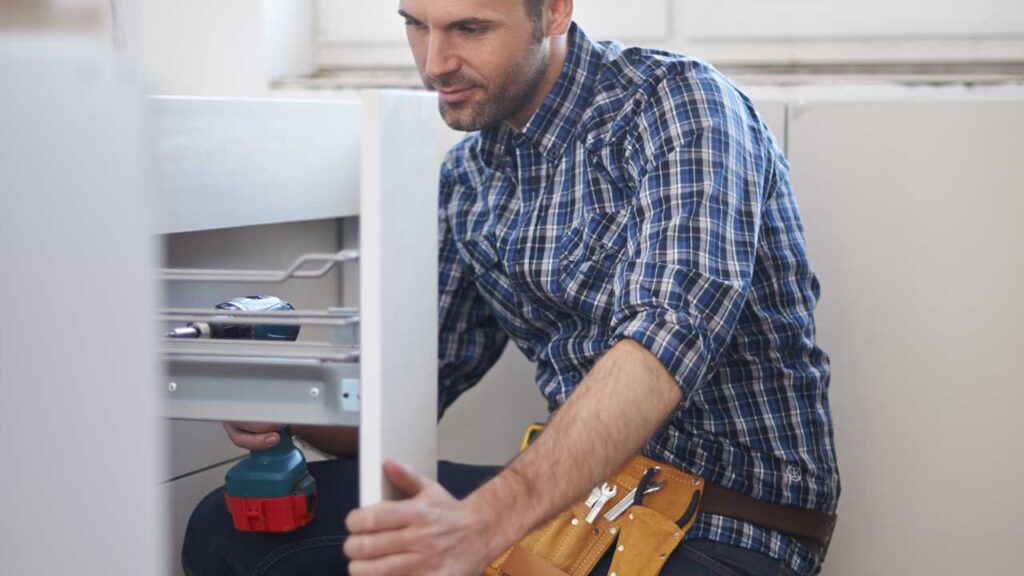 If you change the cabinets only, you can have a completely new kitchen. If, for example, you are bored with your all-white cabinets, you can create a contrast just by replacing the upper or lower cabinets with darker tones. Actually, the change is not about the cabinet doors only. Paying a little extra money, you can upgrade the functionality of your kitchen. You can add or remove cabinets, or consider shelves instead of cabinets.
If you are happy with your cabinets, simply changing the cabinet hardware might give a sense of renovation. You can replace your old gold hardware with trendy brass ones for example.
2. Spray Paint Hardware Including The Hinges
Sometimes your kitchen might look old and tired. You think that it is functioning well, and all the accents are in perfect condition. But what's missing there? Cabinet hardware and hinges inside might be part of the problem. Missing handles, rusty or squeaking hinges can irritate you and your guests.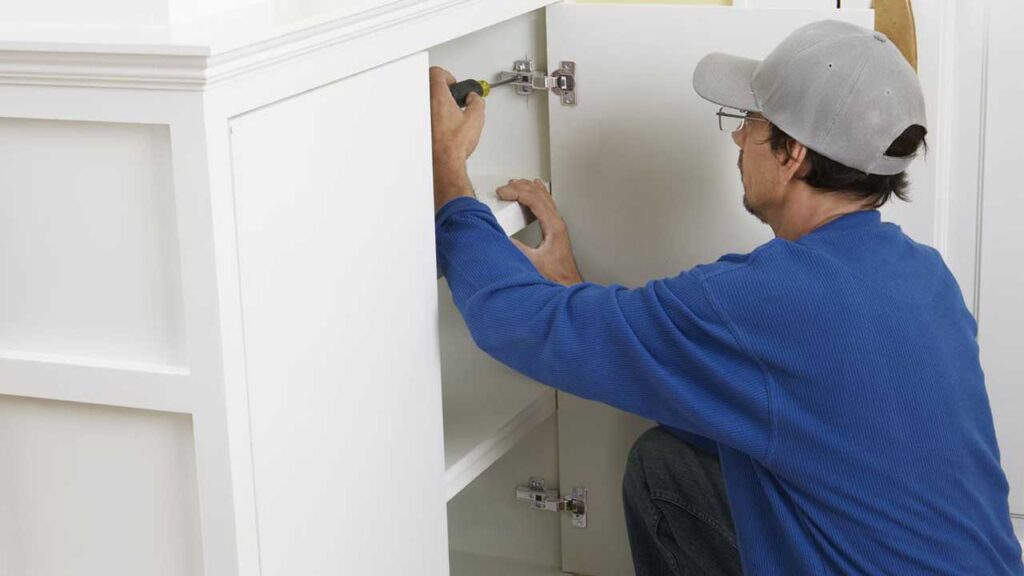 Finding new handles exactly the same as your existing ones is hard and, even if you found them, buying them in pieces is even harder. So, you are supposed to replace all the handles just because of a few problematic ones. As a follower of budget kitchen remodel ideas, you might find this idea too extravagant.
How about painting them? Yes, by spray painting the hardware, you can save a lot of money compared to an overall replacement. You can paint them in their original color, or you may want to give them a new color. Spray painting is easy, and if you are into DIY jobs, it can be great weekend fun for you.
3. Replace or Redo Countertops
Countertops make up another big bulk of the view when you look at your kitchen. Although natural stones like granite and marble are durable for many years, you might still want something new and different. Replacing the countertops can be one of the best small kitchen remodeling ideas on a budget since they will not cost a fortune as you will need smaller sizes of stones.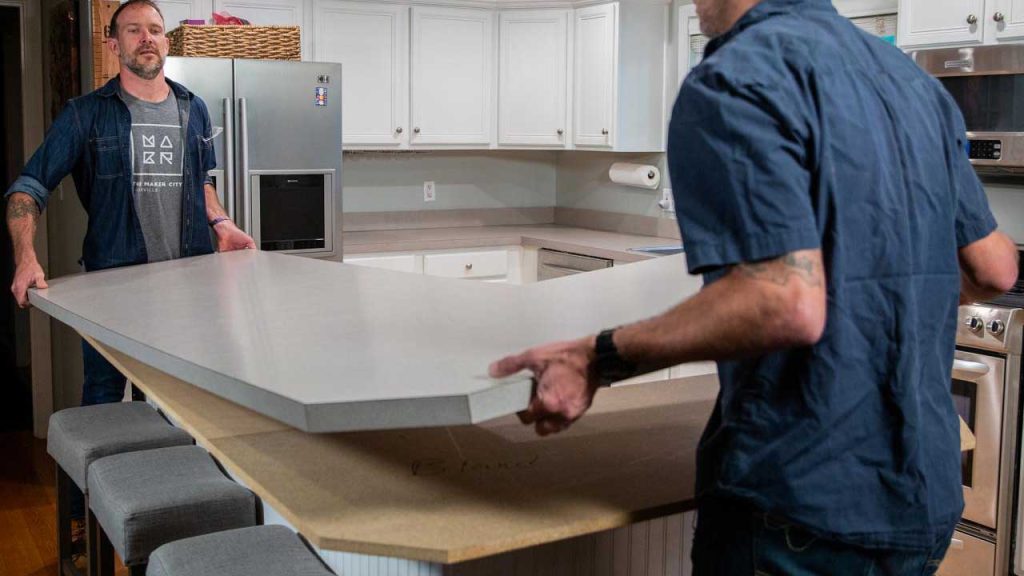 If replacing is still too much for you, you can also consider painting the surface of your granite countertops. After several years of use, the surface of the stones might lose its bright look on the first day. It happens even sooner if you miss sealing the stone before using it for the first time. Luckily, there are water-based acrylic paint kits to paint your granite surfaces on the market. It can be a fun DIY project for you without paying a lot.
4. Add or Remove Seating
Among various budget-friendly kitchen remodel ideas, this one, changing the seating design, would probably be the last thing you may think of. But, of course, when you look at your kitchen, you see cabinets, countertops, and appliances like a fridge, oven…etc. However, if you have a kitchen island or just a small table in your kitchen, you have an excellent reason to consider seating design.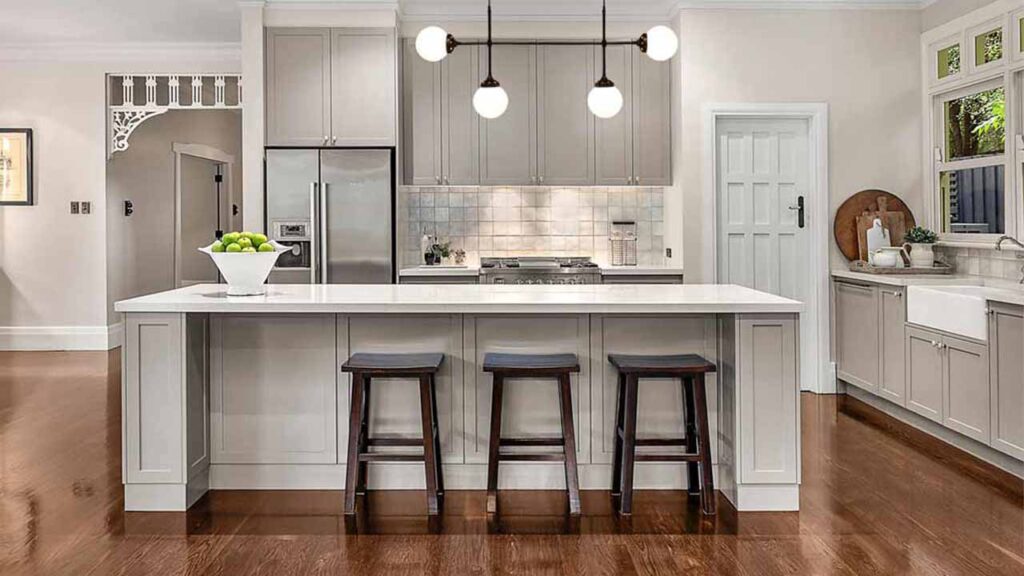 With a limited budget, you probably can't change the kitchen layout as a whole, but the seating layout is less demanding. You can easily remove your old seats or add a few new bar stools to give a more fashionable look to your kitchen.
If your kitchen is small, even just moving the seating out of the kitchen might create a larger space, and maybe it is just what your kitchen has been looking forward to for ages.
5. Change Out Light Fixtures
Lighting is one of the most ignored elements of a kitchen design. On the other hand, though homeowners are really interested in lighting in their living room or bedrooms, they don't care much about it when it comes to the kitchen.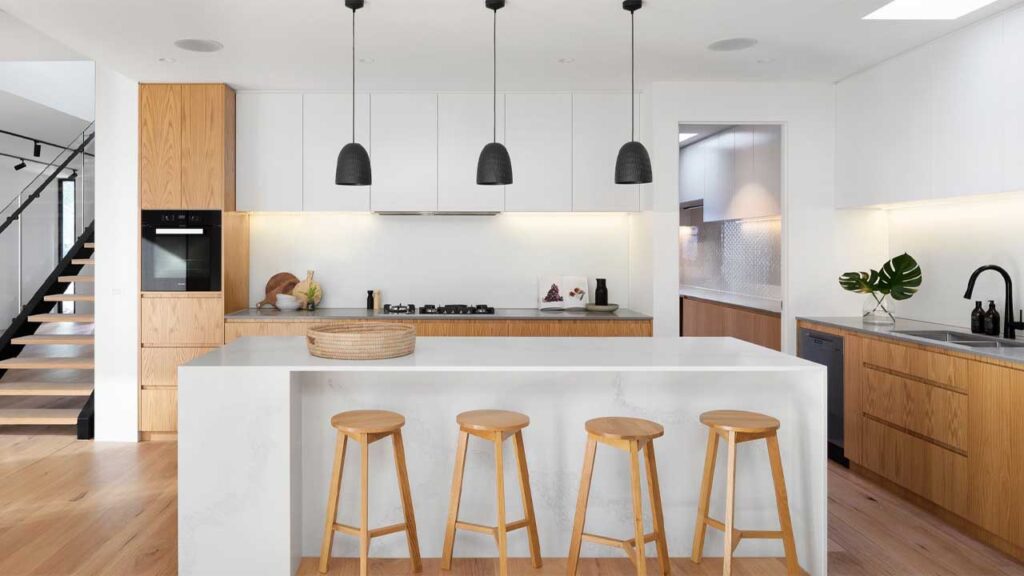 Replacing your unattractive kitchen light fixtures with aesthetically pleasing ones can make a big difference in your home. Rather than picking up random lighting fixtures just for the sake of replacing them, you can consider a vintage-inspired chandelier or go modern with sculptural designs according to your overall kitchen style.
Final Thoughts
Kitchen remodeling usually requires a great deal of money. We all have times when we are on a budget yet need an upgrade in our kitchen. At this point, what you need is the budget kitchen remodel ideas. The ideas listed above can be a good start for you to change your perspective. If you think just a bit of change will give you the feeling of a kitchen remodeling, you can find even better ideas tailored for your kitchen.