A basement kitchen is an effective way to maximize the overall space in your home. If you have an unfinished basement and wish for a brand-new kitchen designed in your own style, then converting part of your empty basement into a stylish kitchen is a brilliant idea. Having a new cooking and gathering space for your family and friends away from the hustle and bustle in the rest of the house will boost the functionality and comfort of your home.
More and more people are opting for a kitchen in the basement, and we see this functional and practical use of their basements as a huge advantage. Aside from creating extra space, a basement kitchen provides homeowners with privacy and convenience.
In this post, we will be exploring the key points of this amazing home improvement by touching on a few points that a lot of homeowners would like to learn about.
Can You Put A Kitchen In The Basement?
Taking up a large portion of the total square footage, a basement is one of the most versatile spaces in a home. Nonetheless, most basements end up being a rarely used storage space. Fortunately, a growing number of people have come to understand that a well-planned basement remodeling can offer solutions to the numerous limitations of the upstairs.
Converting an unfinished basement into a basement kitchen is not a big deal if your basement provides enough space (enough width and height) and the structure can accommodate it. Though it may be a pricey way of finishing a basement, this home addition is worth it.
Why Should You Have A Basement kitchen? Pros and Cons…
Are you weighing out the pros and cons of adding a kitchen to your basement? Here are some of the most prominent advantages and disadvantages of having a basement kitchen:
Pros of Basement Kitchen
Finishing your basement and adding a kitchen will bring you a number of functional and aesthetic benefits. Though each item may not apply to all houses, they are still significant factors that many homeowners will consider:
A place to entertain
If you enjoy entertaining, adding a kitchen to your basement is the natural choice. It provides a separate area just for parties and gatherings, which is a major bonus for some. You can cook and entertain without as much worry about mess invading the main living area of your home.
If your basement is spacious, be sure to include as much countertop and cabinet space as possible. Don't forget about an island, that all-important spot to display your delicious spread!
Some built-in seating is always useful in any kitchen area, and your basement kitchen is no different. Ask your contractor what options would work best for your space.
If you have tween or teenaged children, this area could also be a great spot for them to hang out with their friends and have snacks and drinks — without constantly running up and down the stairs!
Showcase your originality
A kitchen in your basement can be an outlet to showcase your design creativity. When planning your main kitchen, you need to consider the color and style of the surrounding areas as you want the rooms to complement each other.
However, you aren't bound by any single color palette or style when it comes to your downstairs kitchen. Here's where you can let your personality really come through. You're free to make bolder choices and maybe add some quirky touches you aren't as likely to use in your regular kitchen. Don't be afraid to play with color. Add some funky hardware to your cabinets and drawers. Be as creative and fun as you want to be!
Create more living space
A time may come when you want to turn your basement into a full living space. Maybe you have aging parents, and you'd like to create an in-law suite for them. Providing them with their own kitchen is not only convenient but also provides them with the freedom that they're used to.
It can also be a convenient apartment for older children who are ready for some independence but aren't quite prepared to totally leave the nest. Some empty-nesters or people with no children may want to earn some extra income and rent out their basement living space as an apartment. In any case, the kitchen is going to be a must-have.
Make a sound investment
It may not be first and foremost in your mind, but a second downstairs kitchen can really increase the resale value of your home. With an estimated 70.3 percent return on your investment, a basement remodel is one of the smartest home upgrades you can fund.
Cons of Basement Kitchen
The cons of a basement kitchen are not about the kitchen directly, but about how to care for it and what you can expect from that.
Keeping in Mind Safety
Consider your options when it comes to the best kind of hood fan for your stove. There are several appropriate options available, so be sure to consider needs like lighting and ventilation. You'll want to eliminate moisture and keep those cooking smells contained as much as possible.
Don't forget about fire safety! Make sure to install a smoke detector and have a fire extinguisher handy at all times.
Consider The Convenience
Before adding a kitchen to a basement, make sure your framework can meet the requirements of a basement kitchen.
In this regard, insulation in the walls and the basement ceiling will prevent the floors upstairs from getting too chilly and also provide soundproofing. Also, if your basement is totally unfinished before you begin your kitchen, make sure that any moisture issues are completely taken care of prior to construction.
Professional help is a must
A basement kitchen can be a wonderful addition to your home, but it is not a DIY job. You'll want to enjoy your new space for years to come, so make sure you don't take on the responsibility without the help of a qualified basement contractor. Otherwise, you might get injured or make some irreversible or expensive mistakes in the process.
Designing Your Basement Kitchen
Whether it is the only kitchen or an alternative kitchen to the one upstairs, a basement kitchen is worth planning thoroughly. Start by listing your reasons why you need such a project, and then make sure your basement remodel meets all your expectations. Also, keep in mind that there could be details that are unrelated to your particular wishes and needs. Nevertheless, homeowners almost always seek the best solutions for their specific situation. Here are some of the most important ones listed for you: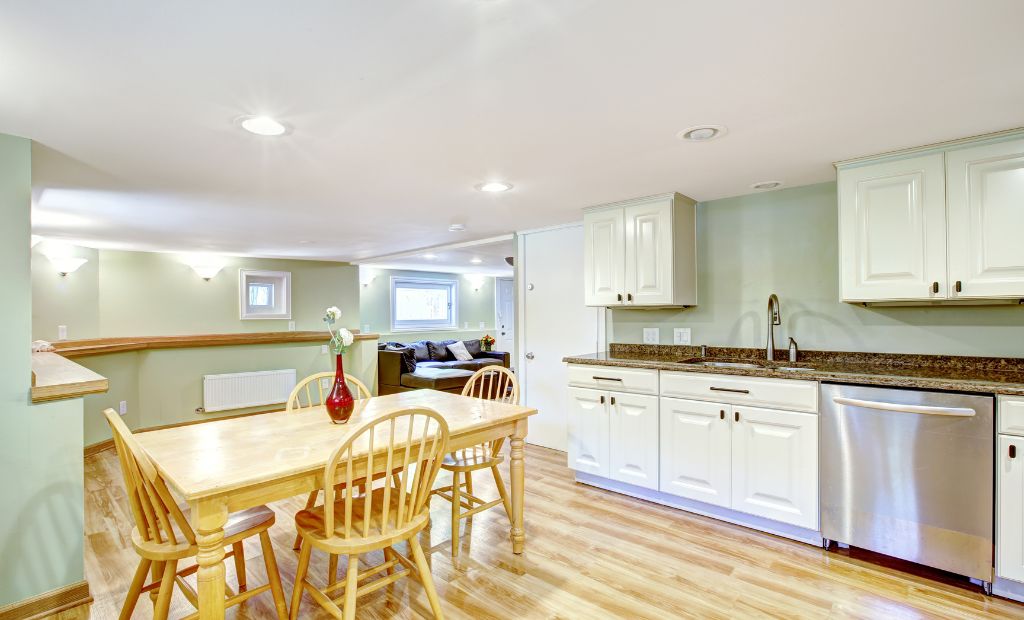 Lighting:
Lack of natural light is a common drawback for most basements, and sometimes it is the only reason why homeowners are reluctant to finish their basements. However, there are various innovative lighting solutions, such as building an egress, installing a solar tube, or simply adopting an open floor plan. If getting sunlight in is no way possible, you can opt for innovative and stylish lighting technologies.
Ventilation:
Ventilation is a vital necessity for your home. Ground-level floors or upstairs are not that hard to ventilate. However, basements are a big concern for many homeowners. A smelly and musty basement can deter you from finishing the basement. However, most basement finishing projects include innovative solutions to tackle the ventilation problem. One of the major solutions is installing or enlarging the windows. If that is not possible, installing exhaust fans and extending the HVAC to the basement can help.
Plumbing & Electricals:
A basement kitchen is not possible without proper plumbing and electrical systems. Hot water, cold water, the sink, and dishwasher are all dependent on the correct plumbing. Also, everything from lighting to the fridge, all fixtures and appliances require a well-designed electrical system. Whatever your needs and expectations are, you can't bypass safe, well-functioning electrical and plumbing systems in a basement kitchen.
Storage:
If you have been using your basement merely for storage, finishing it with a kitchen might mean you will have less storage space left. You should consider this before jumping into remodeling. However, adding a basement kitchen doesn't necessarily mean that you will have a hard time putting away things. By using compact appliances and a smart layout, you will still have a lot of space in your basement for storage.
Ideas For Basement Kitchen Use
People may have different motivations for adding a kitchen to their basements. Here are the most common reasons that may give you some inspiration for your own basement remodeling project.
Secondary Kitchen
Building a second kitchen in the basement comes with numerous benefits. If you have well-designed plumbing, electrical, and lighting in your basement, you can have a secondary kitchen which is as functional as the one upstairs. You can organize events with friends or cook dinner in your basement without disturbing family members upstairs. There are many kitchen basement ideas that can fit the size and dimensions of your basement. If your basement space is not large enough, you can consider having a basement kitchenette, which is a smaller kitchen with basic functionality.
A Dedicated Space For Cooking
Cooking certain foods might be inconvenient in a regular kitchen as they might smell strongly or require longer preparation or cooling time, and you do not want to take over the entire kitchen area. In addition, some ingredients and kitchen items take up a lot of space in the kitchen upstairs. So, a basement kitchen makes a perfect alternative space to eliminate such problems that many homeowners routinely face.
Rental Unit For Extra Income
As stated above, a basement kitchen adds function and comfort to your place. But it is actually more than that. Finishing your basement with a kitchen is also a smart investment. Although it is an expensive way of finishing a basement, you can finish the rest of your basement and potentially rent it out later.
Boosting The Resale Value
Last but not least, a basement kitchen is a real asset for potential buyers. Regardless of how efficiently you have benefitted from your basement kitchen, it will increase the sale price of your property when you want to sell it in the future.
Basement Kitchen Ideas
Having a basement kitchen is great, but it comes with certain limitations, such as poor lighting and ventilation or a lack of decorative options in the layout. However, they are hardly an issue nowadays, thanks to advanced technical solutions. Now you can focus on the design, and be as creative as you want with your kitchen basement remodel ideas.
Here are some basement kitchen ideas to help you make your place more functional and beautiful. Depending on the size of your kitchen, you can apply one or more of these suggestions in your space.
Let The Sunlight In
If the basement has windows, go with a basement kitchen design closer to the windows. Take advantage of the sunlight to make the most of your cooking and dining area. You can still make use of darker areas by utilizing it for storage or a pantry.
Use Polished Flooring
Most homeowners prefer polished flooring surfaces to other alternatives for their homes. Though there might be various reasons, easy cleaning is probably the top reason for this choice amongst homeowners, and they are right. Your love for your basement kitchen will only increase as you appreciate the ease of cleaning a polished floor. Also, a polished surface reflects the light (either natural or electrical) better, which adds a nice glow.
Use Lighting Effectively
If the suitable electrical system is available, consider layered kitchen lighting in your basement- task lighting, ambient lighting, and feature lighting. The variety of lights will allow you to provide your family and guests with a cozier and, at the same time, functional atmosphere. You can still add LEDs under cabinets as an additional lighting option to save energy when you don't need that much light.
Use A Bright Backsplash
Beautiful kitchens usually feature wonderful backsplashes. In a kitchen basement, a good backsplash is not all about aesthetic beauty. It increases functionality, too. Using a backsplash that reflects the light can help you cook more comfortably and safely. You can also consider mirror or gloss tiles, and open shelving, which looks particularly nice in smaller spaces.
Embrace Bold Hues
We can't deny that the majority of basements are poorly lit, thus so are basement kitchens. But as mentioned above, there are ways to minimize that problem. However, using only light colors for basement kitchen cabinets is not one of them since they make the basement kitchen feel too sterile, clinical, and simple. Even in a small basement kitchen, you can go with bold colors that add warmth and vividness.
Conclusion
As you see, getting a basement kitchen is one of the best home addition ideas that can potentially solve enormous functionality problems in your home. Moreover, it comes with a lot of benefits. It adds immense functionality and can make your homelife much more comfortable. You can use a basement kitchen for various purposes, such as a center for entertainment, cooking, or just relaxing with your guests. Depending on the size and shape of your basement, you can always add more functionality. Following some basic basement kitchen design tips, you can take your basement kitchen to the next level.
Also, a basement kitchen is a good investment, so you don't need to worry about the future with a kitchen in your basement. If you decide to sell your house later on, you can get a good amount of return on your investment owing to the finished basement. If you think you are not using your basement kitchen effectively after a while, you can finish the other parts of your basement to get a rental income.
Finally, it is worth restating that finishing a basement, particularly as a kitchen space, is not DIY work. Consequently, you are strongly advised to get professional help while designing the layout and all other details.