Today, remodeling projects are quite popular and easy to execute. The bathroom doesn't take up a large space, so you can use your imagination and creativity to build your dream restroom. In order to do this, you need to follow the right bathroom remodeling process.
If there's a room that deserves a little luxury it's the bathroom. Remodeling your outdated bathroom is completely understandable; nothing feels warmer and more welcoming than a brand-new bathroom. Furthermore, your bathroom remodeling process can increase your home's resale value
Let's learn more about the bathroom renovation process and its current trends. This process will help your bathroom's overall functionality and aesthetic while increasing the market worth of your home. 
Planning Your Bathroom Remodeling Process
Steps to remodeling a bathroom involve many things often coming together in a limited space. From showers to soaking tubs to sinks and style, all of it needs to come together in one seamless, efficient, and enjoyable space.
When you think of the steps for a bathroom remodel, planning your layout and the elements needed is more critical than what tile to use. You'll see that this process is strongly associated with the number of individual tasks. 
There are a few mandatory tasks that must be done before you begin. You may need permits for certain projects from the proper building authorities. Similarly, you must plan ahead for all of the details that will make your bathroom one of the most treasured spaces in your home. Once your bathroom renovation steps are well arranged, you'll undoubtedly be pleased with the final result. 
What are The Steps to Remodeling a Bathroom?
As stated above, the bathroom remodel process requires a decent amount of planning. Starting with the bathroom design process, and only having a vague idea of what you want may not work out for you. We advise you to learn more about the bathroom remodeling process. Here are some of the steps briefly explained for you. You can discuss further details with your contractor.
Choosing the Bathroom Layout
First, lay down what your structure is going to look like. Will it be a three-piece or four-piece bathroom? It's essential to think about your bathroom layout before moving ahead.
What if you need to combine the shower and the tub to save space? Will you have room for two sinks? So it's obvious that the order of bathroom renovation is done is the most important detail to figure out before you start your bathroom remodeling projects. 
As the bathroom tends to be smaller than other rooms you can hire a professional designer or contractor to help you with the layout. This way, they'll make sure the space is as good on paper as it is in reality. Then, you will have a more efficient plumbing and electrical layout.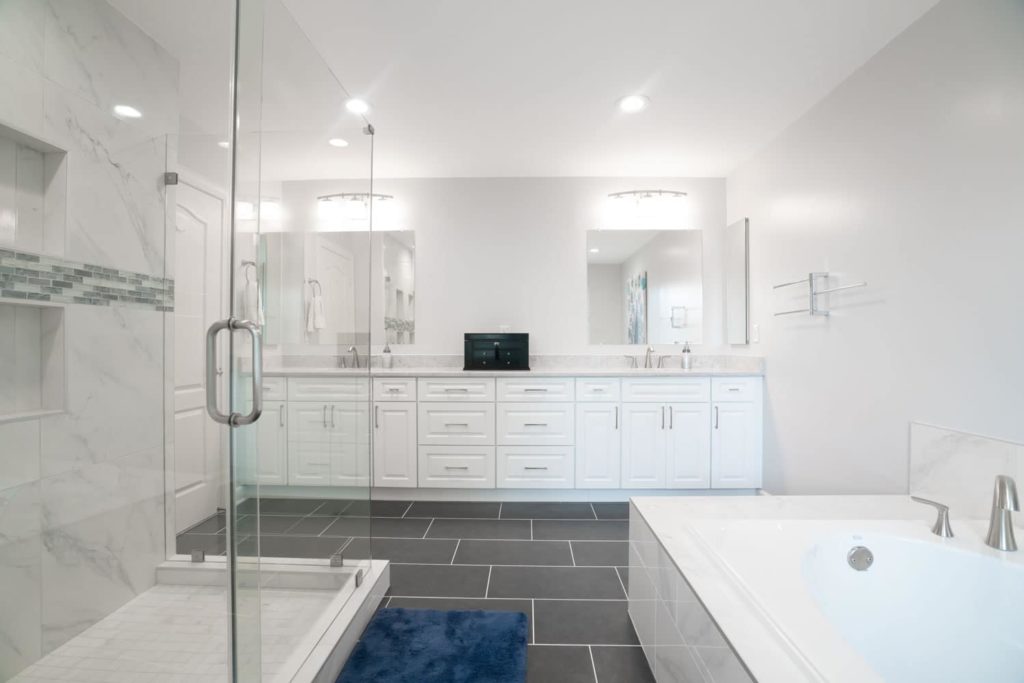 Clearances are essential, too. How much space do you need in front of your toilet? Maybe you would like to remove the toilet? This is where the professionals can help you come up with an organized bathroom floor plan.
Moreover, having professional designers in the early stages is more useful than just having them pick out tiles for your bathroom. There's a lot that goes into a bathroom, so plan, plan, plan! 
Adding a Vanity in Your Bathroom
Even if you have room for two sinks, you'll have to sacrifice valuable counter space. Investing in more space is a luxury well worth the loss of the second sink.
Similarly, it's important to choose the right vanity tops for your bathroom. Many surfaces are often not compatible with the high-moisture environment of your bathroom.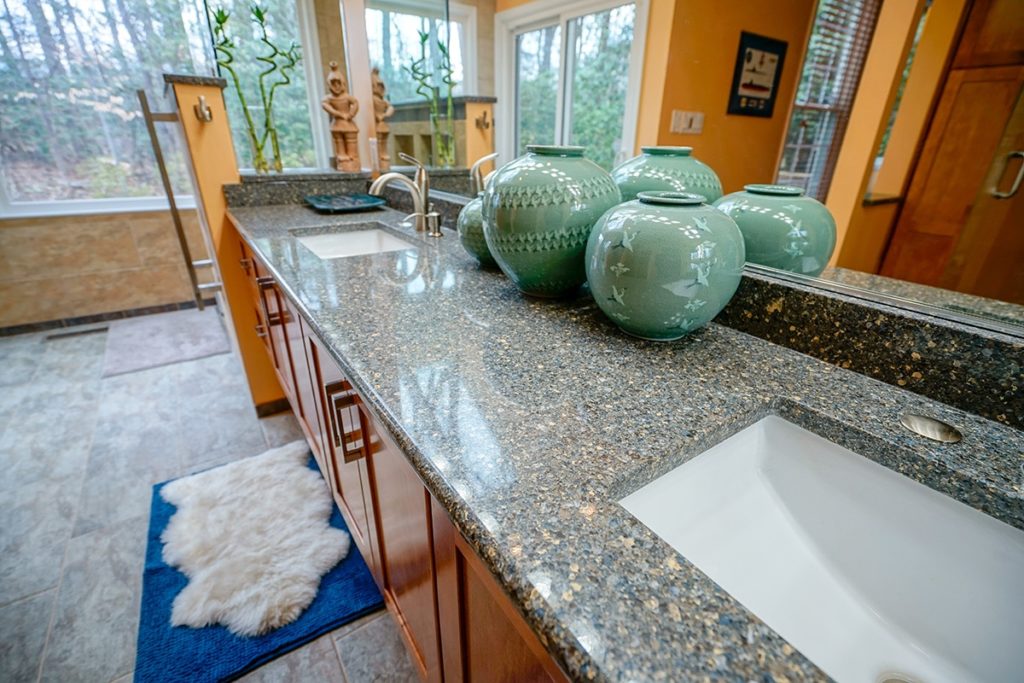 Likewise, you can maximize your counter space by installing cabinet-style vanity or wall-mounted vanity. It is a great way to increase storage; add a vintage or round mirror over it to complete the look. 
Figuring out the Wall Niche
Sooner or later, you'll have to figure out where that wall niche will go on the wall. Make sure it doesn't get in the way of plumbing within the walls. It's better to coordinate the studs in the walls to suit the size of the niche you want.
Likewise, you'll need to consider how you'll finish it. Will you use tile? What size of the tile is appropriate for that type of niche?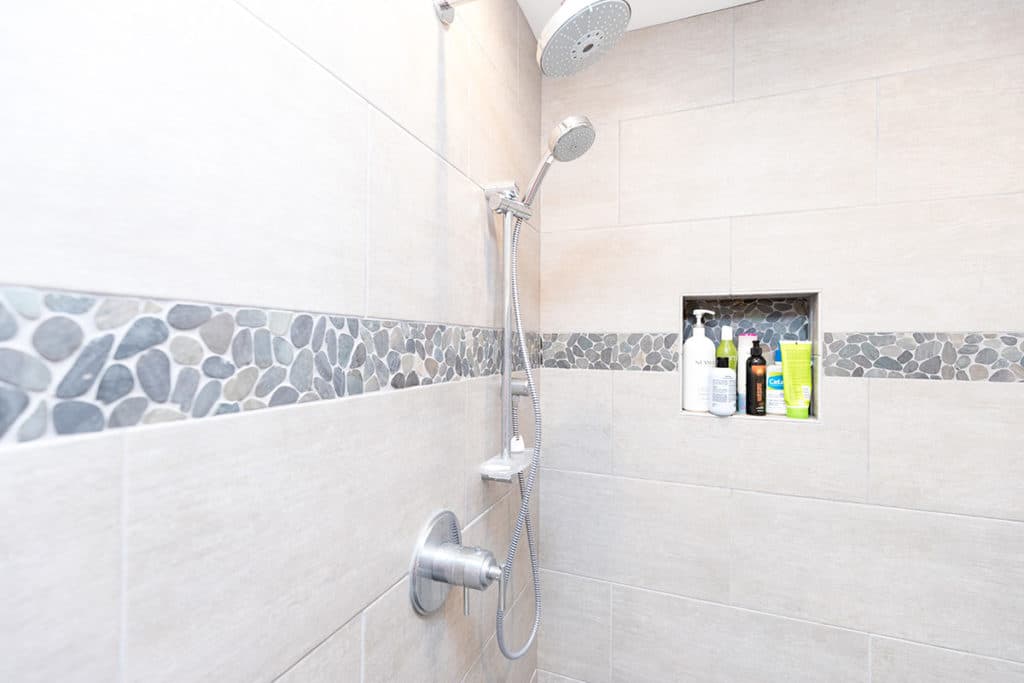 Be strategic about its placement as well as the design. It should be large enough for practicality, but you also need to place it in a fashionable way.
Think About the Bathroom Lighting
Many homeowners are now aware that lighting is an essential part of your bathroom remodeling process. You can install general lighting fixtures for the overall usage, and direct ambient light near the sink and vanity for grooming and makeup application.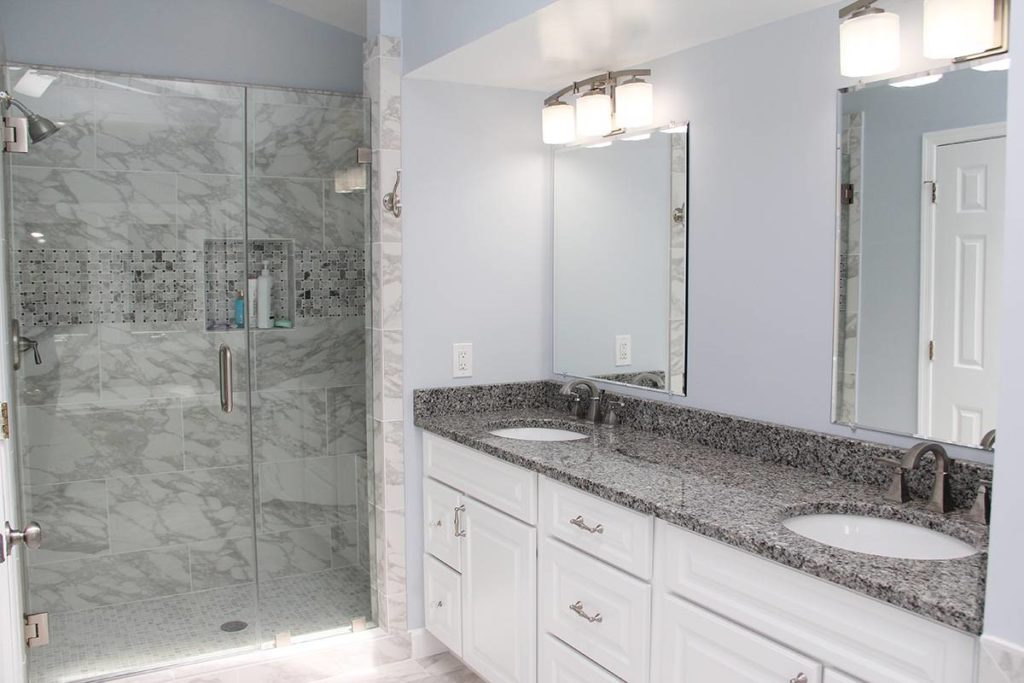 One area that many homeowners overlook is the shower. You can install ambient light fixtures that are hidden in the ceiling, or you can incorporate a feature light into the niche. At the very least, a simple recessed pot light can suffice in a simple bathroom. Don't limit yourself to the ceiling. The shower walls, as well, could make a nice place for fixtures.
Also, adding eco-friendly fixtures or plumbing systems can help you save money in the long term.
Tiling Your Bathroom
As mentioned above, the order of steps for a well-thought-out and well-designed bathroom remodel is important. On the other hand, you need to know where to start and stop with wall tiles. Most likely, you will have wall tiles in the bathroom specifically, in wet areas like a shower or tub. Remember that not all options are suitable as floor tile for your bathroom. Choose a wall tile model that offers grip and has anti-slip properties to avoid any accidents.
Determining how tiles will look is a crucial part of the bathroom remodeling process. You can install tiles that are just in the wet areas or have the traditional jam between the shower and the rest of the bathroom.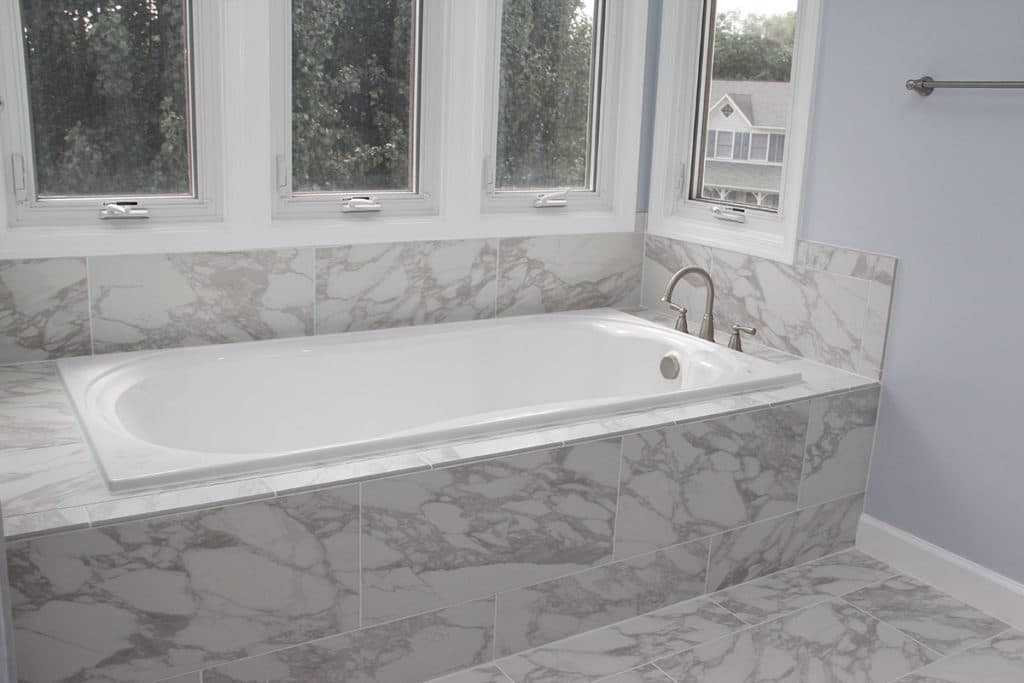 You can also choose to wrap the tiles around the bathroom; either at full height or wainscoting level. These finishing details will make your bathroom look like a well-thought-out space. 
Opt for neutral, natural, and earth-toned colors if you plan on designing a spa-like bathroom. You can use marble or quartz slabs, or mimic the look with porcelain tiles to create a soothing atmosphere. 
Adding Bathroom Accessories
Towel bar, yes, we all need towels in the bathroom; having them within arm's reach is something that homeowners take for granted. You don't want to walk across the room to dry yourself.
Even if it's a simple freestanding towel bar or wall space make sure you have room for it. Plan for it, especially if you want a heated towel rack.
This will require an electrical component and quite a bit of space, so ensure you plan ahead. Get the details all worked out with the contractor to see them execute this important element properly.
Alternatively, one of the safest ways to add pizzazz to your bathroom makeover is by adding the latest in shower head technology. You can also add some flair by using glass panels in your shower, adding an exhaust fan, or changing up your shower curtains. You can add actual fabric curtains to add drama and interest to your bathroom. 
Think of adding fringe or macrame to the ends of your curtain to add a practical element to your bathroom that is trendy and elegant.
Don't Forget About Bathroom Storage
Make sure you plan for storage in advance to incorporate all the small spaces, especially if you're planning on having a console vanity. In your new bathroom remodeling project, you will need to find as many options for your bathroom storage as possible. 
The console vanity may look gorgeous, but it's not the most practical. The type of vanity you choose for your bathroom remodel is equally as critical.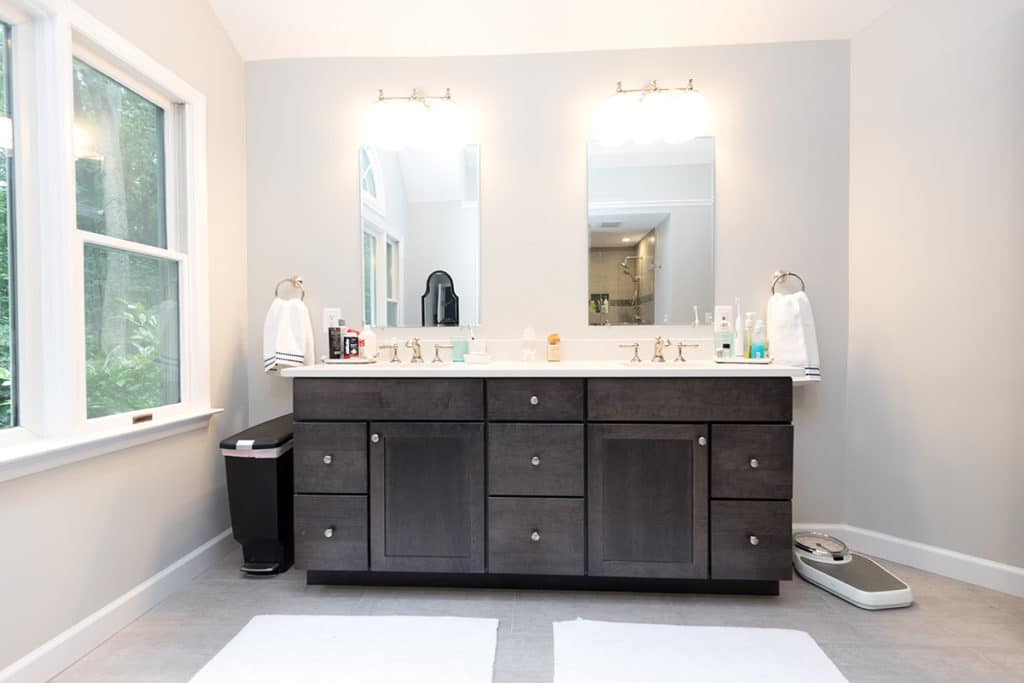 You can opt for cabinet or floating vanities where you can store extra towels, linens, toiletries, etc. Even open shelving, where you can display your grooming products, or use baskets to add to the decor. Remember, more storage is always better. Add wicker baskets and trays that match the new attention-grabbing style. You can also place some plants or flowers to add life to your bathroom's new color scheme.
Conclusion
The bathroom remodeling process might sound a bit overwhelming, but there are great contractors around that can help you with your projects. KBR is a local contractor serving in Virginia, Washington DC, and Maryland. You can contact us now.