Bathroom remodels, small or big, can get quite expensive. A full bathroom remodel can set you back big time. To transform your bathroom into your dream one it can cost you tens of thousands of dollars. But there are some ingenious ways to have a budget bathroom remodel that fits in your budget. If you play your cards right, you can achieve a new bathroom for as low as $5000!
Understanding Budget Bathroom Remodel Ideas
That being said, these budget-friendly ideas won't cover – demolishing the whole room, breaking ceilings, a new layout, or adding new window space, but it is enough to elevate and modernize your bathroom.
So while thinking of some budget bathroom remodel ideas, it's best to be realistic. Pick individual jobs and work your way through our reasonable bathroom remodel ideas.
Prep the Walls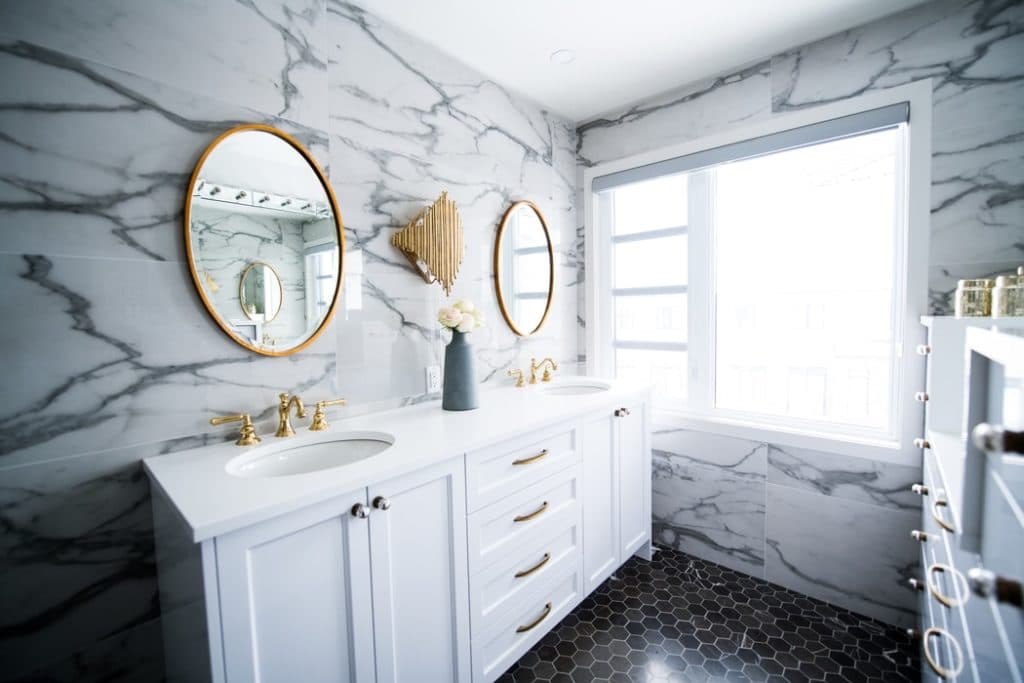 We've all heard of tiling your bathroom walls, but one cost-effective way to prep the walls is through wallpapers. It's quick and easy-to-use. Peel and paste, literally. Wallpapers usually come around $90, depending on the design you choose. If you have a small space with less natural light, adding metallic wallpapers will help reflect light into the room.
Like tiling, if the design you like is above your budget, use it as a feature wall. What's best is you can change your wallpaper every two years without spending much!
If you don't want wallpapers, one more cost-effective solution is to repaint your bathroom. And yes, we're talking about repainting the whole of it, tiles and wood paneling included. It's one of the most straightforward steps to give your bathroom a face-lift within budget without replacing anything. Check for waterproof, mold-resistant bathroom paint while buying.
Update the Floors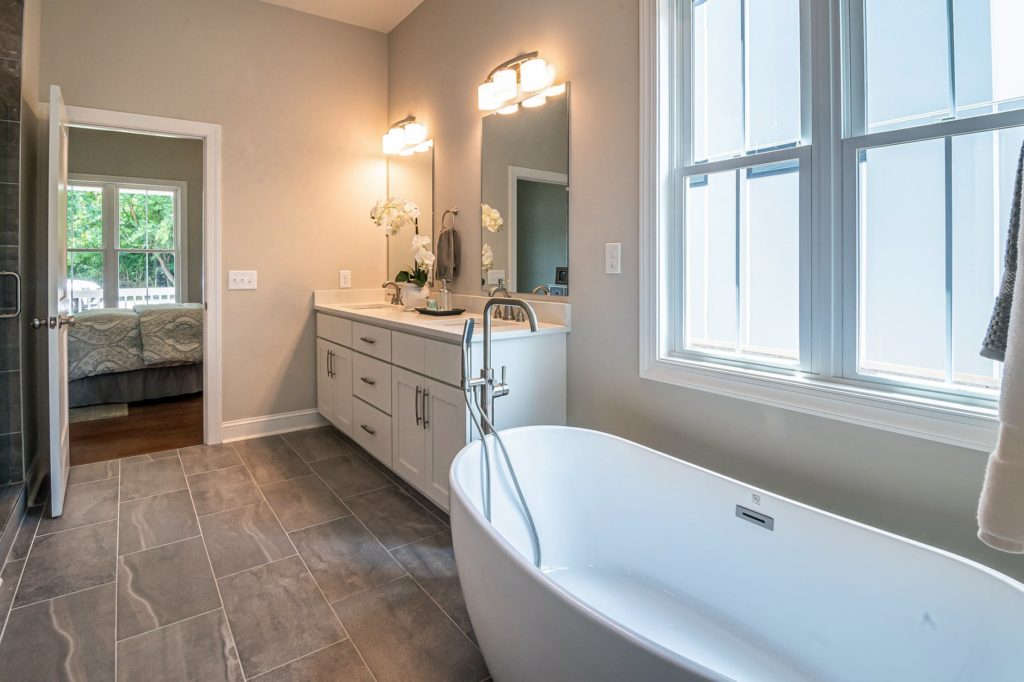 Concrete and original floorboards are a big trend this year. More and more home-owners are opting for rustic, warm finished floorboards for their contemporary bathrooms. It's best to check under those dated flooring. You never know what could be hiding underneath.
If you are lucky, there will be nothing but original sturdy floorboards. Think about how to enhance its natural beauty without spending much. One way could be sanding the floors for a warm finish that shows grit and grains. With a simple coat of clear or tinted varnish, you'll be able to achieve high-end bath floorings for way less.
Upgrade the Fixtures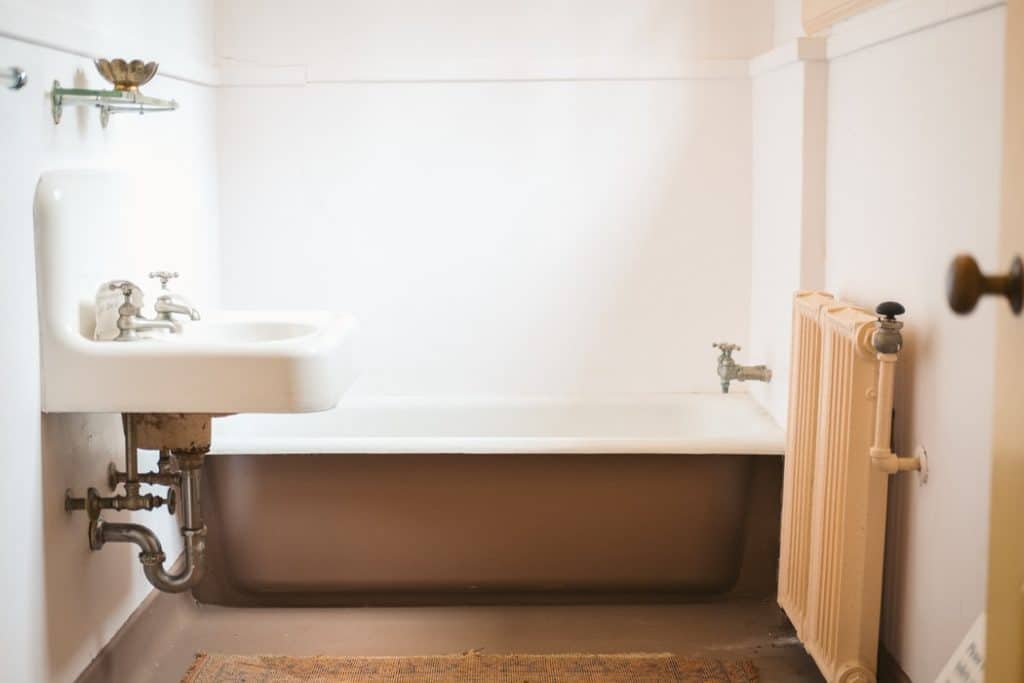 Bathtub: A bathtub isn't that essential in a bathroom these days. One can quickly put off adding one in each bath space and save up some bills right there. Instead, add a bathtub to one of the most used and accessible bathrooms and leave the rest as is. Without a bathtub, one can spend more on a great shower or designer tiles.
But half-way through the remodel, if you're on track and under budget, you can still treat yourself to a bath of your dreams. Though expensive, it can be a great addition to your bathroom update. There are a plethora of options to choose from and plenty of designs that won't burn a hole in your pocket.
Vanity: On the other hand, vanities play an essential role in the bathroom. The best way to get a good option for less is to repurpose your old furniture for it. Similarly, you can go to the flea market or nearest yard sale to explore some options.
Not only is this an economical alternative, but it is also a delightful addition to your budget bathroom remodel. You can even customize it to your liking by painting it or adding hardware pieces that match your overall theme.
Shower: Owning a luxury shower sure seems dreamy in a magazine, but that will cost you a fortune. There is only so much you can include in your set budget. If not the luxury design, you can always invest in a better product.
On the other hand, don't pick the cheapest item from the aisle. They are bound to fail and are a terrible investment, no matter how cheap they are. Opt for a laminate shower panel or acrylic shower pans. They are easy to install and maintain in the long run.
Improve the Lighting
Pendant Lights: Pendant lights are easily one of the most affordable and chic features of a budget bathroom remodel. If you have a modern bath or a vintage rustic themed space, pendant lights can brighten up any room with ease.
Their trendy designs and styles can be a focal point of your bathroom. It doesn't even matter if it's an industrial light, chandelier, or a wire pendant. Pick your style and add some pizazz to your bathroom.
LED Lights: Equally, you can enhance your mood lighting by adding LEDs. These easy-to-attach light strips are a winner. They come in various color settings such as white, warm white, blue, or pink. Best of all, they add a decorative feature when placed under the mirror.
LEDs are a perfect, sustainable option for bathrooms as they don't cast a shadow. You can now take endless mirror selfies or closely examine your face in peace.
Stay on Top of Your Budget Bathroom Remodel
Not every scenario is going to turn up the way you hoped. Unforeseen circumstances almost always arise, no matter the hardcore planning and plotting. It would be best if you kept a 20% overage of your overall costs as an emergency fund.
You should also not lose track of the costs throughout the remodel. Always update your spreadsheets or notes on your smartphone to avoid overspending. Keep those receipts handy for any misunderstanding or miscommunication.
Stay organized and be as straightforward as possible in your decisions to prevent mishaps. Though it's just precautionary, you can only benefit from it in the end. With the pending amount (if saved up), you can buy those few bonus items that you had to sacrifice in the early stages.