After you've made up your mind that you need to remodel your kitchen, the process begins immediately. You're on Pinterest all day, creating boards and pinning images of what your dream kitchen would look like. Every time you walk into your kitchen, you imagine the newer and remodeled version of it. After all, who doesn't love to daydream? Especially when it comes to imagining the output of your own creativity.
However, at some point, reality has to set in. You open the budgeting excel sheet and are lost. You ask yourself, "where will all my money go?" "How much does a kitchen remodeling project cost?" and more questions like these.
Well, we all have money blues, don't we? Most of us don't have a huge sum of cash just lying around for use at our disposal. That leaves us wondering about budgeting and financing options for a kitchen remodel before everything else. But first, before we can even delve into how we can finance a project and create an adequate budget, we need to know what everything costs. Hence, a price breakdown of elements you are going to change is a great first step towards planning.
How Much Does Kitchen Remodeling Cost?
Before diving into the nitty-gritty of things, let's talk about how much a remodeling project costs as a whole. For a kitchen that's about 10×10, the cost comes to around $15,000 to $30,000. The average kitchen remodeling cost is around $20,000. However, the cost of your kitchen remodeling project will depend on many variable factors. Do you like a marble countertop or a granite countertop? Do you want to paint the kitchen cabinets yourself or hire a professional? Depending on what you choose, your figures might be lower or higher than the average.
In our opinion, because your kitchen is your haven, a place where memories and tons of good food are made; the biggest thing that you should consider while remodeling your kitchen is to do what suits your vision of your dream kitchen. Right from the cabinet handles to big projects like a countertop — each aspect of a kitchen should be ideal for your goals.
Going by that, it's usually a culmination of small things that determine the overall cost of the project. Now let's talk about those small things. Out of all that goes into a kitchen remodel, which aspect costs the most? We'll give you a moment to take a guess…
The Most Expensive Part Of A Kitchen Remodel
The most expensive part of a kitchen remodel is… Cabinets!
Cabinets form a huge chunk of your kitchen remodel budget. Why? The simple answer is the scale. Cabinets form a huge percentage of your kitchen's real estate. There is also a complicated answer.
For the most part, cabinets seem to just exist and are often overshadowed by other aspects of the kitchen. However, they matter a lot when it comes to a remodeling project. The average cost of those is generally upwards of $15,000. Cabinets are also one of the fundamental aspects of your kitchen; one that is obviously essential and required. This is a big reason why they are also the most expensive part of your kitchen's remodel. Right from the material to the paint and to the labor, every aspect plays a role in determining the cost of your cabinetry. Most cabinets are made-to-order and this too brings the cost up.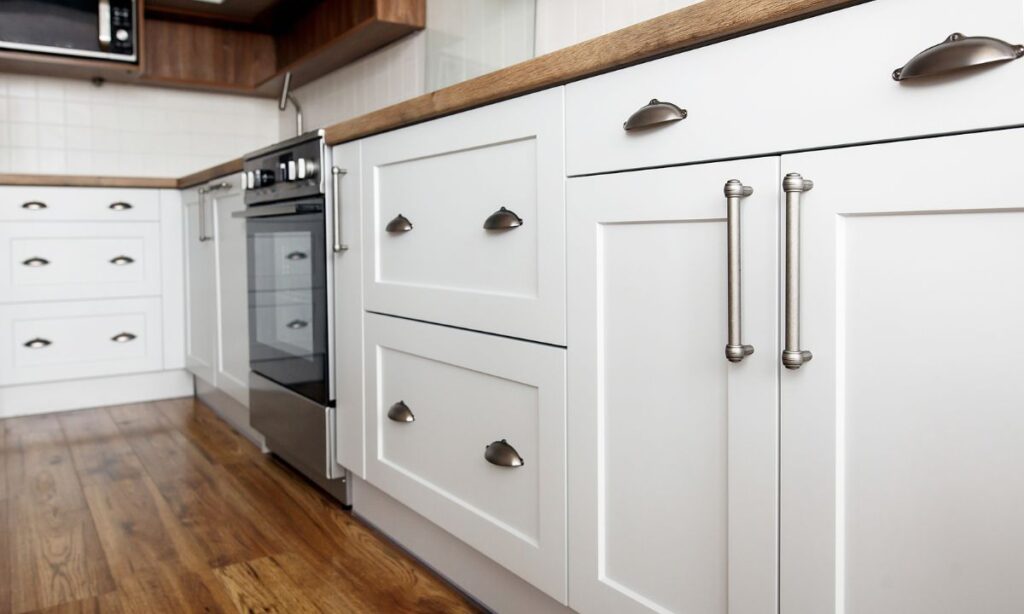 So yes, in most cases, cabinets can cost up to 50% of your total budget. Now you might be wondering, why should I spend on it so much?
Related: How to Paint Your Kitchen Cabinets
Why Should You Spend On Cabinets?
For any homeowner, kitchen remodels are an expensive undertaking. Therefore, a remodeling project should be approached with the mindset of an investment. Kitchen remodels breathe new life into your home and make it a better place to live in for you and if you plan to sell it some years down the line, for the new owners as well. And good cabinetry, especially American-made custom cabinetry that comes with lifetime warranty finds a good favor with the potential homeowners. A cheaper yet reliable alternative could be to go for Chinese-made cabinetry supplied by American companies, such as Forevermark.
The general rule of thumb, when it comes to budgeting for a kitchen remodel is that it should cost no less than 5% of your home's value and no more than 15%. After you've decided on the budget, you will probably break it down even more. This is where the cabinets come in.
Using the cabinets in your kitchen is like an involuntary action that no one thinks about actively and yet they do it at least once or twice a day. It may be to get your cereal out or to grab some snacks. Regardless of how many times you use them, cabinets are arguably an important aspect of any kitchen. Hence, investing in the cabinets is ensuring that the investment of your kitchen remodeling project is secured for a long time.
Sure, a cabinet or two can make-do with some oiling and some extra love, but it may not have the same grace. To summarize, you should buy the best cabinets that you can afford . You may DIY, use refurbished materials or replace the entire cabinetry entirely, the choice is yours. Just do the best that you personally can and your investment will be secure for a really long time.
Other Important Aspects Of A Kitchen Remodel
In the race of being the most expensive part of a kitchen remodel, while we may have a clear winner, there are runner ups as well.
After cabinets, the second most expensive part of a kitchen remodel is the appliances, coming to around $8,200. This is followed by the countertop, averaging at around $6,000.
Just remember: While deciding on your budget, it is a good idea to have some money set aside for 'miscellaneous expenses'. The ideal percentage is around 5% and it can be for lighting or minor expenditures that tend to come up during the course of the remodeling project.
In Conclusion
Regardless of your budget, the most important aspect of your kitchen remodel is how you plan it. You don't need to spend more than you can afford. n fact, with adequate research, a combination of DIY and professional help — you can make a very dreamy kitchen happen.
In the end, every kitchen is different and every homeowner has their own requirements, style, and dreams. As a homeowner, you have to decide what works best for you and your budget will determine your journey towards your dream kitchen.
Related: 6 Popular Layouts that Work in Every Modern Kitchen