The kitchen is the soul of a home. It's the only place where sophisticated culinary style blends effortlessly with the fervor of casual evenings with friends. According to a survey conducted by House Digest, the kitchen is the most important room according to 41.44% of homeowners. 
Though they share a lot of things in terms of function, there are numerous types of kitchen layouts and styles. Be it the U-shaped kitchen, linear landscape, galley, or G-shaped kitchen — cabinetry plays a huge role in defining not only the basic layout but also the style statement of the space.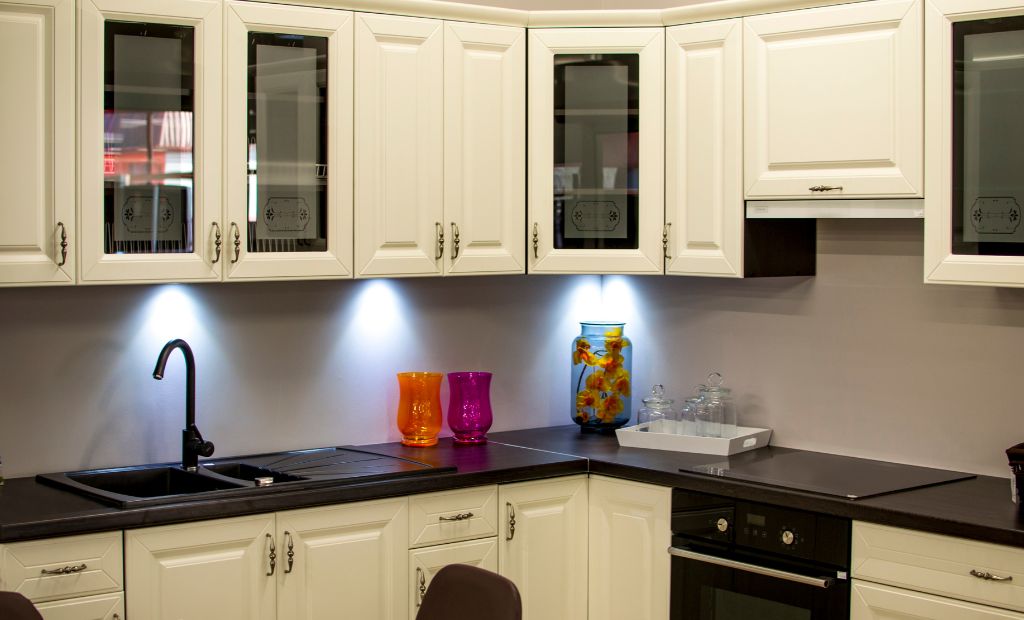 This comprehensive guide answers every question, from cost to material, that you may have about buying kitchen cabinets.      
How to Choose The Right Cabinet for Your Kitchen?
Choosing the best kitchen cabinets for your kitchen might sound exciting, yet overwhelming, all at the same time. There are many options, and each of those comes with its own pros and cons. At this point, homeowners should clearly understand what to look for when buying kitchen cabinets. 
In this guide, we suggest narrowing down the choices regarding the cabinetry types and cabinetry costs. Knowing about different cabinet materials and styles will make you more confident when you are ready to make a choice. And by comparing the prices of different materials and styles, you can help yourself stick to your budget.
Types of Kitchen Cabinets
If you want to know more about how to buy cabinets, learning about the different types of cabinets might be a good place to start. Here are the most common kitchen cabinet types and their most prominent features.
Solid Wood Kitchen Cabinets
Solid wood kitchen cabinets have always been a favored choice of architects as well as designers. Wood cabinets have always been renowned for being classy and timeless. Rightly so in many cases, if we may say.
Since this material is versatile, it can be used in a variety of colors, forms, and designs. Wooden cabinets are also affordable, even with customizations. Besides that, they are available in a variety of textures like maple, oak, hickory, cherry, and pine.
However, there are also drawbacks to this material. It is prone to water damage as well as bug infestations. You are better off opting for woods that are more resistant to these threats, such as teak or cedar cabinets. If not, you may need to invest in termite control as well.
Medium Density Fiberboard Kitchen Cabinets
Medium-density fiberboard kitchen cabinets, popularly termed MDF, are high-grade composite materials constituted from recycled wood fibers and resins. It is essentially an engineered wood product formed by breaking down hardwood or softwood residuals into wood fibers in a defibrillator, then compacting them together to make a board.
The best part about MDF cabinets is that they are resistant to cracking and peeling.
They are easy to paint over and can be customized, too. Besides, MDF is smoother when compared to plywood. There is no noticeable grain on the cabinet doors and thus has a very smooth finish as a result.
However, it is not easy to repair MDF cabinet door scratches. Another disadvantage is that the core material of the product may break down under extreme heat. There may be a value reduction 20 years down the line with these boards, whereas solid wood may add 20% when taken care of.
Plywood Kitchen Cabinets
A substantial number of designers vouch for plywood kitchen cabinets. They are comparatively cost-effective, have higher water resistance, and have greater stability than MDF.
Each board of plywood cabinetry is layered like a sandwich, with thin sheets of wood pasted on top of one another. A plastic laminate, thermofoil, or wood veneer coats the exterior surface for added protection.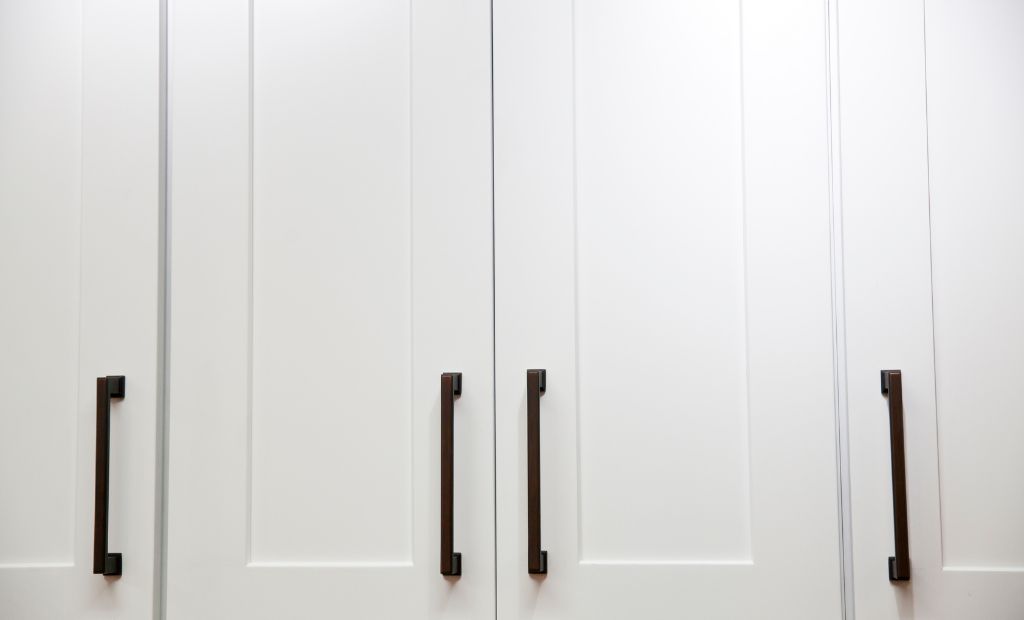 Plywood, as a result, weighs less than particle board and thus works well for wall cabinets. The outer layer acts to improve the finished item's strength and increases the overall dimensional stability. Plywood works well at holding screws, nails, and mechanical fasteners more securely when compared to other materials. It also provides excellent support for drawer glides. Besides that, it is not prone to shrinkage or expansion.
However, water can wreck MR-grade plywood — a disadvantage that can be overcome by choosing a BWR waterproof grade instead. In terms of shelf life, however, plywood is not as strong a material as solid wood.
Stainless Steel Kitchen Cabinets
Stainless steel kitchen cabinets are the new trendsetters in kitchen interiors. A polished finish on stainless steel is especially good in humid climates. It is commonly used in high-end kitchens for that sleek, clean, angular look.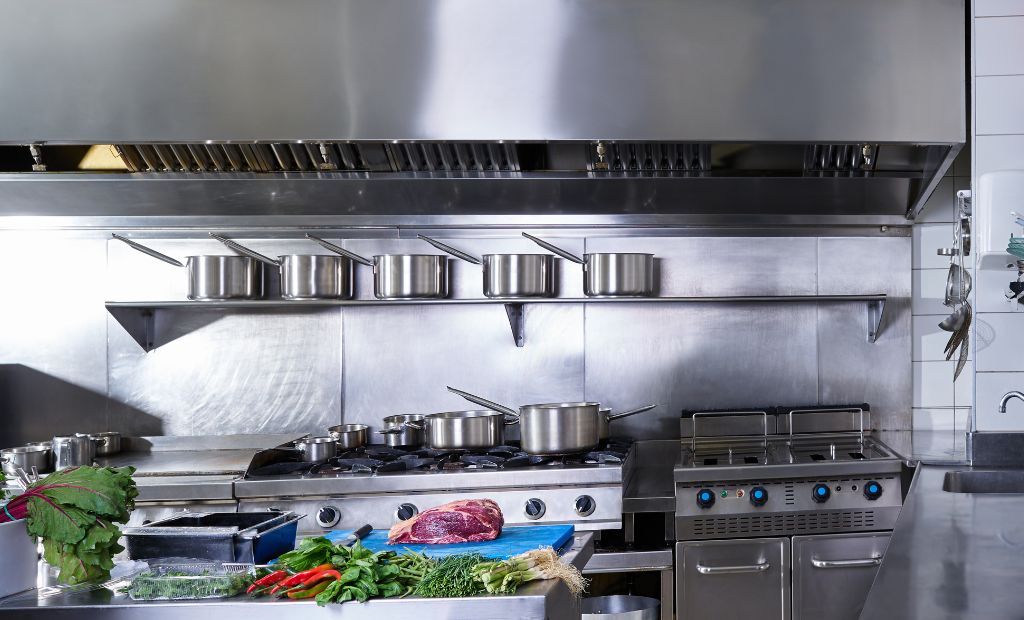 The steel frees you from the perennial problem of stains and bugs, including germs and termites. Additionally, stainless steel is resistant to rust. This material is durable and eco-friendly too.
However, it shows fingerprints and scratches easily, but this can be sorted out with the help of OTC cleaners.
Particle Board Kitchen Cabinets
Particle board kitchen cabinets, which are popularly known as chipboard, are made from a combination of many waste materials such as planer shavings, offcuts, sawdust, and wood chips.
Particleboard is reasonably priced and works well for interior projects like attaching cabinet door hinges to the sides of frameless cabinets. In addition, it is great at holding screws in place.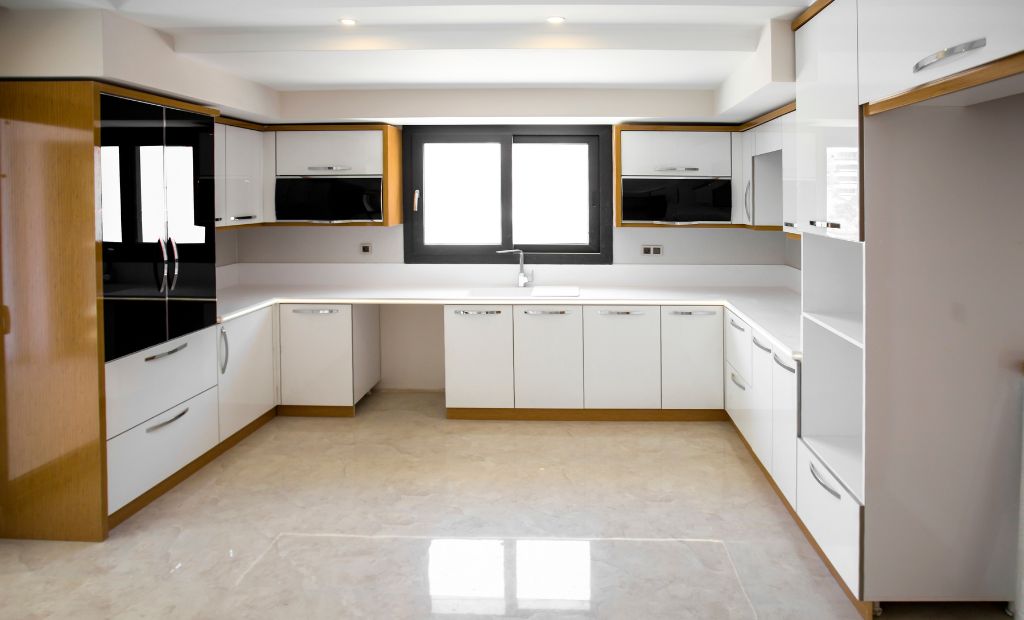 However, this material is prone to expansion and discoloration due to moisture. This problem can be combated by painting the kitchen cabinet pieces or covering them with a sealer which will help to retain their shape and appearance.
Colors of Kitchen Cabinets
Once you have decided on the type of kitchen cabinet material that suits your needs and preferences, the next step is to consider the colors of the cabinets. The color of your kitchen cabinets plays a significant role in the overall aesthetic and ambiance of your kitchen. Here are some popular cabinet colors to consider:
White: White kitchen cabinets are timeless and versatile. They create a clean and bright look, making your kitchen feel more spacious and inviting. White cabinets can easily blend with any kitchen style, from traditional to modern.
Gray: Gray cabinets have become increasingly popular in recent years. They offer a sophisticated and contemporary look to your kitchen. Light gray cabinets can create a soft and elegant atmosphere, while dark gray cabinets can add depth and richness to the space.
Espresso: Espresso or dark brown cabinets bring a sense of warmth and richness to the kitchen. They are often used in traditional or rustic kitchen designs and can create a cozy and inviting ambiance.
Natural Wood Tones: If you prefer a more natural and organic look, choosing kitchen cabinets in their natural wood tones can be a great option. Lighter wood tones like maple or birch can make your kitchen feel bright and airy, while darker wood tones like cherry or mahogany can add a touch of luxury and elegance.
Two-Tone: Two-tone cabinets have gained popularity as a way to add visual interest and contrast to the kitchen. You can combine two different colors, such as white upper cabinets with gray lower cabinets, or choose a contrasting color for the kitchen island to create a focal point.
Bold Colors: For those who want to make a statement, bold-colored cabinets can add a pop of personality to your kitchen. Colors like navy blue, emerald green, or even red can create a striking and unique look. However, it's important to consider the overall color scheme of your kitchen and ensure that the bold color complements other elements.
Remember, when choosing the color of your kitchen cabinets, consider the existing color palette of your kitchen, including the walls, countertops, and flooring. Take into account your personal style, the amount of natural light in the kitchen, and the overall atmosphere you want to create. By carefully selecting the color of your kitchen cabinets, you can achieve a cohesive and visually pleasing kitchen design.
For more inspiration and ideas for kitchen cabinet paint colors, you can check out this blog post: 21 Amazing Ideas for Kitchen Cabinet Paint Colors.
Cost of Different Cabinets
Replacing kitchen cabinets can cost somewhere between $2,014 to $10,173. But as an added bonus, when homeowners buy kitchen cabinets, they can expect to get 65% to 80% of their investment back in resale value. 
Keep in mind that out of your estimated budget for kitchen remodeling, 30% to 50 % should be allocated for the kitchen cabinets. This is a realistic figure to have, although bargains are possible. If you save money here, you can spend the surplus on other products such as appliances, fixtures, flooring, etc instead; so try to shop for cabinets during sales. 
Manufactured cabinets save on costs in comparison with customized ones. The cost of kitchen cabinets generally includes shipping and handling charges of the product, but it's best to check with your dealer beforehand.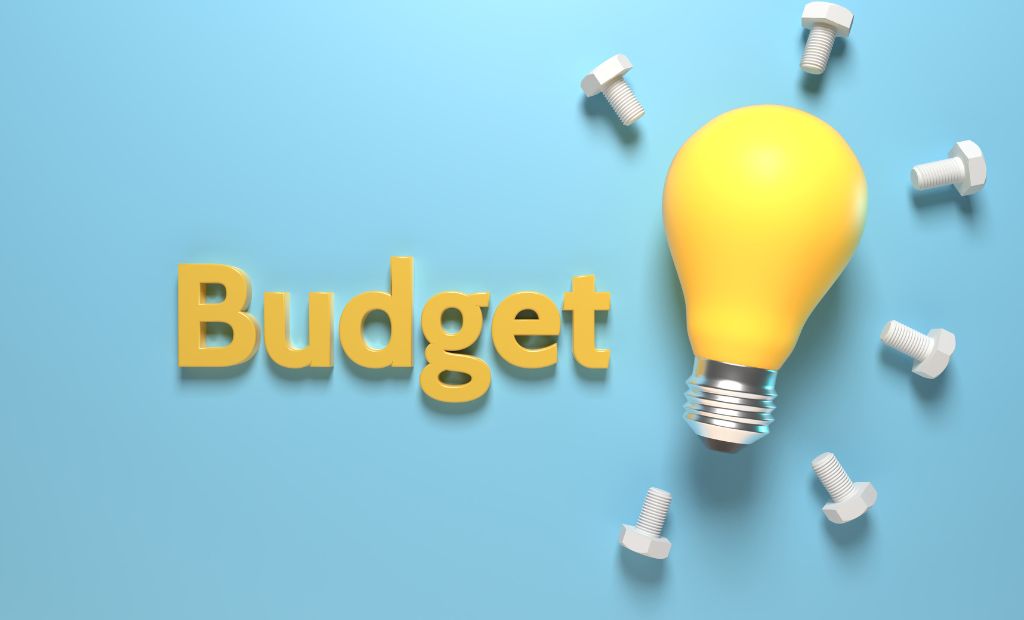 Usually, the lower price bracket caters to unassembled cabinets. On the other hand, you will have to shell out more in the case of preassembled cabinets. This is because you have to pay the company for the time it takes to assemble the product, and two, you will be paying a higher shipping cost than the former.
Other factors that influence the cost are the chosen style of the cabinet and whether the cabinets will be picked up by you on your own. You might have to pay for transportation charges in some cases. Additionally, installation can cost approximately 50 to 75% of the total cabinet cost in some cases. However, you can cut corners by getting the job done by a small contractor who will charge you less. This may result in unsatisfactory workmanship, though — so be careful!
How to Maintain Kitchen Cabinets?
Here are some practical maintenance tips for the cabinet types listed above.
How to Take Care of Solid Wood Cabinets?
Keep a watch out for leaks. Make it a point to keep your cabinets clean and moisture-free as much as possible. Be very consistent when checking for any signs of bugs in your home. Keep food in airtight containers, and do not delay when getting rid of any spoiled food left in cabinets. This will prevent the spread of bugs, and maintain the overall integrity of your cabinetry.
How to Take Care of MDF Kitchen Cabinets?
The lacquered surfaces can be cleaned with warm water, mild detergent, and a micro cloth. As long as you never use any harsh chemicals on the surface like bleach etc, you are good to go.
How to Take Care of Plywood Kitchen Cabinets?
Since different appliances are integrated into and around the plywood kitchen cabinets, they tend to attract a lot of grease and dust over time. And since they are porous, when exposed to moisture, they can easily develop mildew.
For proper maintenance, all cabinets must be cleaned at least once a month to protect them from grease in order to retain their look and stay in good condition.
How to Take Care of Stainless-Steel Kitchen Cabinets?
Use a cleaner that contains alkaline, alkaline chlorinated, or non-chloride chemicals to keep your cabinets rust-free. Also, make a habit of using a soft cloth, microfiber, or a sponge to clean the cabinets. Do not use steel wool, wire brushes, and scrapers when cleaning.
How to Take Care of Particleboard Kitchen Cabinets?
Use a mixture of vinegar and water to clean the cabinets. Finally, wipe the surface with a damp cloth to remove any buildup. It's that easy!
Choosing The Right Kitchen Cabinet Material
Unless you plan to purchase ready-made cabinetry from a retailer, selecting the right cabinet for your space will require you to choose specifications such as the door material, the style, and the hardware.
Even in the case of most pre-assembled cabinets, customization is possible. There is always the possibility to customize the hardware, such as hinges, channels, handles, etc, for your cabinet doors from particular manufacturers. And in some cases, you can opt for custom doors, too.
As mentioned above, kitchen cabinets are the focal point in your kitchen. Choosing the right cabinet can therefore make or break the look of your kitchen. We recommend choosing something that complements the countertops and the existing features of the space.
Be mindful that the kitchen also happens to be the first room that is seen by any potential buyer, so you don't want to be stingy here at all. Determining the final layout of the kitchen will depend largely on the choices you make here. It is something that you can be creative with, which makes the most of your artistic taste. After all, resale value aside, don't you want to enjoy the space while you are living there?
How to Buy Kitchen Cabinets?
Here are the most common ways of buying cabinets to give you an idea about how to shop for kitchen cabinets:
Buying From Kitchen Design Centers
Buying From Home Centers
Buying Online
Buying Through A General Contractor
Where to Buy Kitchen Cabinets?
Choosing the right contractor who offers kitchen remodeling services is one of the best ways to buy kitchen cabinets. They help you with all the necessary steps of the project. Even if you have no idea about what to look for when buying kitchen cabinets, they can expertly analyze your space and offer you a bunch of potential design and material options to choose from. If you need to ask any further questions and/or want to discuss your future plans for your kitchen and cabinetry, we are here to help you with that. KBR is an insured and licensed Class A remodeling contractor. We have made countless homeowners' dreams come true in Northern Virginia, Maryland, and Washington, DC. We have been bestowed with numerous awards and a lot of happy customers because at KBR, we offer the best service and highest quality materials. We can visit your space, listen to your expectations, and give you only the best kitchen remodeling ideas. We keep in stock kitchen cabinets and all other essentials your kitchen remodeling requires. All you need to do is relax and enjoy the transformation in your home rather than get overwhelmed by the remodeling responsibilities.