The kitchen is the most busy place in a home. Even with all the cooking, hosting, and even eating in the kitchen, an all-white kitchen is still the most preferred choice for many people. Kitchen remodeling ideas have somehow centered around or involved the color white. This is mostly due to its soothing effect on people. However, designers are moving toward bringing some colors into the kitchen now. And what better place to start with than the kitchen cabinets?
What Are Some Beautiful Kitchen Cabinet Color Ideas?
Color ideas for kitchen cabinets are many. But only some of them can make a real difference in your place. So, if you are on the same page with us, here are a few kitchen cabinet paint color ideas that'll add some awesomeness to your kitchen.
1. Dual Colors
Using two different colors that complement each other for upper and lower cabinets is a beautiful way to bring drama and attention to your kitchen. This has been a trend for a long time, and it is here to stay.
A fundamental White and Black combination of mixing traditional wood with colored cabinets works amazingly well in any kitchen.
2. Grayish Tones
Grayish tones are in every minimalist's palette. Painting your kitchen cabinets with gray gives them the aesthetic look they deserve. In addition, grayish tones have this soothing effect on people, thus elevating your everyday cooking experience.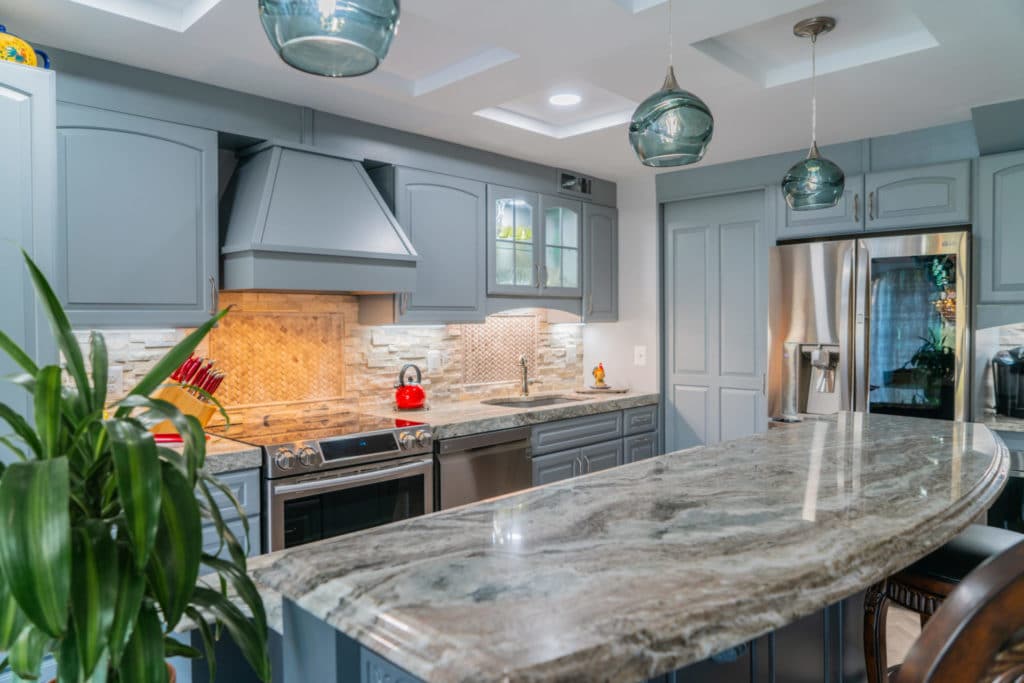 You can go with dark gray for cabinets and light colors for walls to get that contrast in your kitchen. However, bringing some wood elements into your design will do the job if you think of going with a lighter gray. Not just that, gray cabinets are much easier to clean as compared to white.
3. Matte Black
Want to go entirely against the age-old all-white kitchen cabinet paint colors? How about choosing the polar opposite? Painting your kitchen cabinets in matte black will make your kitchen stand out.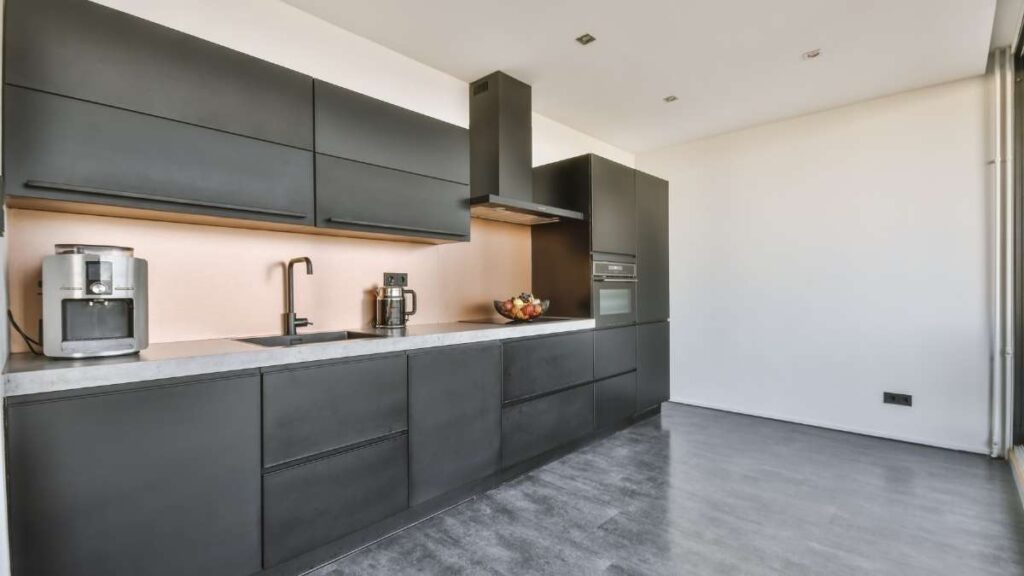 If you are going with a white backsplash, then black cabinets will add the perfect contrast drawing immediate attention to them. Perfect contrast can make any kitchen of any size look amazing. What better contrast than black and white to bring that wow factor into your kitchen!
4. Mountain Pine
Mountain Pine is a beautiful color that can go well with your lower kitchen cabinets. Combining this with white-painted upper kitchen cabinets works wonders in any kitchen.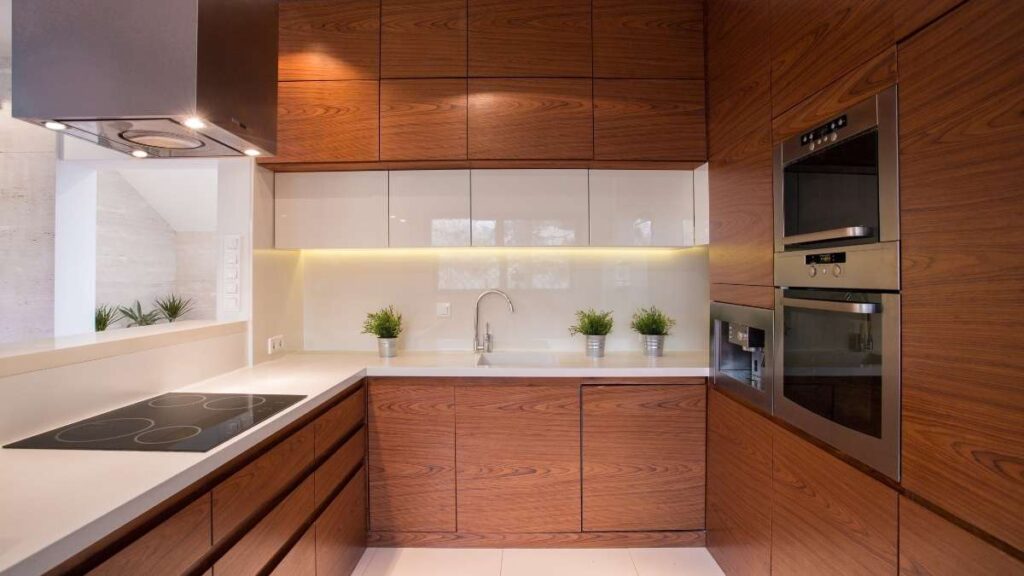 Pro tip: Bring some plants into your kitchen. Plants bring color, contrast, and a natural element to your painted kitchen cabinets and your walls.
5. Pink
Pink is a bold color to choose for your kitchen cabinets. But if you are ok with making that choice, it would add a different kind of beauty to your kitchen. Why? Rosy hues are here to stay.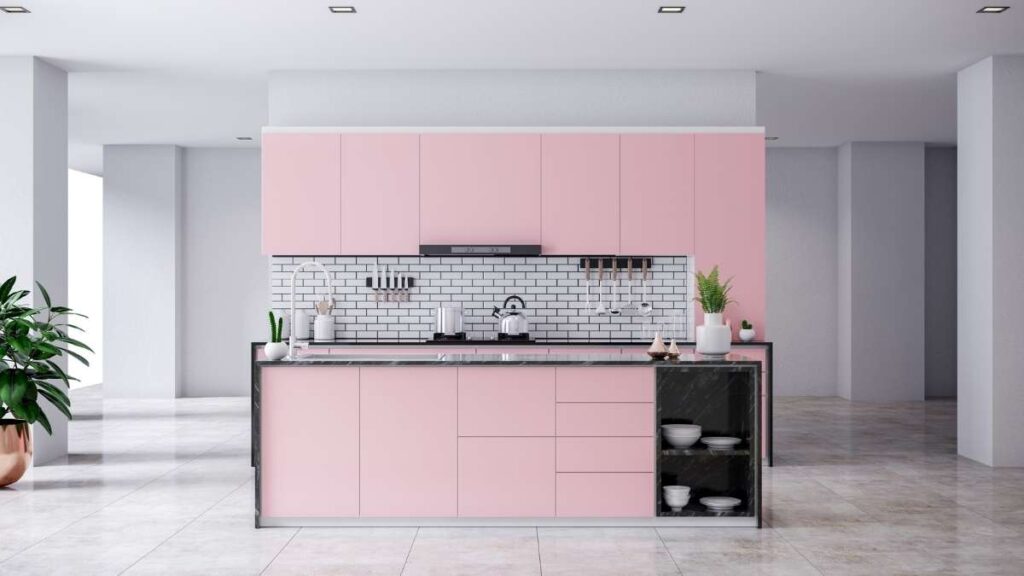 Millennial pink is known to be feminine, and also, considering the amount of vibrancy it brings into your design, going with pink is never the wrong choice.
Suppose you are not comfortable with millennial pink. In that case, you have various other forms of pink, like blush pink or even dusky rosy kind of pink, which are not extraordinarily feminine and bring the same type of effects to the project.
6. Green
Green is one other color to choose from that brings an aesthetic sense into your kitchen. Not just that, green is also associated with nature. For this reason, painting your kitchen cabinets green will have that calming effect on you.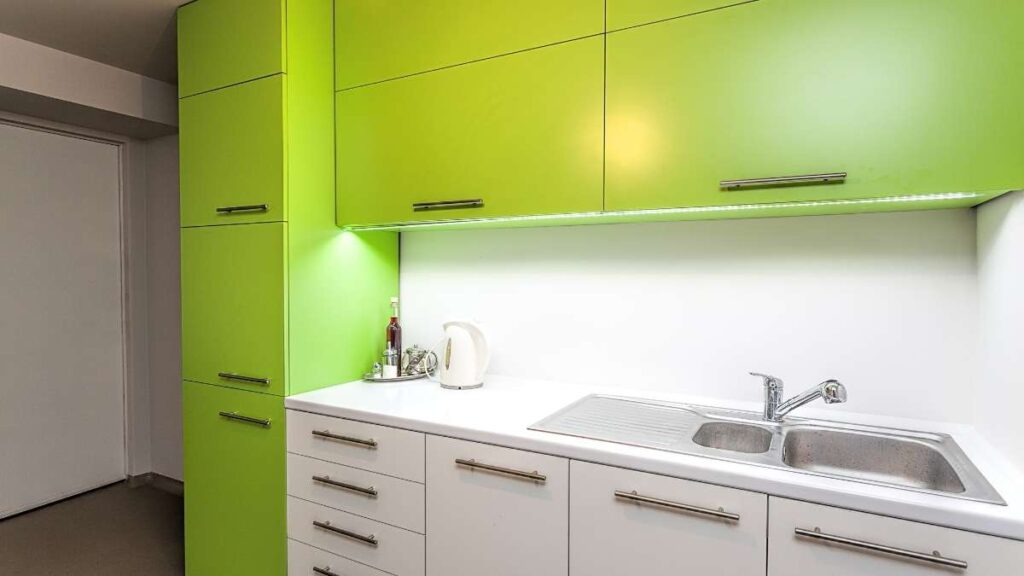 When you are going green for your kitchen cabinets, choosing contrasting colors for your kitchen walls and backsplash takes your kitchen's beauty to another dimension.
7. Pastel Kitchen Cabinet Paint Colors
Pastel colors are known for being soothing, especially if you are considering a kitchen remodel. What better place than a kitchen to have that relaxing feeling? Baby blue, lavender or even peach are all amazing colors for your kitchen cabinets.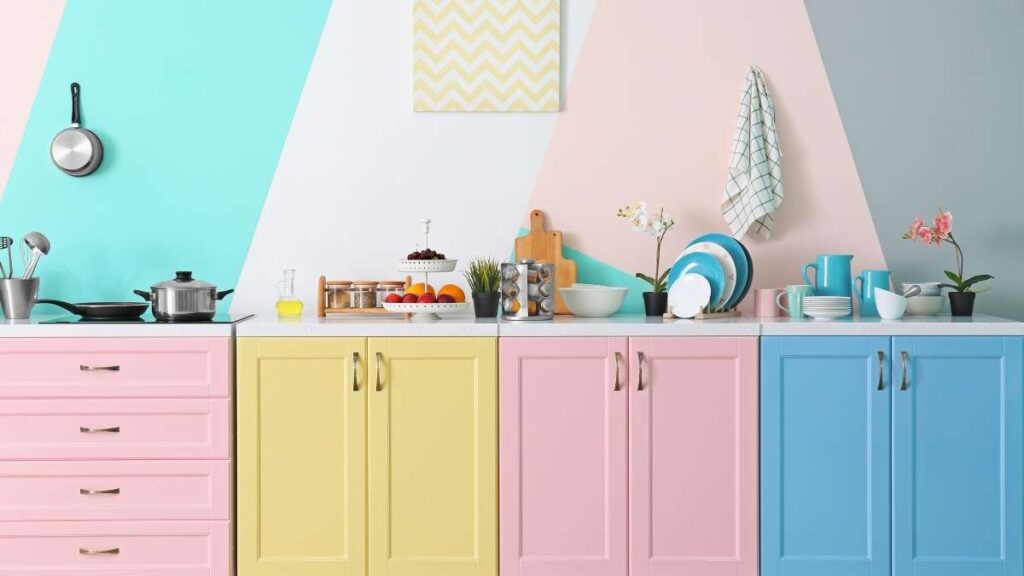 You can also paint your walls and backsplash white, thus adding to the space's full calming effect. On top of that, white goes amazingly well with all the pastel colors. You can't beat that!
8. Darker Hues
To add contrast to your whole design, choose lighter colors, predominantly white, for your walls and the backsplash. Your cabinets will pop out and attract immediate attention if they are of a darker shade.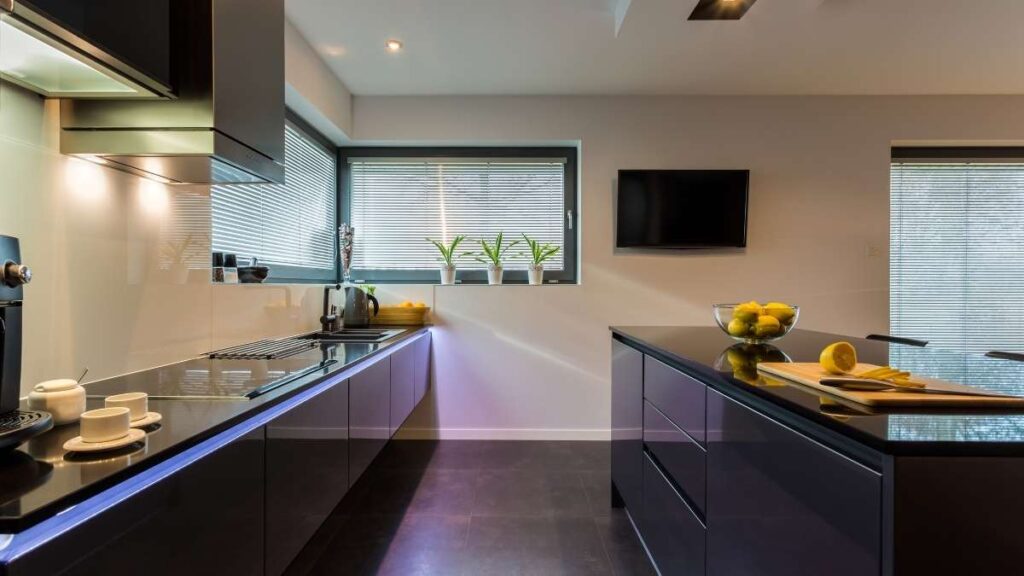 9. Wood Finish
If painting your kitchen cabinets with colors is not your thing, then giving them a wood finish would give you all the vintage vibes you need. Wood-finished cabinets are returning in most homes these days, and they'll never go out of fashion.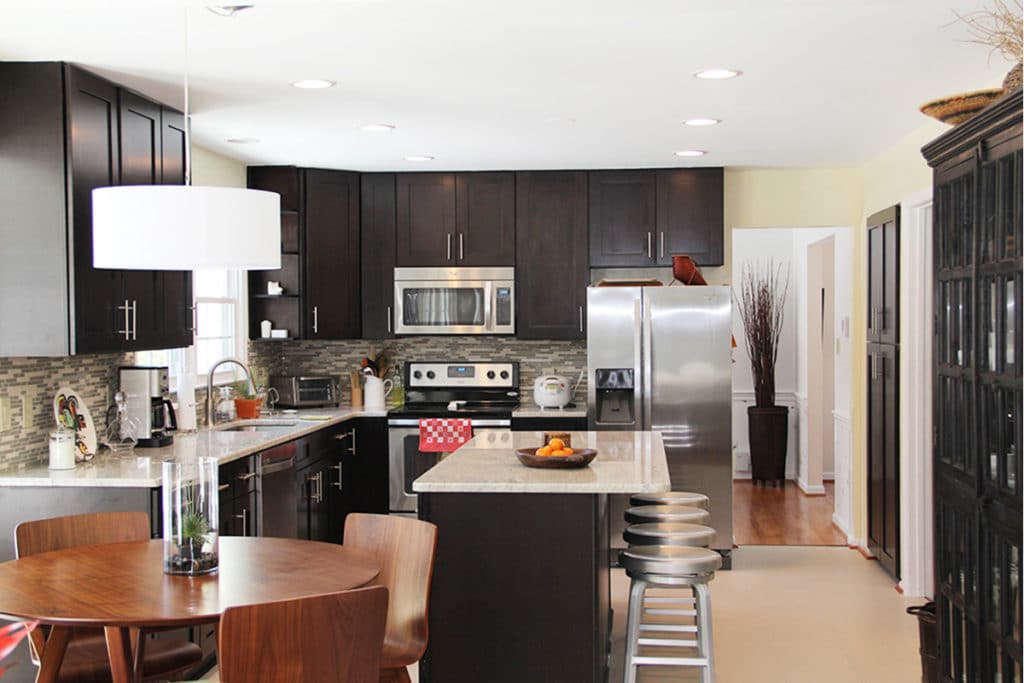 You can choose to paint the upper cabinets with any lighter colors and give the lower cabinets a wood finish. This way, you are bringing modernity into your kitchen while keeping the vintage vibes intact.
Wood-finished kitchens also make the place cozy and make cooking and hosting a good experience. Not only that, but they are also easy to maintain as dirt is not generally visible on the cabinets.
10. Multiple Color Choices
Want to go all experimental with your kitchen and add some individuality to it by expressing yourself? Then choosing multiple colors for your cabinets is one way to do all of that.
You can choose colors complementing each other and paint each cabinet differently. You can also choose to paint different colors on different cabinets based on what you will store in them. It becomes a visual representation of everything and also adds to the whole visual appeal of the place.
Choosing to go with multiple colors for your kitchen cabinets will make your kitchen stand out from the rest, and it'll definitely tell a story of your individuality.
11. White or Anything Close to White
No matter how much we talk about all the colors you can go with for your kitchen cabinets, the all-white design will always be something you cannot ignore. This is because white has a very straightforward look, and will not give you any headaches other than maintaining it.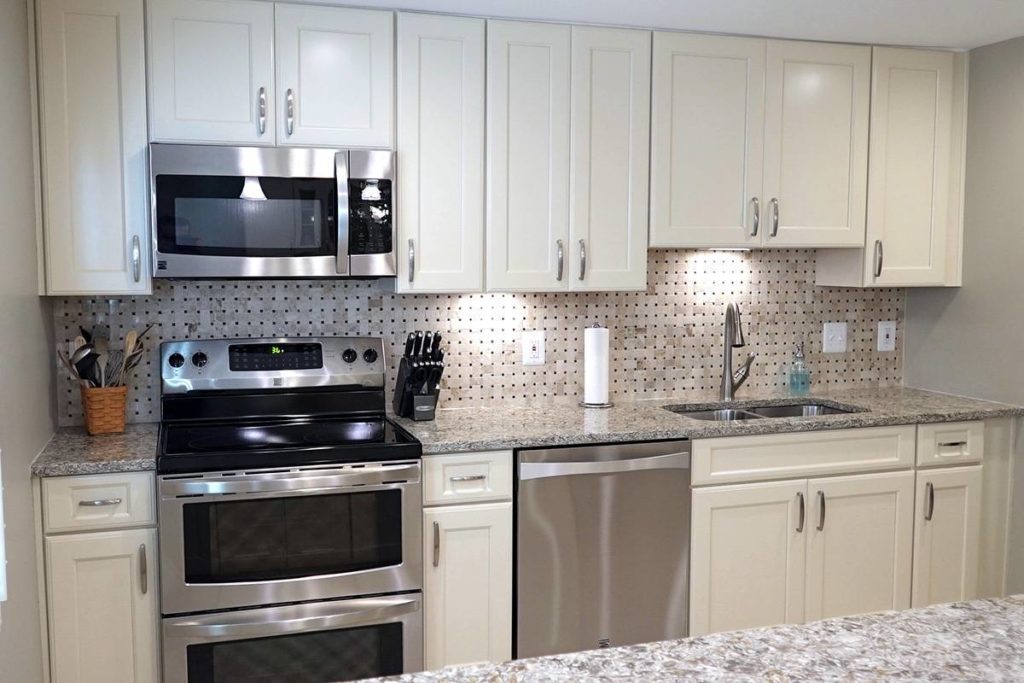 If not white, then at least colors closer to white, or you can also consider a shade of ivory for your kitchen cabinet paint colors.
12. Saga Green and White
You can perfectly combine sage green cabinets with white or black colors. But, since the countertops are usually white or in other light colors, better go with white only. Never underestimate the importance of a glamorous look. A shiny white countertop and gold hardware will help a lot with that. You can even add a colorful traditional rug to add a more vibrant look.
13. Mint
Mint is relaxing and has a coastal feel. It is one of the most common kitchen cabinet color ideas frequently used by designers. No excessiveness, or gleaming gloss finish, but pure simplicity and freshness. You can combine it best with white elements around like countertops, appliances, or even white cabinets.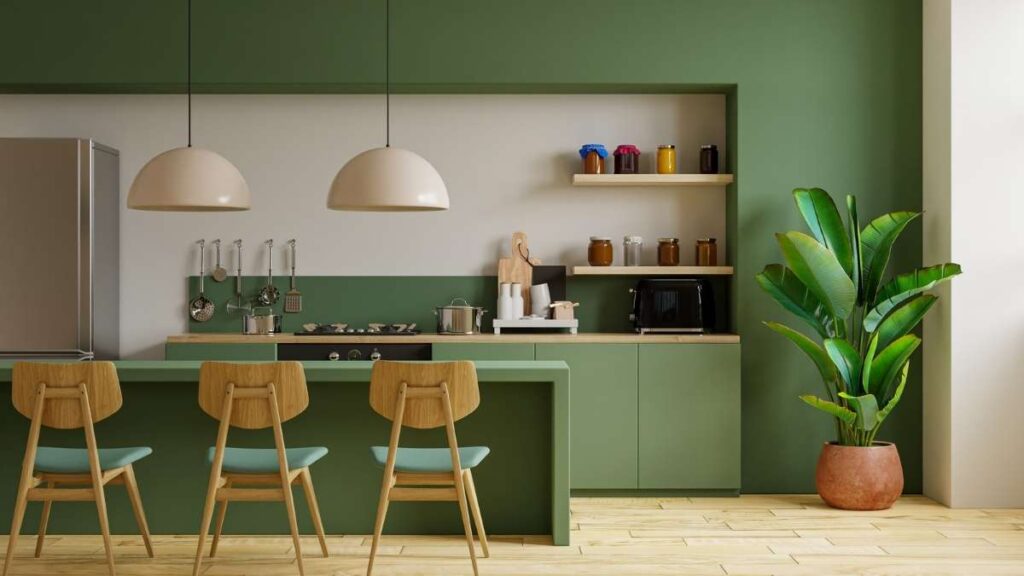 14. Emerald Green
Green is a bolder color compared to most other kitchen cabinet color ideas. However, nothing can compare to the desire to reflect one's own style in your kitchen. Going bolder is the key to creating stunning places, and emerald green is perfect with white upper cabinets, glass accents, and brass hardware.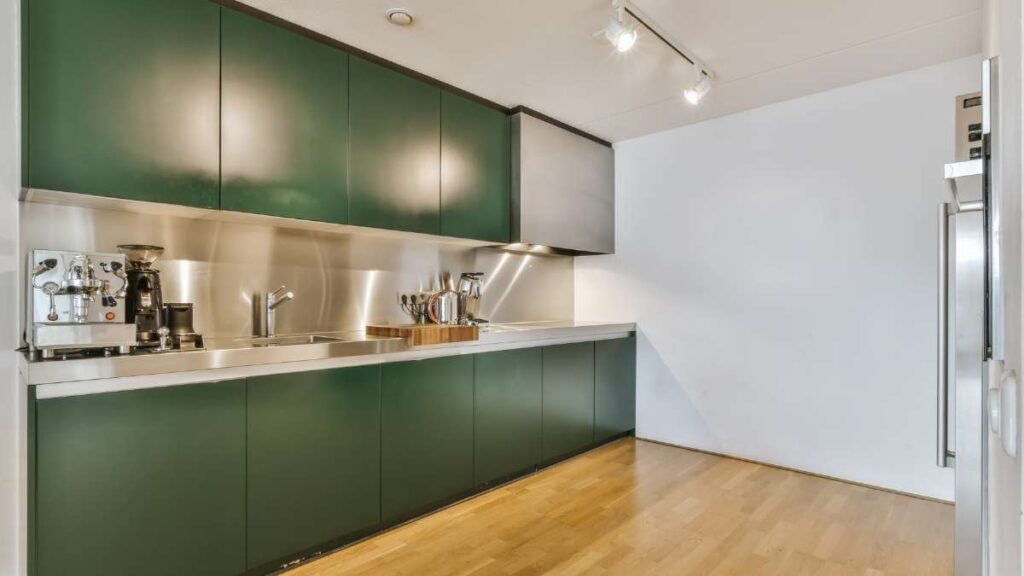 15. Gray and Navy
Navy is one of the most popular kitchen color ideas for those seeking a cold but calm ambiance in their kitchens. Very few cabinet color ideas can pair better with navy than gray.
16. Powder Blue
Seeking cabinet color ideas that are more of a designer choice? Then, consider powder blue. The color itself is soft and relaxing. It works well with other cabinet color ideas like white or cream.
17. Turquoise
The feel of the coast is now in your kitchen. If you have a modern and open kitchen, you can try turquoise as your kitchen cabinet colors in two shades – darker at the bottom and lighter at the upper part, or simply combine it with white.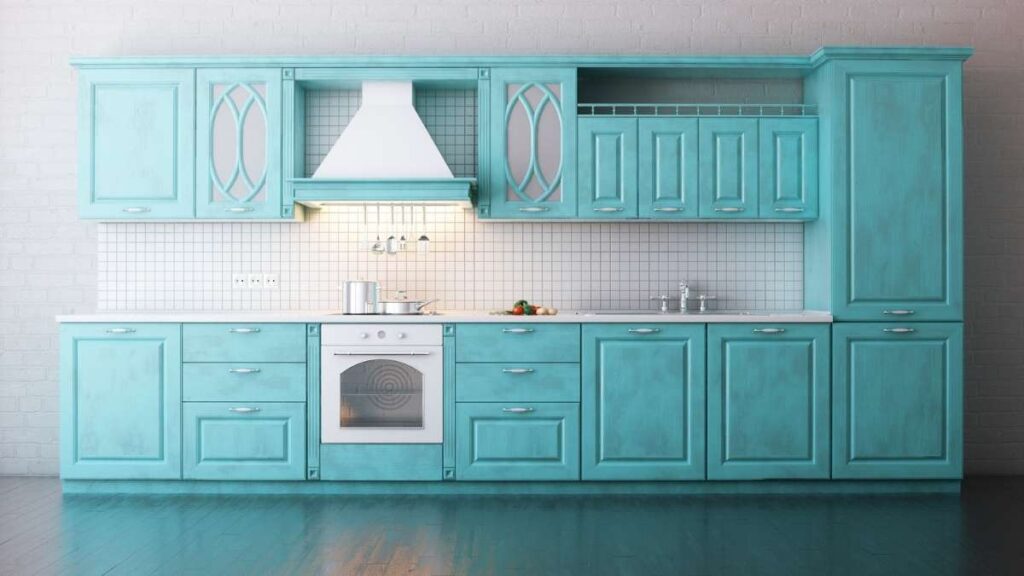 18. Deep Purple
Open and bright kitchens can make the most of purple, especially with a large glass wall at one side of the kitchen. If you have such a kitchen but not purple cabinets, you can consider painting them. There are great ideas for painting kitchen cabinets this color.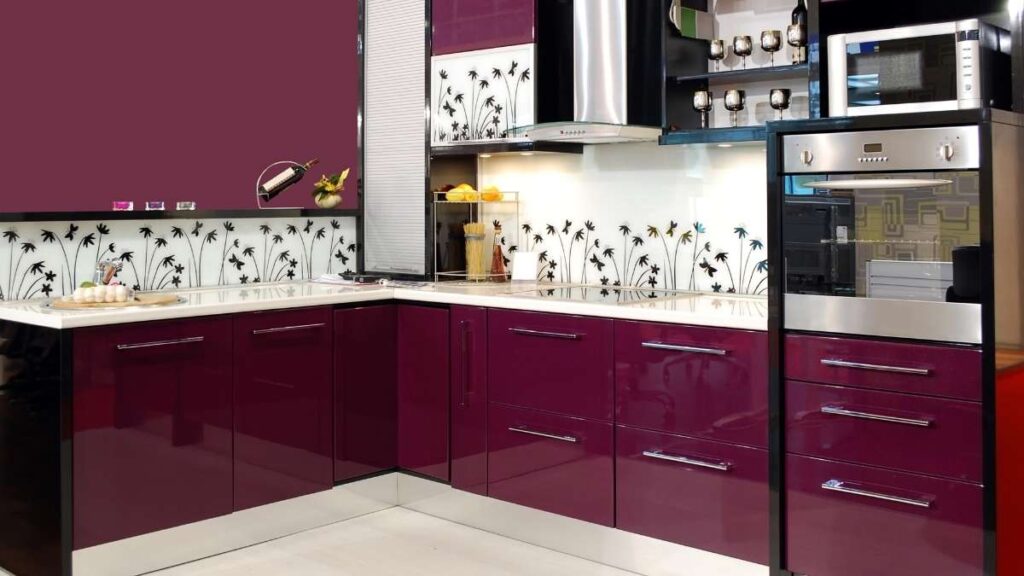 19. Light Gray
Almost any kitchen style is possible with the right shade of gray, which is why it is one of the most trending kitchen cabinet color ideas. It can give a beautifully classic look by itself or it can complement a colorful scheme. Light gray is a perfect choice for those looking for an alternative to white dominance in the kitchen.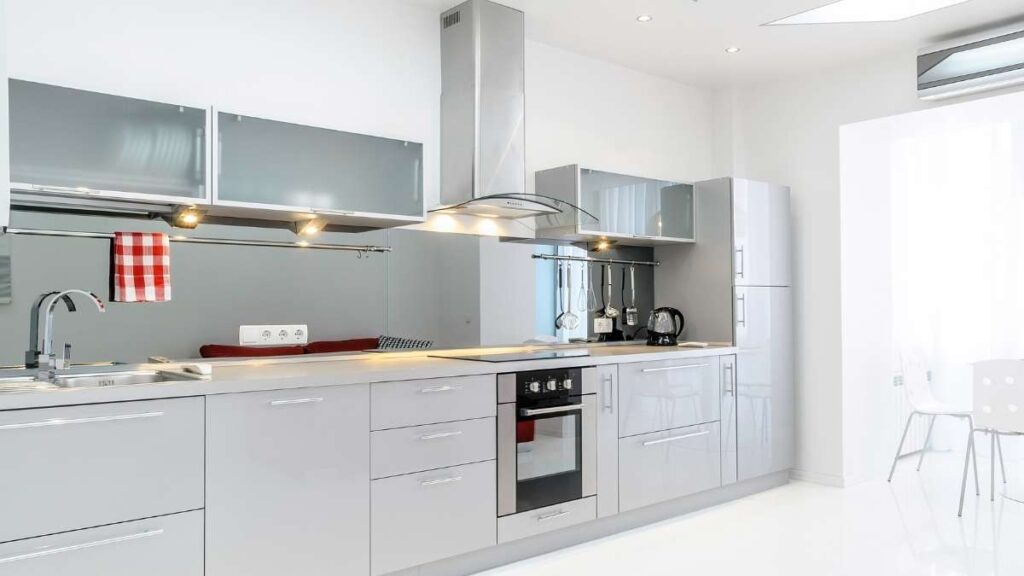 20. Sky Blue & White
Using darker base and lighter upper cabinets is among the smartest cabinet color ideas advised by many professional designers. The advice is even stronger when it comes to smaller kitchens. If you are fortunate to have a glass door in your small kitchen, try a sky blue and white combination to make your place more beautiful and feel more spacious.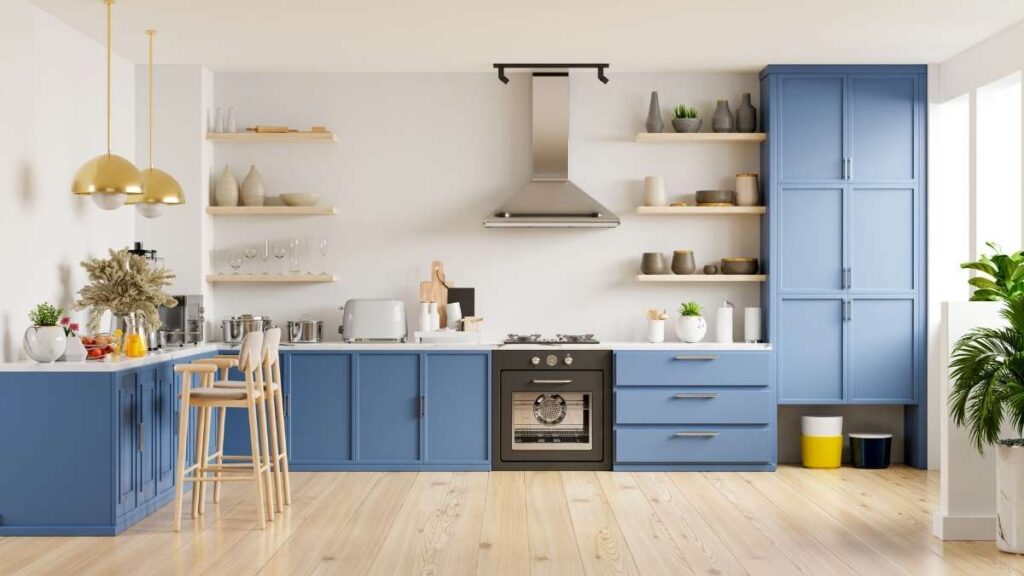 21. Cream & Gray
Looking for kitchen cabinet colors that are timeless and warm? Then, you can never ignore cream and gray. Both are neutral colors, and you will not get bored with your cabinet colors for a long time if you love them from the beginning. Plus, these kitchen cabinets' paint colors can help you minimize the kitchen remodel cost in the future.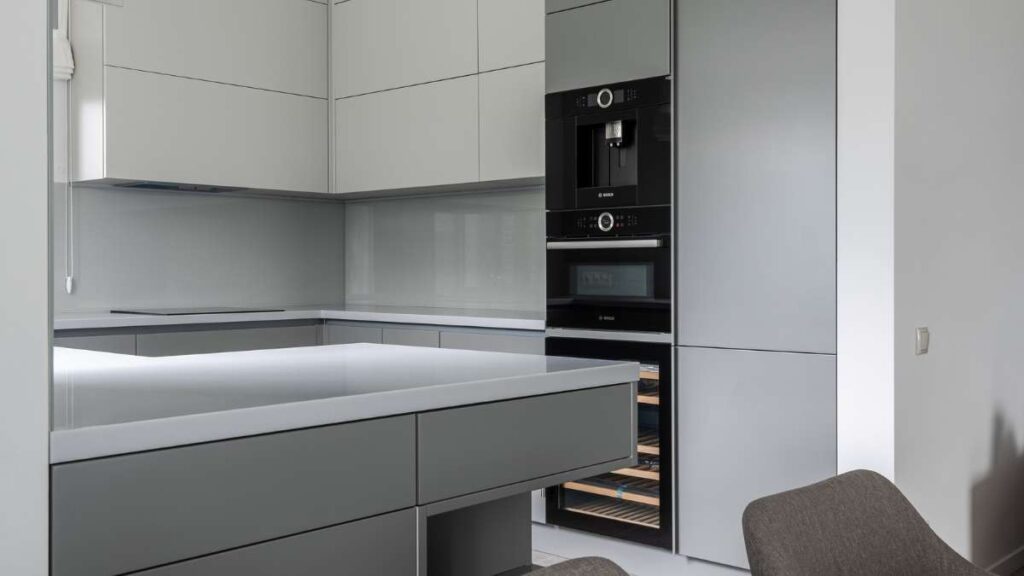 Conclusion
Are you overwhelmed by too many cabinet color ideas? Just relax and contact us. KBR is a leading contractor in Virginia, Maryland, and Washington DC. You can visit one of our stores and ask anything about your kitchen cabinet colors. Moreover, you can discuss kitchen remodeling or renovation plans (if you have any) and get your free estimate.