Kitchen lighting affects your mood, productivity, and even food quality. Professional chefs and ordinary home cooks are well aware of the importance of good lighting in the kitchen. Also, family or friends who are in the kitchen need to enjoy themselves and feel comfortable, and lighting is a critical component in making that happen.
In this post, you will find an excellent guide to achieve the perfect kitchen lighting. Here, you will learn about the different types of lighting, and key points to consider when choosing lighting fixtures for your kitchen. To conclude the article, we will tell you about the most common mistakes to avoid in kitchen lighting. 
What Are The Different Types Of Kitchen Lighting?
There are 4 types of kitchen lighting. They are listed below.
Task Lighting
Specific tasks require extra lighting focused on a specific area. The light makes the task easier for you by increasing your accuracy and reducing eye strain. Some typical fixtures used as task lighting are:
Pendant lighting
Recessed fixture
Portable or desk lamp
Under-cabinet lighting
Ambient Lighting
This makes up the biggest portion of light in a kitchen. Although windows and glass doors provide natural ambient light most of the time, there are still other fixtures that can illuminate the entire kitchen space such as:
Chandelier
LED downlights
Ceiling or wall-mounted fixtures
Floor and table lamps
Track lighting
Traditional recessed fixtures
Accent Lighting
Homeowners use accent lighting to accentuate a special architectural feature or a piece of artwork. Some commonly used accent lighting fixtures are:
Under-cabinet lighting
Track lights
Sconces
Outdoor lighting
Picture lights
Decorative Lighting
Decorative lighting is used as a part of the kitchens' décor. The idea is not to illuminate an object or spot, but the light itself is worth showcasing. Some of the fixtures listed above can also be used as decorative lighting, as well as:
Pendant lights
Chandeliers
Sconces
Recessed lights
Under-cabinet lights
Track lighting
What are 9 Tips for Perfect Kitchen Lighting?
Here are a bunch of tips to create the perfect kitchen lighting:
Combine task, ambiance, accent, and decorative lighting in an appropriate way.
Consider the overall style of your kitchen.
Use the right type of lighting in the right spot. Consider LED lights where necessary.
Use task lighting over countertops and under cabinets.
Use ambient light to give general light in your kitchen.
Use accent light to highlight the nicer areas of your kitchen.
Adjust the brightness of your kitchen using dimmer switches.
Use warmer lighting colors to create a cozy and inviting feeling, and cooler tones for task lighting.
Remember that you have numerous lighting options to create your dream kitchen such as:

Recessed lights
Pendant lights
Under cabinet lights
Wall sconces
Chandeliers
What Are The Factors To Consider When Choosing Kitchen Lighting?
Here are the 4 factors you need to consider when choosing kitchen lighting that will work best for your kitchen.
The Size Of Your Kitchen
The size of your kitchen is a major factor in determining the number of lighting fixtures. The larger your kitchen is, the more lighting you will need. However, if you have natural sunlight in your kitchen, you should take that into consideration, too.
The Layout Of Your Kitchen
Your kitchen layout will determine where you need to install light fixtures. Based on where you will cook, eat, or work, you can strategically install light fixtures to use them most effectively.
The Style Of Your Kitchen
The style of your kitchen determines which light fixtures will look good in your kitchen. If your kitchen is more traditional looking, for example, you should consider vintage metal fixtures rather than modern LED lights.
Your Budget
Budget is the biggest consideration for most homeowners. You would be extremely lucky if your budget allowed you to have any lighting upgrade you wanted. However, if you are on a relatively tight budget, you should opt for budget-friendly lighting ideas and fixtures.
Which Lighting Trends Are Dominating Kitchen Remodels in 2023?
Some of the most popular kitchen lighting trends in 2023 are:
Geometric-shaped pendant lights with metallic finishes.
Recessed LED lights with smart dimmer controls.
Under cabinet lights which color match your kitchen décor.
Crystal chandeliers and candles for a vintage touch.
Large windows and skylights for more natural light.
What Lighting Fixtures Are Available For Your Kitchen?
There are several light fixtures that you can use in your kitchen. Here are some of the most trending ones briefly explained for you:
Recessed Lights: These are usually installed into the ceiling. You can use them for ambient or accent lighting.
Pendant Lights: These are corded or chained to the ceiling. They are perfect task lighting fixtures over kitchen islands or dining tables. If you want to use pendant lights for your kitchen island, you should first take into consideration the style and shape of your kitchen island.
Under Cabinet Lights: These are installed under the cabinets, and they provide excellent task lighting for any work done on the countertops.
Wall Sconces: These are mounted on the walls. They are perfect accent lighting fixtures to highlight artwork or a special corner of the kitchen.
Chandeliers: They are a more assertive alternative to kitchen pendant lights. Chandeliers, suspended from the ceiling by a chain or cord, are often focal points in kitchens, and they provide ambient lighting.
What Are The Options For Enhancing Lighting Over Your Kitchen Island?
Here you can find some ideas for enhancing the lighting over your kitchen island:
Pendant Lights: These are the perfect light fixtures to use over kitchen islands. If you have ever been interested in kitchen island ideas, you have probably noticed that many designers advise homeowners to use pendant lighting over their kitchen islands. They make a nice focal point as well as add style to your kitchen.
Recessed Lights: These are flush-mounted fixtures. Therefore, they are perfect for smaller kitchens where you don't want lighting fixtures to take up much space around the kitchen island. They provide homeowners with minimalist, sleek ambient lighting and task lighting.
Track Lights: Track lights are great if you want to make the most of your task lighting over your kitchen island. Since track lights are flexible, you can position them into any direction you want to illuminate. Thus, they can serve as practical accent lights besides serving as task lighting over the island.
Under-Cabinet Lights: Under-cabinet lights are for your countertop area, not the kitchen island. However, you can still use this lighting style to create a cozy ambiance around the bottom of your kitchen island instead of highlighting the top of it.
How Are Under-Cabinet Lights Enhancing Kitchen Functionality?
Under-cabinet lights are excellent additions to your kitchen. Some notable advantages of installing under-cabinet lights are listed below:
They are great for countertops as task lighting fixtures.
They offer safer food preparation by getting rid of the shadow caused by ceiling lights.
They are energy efficient. You don't have to turn on all the lights to do small tasks on the countertop.
They contribute to the aesthetic beauty of your kitchen by accentuating the countertop area.
Installing under-cabinet lights can be a smart upgrade during cabinet refacing.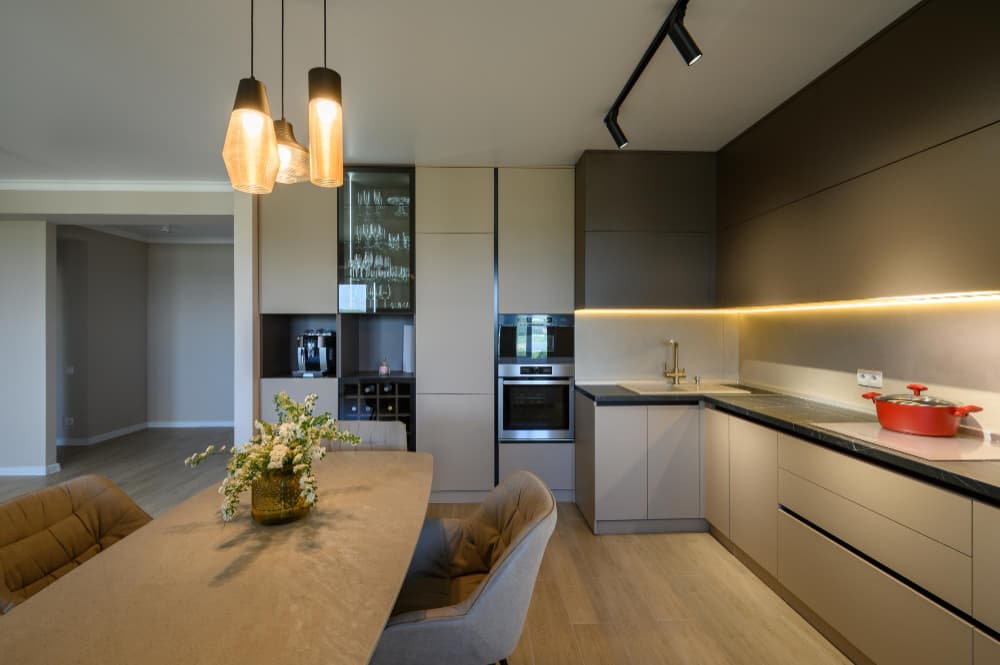 How Can LED Lighting Optimize Efficiency In Your Kitchen?
LED lights can optimize the efficiency of your kitchen in the following ways:
They need less energy than fluorescent or incandescent bulbs, which means saving a lot on your bills.
They last longer, which means you need to replace them less frequently compared to other lights.
They don't heat the room, so you can have a cooler and more comfortable kitchen.
They offer a wide range of color options so that you can customize the ambiance as you wish.
They are more resistant to vibrations or being knocked around, which makes them a safer lighting option.
Why Are Pendant Lights Popular In Modern Kitchens?
Pendant lights are popular because they make kitchens look more spacious while adding a statement to the overall interior design. 
How Can Pendant Lights Enhance Your Kitchen Island?
Pendant lights boost the functionality and beauty of your kitchen island by serving as a task light as well as being a great design element. 
What Are The Advantages Of Pendant Lights For Your Kitchen Island?
Pendant lights are great for adding functionality and style at the same time to your kitchen island. Here are some of their advantages:
They add a fabulous look to the overall kitchen design.
They provide you with focused lighting over the kitchen island.
They help you create a focal point in combination with your kitchen island.
They come in various sizes, shapes, materials, and styles, which allows you to enjoy the versatility of their many forms and functions.
How Much Does It Cost To Upgrade Kitchen Lighting?
The cost of upgrading kitchen lighting can cost between $500 to $2,000 depending on the size of your project and labor costs in your region.
What Are Some Common Mistakes To Avoid When Lighting Your Kitchen?
You should avoid the following mistakes when lighting your kitchen:
Not using enough lighting.
Installing the wrong type of light.
Installing lighting fixtures in the wrong spots.
Disregarding the overall kitchen style.