The kitchen island may be one of the most functional units in a house. Though kitchen island ideas are various, they offer some obvious advantages. They provide you with nice platforms on which you can cook, serve or even do the washing.
Also, a kitchen island is a popular hangout spot for all family members and guests. Moreover, they can serve as primary or secondary storage to keep your kitchen items clean and safe. You can even place some appliances such as stove, oven, dishwasher, or sink in your kitchen island, and you can have more freedom around the main countertop and cabinets.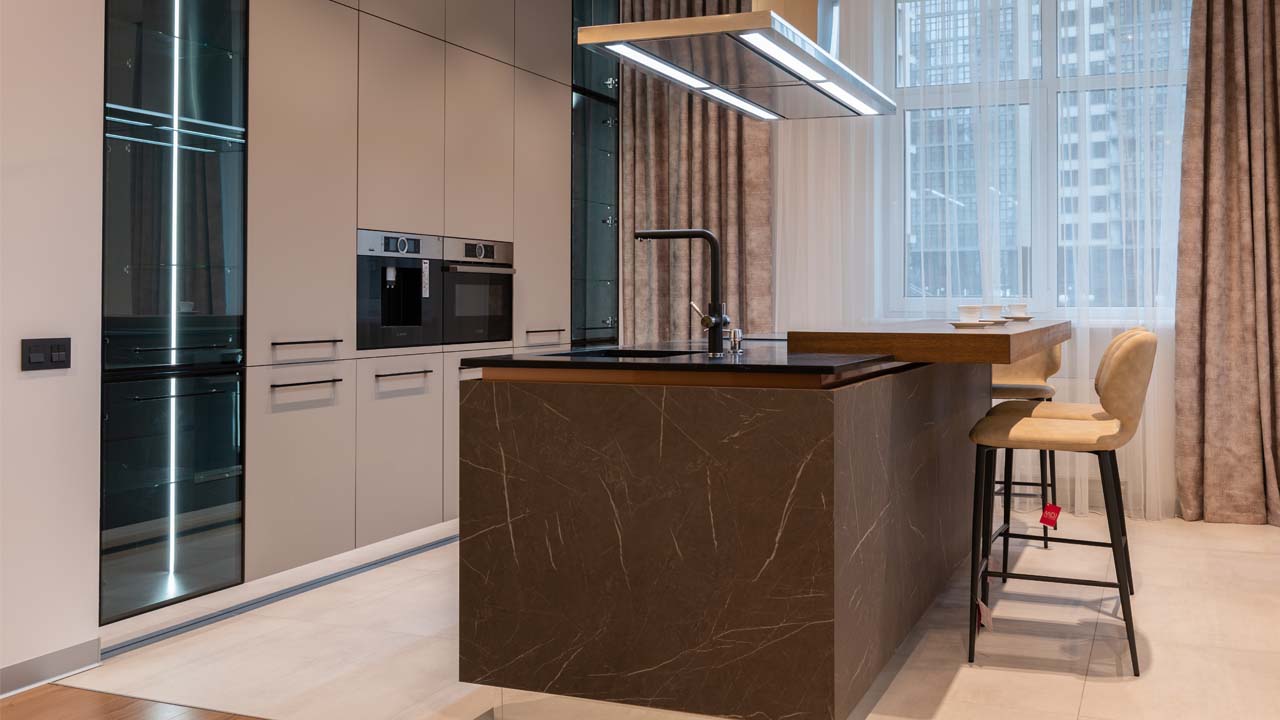 Though a kitchen island has the potential of offering a great deal of functionality and esthetic beauty, you should still remember that each kitchen is unique, and thus you should know about different kitchen ideas to pick the best one(s) possible in your kitchen.
In This Kitchen Island Ideas Post…
We will introduce you to several kitchen island ideas. Reading through these awesome kitchen island ideas, you can take notes of the ones you like better and consider them in your next kitchen upgrade or kitchen remodeling.
1. Farmhouse Kitchen Island With Fixtures and Hardware
Sinks, stoves, or other kitchen essentials are not typical elements of kitchen islands. YHowever, you can challenge that tradition by employing one of these kitchen island ideas. In this design, the kitchen island is taken as the center of all the kitchen work like cooking, serving, or washing. Thus, you emphasize the island adding design-wise placement of appliances and hardware.
2. Countertop Wrapping Around The Side
Have you ever imagined your countertop wrapping down the sides of your cabinets? This might not sound possible for the main kitchen on the sides. However, some kitchen island ideas encourage homeowners to use the countertop stones on the sides of the island, and the continuation of the countertops. This will give your kitchen island a seamless and modern look with a stronger statement. Also, if you are fond of a kitchen island with seating, you can leave one or two sides open and place your seats there.
3. Leave Enough Walkaround Space
We can understand that there are hilarious kitchen island ideas here and there, and you have fallen in love with a few of them already. However, you should consider the space in your kitchen, and remember that the space in the middle of the kitchen cannot be used for the kitchen island only. Therefore, you should allocate some space to move. Thus, you might need to go with a small kitchen island rather than a random one.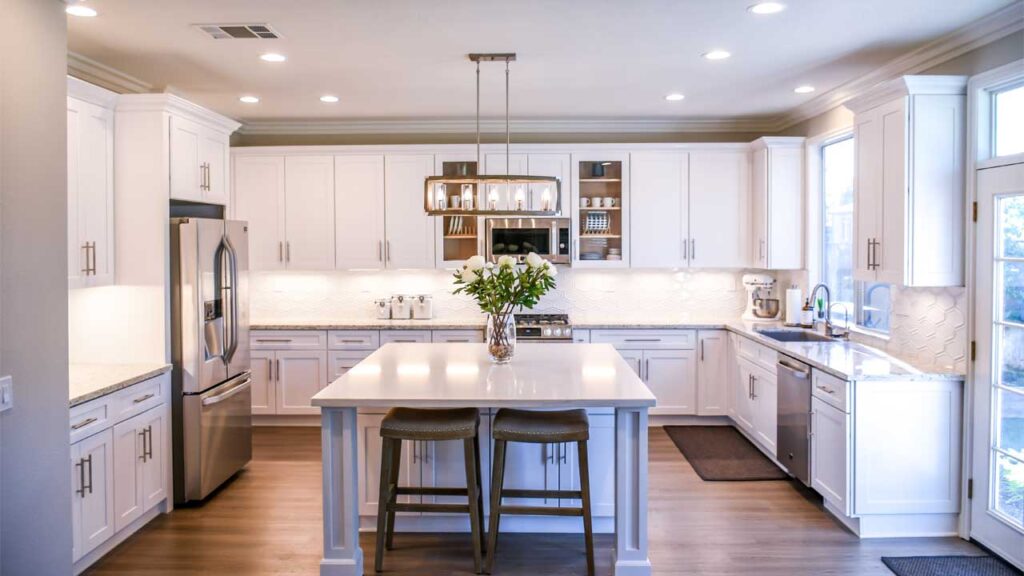 4. Enhanced Storage Options
One essential function of a kitchen island is to provide a good amount of storage to homeowners. If you have alternative storage, you might not care much about it. However, storage is a big deal for many homeowners, and smart storage is always highlighted in kitchen island ideas suggested by interior designers.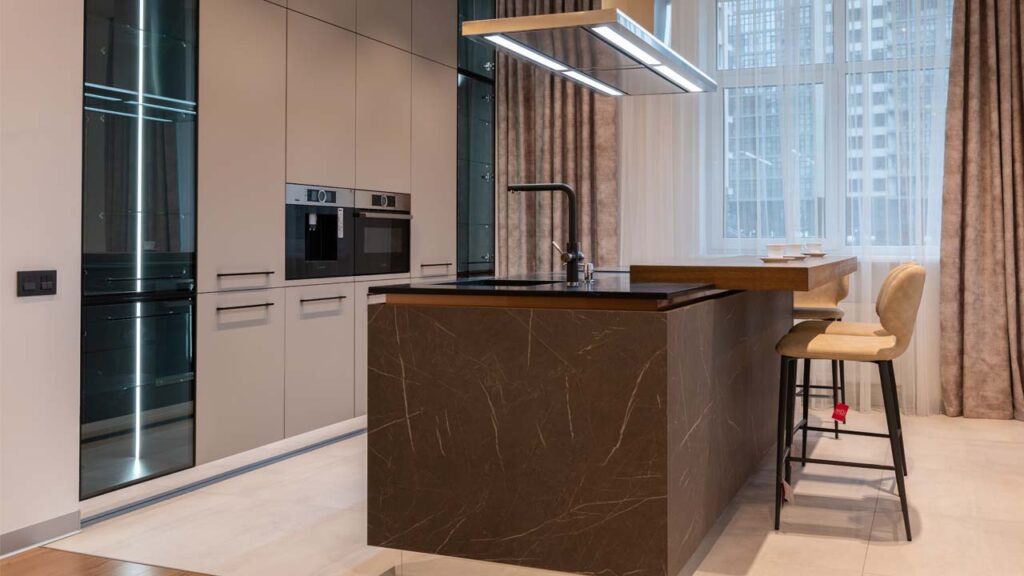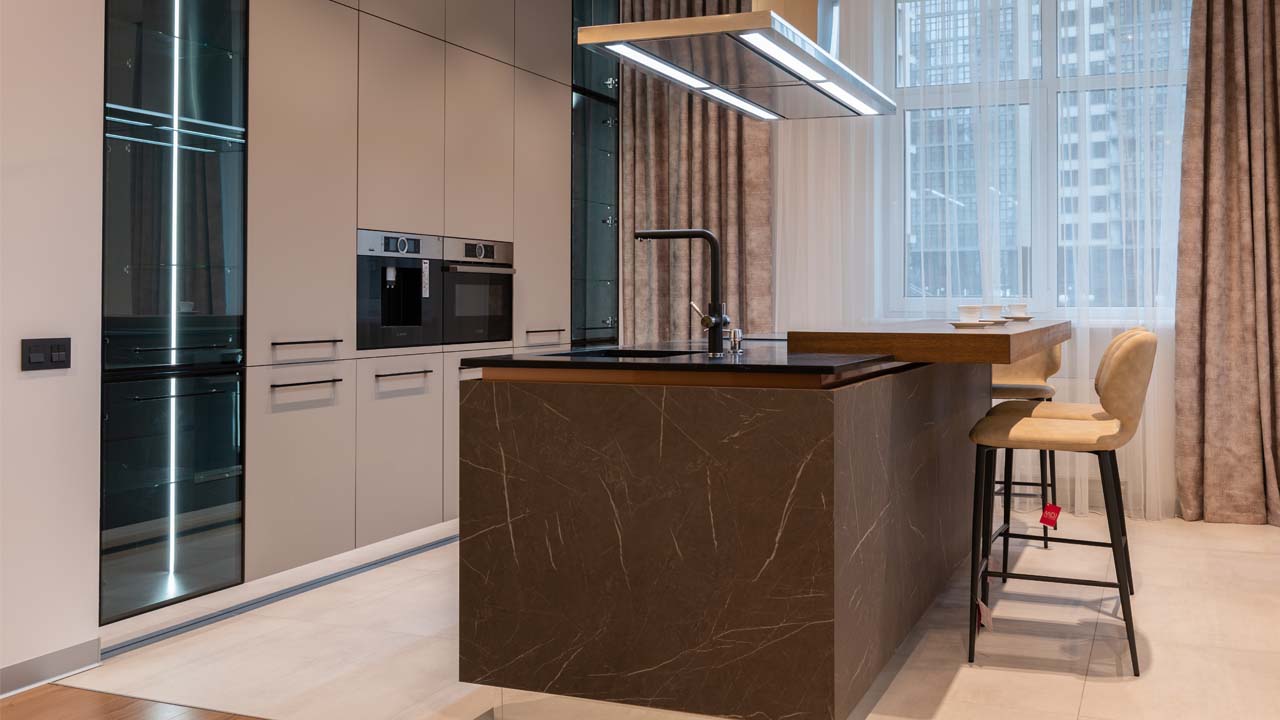 It would be best if you considered both cabinet doors and drawers. Also, some kitchen tools may have a shape that doesn't fit any cabinet or drawer. You can tailor your storage in the kitchen island accordingly. Modern kitchen island ideas allow for wider storage options, and you should take them into consideration.
5. Try Unusual Shapes
As kitchen islands become more popular, they line with some commonalities such as rectangular or oval shapes. However, if you need kitchen island ideas that will make your kitchen unique, you can go for a kitchen island that is curved or fully circular. You can even try a combination of rectangular and curved shapes, considering the space and functionality in your kitchen.
Especially if you plan to have a kitchen island with seating, there are nice designer islands with a rectangular or oval seating part and a service part in another shape. You can also pair up your unusually shaped island with some other things in the kitchen, considering the kitchen color ideas.
6. Go For Different Countertops
Traditionally, homeowners choose a countertop for their kitchens like quartz, granite, marble…etc. But why should you suffice with just one type of countertop? Many people want to use a butcher block island to serve breakfast or party drinks, while they want to have a granite stone to prepare the food simultaneously.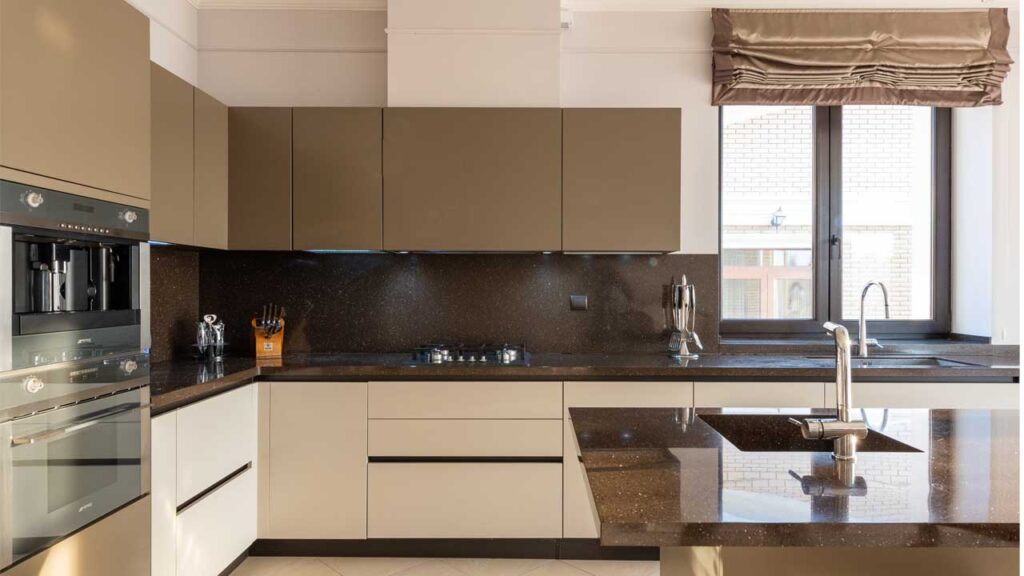 You can switch up materials on your kitchen island and create different zones, especially if it is large enough to make a statement. This can be one of the best kitchen remodeling ideas that you have heard so far. However, you should carefully plan the storage, cooking, and serving parts before starting a kitchen remodeling.
7. L Shaped Kitchen Island
L-shaped kitchen ideas are already popular in spacious kitchens. Some people, even, just go with L-shaped kitchens only because their kitchen is so big. However, considering the layout and functionality that is expected from your kitchen, it might be better for you to try L-shape on your kitchen island, not the main kitchen.
If you plan to create a serving and socializing spot, and entertainment in the kitchen is more important than working there, an L-shaped kitchen island idea can be a perfect alternative for you.
8. Long Kitchen Islans Designs
You can turn your big kitchen into big fun by having a long kitchen island. If you love crowded gatherings in your house, your kitchen island can serve as a cocktail bar as well as a meeting dinner table. Moreover, the design looks so elegant besides being highly functional.
However, you should remember that a larger kitchen doesn't necessarily mean easier to design. Therefore, you should design your kitchen island carefully so that you don't have to bustle about the kitchen in a peaceful gathering at home. Your working areas should be designed considering their function and convenience to the next step the work.
9. Hob In The Center
Kitchen island ideas are not limited to the size or shape of the island. Other appliances in the kitchen, such as the hob, can make a statement in your kitchen design if you place it just above the kitchen island. Using the hob in the center means the cook in the kitchen is the center of attention, and he/she faces the people. This layout gives the cooking person a good amount of space while keeping him/her socializing with the rest of the living room.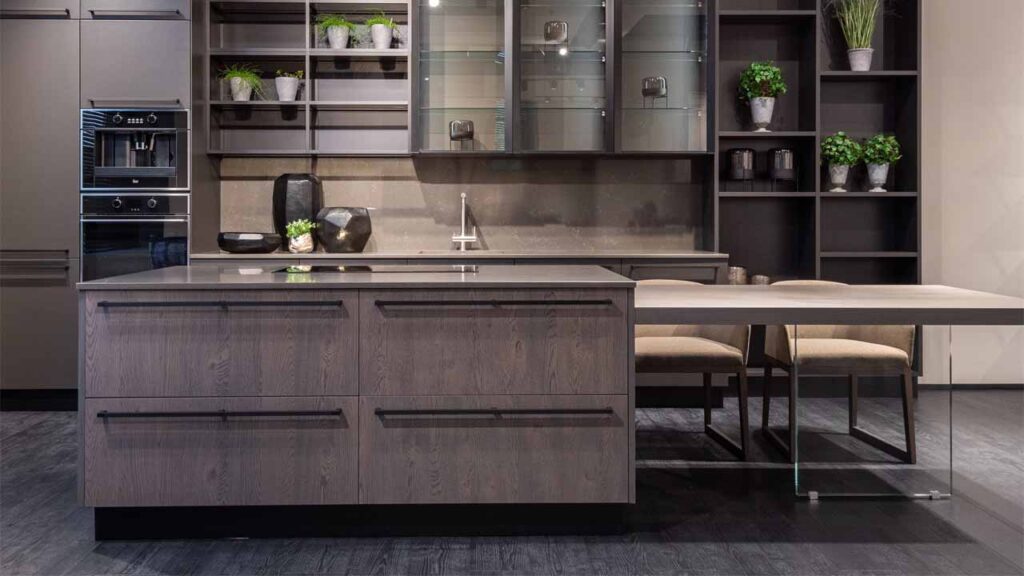 10. Island As A Multipurpose Work Table
Kitchen islands are considered the boundary between the kitchen work and the works in neighboring rooms like the living room. For some people, however, integration of the rooms should be the essence of an open-plan kitchen. Thus, they tend to do simple office work or study in the kitchen comfortably.
As a repurposing kitchen island idea, you can add a working space to your kitchen island with some high seats to finish your meeting presentations and study the last-minute notes while waiting for the breakfast to be ready. Of course, such multipurpose kitchen island ideas will need a larger space than a regular one. So, you should plan the layout accordingly.
11. More Seating More Comfort
Kitchen islands usually incorporate seating only for few people, and the greater portion of the island is allocated for cooking, storage, preparation, service, or even washing. In fact, if your main kitchen is large enough to do those kitchen works, you can create more seating space for the people around the kitchen island.
Also, you can use more comfortable seats rather than small bar chairs. In these types of kitchen island ideas, the island is smaller, and it functions more like a cooler dining table. This "less than an island, more than a dining table" type of kitchen island is preferred by those trying to serve many people at the same time.
12. Aesthetic Over Function
The debate aesthetics vs. function has long been discussed and guided the market variables in many sectors. Some kitchen island ideas are for those opting for aesthetics rather than function. Adding a display next to the kitchen island gives you the chance to display beautiful glassware, vintage ceramics, pots, or any other crafts you find are worth it.
Your display will probably be one of the conversation topics while you are dining or drinking with your friends. Although the concept is not considered as "storage", you can still add some storage under the display or island. Rustic kitchen island ideas, as well, can be considered in this line.
13. Kitchen Island With Paneling
We are more familiar with panels outside the house walls. They are used to give a warmer feeling to small buildings. This countryside style appears in more places nowadays like inside the walls of the house. How about paneling the kitchen island with these lovely wooden pieces? Today, more and more people are fond of rural flavors, and they like the warm feeling, especially in their kitchen where they spend warm times with their family or friends. Thus, kitchen island ideas with panels are very popular now.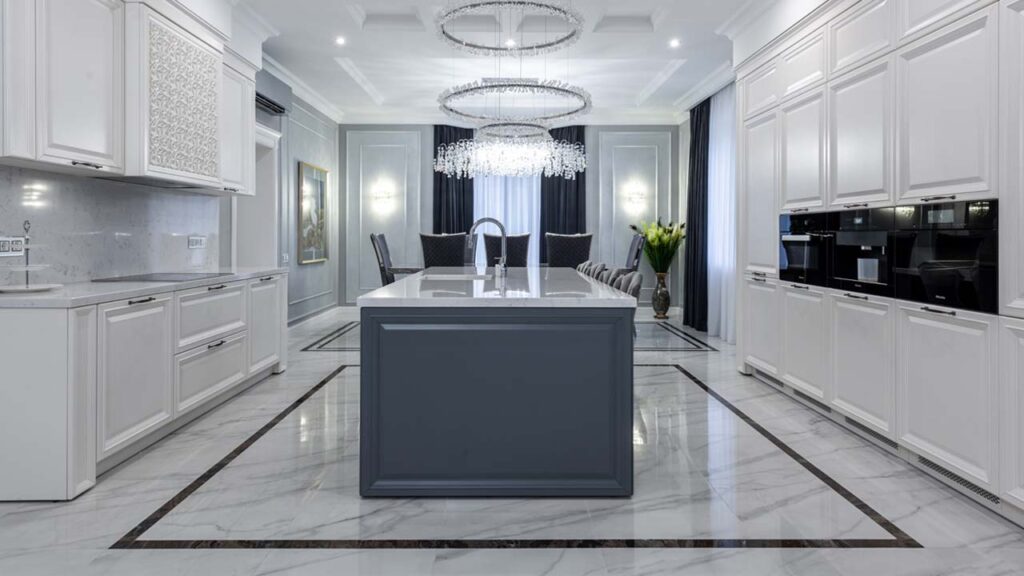 14. Try Something New In Kitchen Island
Many homeowners already have particular kitchen design ideas in their mind, yet they don't think much about the kitchen island ideas particularly. They wish to use something different or bolder but can't make it real. They tend to quit the idea because the material or design might seem ostentatious when used in the whole kitchen, or the cost would be too high.
However, the kitchen island is a good ideal place that you can introduce new or expensive material. This will both give you satisfaction and make your kitchen look more stylish. The materials can be some metal details, ornaments, or anything you wish.
15. Kitchen Island With New Color
For many people, kitchen islands are the continuation of the main kitchen color scheme. Thus, we are not surprised to see the kitchen island in the same color as the main kitchen countertop and cabinets. However, a kitchen island is one of the best layout elements that can introduce a completely new color.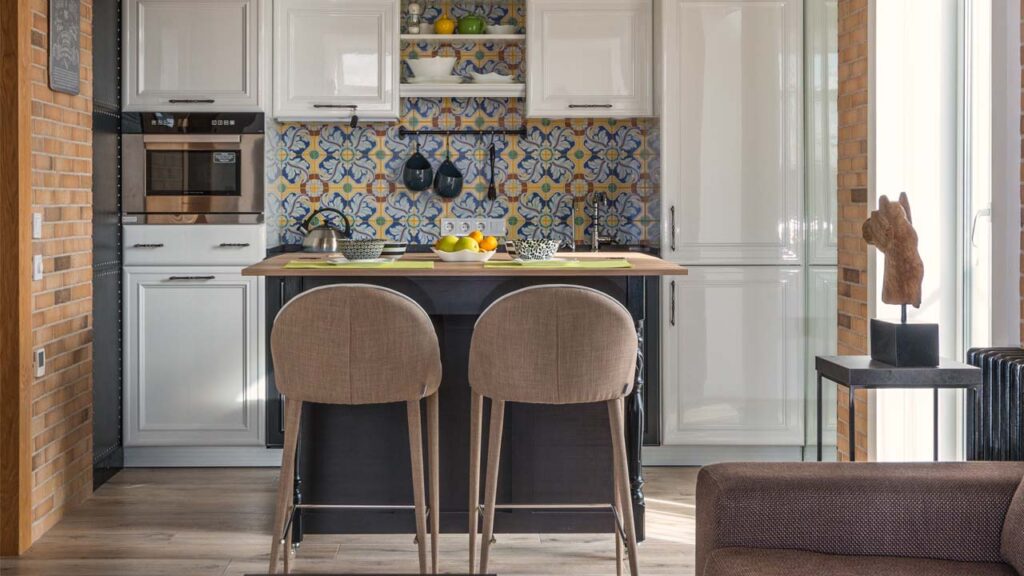 You can even consider switching to another texture in addition to color. To be honest, not every new color is good on the kitchen island. Therefore, it is better you consider kitchen color ideas and kitchen island ideas together so that you can find the perfect pair of colors for your kitchen.
16. Kitchen Island As The Primary Storage
In many homes, the main kitchen is larger, and it is completed with a relatively smaller kitchen island. However, in some kitchen layouts, the main kitchen is smaller than the island due to the inconvenient house layout. Therefore, you should think differently, and go for a different kitchen island idea.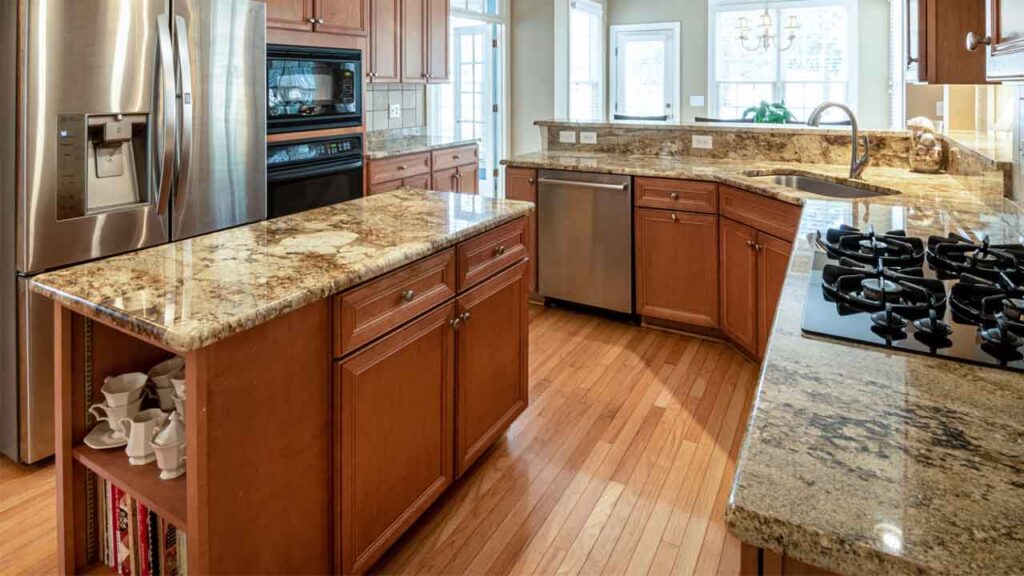 You might need to treat your island as the primary storage and working site in the kitchen. Designing a kitchen island as the main storage might need extra planning since you should consider frequently used items and rarely used items carefully and store them accordingly.
17. Double Kitchen Islands
If you are not restricted by budget or space, having two kitchen islands is better than one. Considering that you will have double cooking space, double service tops, and double storage, having two kitchen islands can be the most functional unit in your house.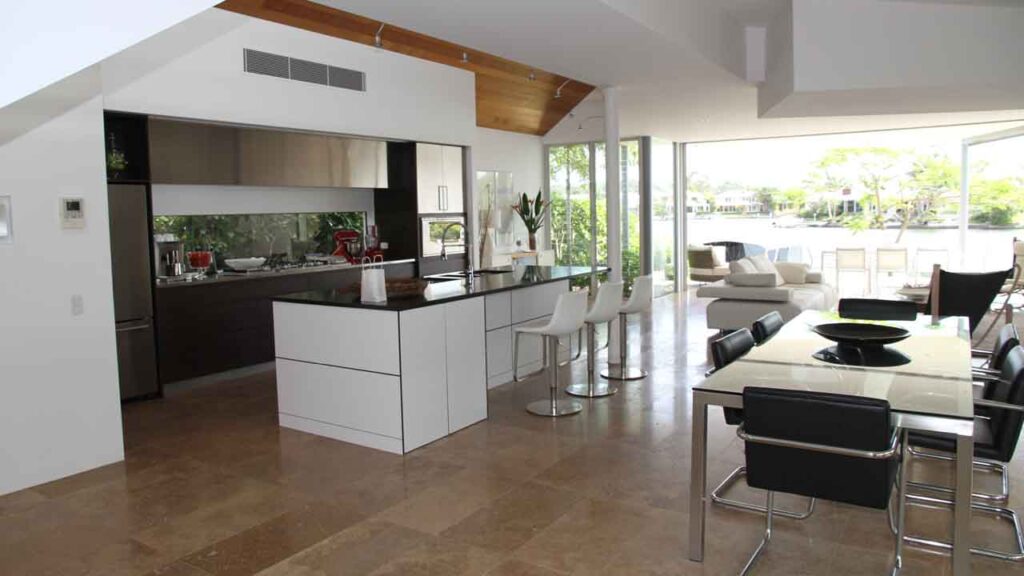 Also, there are highly elegant double kitchen island ideas, and you can easily find the one that will work for your kitchen. So, having double kitchen islands is an excellent functional and aesthetic improvement you can make in your house.
18. Go Bolder With The Island
For many homeowners, white or black countertops are the best, and only a little bit of pattern or veins are acceptable on them. Actually, there are many colors and tones of countertop stones that might add a statement to your kitchen. More characteristic veins or handles are there waiting for you.
Also, some cabinet or countertop models might be too expensive for you, but you can make your wish come true with your kitchen island. In sum, you can go for your desire, luxury, and imagination with no fear in your kitchen island.
19. Wine Cabinet In The Kitchen Island
According to a recent survey result provided by Houzz, today, people are searching for wine cellars in their prospective house four times more than pre-pandemic times. It is no longer a luxury appliance since there is a growing interest in that and more customized sizes and prices are available.
If you think you still need some time to have it in your house, or if you are not blessed with a large house, you can easily add a wine cabinet to your kitchen island. It will definitely add value to your house and move you up to the next level of luxury at home.
20. Make A Difference With A Nice Lighting
We know kitchen island ideas are not limited to the shape, color, or size of the island. The supplementary parts may make a big difference even on simple kitchen islands. Lighting is an important design element if you make use of it smartly. By using good lighting, you can make the most of your kitchen island and the whole kitchen. If you are about to have a kitchen island construction, you should see some lighting ideas before they start installing your island. Even a narrow kitchen island can look glaring under a nicely designed lighting.
21. Employ Visual Techniques
Book matching the wood or stone accents are good ways to make your kitchen island more attractive. Just one or two simple tricks can make a big difference visually. Although visual techniques don't contribute to the function very much, they may still help you to have a more functional kitchen island indirectly. If you, for example, want to add a drawer under the countertop but it looks weird alone, you can add another one with a book matching technique so that they look complete and more delightful.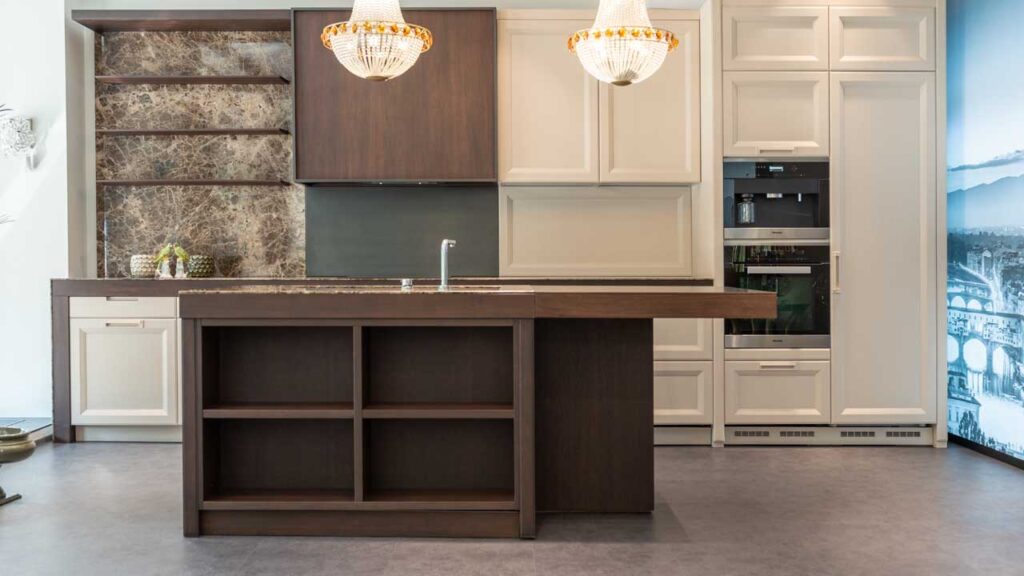 22. Streamlined Look
Homeowners often want to make their kitchen islands look longer. So, the streamlined look is one of the most demanded visuals that modern kitchen designs offer to us. It is a pretty practical and impressive design idea. For example, you can use single long, uninterrupted drawers in which you can store many utensils and other possible kitchenware. Moreover, you can create a good, streamlined look that seems tidy, long, and clean.
23. Kitchen Island In Harmony
It is totally understandable that you might have great ambitions for your kitchen island. You may want to have the best cabinets, the most expensive stones as the countertops, and dazzling lighting addition. Regret to say it but your kitchen might be a failure anyway. You should take your overall home design, color, material, and texture into consideration. Any kitchen island project can be successful if you keep harmony throughout your home.
24. Portable Kitchen Island
Rolling kitchen island ideas are practical solutions for those who are never sure where to place the kitchen island. Although fixed furniture makes a better statement in most places, kitchen islands can be an exception due to function-based reasons. Portable islands may not hold electrical tools or house appliances, but the flexibility they offer will balance the pros and cons.
25. Small Kitchen Island
If you have a small kitchen, you might be having hard times in your kitchen, yet you may still want to have an island to work on and socialize with your family or friends. Actually, there are awesome small kitchen ideas now. Once you have your kitchen island as the epicenter, you can have a smart storage solution, a comfortable slicing or dicing top, and serving table at the same time. Placing a few seats around it, you can create a small socializing spot in your home.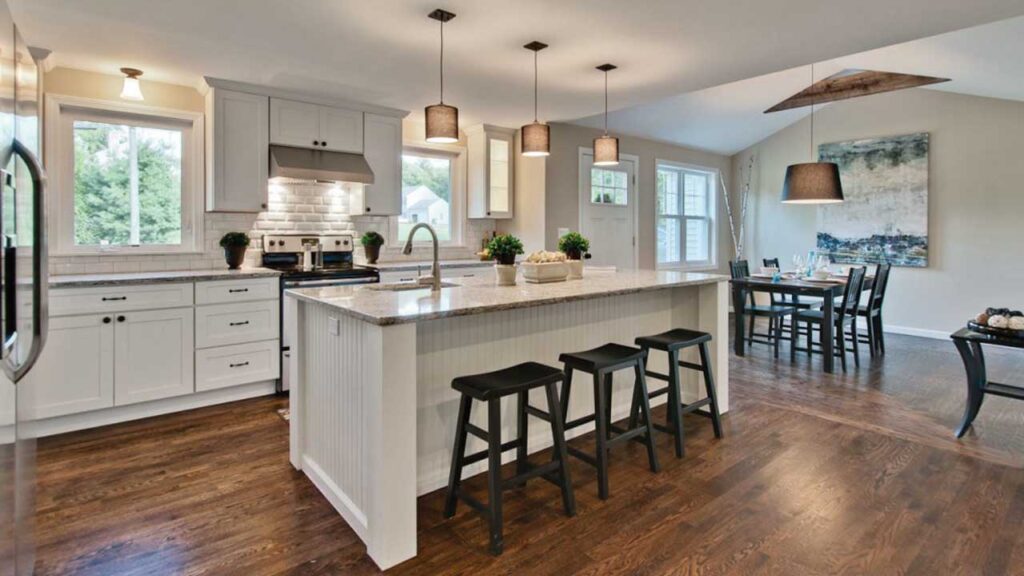 26. Kitchen Peninsula
For some kitchen layouts, attaching an extension to the main kitchen is much more practical than placing a kitchen island in the middle of the room. While such kinds of peninsulas are mostly used in smaller kitchens, there are larger kitchens still involving a peninsula instead of an island. This practical addition provides you with extra storage and workspace without occupying land in the middle of the kitchen area.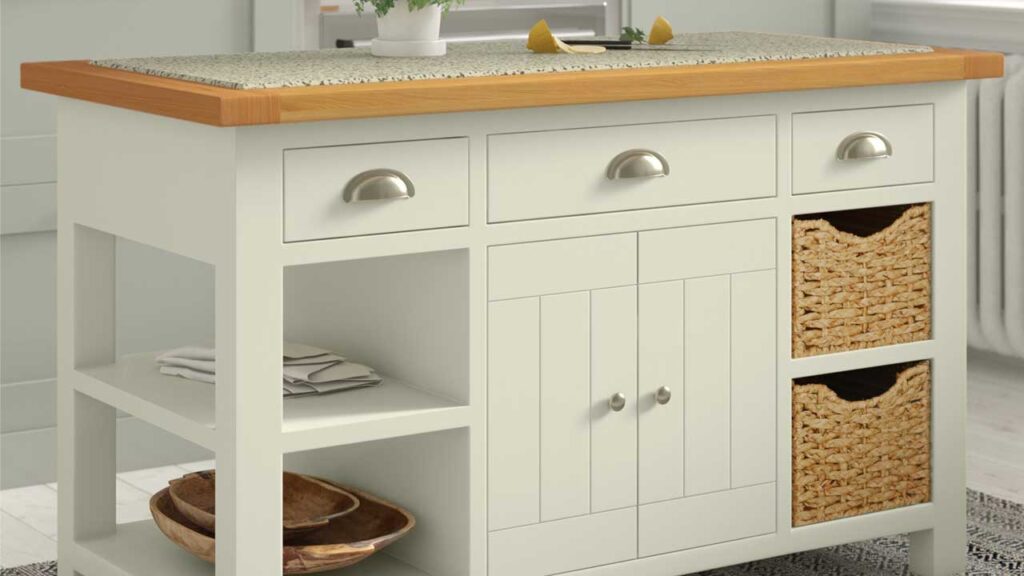 27. Satellite Island
Your kitchen island doesn't have to be in the kitchen. Then, you can rename it if you really want to. The thing you should know is that sometimes people just don't go to the kitchen for eating or drinking, but the service goes to them in the living room.
Although you can't use the island as a workplace anymore, you can serve on this satellite island which is closer to the living room rather than the kitchen. Moreover, you can add wheels and make it a rolling kitchen island exclusive for storage and service.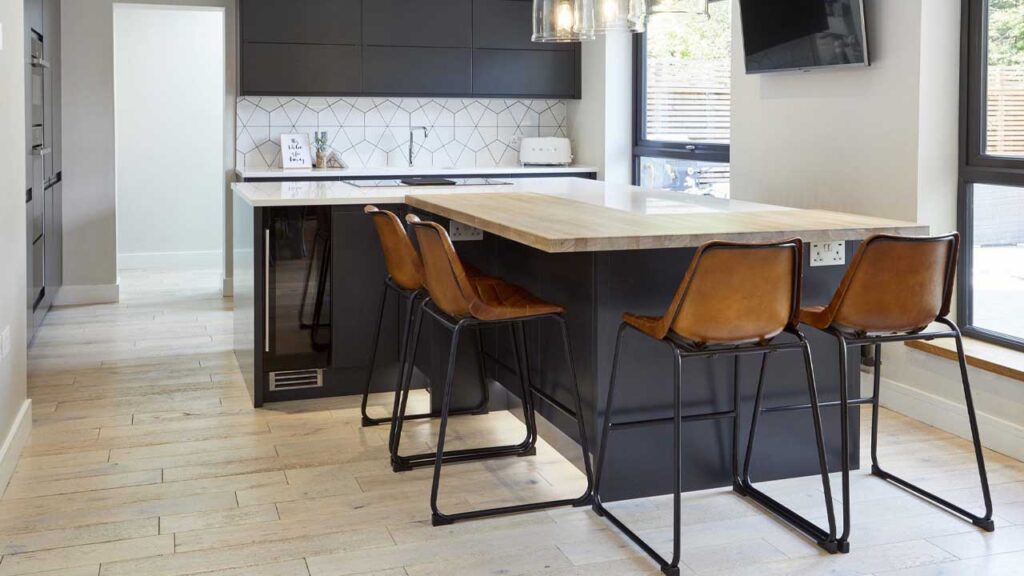 28. Bright Center
It is easier to define a big kitchen island as the center of the kitchen and living room. It naturally draws attention due to its location and sovereignty. However, for many small kitchen islands, homeowners don't even try to make them the focal point of the living area. In fact, using big, bright, and eye-catching lighting just above the island can be a real game-changer in your kitchen.
29. Healer Kitchen Island
The main or working kitchen is usually larger, and thus you may want it to be flawless. A kitchen island provides you with a perfect solution for that. In addition, you can keep your main kitchen clean and tidy by hiding the ugly parts like big storage or garbage cans in your kitchen island. In this design, the kitchen island is decentralized, and the focal point becomes the main kitchen. You can even add wheels to the island and put it away when it is not needed there.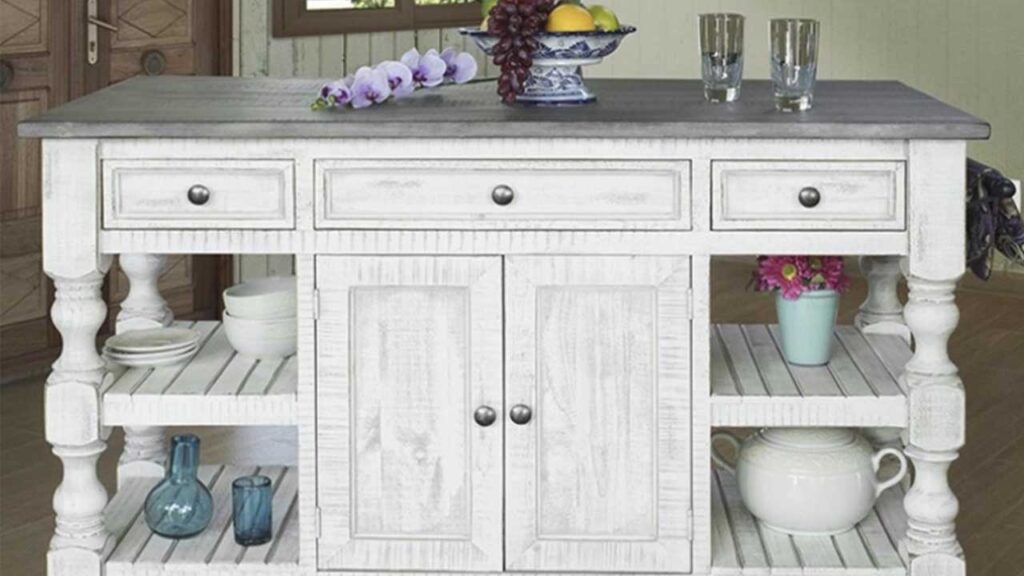 30. Kitchen Island As The Buffer
Traditionally, open plan kitchens aim to integrate the kitchen and living area, which fosters entertainment and socialization. However, sometimes, you might want to mark a distinction between the kitchen and living area. Without a kitchen island, you are to make a decision to integrate or separate the rooms by other design tricks. Thanks to a smartly designed portable kitchen island, you can create either of the feelings just by a few simple positioning.
Bottom Line of Kitchen Island Ideas
As you see, there are many kitchen island ideas that you can apply to your house. You can take more than one idea at the same time considering the given facts of your kitchen. Of course, it is easier to find a cookie-cutter ikea kitchen island or wayfair kitchen island on the market, but if you need delicately customized kitchen island ideas for your kitchen, you can contact KBR Kitchen and Bath.