Kitchen color ideas are not limited to white, black, or brown these days. You can easily spice up your kitchen with simple paint colors without renovation or construction in your house. Depending on your personality, family type, the perspective of life, you can pick one of the trending colors among various kitchen color ideas. In this article, we have listed some kitchen color trends that are vibrant, gorgeous, and classy.
Let's Have a Look at Kitchen Color Ideas
The kitchen color ideas listed here are already beautiful. However, you might even consider combining two or more alternatives here.
Bright Green and Blue
If you want to brighten up your kitchen, these two kitchen cabinet color ideas are just perfect for you. Green and blue touch each other at some mangroves in nature, and now it is possible in your kitchen, too.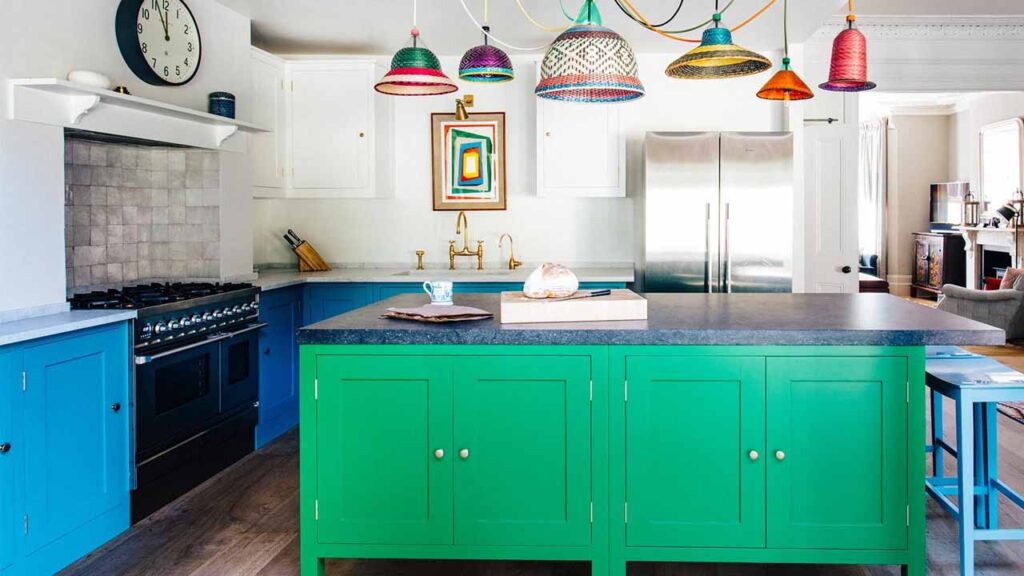 Blue-Black
We don't feel cheerful all the time. A rainy day might feel us moody enough to go to the kitchen and have a cup of tea watching the rain or a good film on TV. This nice combination of blue and black is just a perfect background in this scene.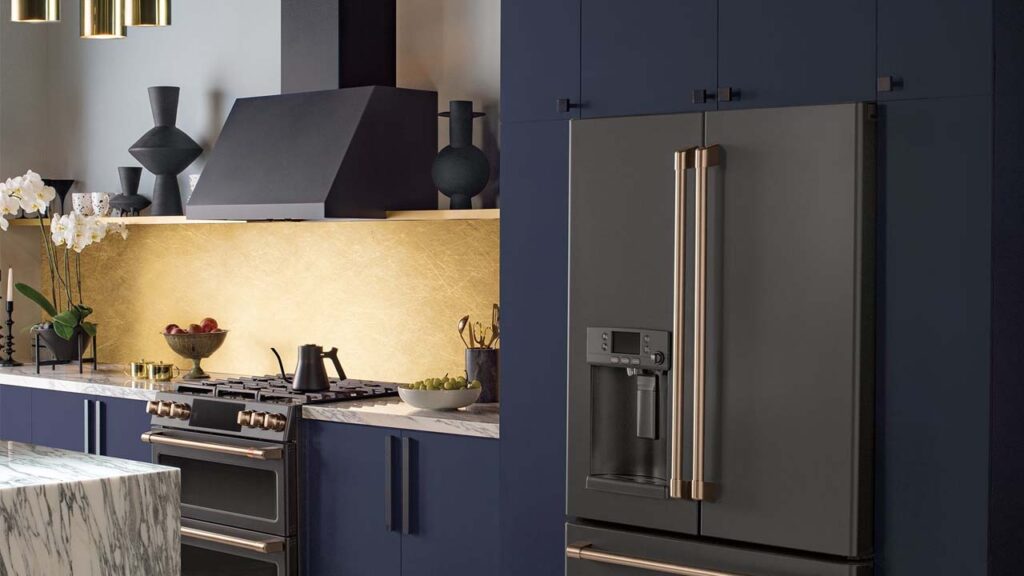 Historic Blue
Historic blue is not one of those unusual kitchen color paint ideas indeed. However, being traditional but timeless, it will feel your kitchen cabinets fresh and historic. You can also use bronze or copper lighting to make your kitchen look more beautiful.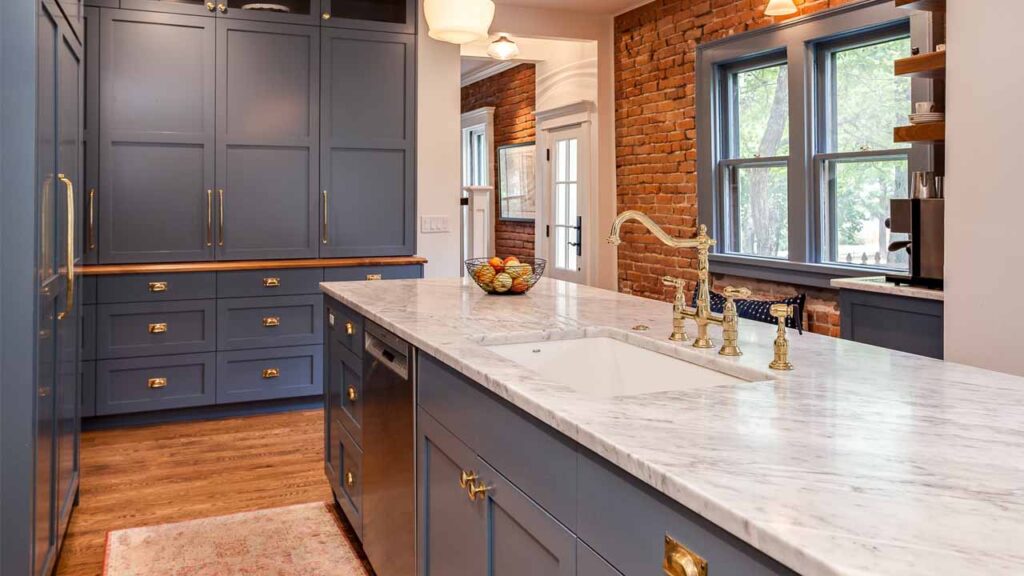 Green and White
Natural combinations of colors are always trending among kitchen color ideas 2022 as well. A good combination of green and white with a few wooden accessories can feel like you are lying under a tree looking up to the sky crowded with white clouds.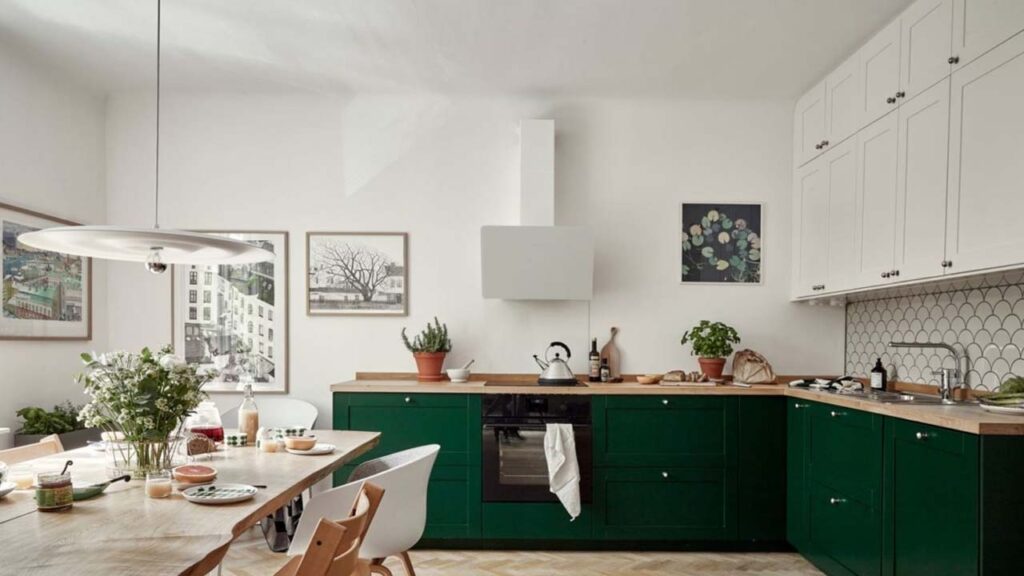 Dark Teal
Using earthy colors is another way of representing the outdoors in your house. Green tiles, a white sink, and dark-painted kitchen cabinets give you an outdoor feeling in your kitchen.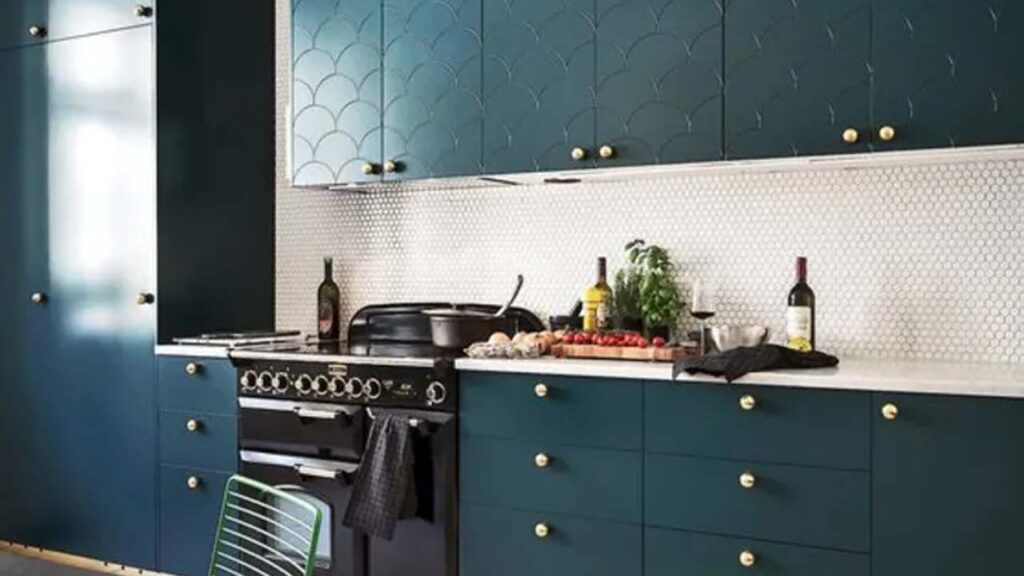 Gray and White
Gray and white are simple but modern kitchen color ideas. Kitchen cabinets painted with gray and white feel more spacious and cleaner in addition to aesthetic beauty. Natural dark wooden floors will also help you create a nice contrast in your kitchen.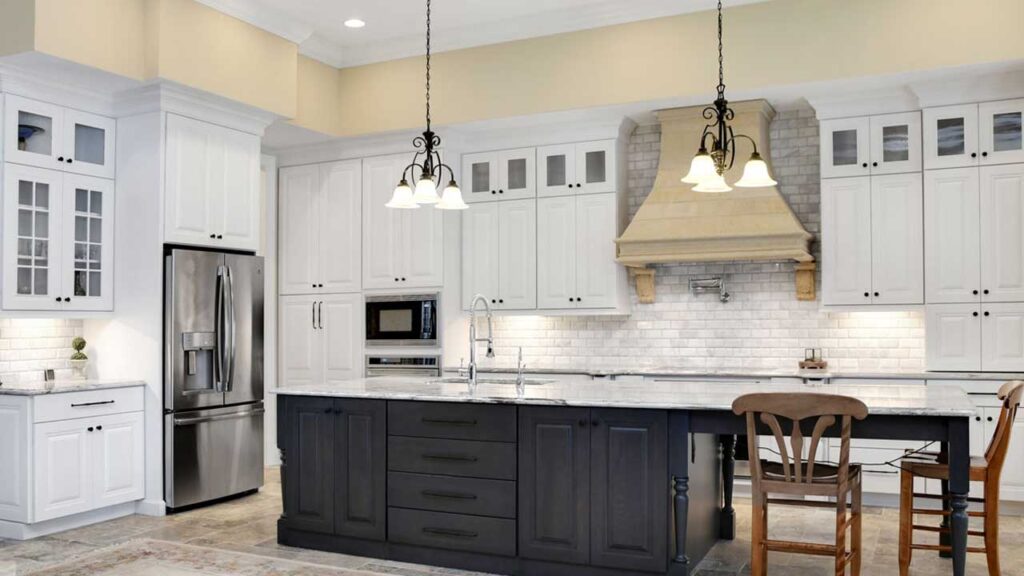 Light Blue
It seems like white but adding a little bit of blue makes the difference in this kitchen. This light blue cabinet color makes your kitchen a modern and distinctive one. Using some blasting red or contrastive dark blue on chairs will make this design even more attractive.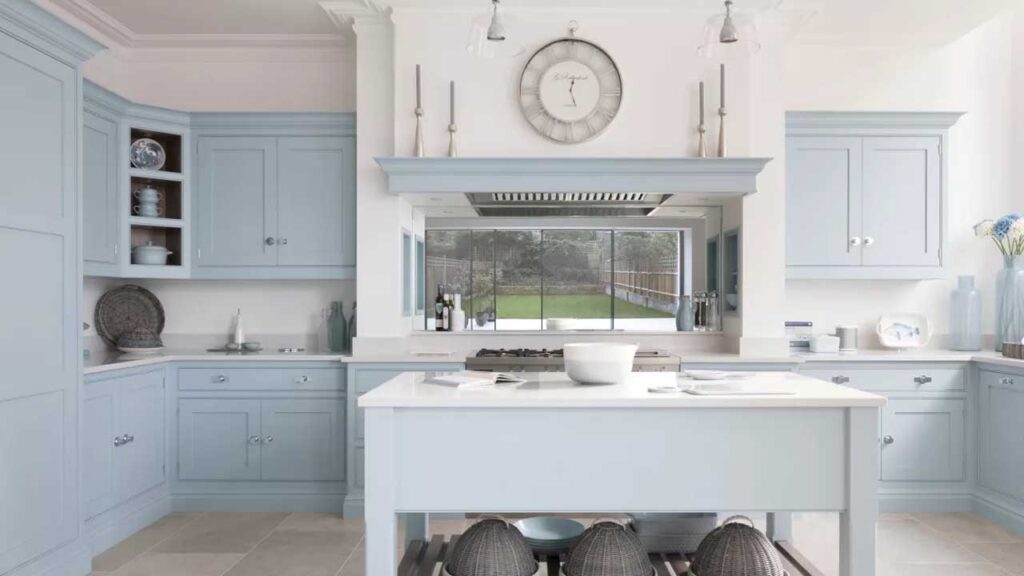 Warm Gray
Gray itself might sound a little cold. How about using some warmer tones that might give you your dream kitchen color instantly? The warmer tones will also pair with other wooden or copper items in your kitchen.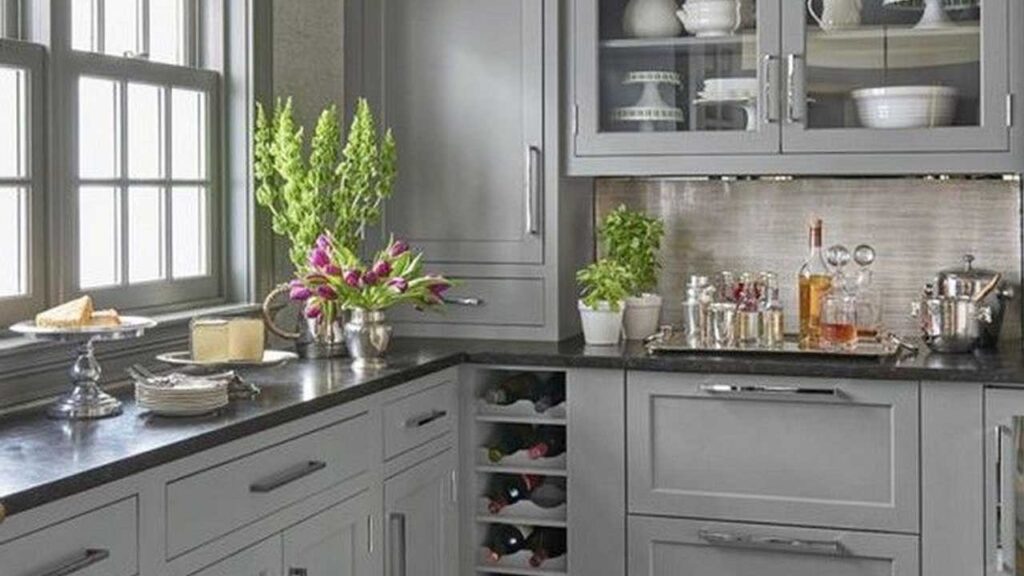 Watery Blues
Sometimes, kitchen color schemes are not usual, and the greatest kitchen color ideas may come from kitchen floor colors. Just like the sea, you can use different tones of blue to make your kitchen cabinet color ideas livelier. Many wooden colors, as well, will easily pair with that.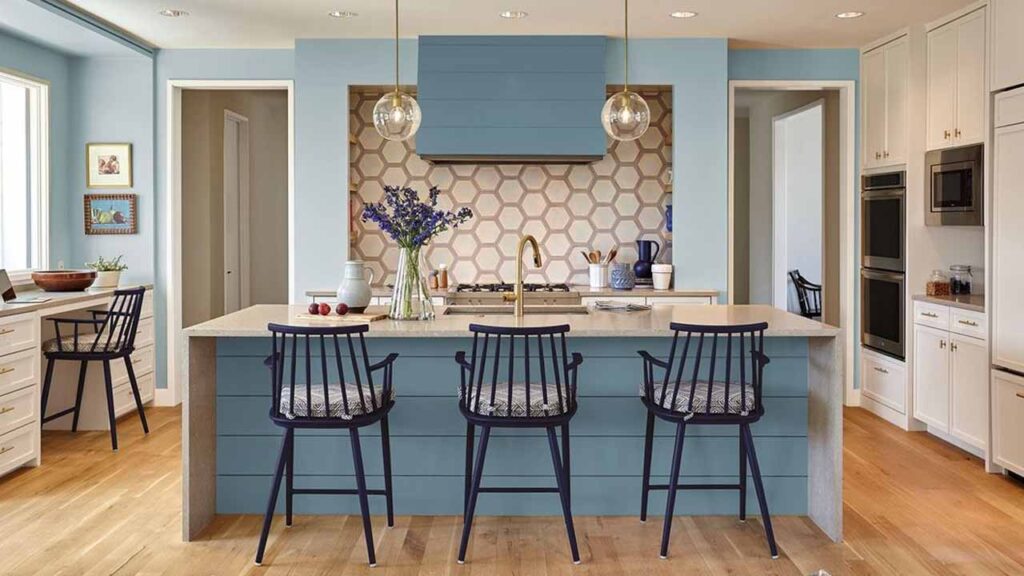 Canary Yellow and Blue
If you are looking for kitchen color ideas for small kitchens, blue and canary yellow can be a good alternative for you. Typically, when kitchen color ideas are regarded, the designs are mostly for larger kitchens. That's why the combination of canary yellow and blue on the kitchen color palette is good for those having a smaller kitchen.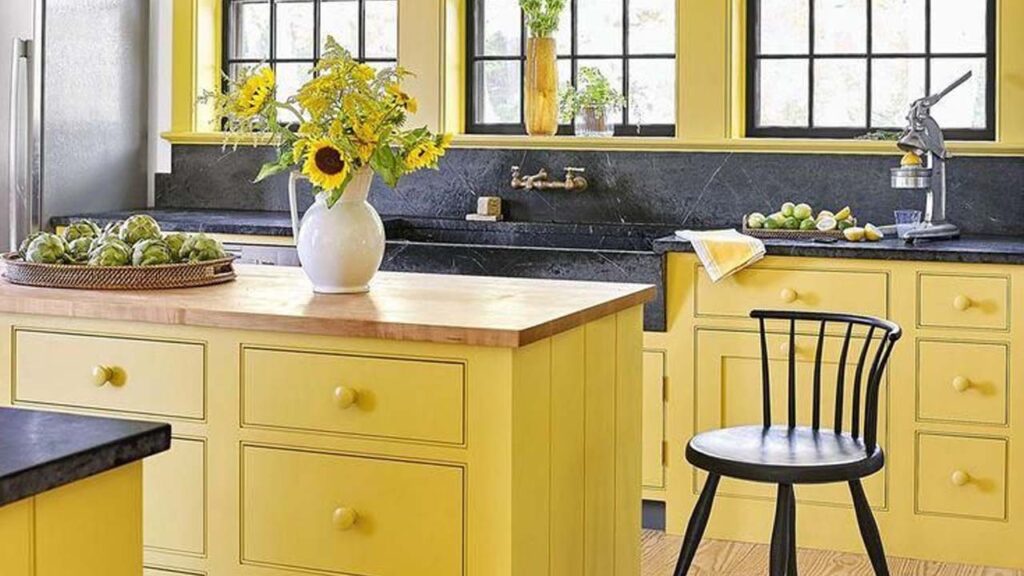 Pure Black
If you have enough light inside your kitchen or don't care much about the interior brightness, pure black gives you the rest. It feels modern, prestigious, and relaxing. You can combine black kitchen cabinets with light colors from brass to white.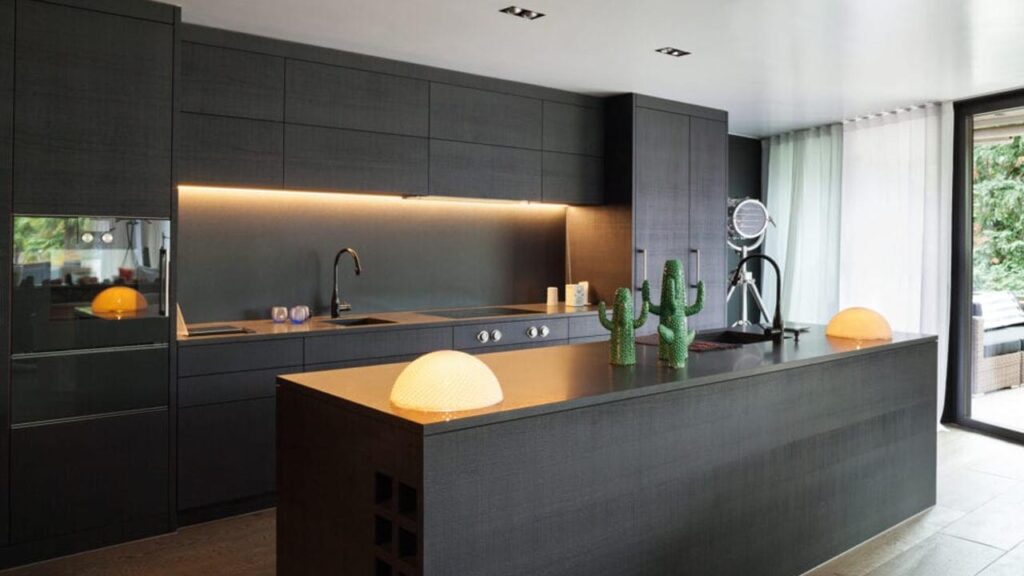 Soft Taupe
Taupe is a good alternative for those who desire to have a light color without getting bored with white. Taupe means a little bit of color, which is never overwhelming. You can also pair it with some other dark colors you like.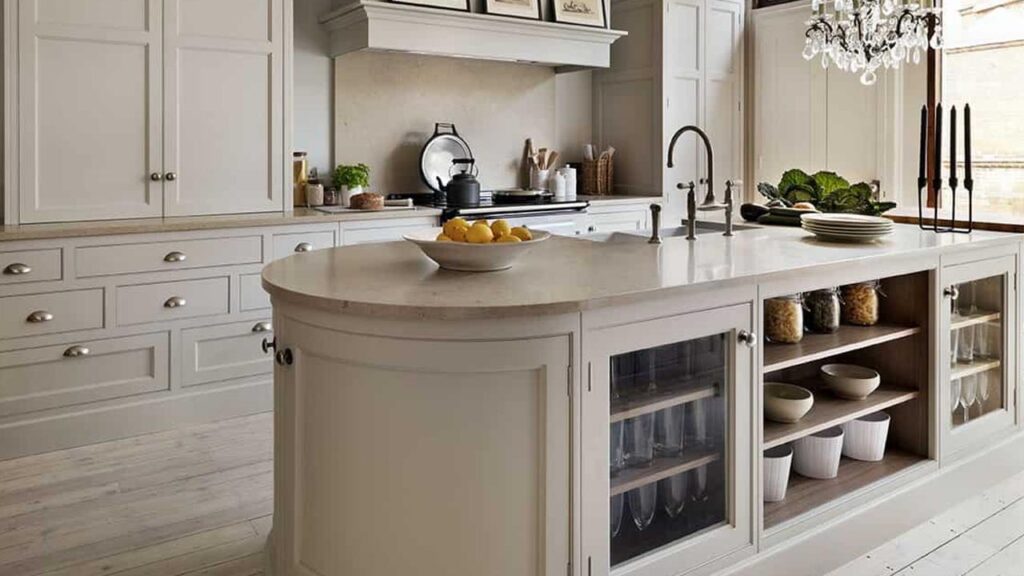 Bright Blue
Blue represents the sea and the sky, and thus it is frequently preferred by nature lovers in their kitchen designs. Being a vivid tone of blue, bright blue gives the feeling of space, faith, and sincerity. Therefore, it is a growing kitchen color trend nowadays.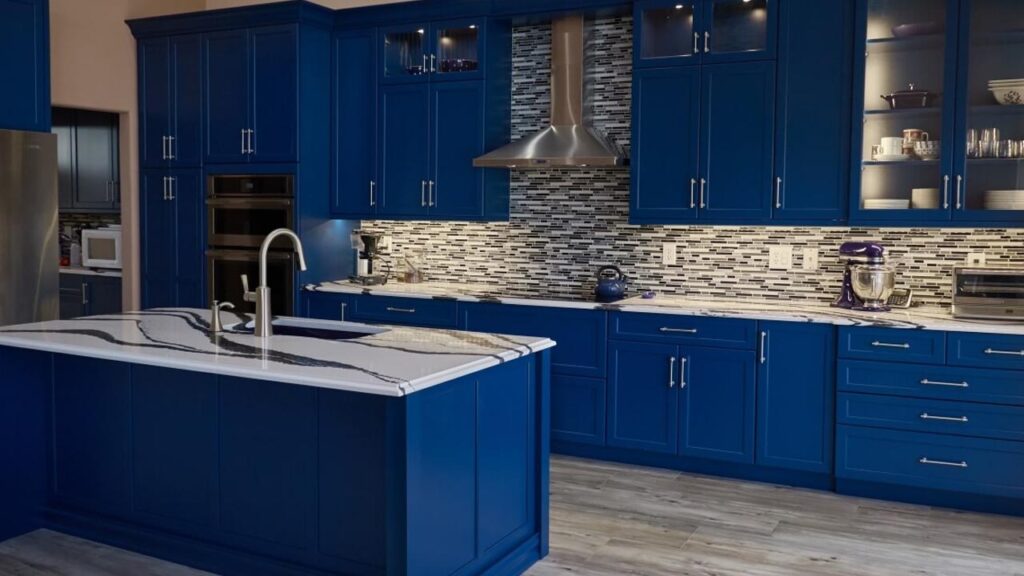 Sunny Yellow
Yellow feels energetic and spontaneous. If you are looking for warm kitchen color ideas, sunny yellow is a good choice for you since it gives you energy and hopes psychologically. However, you should still pair it with white or some other balancing colors since too much yellow might also feel anger at some points.
Gray Green
Sometimes kitchen color ideas aim to give a soothing effect rather than stirring up. These green added gray painted cabinets will give you this feeling. The cabinets can be easily paired with black countertop and gold handles.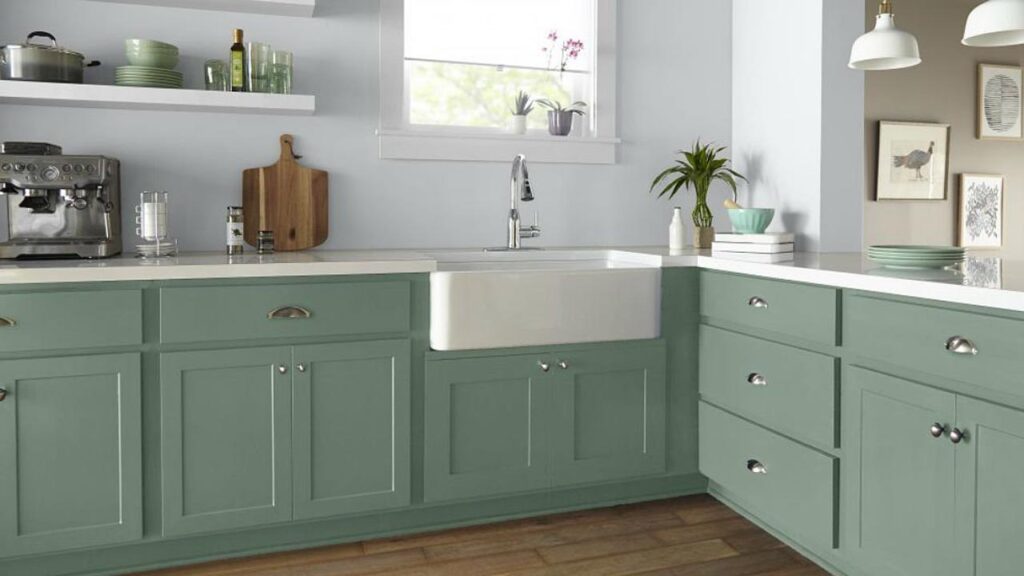 Off-White
Many people would like to have a rustic style in their kitchen, but they also want to use white as much as possible. A pure white is not a good idea if you are into woods and rustic concepts. Thus, you should prefer off-white, which is a little bit of gray in it. Off-white can be easily combined with woods and many other rustic elements in your kitchen.
Turquoise Blue
Farmhouse style and thus rustic colors are highly popular these days, and naturally it affects the kitchen color ideas, too. Turquoise blue cabinets help you create your dream farmhouse kitchen. You can pair your kitchen cabinets with a lot of wooden colors and white.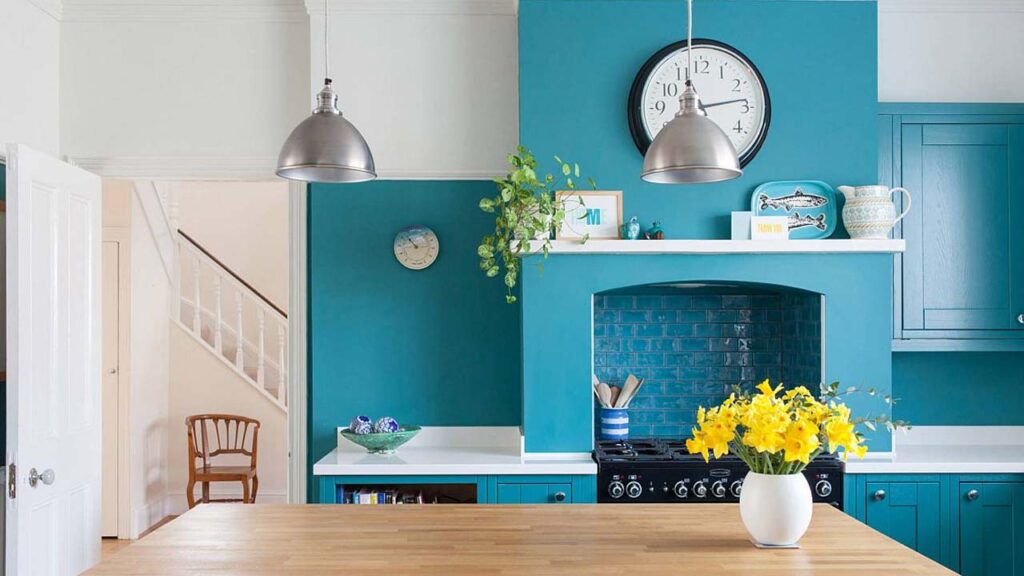 Washed Turquoise & Buttery Yellow
Blue and yellow are the favorite colors of many people. However, when it comes to kitchen color ideas, regular blue and yellow might seem too strike for your kitchen. It can be boring in a short while as well. Therefore, many people seek alternatives such as washed turquoise and buttery yellow. These lovely kitchen paint color ideas can moderate your desire and kitchen design.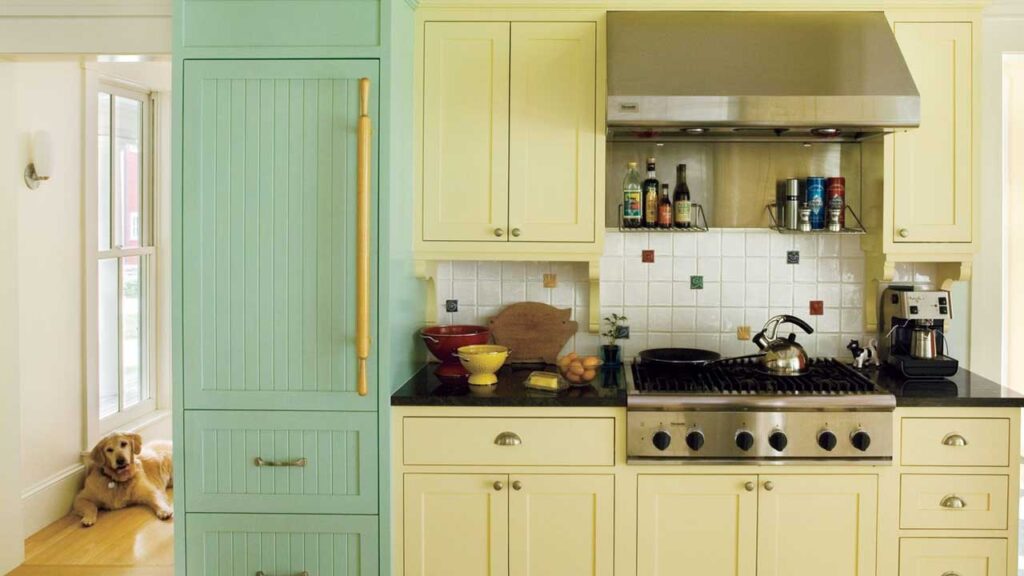 Soft Green
You can use soft green highly dominantly in your kitchen due to its non-overwhelming and fresh look. Gray countertops and silver hardware can be easily combined with this awesome color. However, instead of a wooden floor, you can prefer greenish tiles on the ground.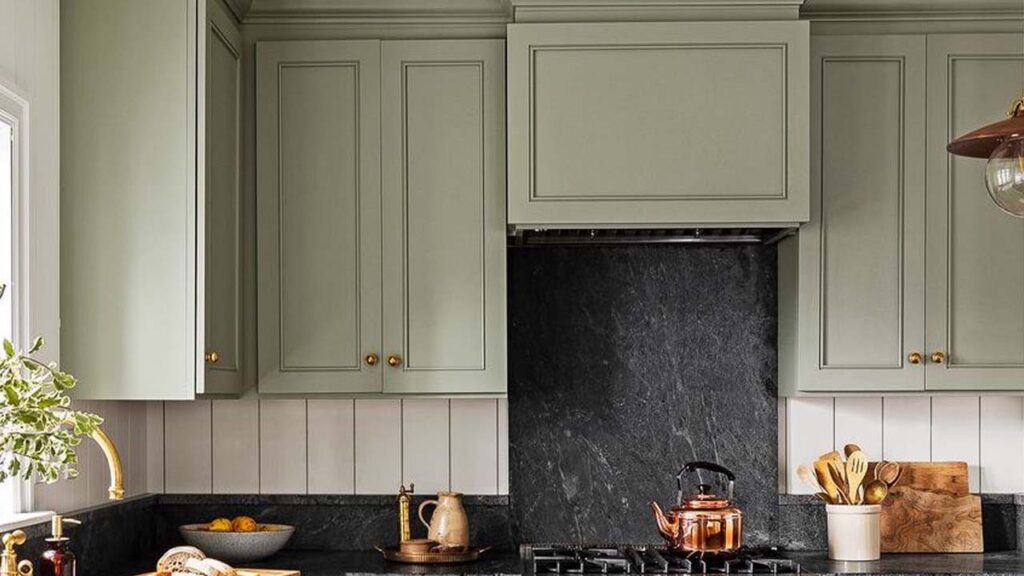 Bright Green
If you are bored with classical wooden floors or white tiles on the ground, bright green can be a better choice for your floor. Such a lively color on the floor makes you feel freer to use wooden tones on your cabinets. You can also paint your kitchen walls white to keep the balance between the other two colors.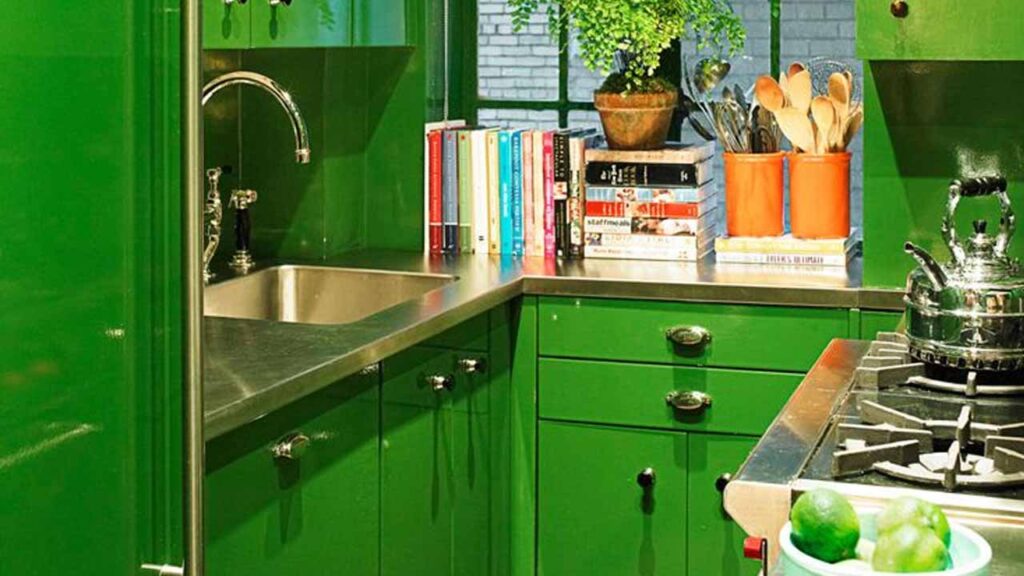 Sky Blue
Although there are many kitchen color ideas for your cabinets and kitchen walls, you can still be looking for other tricks to make your kitchen livelier. The kitchen ceiling might be the spot where you can consider next. Especially sky-blue wooden kitchen ceilings might feel like you are cooking and eating under the sky.
Chalky Blue
If you are into wallpaper in your kitchen, but you think this might not pair with your bold color cabinets. Unfortunately, you are right for many colors. However, painting your cabinets in chalky blue is one of those very limited alternatives that allow you to use wallpapers in your kitchen.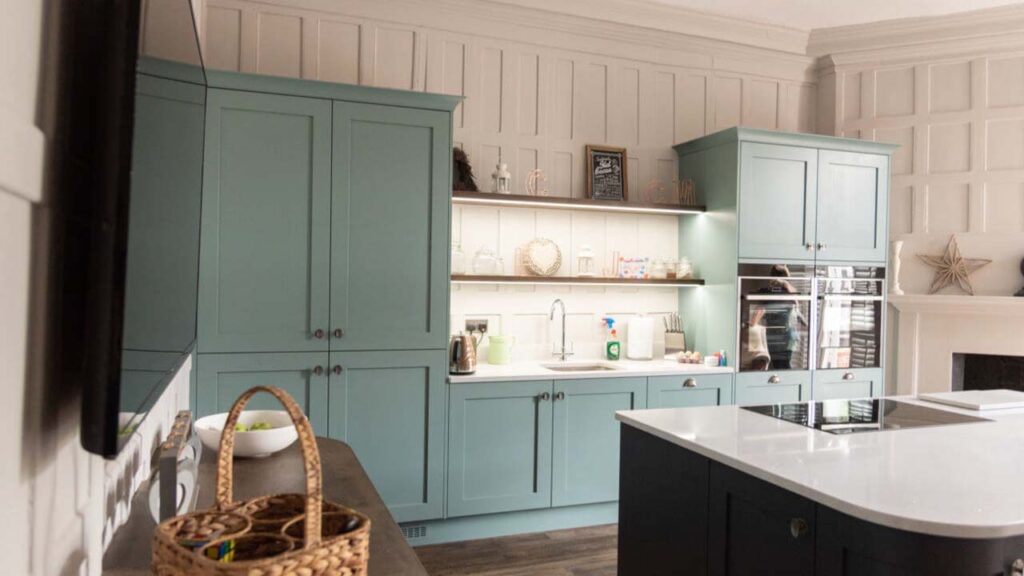 Cheery Yellow
Many people want to have a kitchen as if the sun was shining inside. Cheery yellow cabinets will make your breakfast warmer and livelier. You can pair the cabinets with a white countertop and appliances.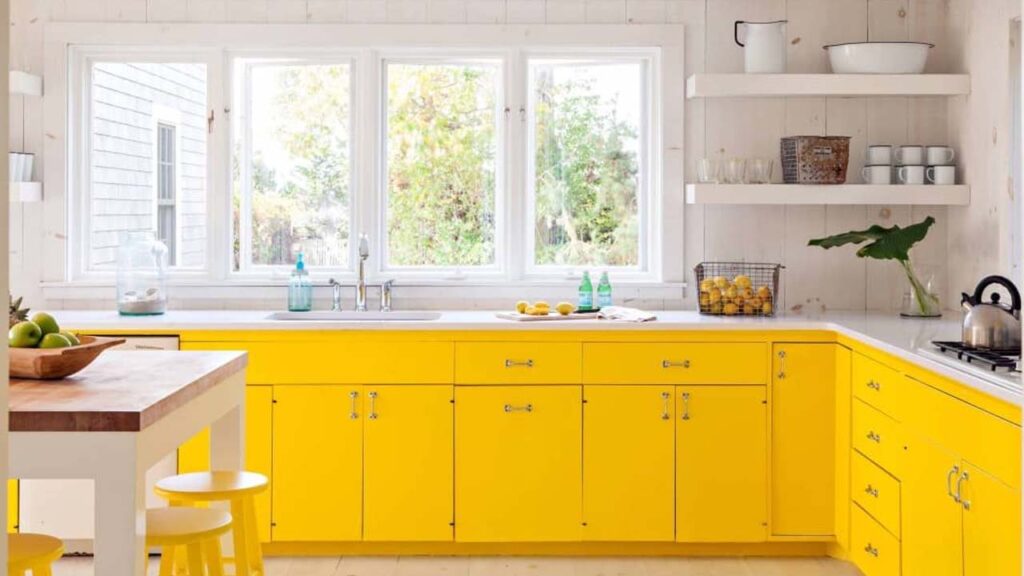 Eggplant
The color eggplant is mostly associated with mystery and creativity, which you need a lot in the kitchen. Although darker purple colors such as eggplant can represent sadness or frustration, you can still combine it with silver appliances and a white countertop to add a punch to it.
Coral
Coral pink kitchen wall is one of the most popular kitchen color ideas nowadays. Coral color walls in a kitchen are enough to give the feelings of relaxation, joy, and simplicity. The kitchen design can be finished by using natural, simple materials like old wooden or bamboo cabinets.