Kitchen color ideas are not limited to white, black, or brown these days. And thus, every kitchen has the potential to become more beautiful in one way or another. "Whether your kitchen is a tiny little thang or a place of grandeur, adding a few colorful and unique pieces to it is a game changer!" says interior designer Justina Blakeney, the founder of Jungalow and author of New York Times bestseller The New Bohemians: Cool and Collected Homes.
You can easily spice up your kitchen with simple paint colors without the need for a renovation or kitchen remodeling. Depending on your personality, type of family, and way of life, you can choose from one of the many trending tones among the various kitchen color ideas. In this article, we have listed some kitchen color trends that are vibrant, gorgeous, and classy.
Let's Have a Look at Kitchen Color Ideas
The kitchen color ideas listed here are already beautiful. However, you might want to consider combining two or more kitchen paint ideas from the list.
Bright Green and Blue
If you want to brighten up your kitchen, these two kitchen cabinet color ideas are just perfect for you. Green and blue mingle in the mangroves in nature, and now it is possible in your kitchen, too.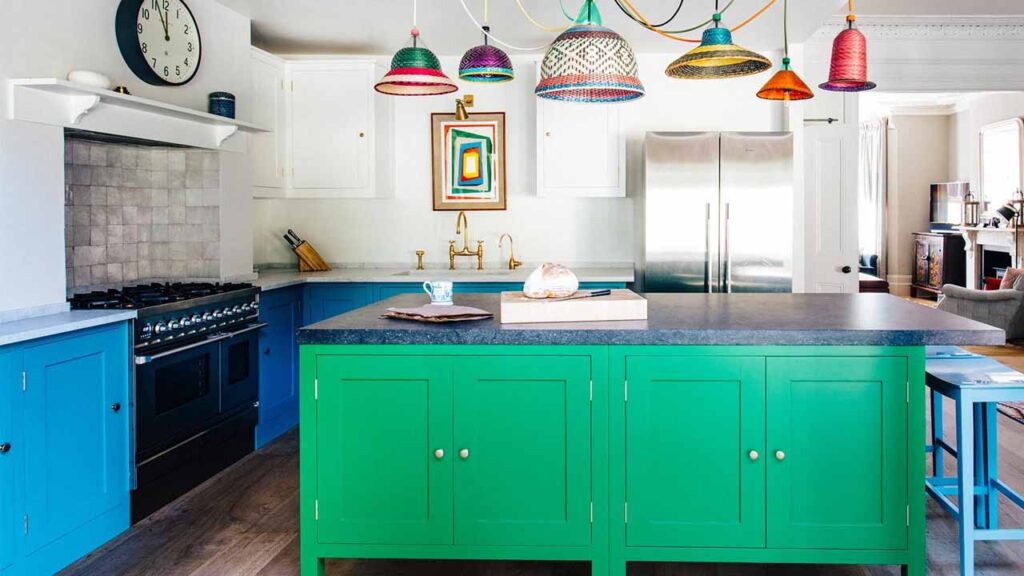 Blue-Black
We don't always feel cheerful all the time. A rainy day might make us feel solemn enough to go to the kitchen and have a cup of tea while watching the rain. The subtle combination of blue and black is the perfect background in this scene.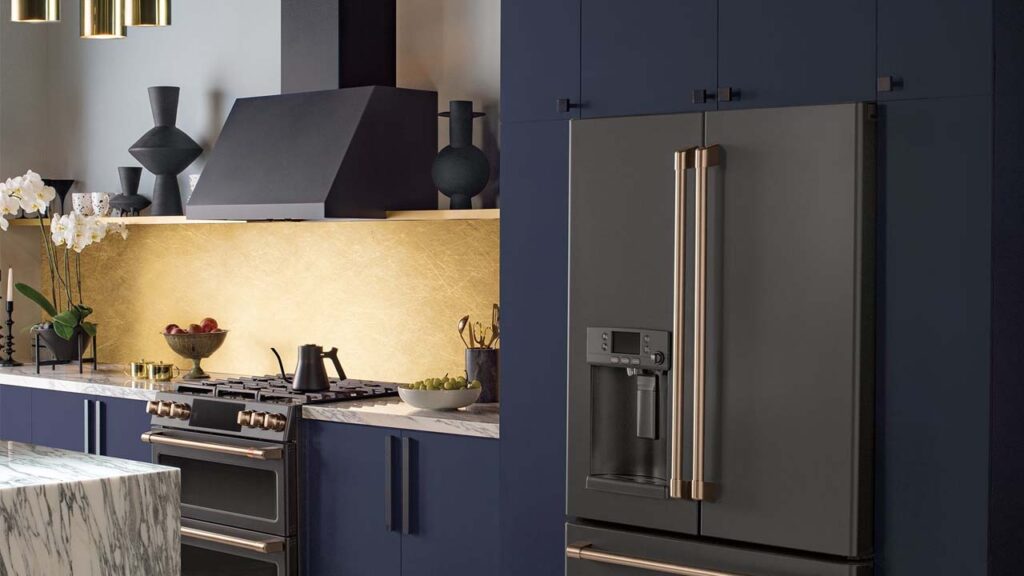 Historic Blue
Historic blue would not at all be considered part of an unusual kitchen color scheme. However, since the color is traditional and timeless it will feel like your kitchen cabinets are fresh, yet historic. You can get creative and use bronze or copper lighting to make your interior design look more beautiful and make the blue 'pop'.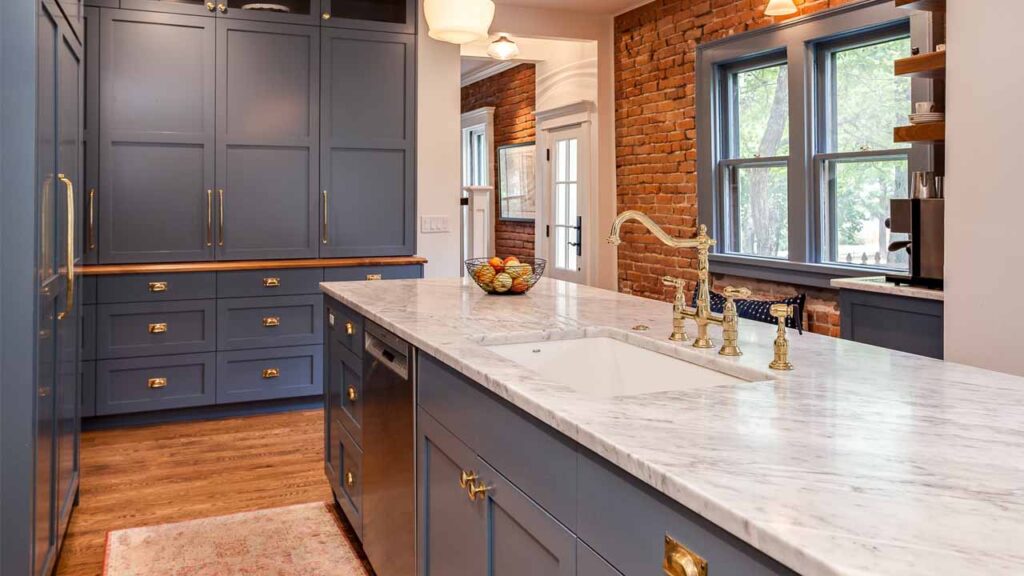 Green and White
Gray and white are simple but modern kitchen color ideas. Kitchen cabinets painted with gray and white feel more spacious and cleaner in addition to their aesthetic beauty. Natural, dark, wooden floors will also help you create a nice contrast in your kitchen.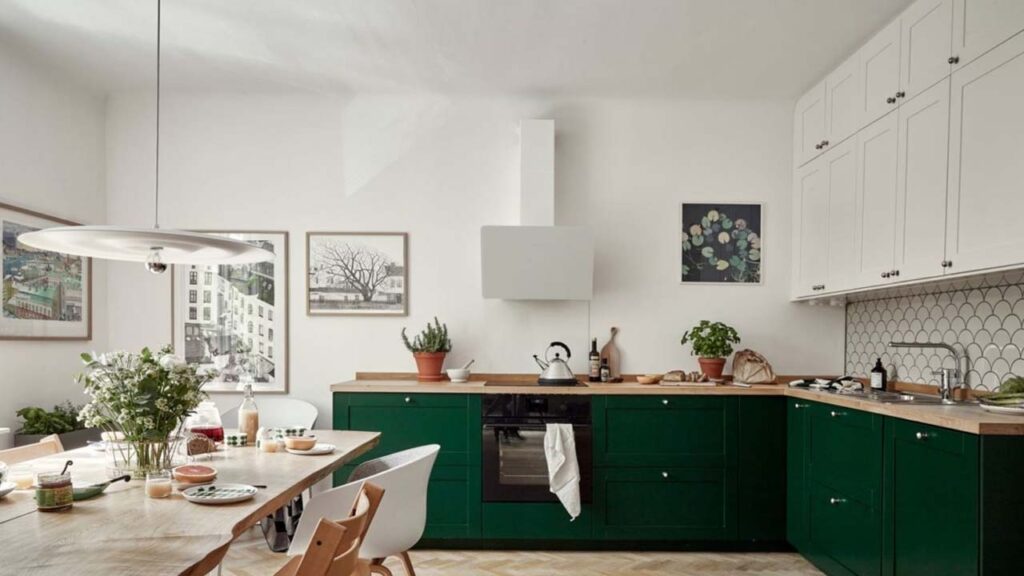 Dark Teal
Using earthy kitchen paint colors is another way of representing the outdoors in your house. A green tiled backsplash, a white sink, and dark-painted kitchen cabinets can give you an outdoorsy feeling in your kitchen.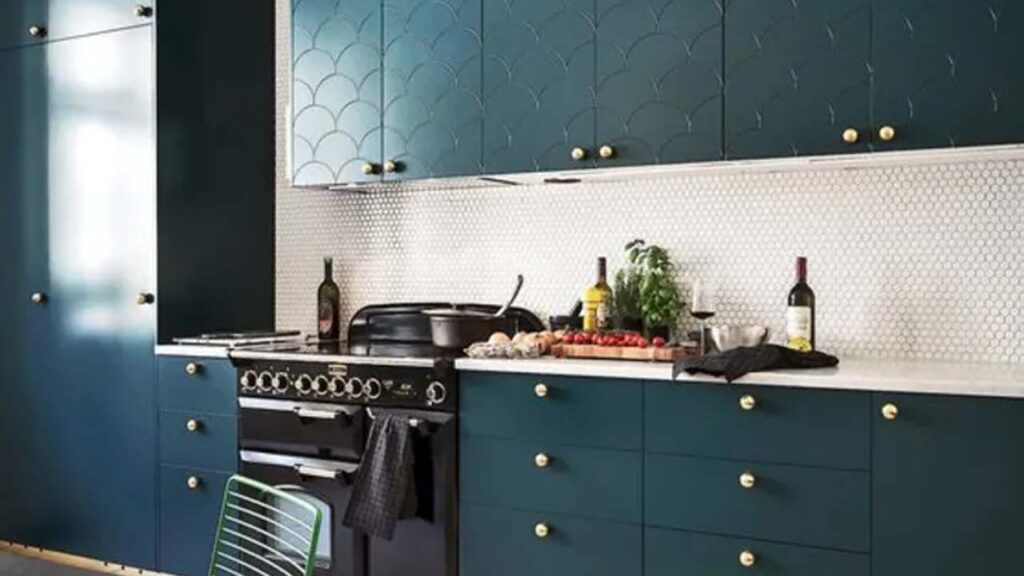 Gray and White
Gray and white are simple but modern kitchen color ideas. Kitchen cabinets painted with gray and white feel more spacious and cleaner in addition to aesthetic beauty. Natural dark wooden floors will also help you create a nice contrast in your kitchen.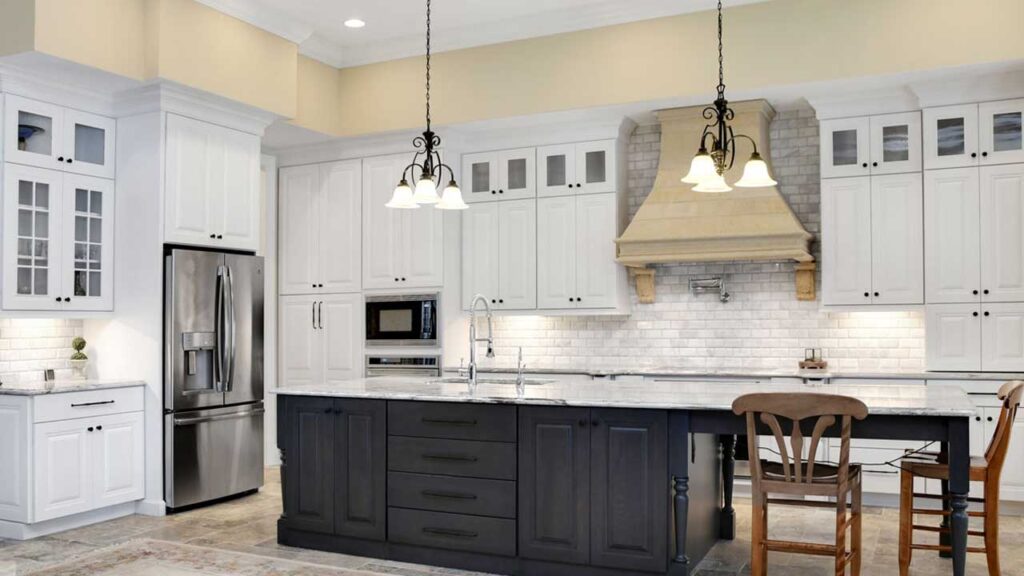 Light Blue
It seems almost white, but adding a slight shade of blue makes all the difference in the kitchen. The light blue cabinet color makes your kitchen a modern and distinctive one. Using some striking red or a contrasting dark blue on chairs will make this design even more attractive. This is awesome if you fancy modern kitchen colors.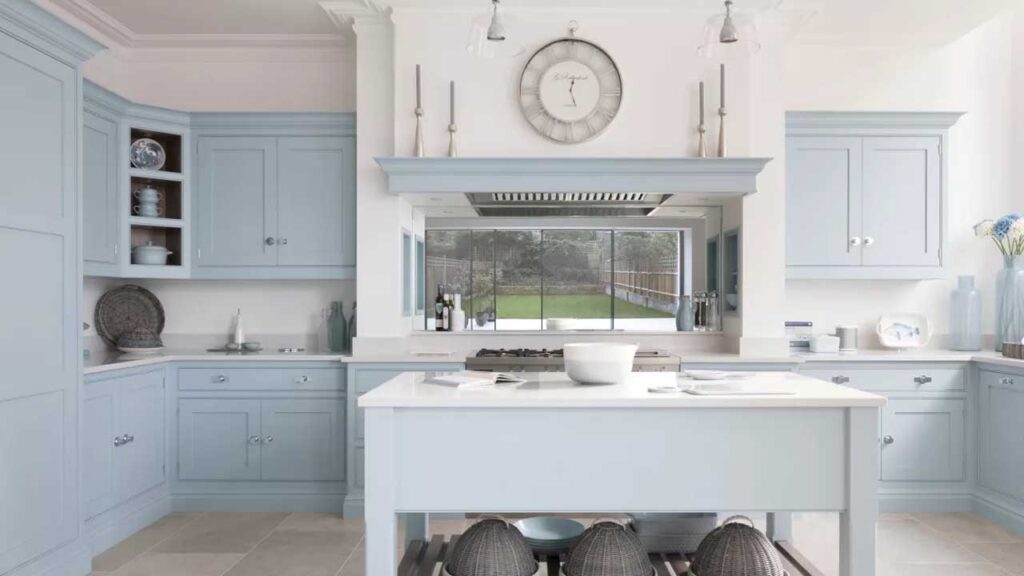 Warm Gray
Gray by itself might sound a little cold. How about using some warmer color schemes that may give you your dream kitchen color instantly? The warmer tones will also pair with your kitchen's other wooden or copper accessories.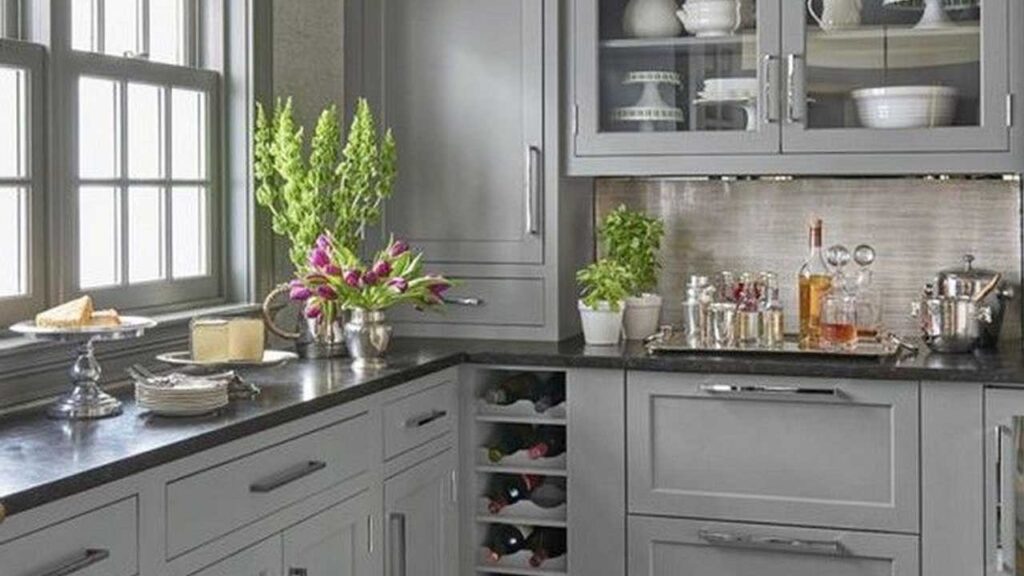 Watery Blues
Sometimes, kitchen color schemes are not interesting, and the greatest kitchen color ideas may come from the kitchen floors. Just like the hues of the sea, you can use different tones of blue to make your kitchen cabinet color ideas livelier. Many wooden shades, as well, will easily pair with this choice of blue.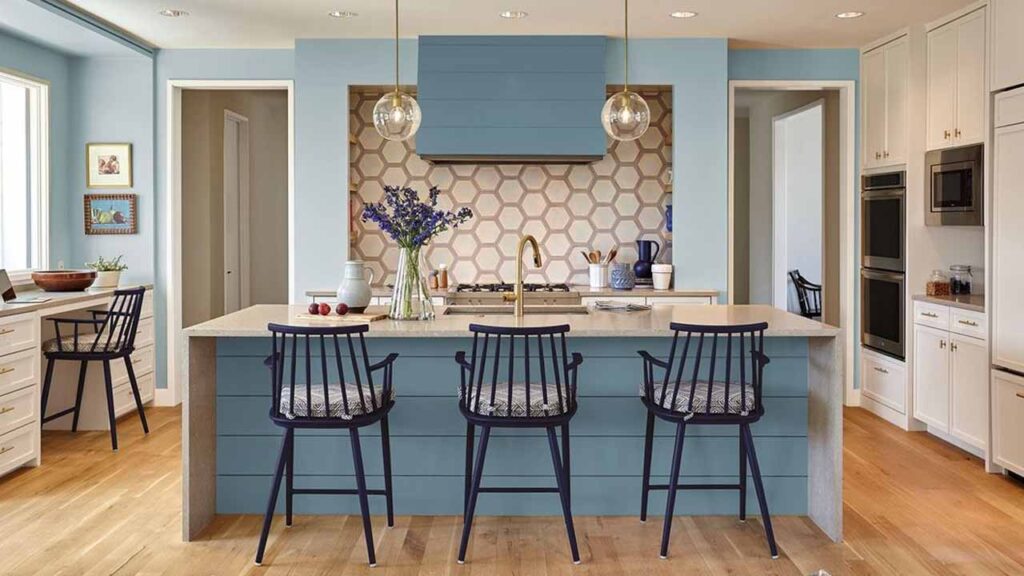 Canary Yellow and Blue
If you are looking for kitchen color ideas for small kitchens, blue and canary yellow can be the perfect alternative for you. Typically, these styles are mostly for larger kitchens when kitchen color is considered. That's why the combination of canary yellow and blue on the kitchen color palette is good for those having a smaller and more colorful kitchen.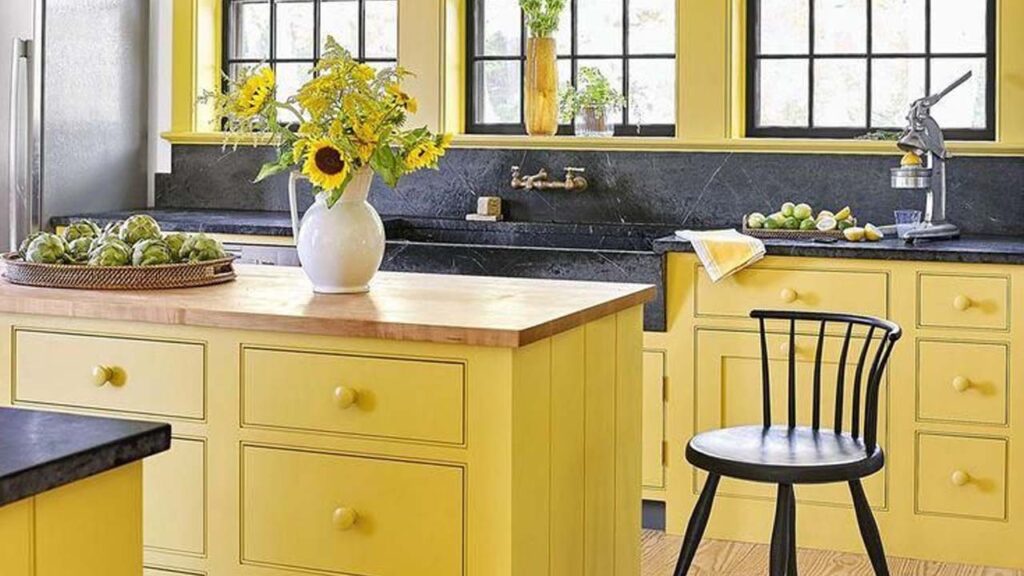 Pure Black
If you have enough natural light inside your kitchen or don't care much about the interior brightness, pure black gives you what you are looking for. It feels modern, prestigious, and relaxing. You can combine black kitchen cabinets with light colors from brass to white and create a brand new look in your kitchen.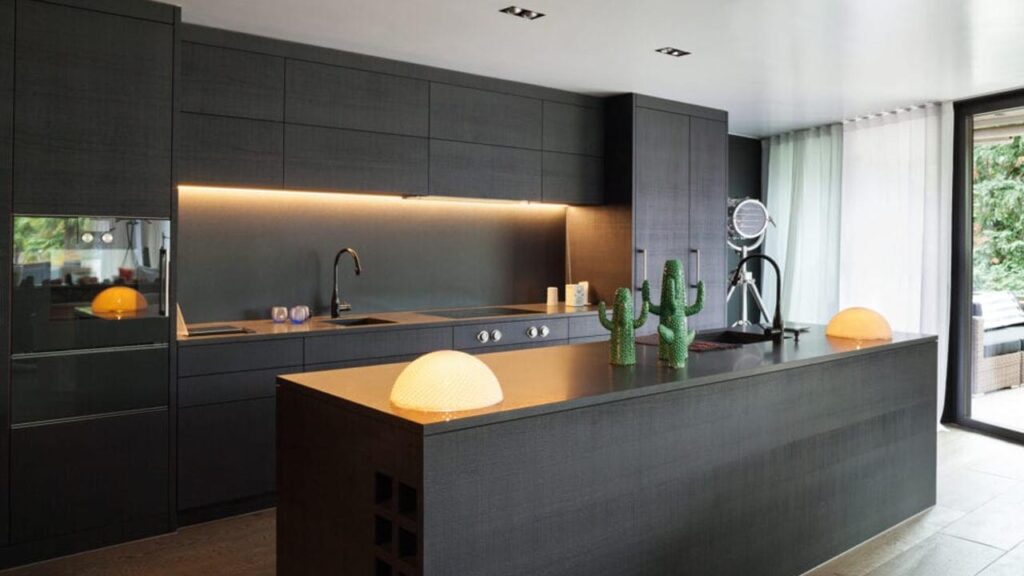 Soft Taupe
Taupe is a good alternative for those who desire to have a light color without getting bored with the typical white kitchen. Taupe means a little bit of color, which is never overwhelming. You can also pair it with some other dark colors that you may like.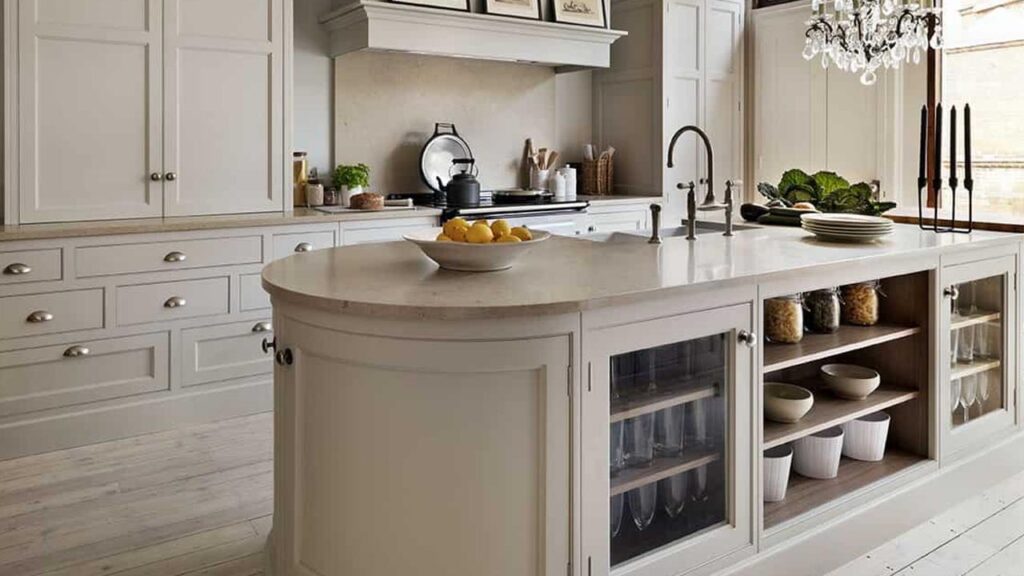 Bright Blue
Blue represents the sea and the sky, and thus is frequently preferred by nature lovers in their kitchen color design. Having a vivid tone of blue or a bright blue makes the space feel sincere and comforting. Therefore, it is a growing kitchen color trend nowadays.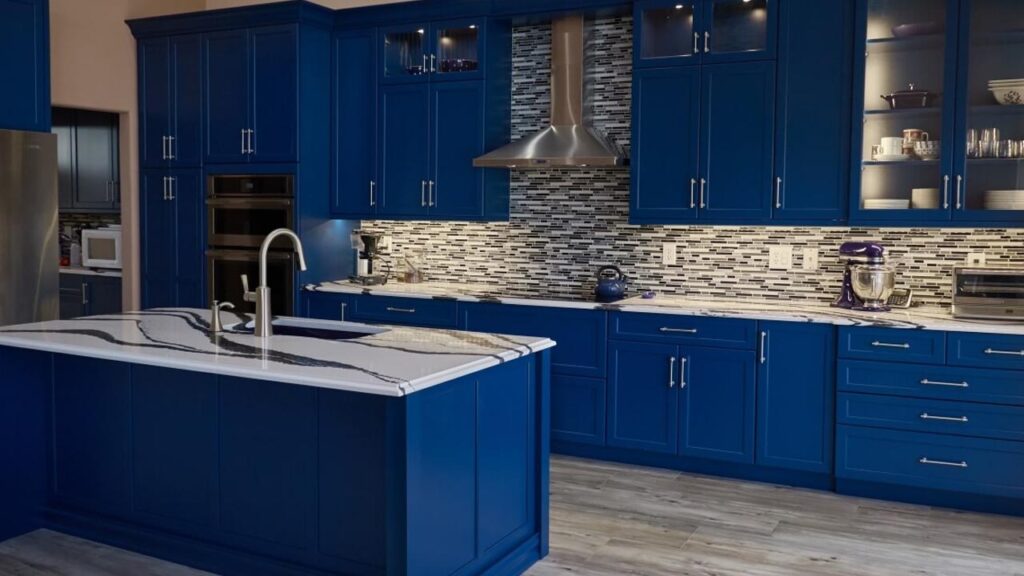 Sunny Yellow
Yellow feels energetic and spontaneous. If you are looking for the hottest kitchen color ideas, bright yellow is a good choice for you since it gives you energy and inspiration. However, you still need to pair it with white or some other complimentary colors since too much yellow may be overwhelming at times.
Gray Green
Sometimes a kitchen color scheme aims to give a soothing effect rather than stir up emotions. Green and gray painted cabinets would give you this feeling. The cabinets can be easily paired with a black countertop as well as other colors on the kitchen island.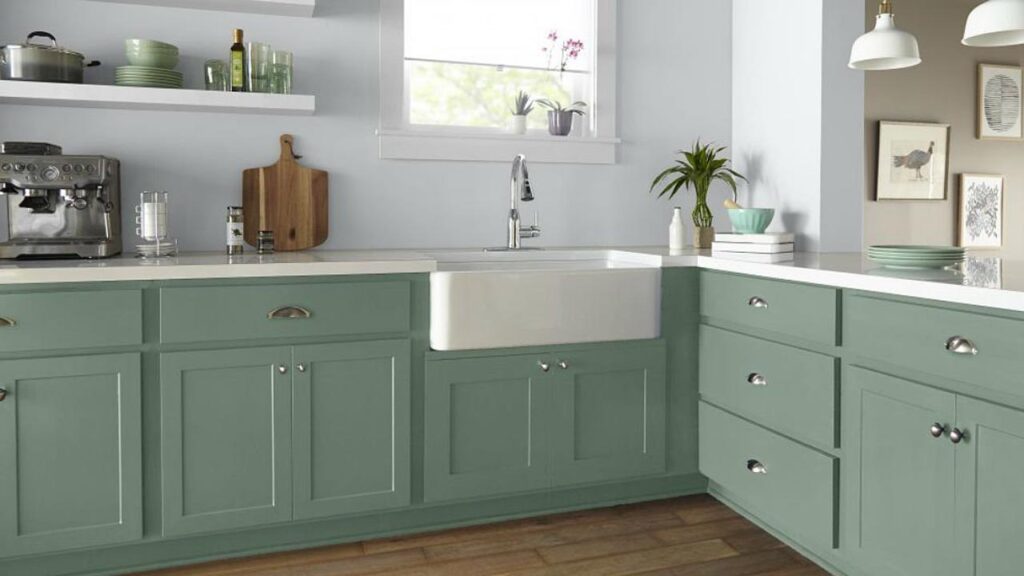 Off-White
Many people would like to have a rustic style in their kitchen, but at the same time use white as much as possible. Pure white is not good if you are pairing it with natural wood and rustic concepts. Thus, you should try off-white, which has a little gray in it. Off-white can easily integrate with woods and other rustic elements in your kitchen.
Turquoise Blue
Farmhouse style, and consequently rustic kitchen colors are fairly popular these days, and naturally that affects the kitchen color ideas, too. Turquoise blue cabinets can help you create your dream farmhouse kitchen. You can pair your kitchen cabinets with many wooden tones or even white with this special blue hue.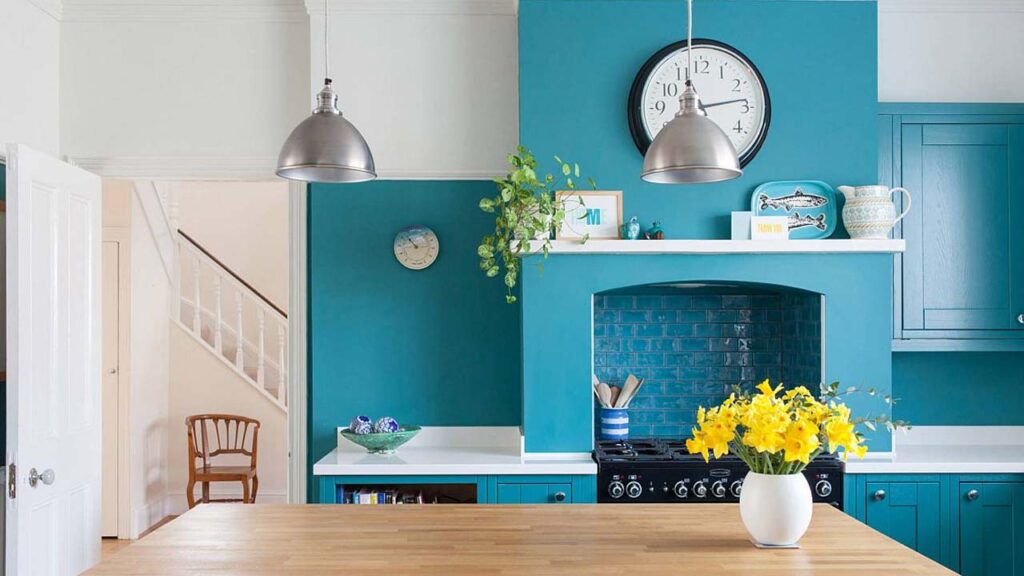 Washed Turquoise & Buttery Yellow
Blue and yellow are the favorite colors of many people. However, when it comes to kitchen color ideas, the typical blue and yellow might seem too stark for your kitchen. It can also become boring after a short while as well. Therefore, many people seek similar alternatives such as washed turquoise and buttery yellow. These lovely kitchen paint color ideas can be the middle ground for your desire for color and kitchen design.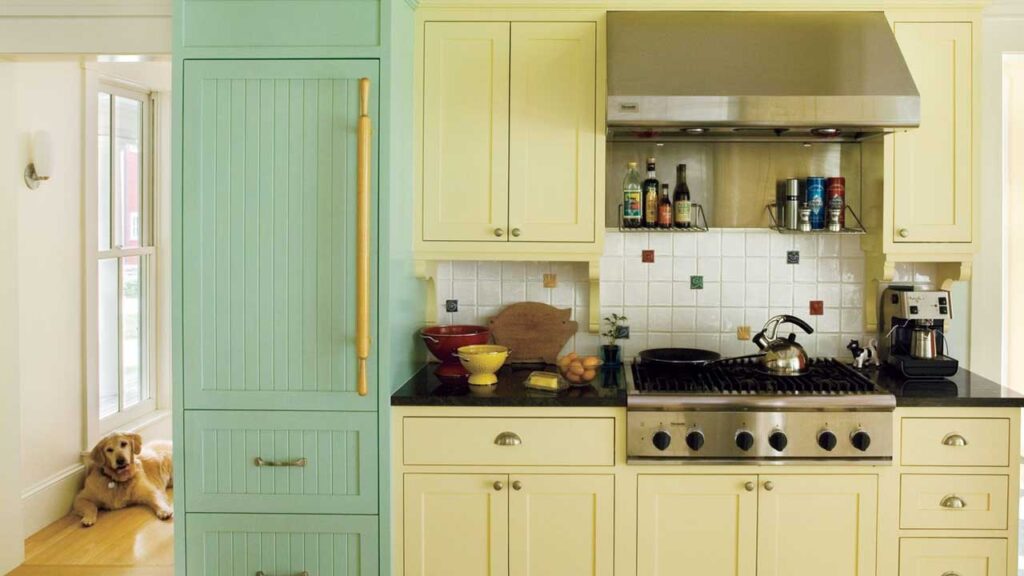 Soft Green
You can use soft green throughout your kitchen due to its non-overwhelming and fresh look. Gray countertops and silver hardware pair nicely with this awesome color. And rather than a wooden floor, you can try going with greenish tiles instead.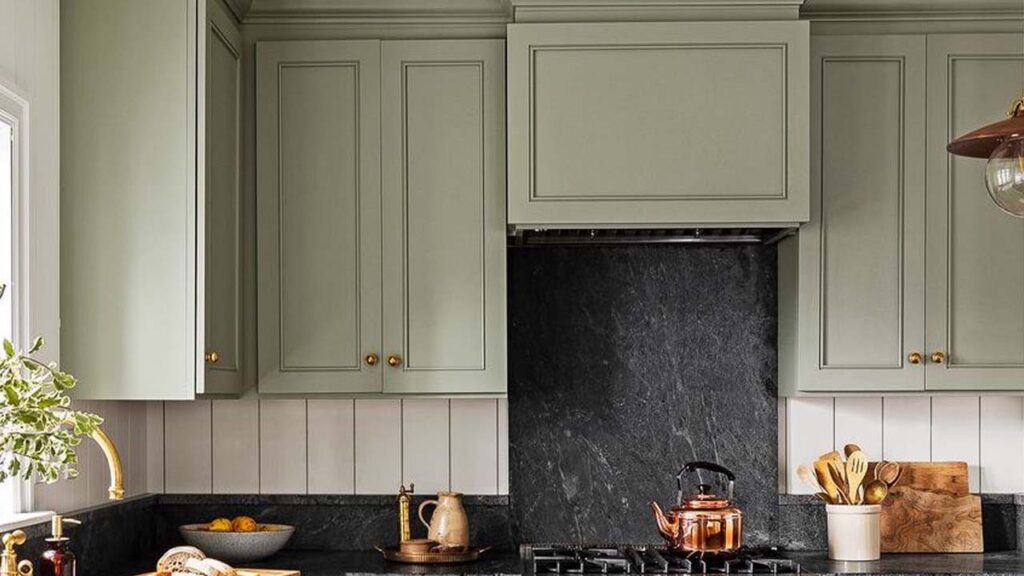 Bright Green
If you are bored with ordinary wooden floors or white tiles, bright green can be a better choice for your flooring. Having such a lively color on the floor frees you up to use wooden tones on your cabinets. You can also paint your kitchen walls white to keep the balance between all the bright colors.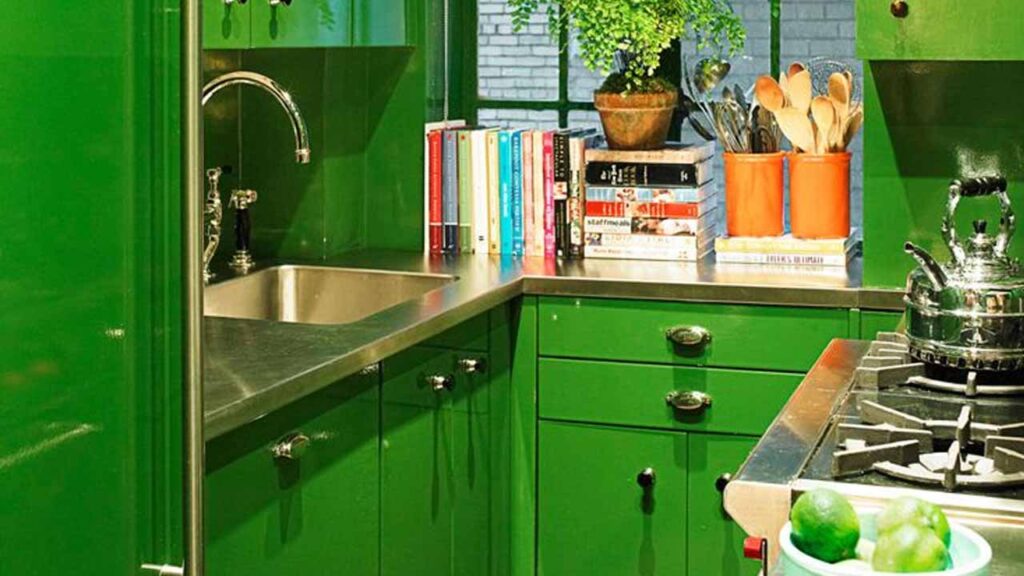 Sky Blue
Though there are many kitchen color ideas for your cabinets and kitchen walls, there are still tricks to make your kitchen livelier. The kitchen ceiling may be the next spot where you can consider. Especially a sky-blue kitchen ceiling could make you feel as though you are cooking and eating under a clear sky.
Chalky Blue
If you are open to wallpaper in your kitchen but think it might not pair well with the bold colors on the cabinets you may be partially correct. However, painting your cabinets in chalky blue is one of those very limited alternatives that allow you to use wallpapers in your kitchen.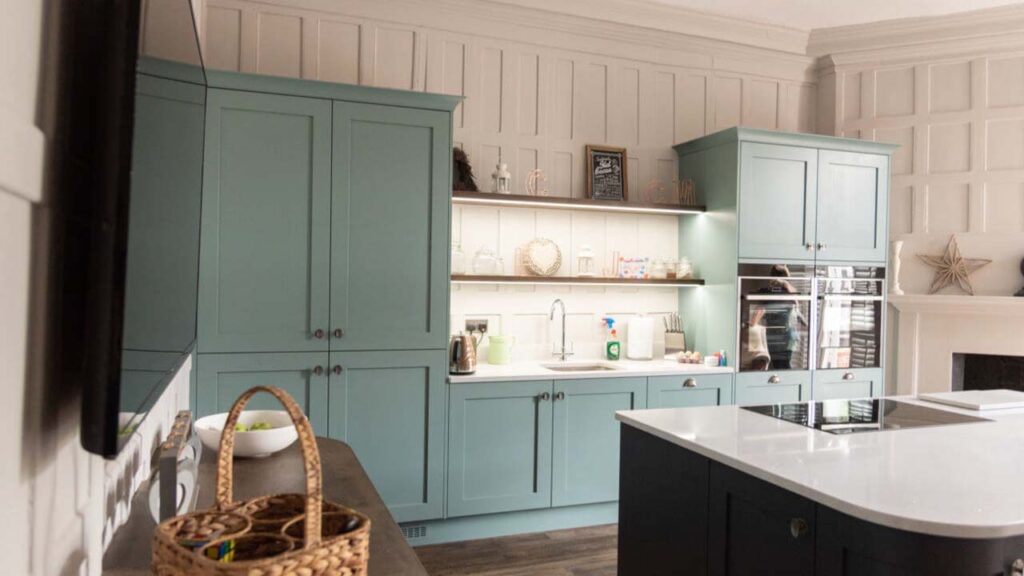 Cheery Yellow
Many people want to have a kitchen that feels as if the sun was shining straight inside. Cheery yellow cabinets will make having breakfast more comforting and interesting. You can pair this color cabinet with white countertops and appliances.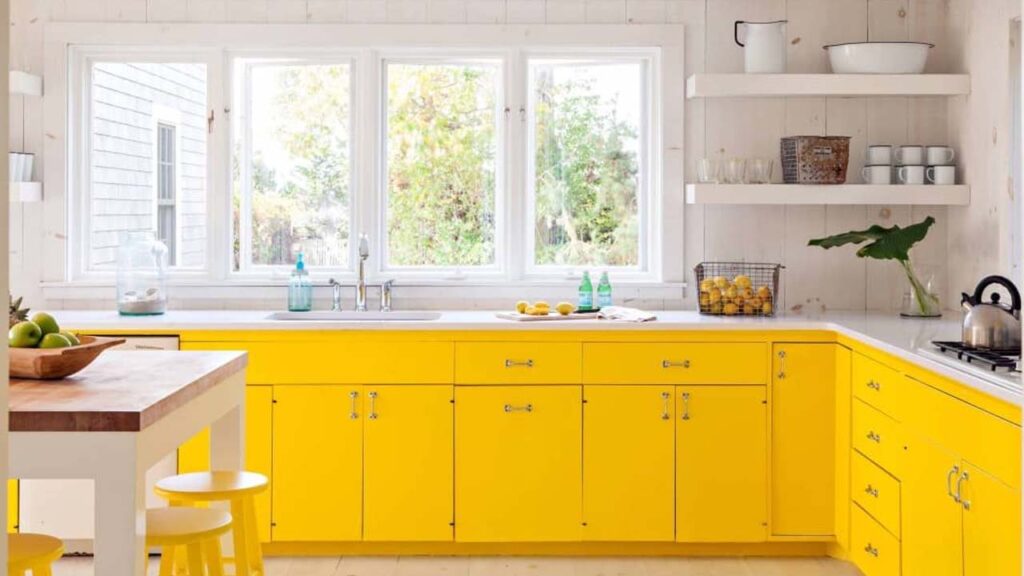 Eggplant
The color eggplant is mostly associated with mystery and creativity, which may be fun to have in a modern kitchen. Although darker purple colors, such as eggplant, can occasionally represent moodiness, you can combine it with silver appliances and a white countertop to get the maximum impact.
Coral
A coral pink kitchen wall is one of the most popular color ideas nowadays. Coral wall colors in a kitchen are known to transmit feelings of relaxation and joy. The kitchen design can be finished off by using natural materials like antiqued wood or bamboo cabinets.
Conclusion
All in all, kitchen color ideas are almost limitless. Nevertheless, you shouldn't get overwhelmed by the many ideas swirling around in your head. Getting some professional help would make all the difference. KBR is a local kitchen remodeling contractor in Virginia, Maryland, and Washington DC. You can contact us and get your free estimate about any remodeling ideas you may have.