We Design and Build Inspiring Kitchen, Bathroom, Basement and Home Additions
Remodeling Service in Virginia, Maryland, and DC
Building Inspiring Spaces
We bring you the most up-to-date and quality products from some of the most well-known experts in the kitchen and bathroom remodeling industry. We are constantly reviewing new trends and, as new products are available that meet our high standards, we will bring them to you. While we have become the specialists for complete, turn-key kitchen remodeling projects, we also provide kitchen or bathroom cabinets without the other elements of a remodel. We will measure your space, discuss your wants and needs and recommend the best solutions for your space and budget.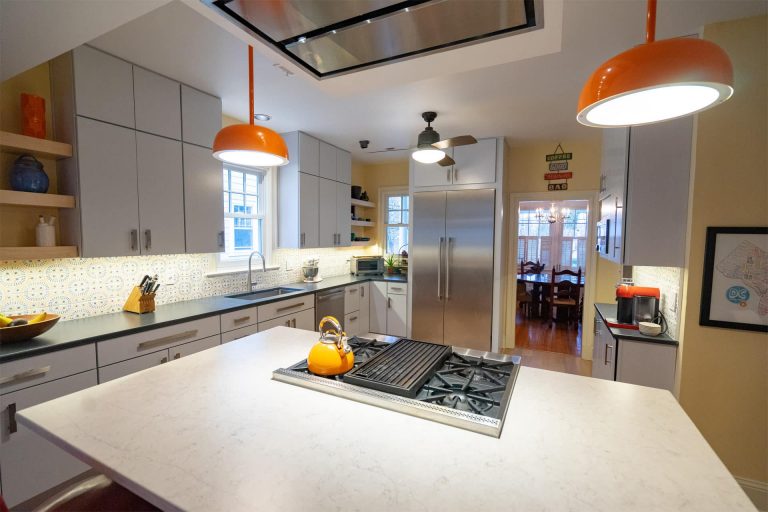 With our team of kitchen designers, we will walk you through the latest in contemporary designs to ensure that your kitchen serves not only great food but in an ambience that is warm, inviting and above all, homely. And do not worry if overhauling is not on your mind. Even the simplest changes in fixtures will be handled by us with the utmost care.
We cannot promise magic, but a new kitchen is as easy as dialing a number! At KBR Kitchen & Bath, we ensure a solutions-based approach to ensure that all your needs are taken care of within your budget. Whether you need to rewire all your appliances or relay your plumbing, nothing will escape the eyes of our professional experts. Depending on the size of your kitchen and your budget, our team of expert professionals will share the latest contemporary looks and the essential changes your kitchen demands.
Our expert bathroom designers and consultants will ensure that all your needs are taken care of: whether it is a simple storage upgrade or a complete overhaul in bathroom fittings, your wish will be our command. And as per your budget. So, no more hassling with various contractors over issues that never seem to be in your hand. Your one-stop solution for all kitchen and bathroom remodelling in VA, Maryland and Washington D.C. is here!
Whether your basement is finished or unfinished, we are here to give you the most stylish basement without making any compromises with functionality. We listen to you, analyze your needs and expectations, then we pay our greatest attention to take the work beyond your expectations. From the first meeting to the finishing touches, KBR ensures the highest quality in materials, workmanship, and communication. Moreover, our happy customers are always sure that they are getting one of the most cost-effective services of their lives.
A well-planned and conducted home addition can save you a significant amount of money and enhance functionality in the house while keeping the memories with you. We are happy to help you with any type of home addition project. Do you have a bump-out, garage, sunroom, or any other type of addition in your mind? They all might seem highly complicated, big projects, but at KBR, you are in good hands.
A custom closet is a perfect storage solution enabling you to use every inch of your room. A good custom closet allows you to use your space more efficiently while adding your personal style and flare. Never get overwhelmed by the inefficiency of your existing closet or the complexity of the work needed in your place. Simply contact KBR. We provide you with sophisticated and functional closets at affordable prices. Even in the smaller spaces, we always find ways to amplify the space while adding a bit of your style. You will be impressed by the quality of the work and smooth communication.
Schedule Your Free Appointment With Ease
Or You Can Talk To An Expert
Mon-Sat : 09.00-06.00
For over a decade, KBR Kitchen & Bath has been working with the industry's leading partners.