Kitchens tend to grab a lot of attention at the time of home resale.
The reasons are pretty obvious. The kitchen has moved considerably from its traditional avatar. What we mean is that it's no longer just a space where the cooking happens. Now, it's more like a space ideal for a friendly chat or to host a gathering. Even enjoying some me-time while cooking is desirable for some people. So, it's only obvious that the kitchen takes an important place in your remodeling schedule.
Besides, updating your kitchen will bring you a substantial return on your investment when you sell off your house. Considering the financial lucrativeness of the project, it makes sense to focus even more on upgrades that are going to pay off in the future.
So, our advice is that you focus on the necessary updates first rather than the trends that will fade away in a few years. Some aspects of your kitchen will always be sought out, no matter what the time and the decade. For instance, good lighting, cabinets with sufficient storage, and counters will always be on the priority list of the buyer. The truth is, most buyers are farsighted and like to zero in on the essential elements of the kitchen rather than the shifting trends. After all, that's the practical thing to do, right?
Keep in mind that investing exorbitantly in your kitchen remodel is not necessarily going to pay you off. Yes, it's one of the best home updates one can undertake, but if you go overboard and nobody is willing to pay for your over-the-top fixtures — that's going to be on you. So, take care that you do not spend a bomb on your remodel that is impossible to recover from your home resale.
Keeping all this in mind, there are some updates that pay off regardless of the year. Here's where you should put your money:
1. Paint your Kitchen
Pick up a color of your choice and give your kitchen a complete makeover.
Colors can pep up the environment in a flash, changing the aesthetic of the space in no time. Don't stick neutral or white tones if you feel that you have already been overexposed to these palettes. Go all black if the inclination is to add a dramatic effect. For this job, you can go either DIY or professional — the choice is all yours.
2. Upgrade Your Kitchen Cabinets
Had enough of your cabinets after all these years? Why not get rid of the old look for a new updated version?
Remember, updating the cabinets in no way implies that you have to tear them out to replace them with new ones. You can take up necessary updating like repainting it on your own. However, depending on the prevailing market trend, there may be a demand for cabinets in a different style.
Refacing the cabinets is another great option where you basically replace the cabinet skins or the doors and drawer fronts of cabinet and apply a new veneer over the cabinet's surface. The process generally includes the replacement of the handles, drawer pulls, and the hinges as well. A cost-effective procedure that works.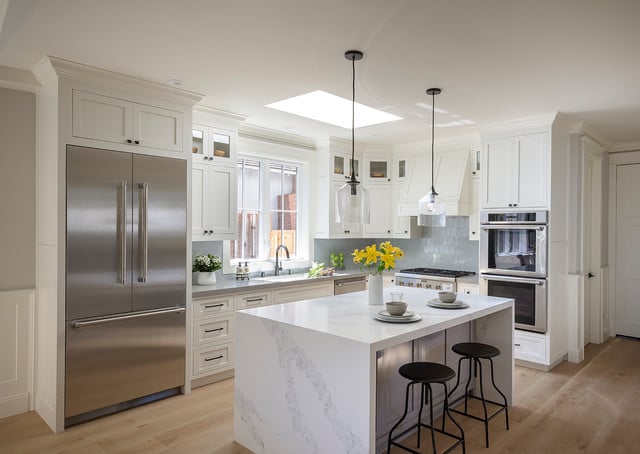 3. Update the Countertops
Countertops can change the definition of your kitchen. They are the most visually captivating element of your kitchen space. Eye-catching and updated countertops will create a place for your property in the buyers' dictionary.
Several materials are making the rounds for countertop material, but it's quartz that has been winning for quite some time.
Quartz countertops are made from a blend of quartz (which is essentially a mineral) and resins, polymers, and pigments. Popularly known as engineered stone, these counters are stain and scratch-resistant. The countertops are also highly durable and non-porous, so they don't ever need to be sealed. Besides, they are available in a range of colors and patterns with a variety of finishes to choose from. You have honed, sandblasted, or embossed treatment as options, depending on your style preferences.
But since these quartz countertops are expensive, make sure that your home's resale value covers the cost of the upgrade.
4. Update the Lighting
Add style and substance to your kitchen by upgrading the kitchen lighting.
Buyers are completely taken by the sight of a well-lit kitchen. Bring in lots of light with proper layering to light up each corner of the kitchen. Add under cabinets LED light bars onto the cabinet. They work well to illuminate the countertops and prep areas. Insert rope lights for countertop task lighting. Add style by replacing the everlasting ceiling fixture with something more dramatic, like a drum light with geometric cutouts.
Consider hanging a pendant light above your island. Install puck lights in deep drawers or the inaccessible corners of your pantry.
 

5. Add a Kitchen Backsplash

Adding a kitchen backsplash will add a stunning visual factor to your kitchen.

Pick up beadboard to pack a considerable décor punch or opt for a brick backsplash, or whatever appeals to you. Even installing a stone backsplash facing indoors will mark your kitchen as totally luxe.
6. Update Fixtures
Updating fixtures like the faucets or integrating the existing fixtures with the trending high-tech features will give off high-toned vibes to the prospective buyer.
7. Intelligent Layout
Be extra careful about the configurations of the elements in the kitchen. Allow for the cabinet and the appliance doors to open fully without interfering with each other's space.
Buyers have a sharp eye for mundane details like these. The right configuration of the elements will leave a lasting impression on the buyer's mind.
8. Update your Appliances
Opt for modern and energy-efficient appliances to give a sleek, updated semblance to your kitchen. Energy-efficient appliances create a positive impact on the buyer's psyche and will simultaneously cut down your energy bills.
9. Add Storage
You can never have enough kitchen storage, and that goes for the buyer too. Enhancing storage space must find the topmost place on your "to-do list" of kitchen remodeling.
Add shelves, open or otherwise, at an accessible height. Incorporate corner units to utilize the unused corners for maximizing storage. Bring in folding and sliding units for a comfortable work experience. Incorporate organizers in the drawers for easy classification of stored items.
1o. Update Flooring
Updating your kitchen flooring will give an instant facelift to the space.
Think of oak hardwood as being THE trend for kitchen flooring in 2020. Lighter shades of wood have made a comeback this year, and more and more buyers are asking for brown and grey tones too. We advise you to go in for low maintenance, wood look-alike kitchen floors for that subdued elegance.
Vinyl kitchen flooring, laminate flooring, engineered wood kitchen flooring, bamboo kitchen flooring, and cork kitchen flooring are a few options to look out for.