Though they seem like tiny details in the big picture, bathroom accessories are of great importance for you. Since many homeowners don't always have the chance of splurging on an entirely new bathroom, you might need some inspiring ideas to give a fresh, elegant, and expensive look to your bathroom.
In this blog post, you will find several bathroom accessories ideas to elevate your bathroom and feel better in this peaceful spot of your home.
Try To Understand What Your Bathroom Needs
The most critical part of elevating the overall look in your bathroom is understanding what bathroom accessories are missing or what bathroom accessories are doing more harm than good to your bathroom. Of course, you can simply get professional help for this, but if you think you can deal with that yourself, reading through the following ideas of bathroom accessories may help you.
1. Add a Comfortable Armchair
If your bathroom is a spacious one, you should consider putting a luxurious throne for yourself to sit on and do your pedicure or hair styling in front of the mirror. Though some people use a tufted ottoman or a simple garden stool, you can go one step further by adding a place for your comfort. You can also pair this new bathroom accessory with other elements in your bathroom like mirror frames, cabinets, or some ornaments on the shelf.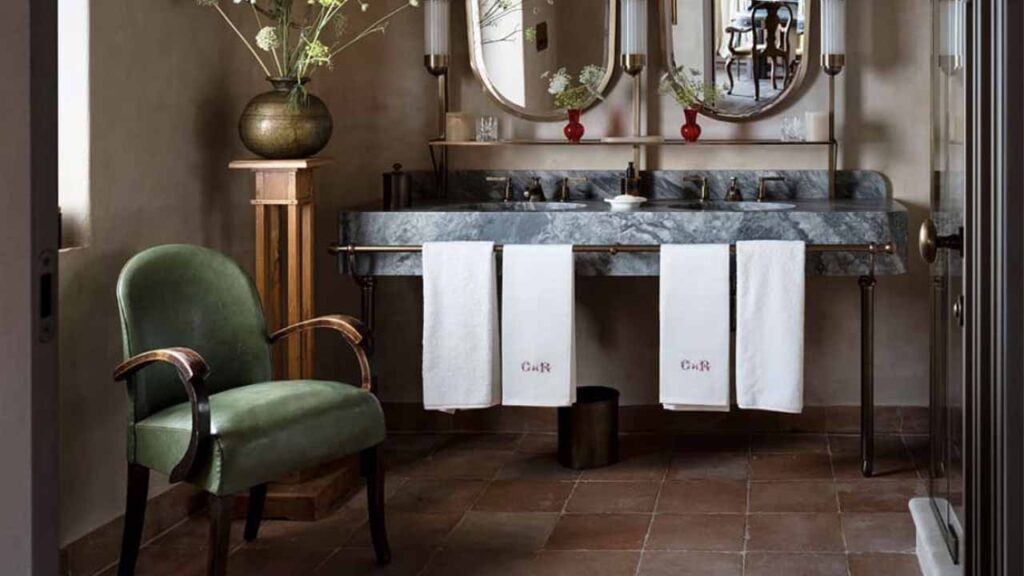 2. Contain Odds And Ends
Many homeowners think that their bathroom is already new and they use high-quality products in every inch of the room, but their bathroom doesn't look beautiful. This is a common problem among those who don't care much about keeping their soap, toothbrush, cotton swabs…etc. on their vanity top.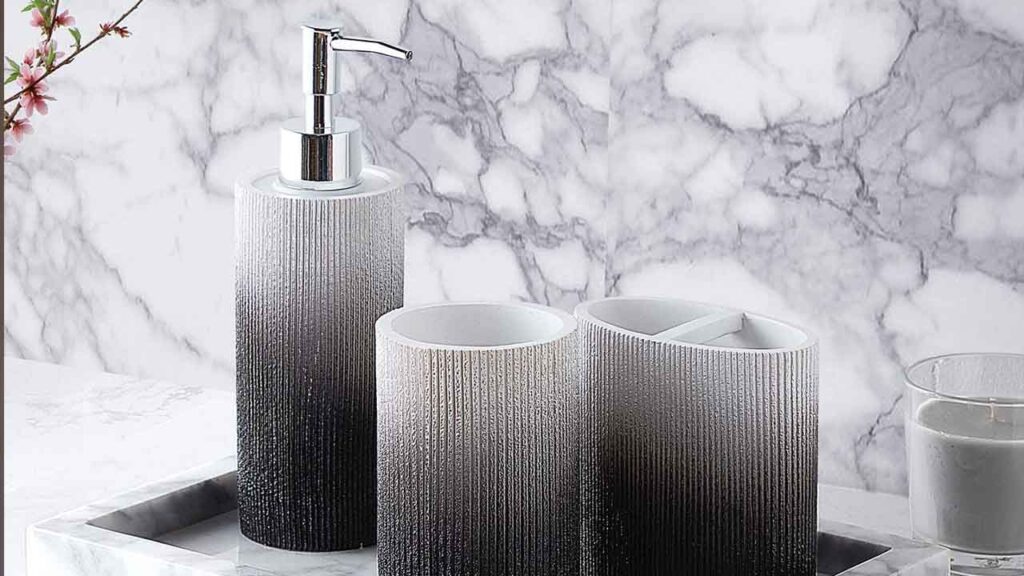 Simply by storing your things in beautiful boxes or tumblers, you can solve a small but very significant problem in your bathroom. In addition, neatening your space will give your bathroom an elevated look.
3. Get A New Mat
An old and tired mat on your bathroom floor might be the reason why your bathroom never looks perfect. Replacing your old mat with a new fancy one will upgrade the overall look in the bathroom. Instead of a simple terry cloth mat, you can consider a Turkish or Persian rug with tufted wool.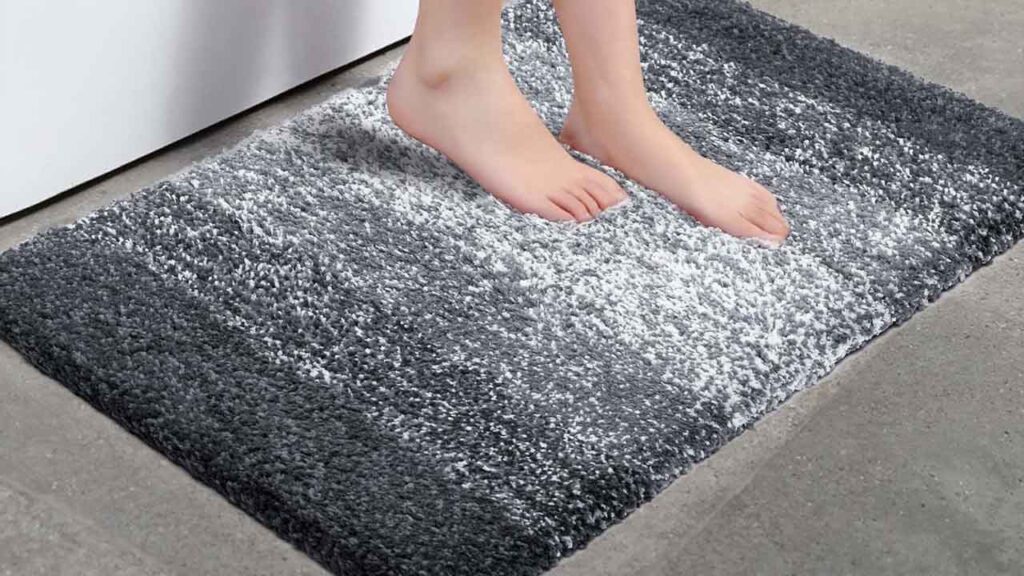 Though handwoven rugs are highly expensive, you can still buy a small one thinking that your bathroom floor is smaller in size. If the missing things are sophistication and personality in your bathroom, a small rug can help you a lot.
4. Mirror Matters
It is often the case that homeowners take more time to think about cabinetry, tub, shower…etc. And the mirror is just an ordinary one brought from a local store. A first, we don't pay much attention to it, but you might lose interest in your new bathroom and the mirror the soonest as it seems like a medicine cabinet rather than an aesthetic beauty.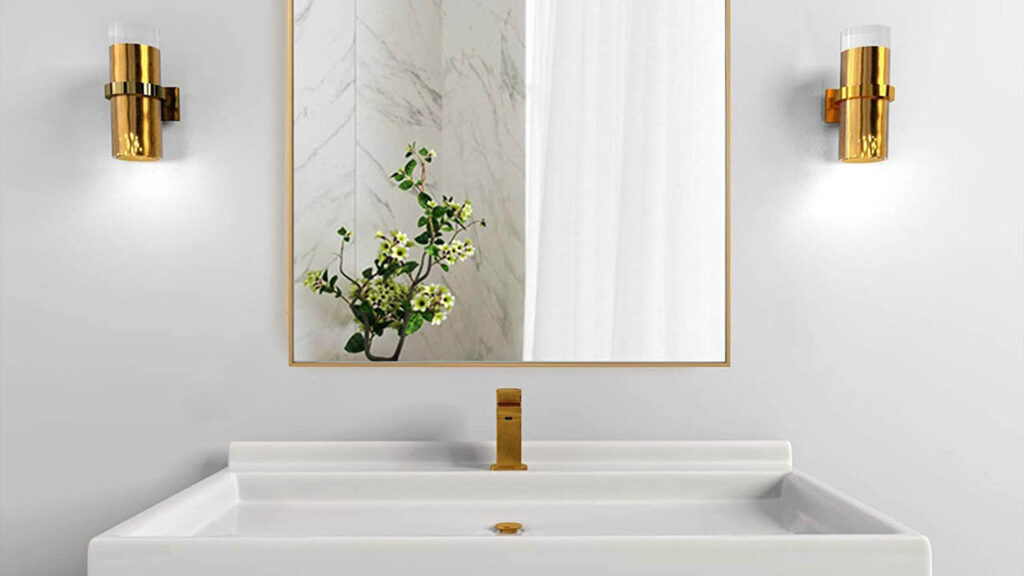 However, getting a new mirror with flair can change your opinion. Various mirror designs can reflect your personality on the market today. In addition, you can find many affordable mirrors in various shapes and colors that are far from basic.
5. Make Use Of Monograms
The lack of harmony in your bathroom can be even more distracting when you spend a bit more time than usual in your bathroom. Your eyes seek some sort of a union among the things in your bathroom. Bathroom decor sets might still work, but how about adding a monogram to give a more sophisticated classic look to your bathroom?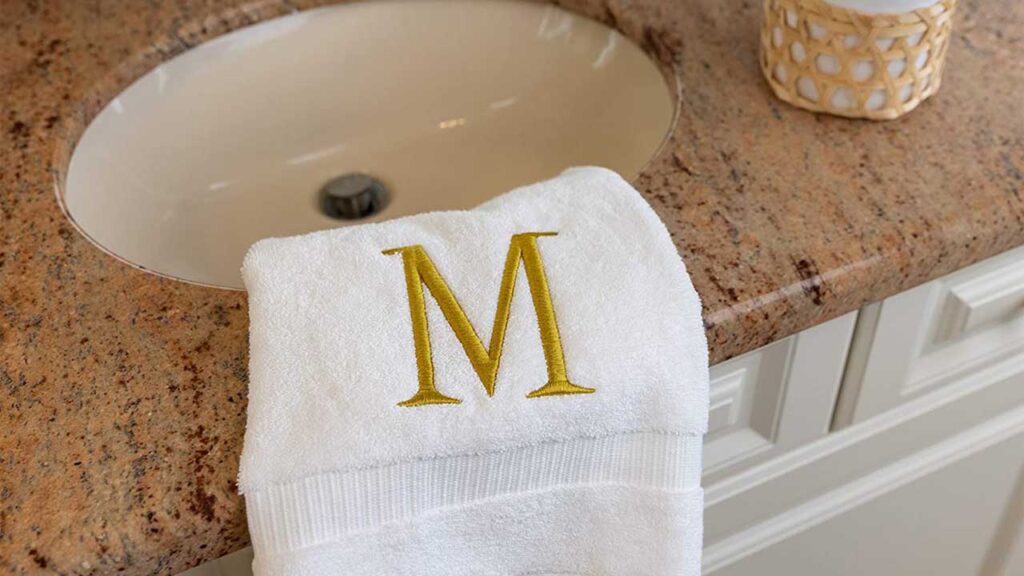 You can design a monogram for yourself, your family, or anything worth seeing or showing. Seeing the same mark on the towels, stools or tiles can give a nice feeling of unity, belonging, and personalization.
6. Christmas Bathroom Sets
Many homeowners are keen to decorate their homes for holidays like Christmas. So, we are already familiar with special Christmas lights, trees, or garlands in and around the houses. Though the Christmas decorations look good and cheerful anywhere around, you can consider decorating your bathroom with beautiful Christmas sets, including Christmas-themed towels, curtains, soap dispensers, mats… etc. Depending on the size and overall style of your bathroom, you can enjoy the holiday times in your bathroom, too.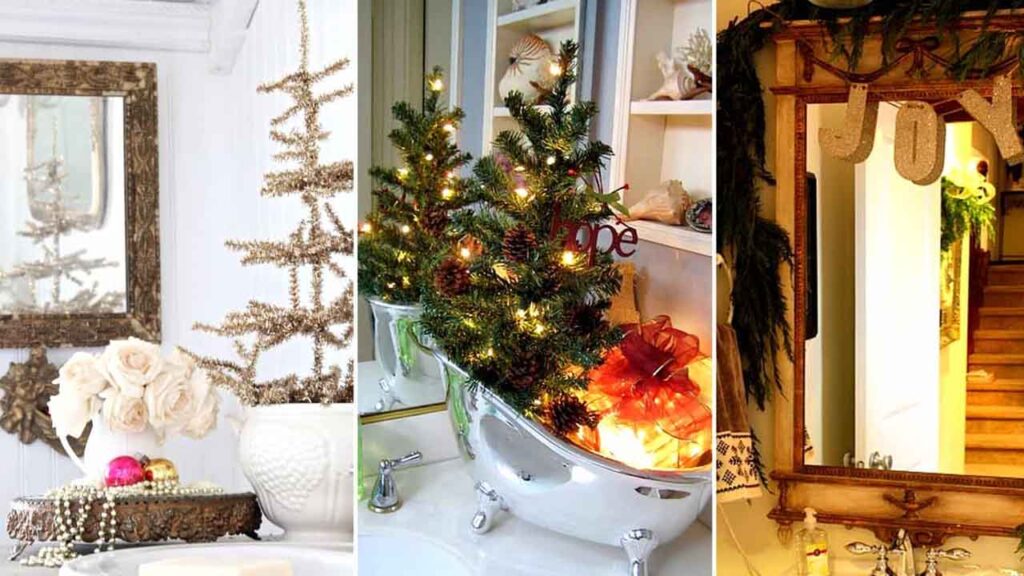 7. Add Some Brass
If you think the sense of luxury is missing in your bathroom, consider adding some spice of brass to do the trick. As you can also observe, chrome is the most common metal used as bathroom accessories.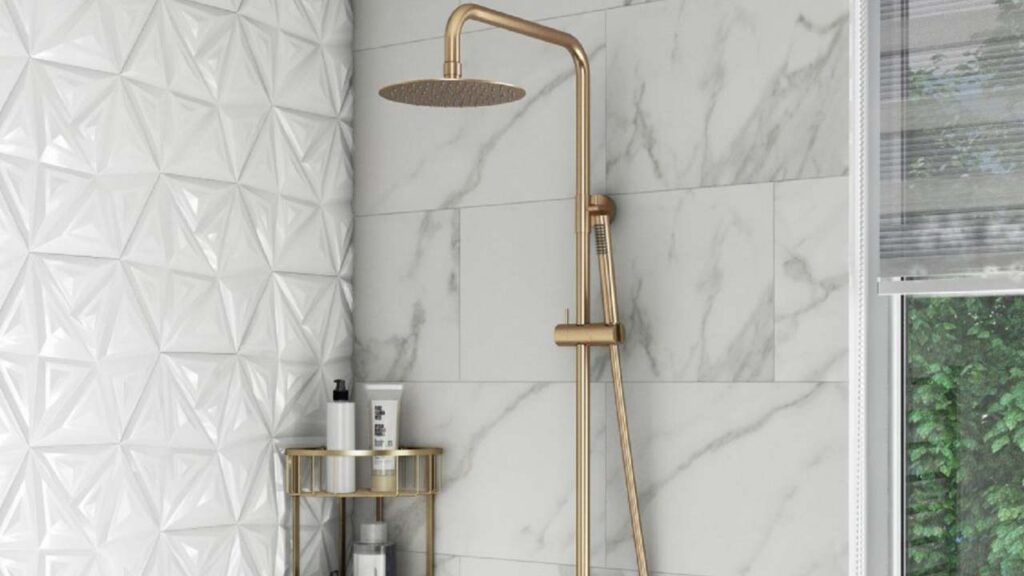 Actually, chrome looks ordinary and basic in many senses. If possible, you can replace chrome accents with brass or copper to make a statement. If you are on a budget, you can keep your chrome faucets, and add smaller pieces like soap dishes, mirror frames, or little jars.
8. Dress The Walls Up
Bathroom walls make up a large portion of the overall view of your bathroom. If you think dealing with the smaller details will not work for your bathroom, you can consider a more dramatic change, and go with installing wallpaper to transform your bathroom into a more beautiful place. Though wallpaper installation can be a bit costly, you can limit your expense using only one accent wall or the ceiling.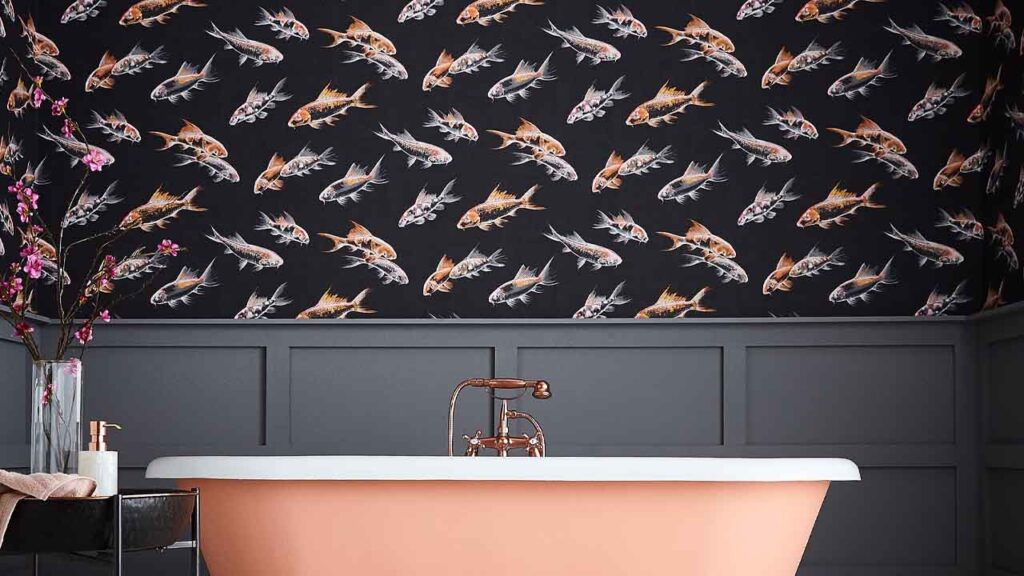 9. Go Beyond The Standard Lighting
When you move into a new home, you will find overhead lighting in the middle of the room. Even the greatest bathroom remodeling projects can skip this very basic lighting unless you demand it specifically. However, there are many decorative lighting options that you can use in your bathroom.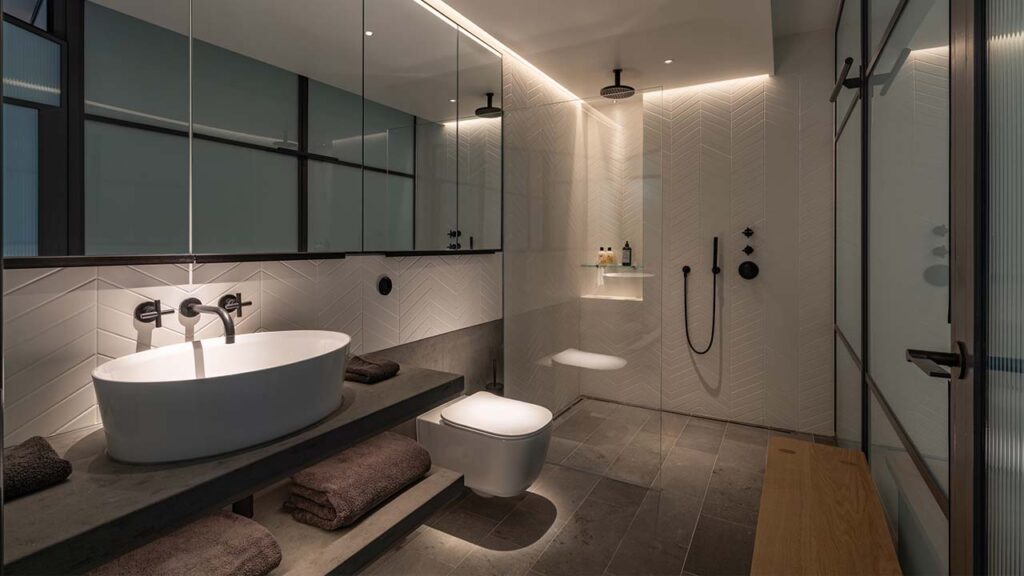 A luxurious chandelier or cute spotlights can make a big difference. If you have a bathroom shelf decor that you want to highlight, an updated spotlight at a good angulation can give you what you want.
10. Bring In Flowers
There is no place a bunch of flowers can't brighten up. Adding awesome colors and vibration, flowers can be a stunning detail making your bathroom a better place. An elegant vase full of beautiful flowers will have a great transformative effect in your dull bathroom. Maybe, this can be your first step into a Feng Shui bathroom.
Bottom Line
As you see, bathroom remodeling is not the only option. There are still many ways to brighten up your bathroom as long as you can notice the most felicitous bathroom accessories that your bathroom needs. On the other hand, never get overwhelmed by numerous bathroom accessories listed here and there. In most cases, just one touch or two are enough for elevating your bathroom.