Let's face it: We all love our bathrooms. Especially given the kind of hectic lifestyle on our hands, we all need a space that is functional and great at treating our senses.
And without a doubt, nothing can beat bathrooms when it comes to providing complete solitude. But here is the thing: A huge part of that experience can be the aesthetic of the space and how easy it is on the eyes.
Now, I am sure that when you built your bathroom, you followed all the right rules and the latest trends. You probably spent money on texturizing the walls, brought in design consultants who charged you a bomb, went berserk on fixtures and did all you could to make this room the style statement of your home…
…Yet that was years ago and times have changed, and so have the aesthetics we have come to expect from newer bathrooms. No longer do you find people preaching for an all-white bathroom as they did 10 years ago — in fact, it is one of the most abused features of most spaces.
So, if you find yourself grappling with the decision of remodeling your bathroom in the coming year — be sure to go for something classy and timeless. Also, try to steer clear of ideas which have been overused over the years, especially if you want a unique looking space.
Here we list down some of the worst designs of 2021 and ones you MUST avoid in 2022; along with worthy alternatives that you can consider instead.
1. Moroccan Tiles
Moroccan tiles may have dominated our bathrooms for years with their black and white visual narrative but it's time for them to leave. It is perfectly acceptable to use them sparingly (especially the black and white variety) but exclusive usage is a big no.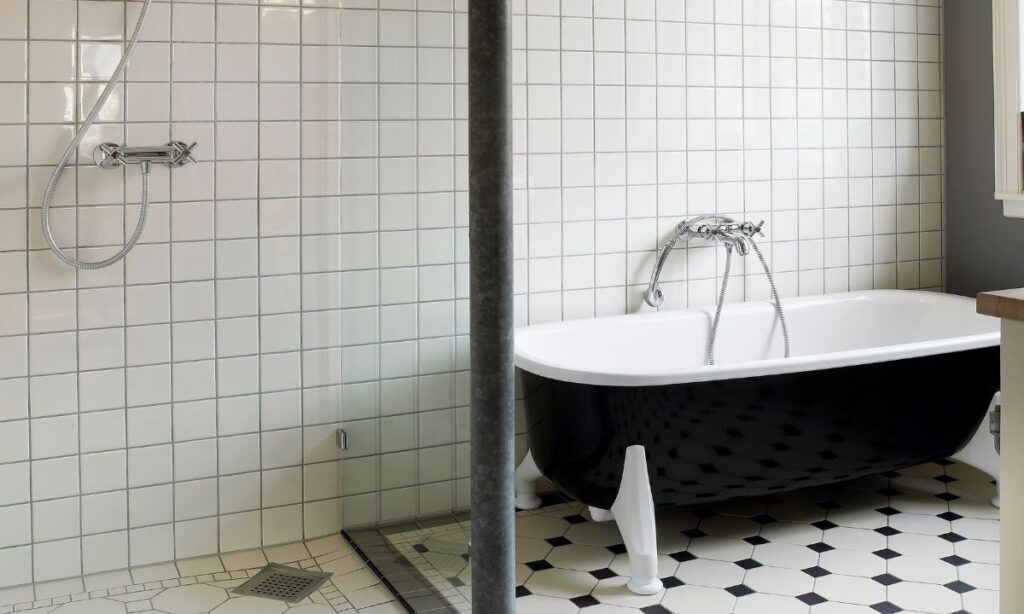 Instead, try antique Terra Cotta tiles. They have been a rage for a while and bring in a new vibrancy with their colored variety and structured ambiance.
Related: 14 Ways to Design a Chic Bathroom with Tile
2. Jetted Bathtubs
Although there are conflicting opinions on this issue, one thing is for sure: The era of oversized jetted tubs is over. In fact, tubs have already overstayed their period and are more of a style statement in your bathroom than being actually useful.
On one hand, people who still like tubs have been going gaga over colored clawfoot tubs as they add a fresh twist to the classic tub. These tubs are painted on the outside whereas they retain the porcelain texture within.
On the other hand, there is a growing trend of replacing the tub altogether. The fixture occupies substantial space in the bathroom — space which many want to free up when they remodel their bathrooms.
So which way do you go? We personally vote for the colored clawfoot tubs, especially if you have a big master bathroom. Even financially speaking, that is a wiser move as removing a luxurious fixture such as the bathtub may not go down well with the potential buyers when you resell.
Realtors claim that there are a number of homeowners who show a penchant for having at least one tub in the house — and that should definitely be something to consider when you make the final call.
3. Floating Sinks
Floating sinks might have created an ultra-luxe appeal in your bathroom once; yet they are gradually moving out of many homeowners' preferences.
For one, most bathrooms do not have the kind of space these sinks command. Although they are exquisite in form and function, they take A LOT more space than their peers and are almost exclusively suited for master baths and statement vanities.
Besides they are tougher to maintain owing to their inherent design. Most of the time, they are installed in a peculiar way and any slight rise in the water pressure can make the water splash all around. Not exactly conducive to a decent bathroom's ambiance now, is it?
The growing trend is to skip them and opt for wall-mounted vanities instead, for their suave and practical aesthetic. These vanities also contribute towards the use of more natural materials, additional storage, etc in the bathroom.
4. Hanging Chandeliers
We realize that those hanging chandeliers have been a part of your bathroom experience to the extent of making you feel nostalgic… but it's time to let them go.
With the onset of minimalistic design, these bulky fittings have now given way to light and defined fixtures like globe pendants or drop lights that glow like the moon. These lights not only create an impeccable impact awash with defined elements in your bathroom but are also set to replace the chandelier with their presence altogether in the coming years.
5. White Marble
White is eternal. It will never be out of style and lose its ethereal appeal. Yet, most of us are gripped with the feeling that we have been overexposed to white lately and need a serious break.
Not that we have ceased to love the color, but we REALLY need to look elsewhere to break the monotony. This accounts for the gradual turn to more vibrant colorful options in stones in the shades of blue, red and even black.
When it comes to the walls in the bathroom, those done up bland with all-white tend to become boring too. Anything that is overdone definitely needs a bit of balancing out– be it white subway tiles or stone in Carrara, or a simple white paint. If you must, you can try to add some color to break the monotony if you still want to retain some elements from your previous white bathroom.
For instance, Black glazed tiles serve as a striking defined backdrop — replacing the staid white with a more dramatic presence in the bathroom. The all-white look can also be contrasted with splashes of black for an ageless aesthetic scheme.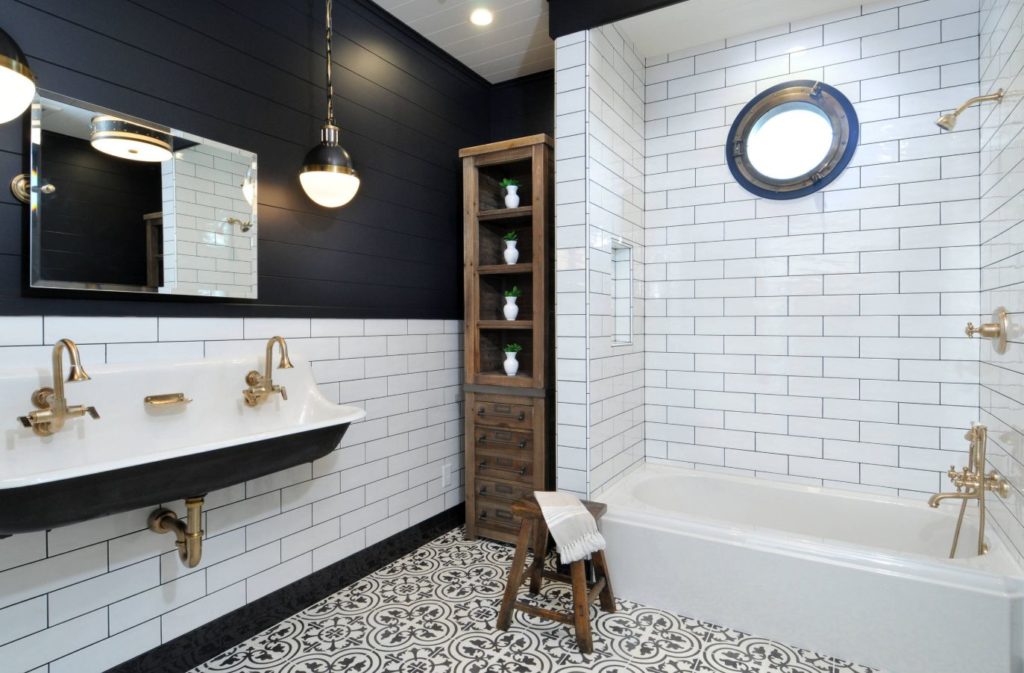 6. Cement Tiles
This trend is hot at the moment, yet is expected to fizzle out soon enough.
Although these cement tiles have been characterized as having unparalleled depth and texture, they have been SO overused in 2021 that people are getting sick of seeing them everywhere.
Besides, these tiles are not only expensive and difficult to maintain, but also get stained within hours of installation. In the same vein, over time, the stain develops into patina which may lend it a weathered look too. They may look beautiful when new with the fused patterns but overall, seem like a huge waste of money.
Instead, materials like porcelain, glass, natural stone tiles are finding favor with the homemakers. As the new year approaches, we are certain that cement tiles are not a good investment and should definitely be left behind with 2021.
7. Small Wooden Planks for Flooring
Small wooden planks as a flooring in the bathroom are predicted to go extinct by 2022.
Instead, large format tiles are gaining favor. These tiles add dimension and depth to the space and give you fewer grout lines to contend with.
8. Fleeting Designs
The basic design of the bathroom too has gone a makeover. Geometric angles and vintage colors are beautiful but are set to be replaced soon enough by transitional bathroom designs.
The transitional design is a blend between traditional and the clean-lined look of modern design — and is predicted to be a hit in the coming year for its unique features.
9. Stained Bathroom Cabinets
In 2022, Stained cabinets will be replaced by natural wood tones.
The wood creates a statement when coupled with light tiles and natural textures like bamboo. The final result is a bathroom that resonates with a spa-like ambiance…and who doesn't love that in a bathroom, right?
1o. Carved Mirrors
Mirrors with a lot of carving around them are a cleaning nightmare. With countless nooks and corners — they are an easy prey to dust and not an easy accessory to handle. Besides, these are the times of minimalistic design mapping — and they definitely don't fit in.
Instead, frameless and metal framed mirrors are in and are predicted to go a long way in the coming years.
Also Read: 7 Bathroom Remodel Ideas to Look Out for