Do you walk into your kitchen and feel as if you've traveled back in time? Well, you're not the only one. Most older homes have a very dated kitchen. While your living room has a smart Tv plugged in and the bedroom has high-definition speaker, your kitchen can't lack a contemporary vibe too. It only makes the most important part of your home stick out like a sore thumb.
While it's safe to say that kitchen is where the heart is for most families, it is the most important space in your house even financially. A kitchen is the first thing a potential homebuyer considers before buying a place, and it's the kitchen remodel that fetches the highest ROI too.
Now, the problem is not entirely about aesthetics in case of older homes. In fact, they are often less than functional too. That's because many design choices of old kitchens are unsuitable for a modern household. For instance, many old kitchen designs had less counter space because they did not have many appliances. If you consider today's appliances, many of those come with devices of their own (Yes, Alexa, we're looking at you).
Times have changed too. Modern women don't exclusively have to tend to homes; so both partners need something that gets the job done quickly. Because life's so fast-moving now, you gotta have technology on your side. Especially if you want to juggle work and family life efficiently.
So it's fair to say that a contemporary kitchen is a welcome addition to most homes. It makes life easier and more organized. But hey, you gotta do it right. You have to keep in mind what aesthetic you want and what functionality you need. To make it simpler, we have put together a list of 8 easy steps that can help you design a fully-functional modern kitchen today.
1. Embrace Minimalism as Chic
One of the distinguishing factors of a contemporary kitchen is that it embraces a minimalistic and sleek design. It doesn't have to be minimal. It just has to look like it is. We don't want you to compromise on storage or other critical functional aspects either. There is a way around it.
For instance, having a white kitchen gives it a minimalistic appeal and instantly brightens and lightens your space. It also gives it a spacious appearance. In fact, white is evergreen and always remains in demand too. So consider using white cabinets and countertop for a kitchen that's both contemporary and timeless.
2. Make Way for Natural Light
When it comes to adhering to a minimalistic theme, natural light plays a huge role. Natural light can open up space and make any kitchen look more spacious than it is. In modern homes, especially in cities, kitchens are quite small. Hence, if you want to give your kitchen a contemporary twist, consider making arrangements for abundant natural light.
If you combine this with an all-white color scheme, you will be looking at a minimal yet spacious contemporary kitchen.
3. Keep Your Cabinets Sleek
Unlike other kitchen designs, contemporary kitchen design is all about subtlety.
The minimalist approach is especially important when it comes to kitchen cabinets. Especially because they are the priciest component of the whole space. So, their adherence to the design theme is indubitably very important from an aesthetic point of view too.
Steer clear from ornate designs and stick to sleek, matte, and sophisticated cabinetry. Doing this will give your kitchen an elegant appearance.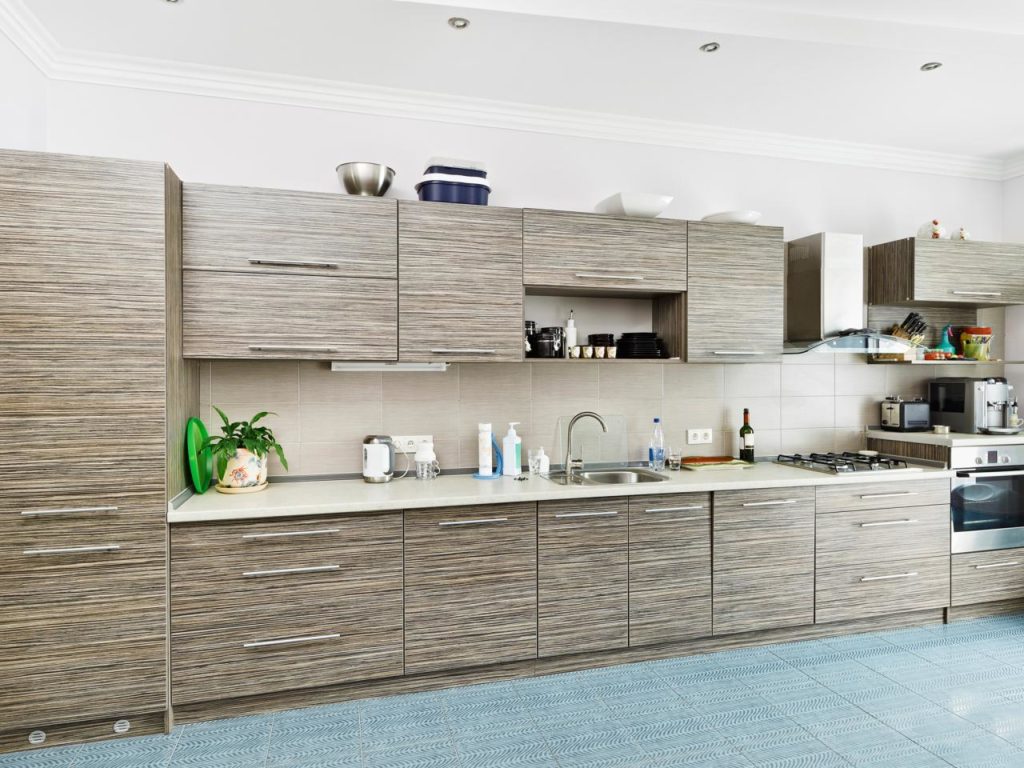 4. Create a Social Space
Older homes had dedicated spaces. There was the kitchen, a living room, a dining room, a few bedrooms, and so on. Modern dwellings do not have that luxury, given space constraints.
This explains the ever-rising popularity of open concept kitchens. Open kitchens blend well with contemporary life but may also be just what you need to include a place to entertain too.
Take your breakfast counter as an example. It acts as a barrier between the kitchen and your living room. Instead of an obstacle, it can act as something more transitional if you set up pub chairs or bar stools adjacent to it. Not only does it encourage interaction, but it also makes the kitchen and your house more social.
5. Include Open Kitchen Shelves
Contemporary kitchens are all about the open concept. Right from the space itself to minute details, you have to embrace the 'openness' of it all — or at least be 'open' to new ideas. One such approach is to use open shelves.
Removing the doors of your upper cabinets and keeping the shelves as-is is a good starting point. Open shelves serve two goals, the first being storage. The second one is that they act like the decor in your kitchen and give it some character.
6. Add a Touch of Drama
Although contemporary kitchen design is about being subtle, there's always room for some drama here and there. Do not shy away from introducing some color here and there. You can do this easily by adding colorful chairs, some bright cutlery, or even colored decor pieces.
Drama doesn't necessarily mean including bold and bright colors. You can use detailed kitchen countertops as well to have a focal point in the kitchen.
7. Express Your Personal Style
Your kitchen is an extension of your home and yourself. When it comes to remodeling your kitchen and giving it a contemporary twist, it is imperative that you also introduce your personality in it.
For instance, you can hang your favorite painting, use flowers, leave some knick-knacks here and there, etc. The overall aesthetic of a contemporary kitchen is quite muted in comparison to other designs. However, it is also the perfect opportunity to showcase your personality and have it stand out without being overshadowed by other things in the space.
8. Introduce Some Timeless Elements
You can never go wrong with having a classic touch in your kitchen. Few design elements stand the test of time, and one of them is having clean and crisp cabinetry. What does this mean? Think handleless cabinets, sliding cabinets, push cabinets, etc.
While the style may be modern, it is undoubtedly timeless. Incorporating sleek elements in your kitchen will give it a look that's bound to last a lifetime. Every kitchen has its characteristics, and different elements bring a different vibe to the table. Incorporating sleek and modern cabinets is the perfect way to nail a contemporary kitchen design.
Conclusion
Contemporary kitchens are sleek, minimalistic, and elegant. A modern kitchen brings together functionality, design along with an artistic flair. When it comes to designing the contemporary kitchen of your dreams, it is essential to do what speaks to you.
Adhering to the mentioned characteristics of contemporary kitchen design and adding your spin to it will give you a kitchen that you will enjoy spending your time in.