Did you know that most kitchen remodels recoup 50% to 70%+ of the total cost? The figures suggest that kitchen remodeling is one of the best improvements you can have for a home. You enjoy your new kitchen with enhanced functionality and aesthetic appeal, and save a good amount of money for the future at the same time. But how does your kitchen remodel cost add to your home value? Technically speaking, how do you get a good return on investment (ROI) on your kitchen remodeling?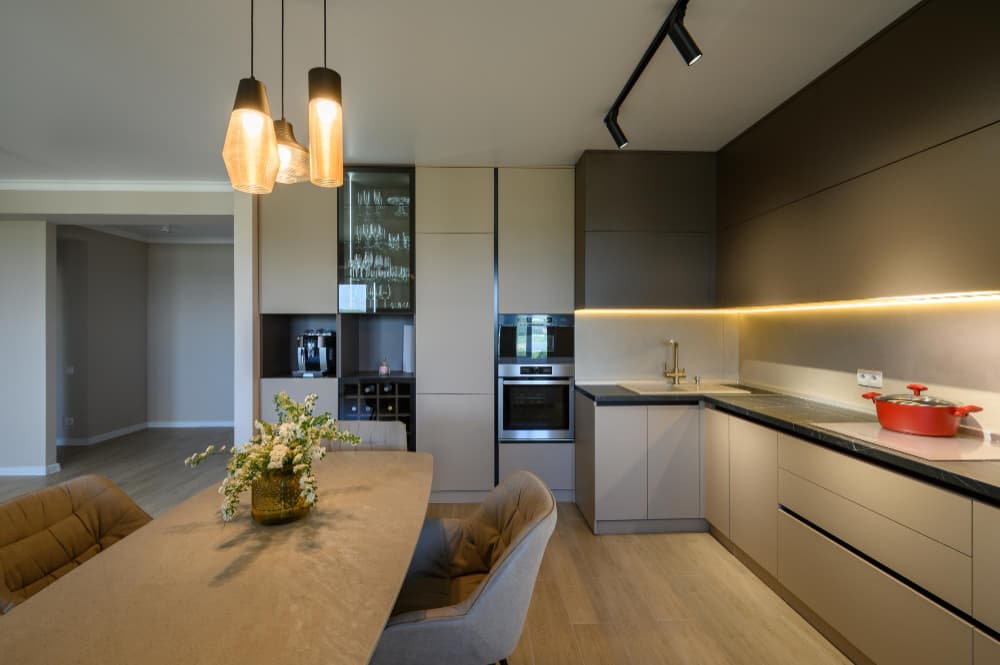 In this article, you will understand ROI, how it is calculated, why it is important for kitchen remodeling, and why it is important. Also, you will find key takeaways on the factors affecting the ROI and practical tips to maximize its added value to your property.
What Is The ROI On A Kitchen Remodel?
A kitchen remodel involves a great variety of upgrades such as painting/refacing or replacing cabinets, installing new plumbing, electrical, or ventilation systems, changing the countertop, or updating faucets.
Whatever the work required in your kitchen, you should consider the kitchen remodeling cost and how much your remodel project can increase the resale value of your home potentially. Surveys show that a well-planned and maintained kitchen remodeling can boost the resale value of the property by up to 80%. It is a very good amount of ROI, which can make you forget about all the expenses, time, and energy you spend earlier.
How Is ROI Calculated For A Kitchen Remodel?
ROI is usually expressed with a ratio or percentage. You can find the ratio first, and then calculate the percentage if you think it makes more sense to you. Here are the steps:
Find Your Net Return On Investment
The net return on investment is the difference between the value of your home after the remodeling and the value of your home before the remodeling. So, you can follow this formula:
Net return on investment = final value of investment – initial value of investment
Find Roi Ratio
Now, you know your net return on investment. The next step is to put your cost of investment into the calculation. Now, divide the net return on investment by the cost of investment. Here is the formula:
ROI = net return on investment / cost of investment
Roi Percentage
It is often more practical to express ROI in percentage. You can follow this formula to find your ROI in percentage:
ROI = (net return on investment / cost of investment) × 100 percent
That's it! You can calculate your own ROI and discuss it with your family and professionals in the business.
Why Is Return On Investment (ROI) Important In A Kitchen Remodel?
Return on investment (ROI) is extremely important for homeowners since it factors in the extent of a kitchen remodeling project and home resale value at the same time.
Homeowners having functional or aesthetic problems with their kitchens can get an estimate of kitchen remodeling cost, and then calculate the ROI. Seeing the ROI, they can make more educated decisions on the kitchen remodel. Accordingly, they can just go for the plan exactly as it is, make some adjustments to the project, or quit the idea of having a kitchen remodel.
The national average for ROI is around 54% for major kitchen remodeling projects. For smaller projects, it can climb up to 81%. Also, reports show that 58% of the buyers' decisions are affected by the kitchen style. Therefore, we can conclude that a well-planned kitchen remodel is good for both sellers and buyers.
What Are The Factors Influencing Kitchen Remodel ROI?
Some factors influencing ROI are listed here:
Material quality
Material durability
Layout design
Layout functionality
Sustainability
Energy efficiency
Aesthetic appeal
Local market conditions
What Types of Kitchen Remodels Generate the Highest ROI?
There are 3 different kitchen remodel types based on the project size. The table below illustrates the kitchen remodel types and their average ROI estimates.
| | | | |
| --- | --- | --- | --- |
| | Average Cost | Return | ROI |
| Minor kitchen remodel ROI | $21,198 | $17,193 | 81.1 % |
| Midrange major kitchen remodel ROI | $63,829 | $37,637 | 59 % |
| Upscale major kitchen remodel ROI | $125,721 | $67,212 | 53.5 % |
As can be seen in the table, a minor kitchen remodel tends to generate the highest ROI.
How Does a Kitchen Remodel Impact Home Value?
The table above shows that a kitchen remodel can recoup more than 80% of the remodeling expenditures when you sell your home. Aside from that, the result of a recent survey shows that 80% of potential buyers consider the kitchen as one of the top three important places in a house. Also, 69% of people who have recently bought a house stated that they would have paid more for the same house if there had been new appliances in the kitchen. Of the same group of participants, 55% said they would have paid more for granite counters.
It is obvious that an updated kitchen attracts potential buyers and encourages them to pay higher. On the other hand, having a kitchen remodel just for the sake of added resale value is not a good idea. Remember that a good kitchen remodel project should solve a critical functional or aesthetic problem.
How Can You Maximize Your ROI When Remodeling a Kitchen?
Here are some tips to maximize your ROI during a kitchen remodel:
Remember that small-scale updates bring higher ROI.
Color and style match your appliances.
Eliminate minor functional and visual problems such as fixing lighting problems or refreshing the grout around the sink.
Reface the cabinets.
Fix the problems with plumbing and electrical.
Replace your dated flooring with a durable and modern option.
Get professional help.
Where Can You Get Professional Help for Your Kitchen Remodel?
Some web services list professional kitchen remodelers, contractors, and designers in your neighborhood. You simply click the service you need and enter your ZIP code, and they show you the list of professionals near you.
Two prominent web portals offering this service are Houzz.com and Angie.com.
Conclusion: Is a Kitchen Remodel Worth the Investment?
A kitchen remodel is sure to increase your comfort and safety in your home while adding a remarkable resale value. A well-planned and maintained kitchen remodeling enhances functionality, eliminates perpetual problems, and attracts potential buyers. If you decide to sell it in the future, it offers you a huge ROI.
All in all, a kitchen remodel is worth the investment since it pays off in several ways.