In today's time, small bathrooms are more or less the norm, especially if you live in a city. How does one remodel a tiny bathroom to look more airy and modern? With the right small bathroom remodel tips on fresh color palette, designer countertops, and strategic planning can help you achieve a seamless style that stands out for years to come.
The rise in real estate and lack of space has made many homeowners settle for teeny-tiny bathrooms. Your average bathroom has room only for a tub/shower, vanity, and toilet.
It's a common misconception that small bathrooms are less expensive to remodel as they're more or less the same as a regular one. They require a similar number of fixtures, lights, tiling, and accessories like any other bathroom.
However, in terms of the amount, effort, and time, a small bathroom remodel costs almost 75% of a master bathroom. You can still find several small bathroom remodel tips that are quicker, easier, and less expensive.
It must often seem challenging to remodel a small bathroom, but you can create your own paradise with updated trends and minimal styles. You can include trendy design choices, neutral colors, and smart storage solutions to open up space.
Realistic Planning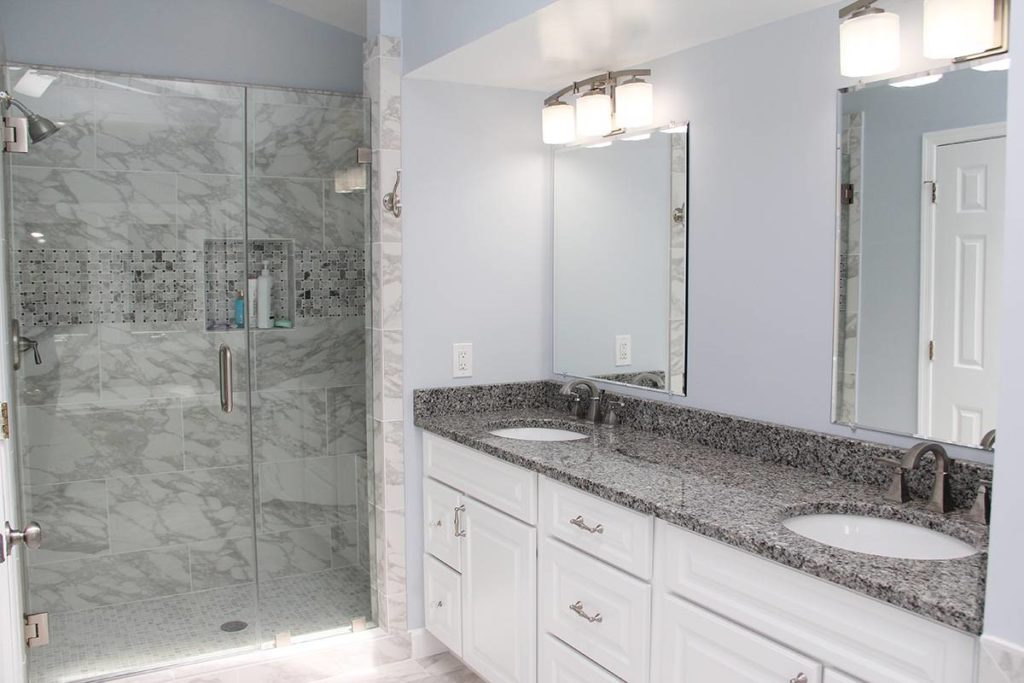 Regardless of size, you can design your bathroom to full capacity. You can transform a small bath space into a powder room, guest bathroom, and a full bathroom too. With accurate planning and careful considerations, a proper plan of action will help you achieve real results. In fact, you can have a full bathroom with all the amenities; sink, shower, vanity, toilet, and more despite its size.
If you're remodeling a powder room, it needs a sink, toilet, vanity, and a few accessories. You can remodel a powder room without any hassle, as it requires little amenities and fewer fixtures.
You're also not in a time crunch as it's a secondary bathroom. You will have your master to fill in while the small bathroom is getting a face-lift. However, in smaller apartments, you might have to set strict timelines before finalizing your remodel. Contractors and plumbers can take up a lot of time if you don't have a clear plan. It's best to have these stated and highlighted in your contract beforehand.
Similarly, make sure you don't skimp on the quality here, as you'll be using your bathroom day in and out. Choose materials that are durable, budget-friendly, and chic.
Time Waits For No One
There's no denying that you need to think about the cost when looking for any small bathroom remodel tips. A good idea here is to remodel it in phases as it will cost you way less.
This happens because you'll need a few extra hands when you have limited time and a dozen things to do. Apart from the general contractor, you'll need subcontractors to take care of the plumbing, electrical, tiling, etc.
This is the only way you'll be able to achieve something extravagant on a time crunch. With their skills and experience, they can help you transform an outdated bathroom into your very own luxurious sanctuary.
Alternatively, you can choose to supervise the remodeling yourself. Generally, this is more stressful and can lead to a slower outcome. General contractors have everything you need on hand and can guide the other professionals accurately and more efficiently.
Choose Between DIY or Professional
If you have a strict budget, hiring professionals can save you a ton of money and time. On the contrary, if you're a skilled DIY-er, you can do some work yourself to reduce the costs.
It is a great way to bond with your friends and family. You can put all your skills to use and allow a few days of research to prepare everything. This way, you'll be able to stay on top of things and control the process.
Remember, this may seem exciting, but it will take longer for an amateur to remodel a small bathroom. So, if you're not in a hurry, start small and get those creative ideas out.
Tile and Flooring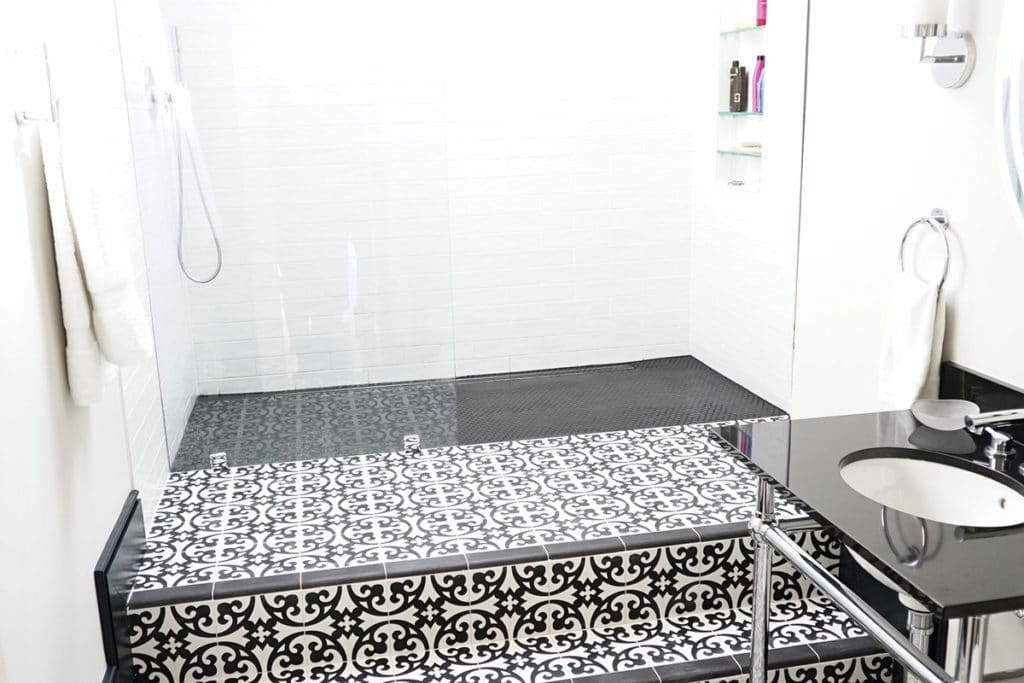 Be it a small or large bathroom, tiles are an essential aspect of a bathroom remodel. On that note, tile and flooring can also take up most of the budget. Ceramic and porcelain tiles are often the best choice for a small bathroom remodel. They're cheap, durable, water-resistant, slip-resistant, and free of mold and mildew.
You can use ceramic and porcelain tiles for the shower wall as well as the floors. You can even use a statement tile design like a mosaic tile and take it up to create an illusion of height.
But tile can be very tricky to install. Some tiles come with strict instructions, and you need professionals to install them. If you still choose to DIY-it, it can be the most satisfying feeling ever.
Most DIY-ers even stencil out the designs on their old tiles to create something radical and new. This does take a few tries and the best YouTube videos to nail the design.
Similarly, ensure that you check out for discounts and sales when buying your materials. You'll be able to save money without having to do much. Most home improvement stores have a half-off section for you to find your desired tile design.
Pay Attention To The Color Scheme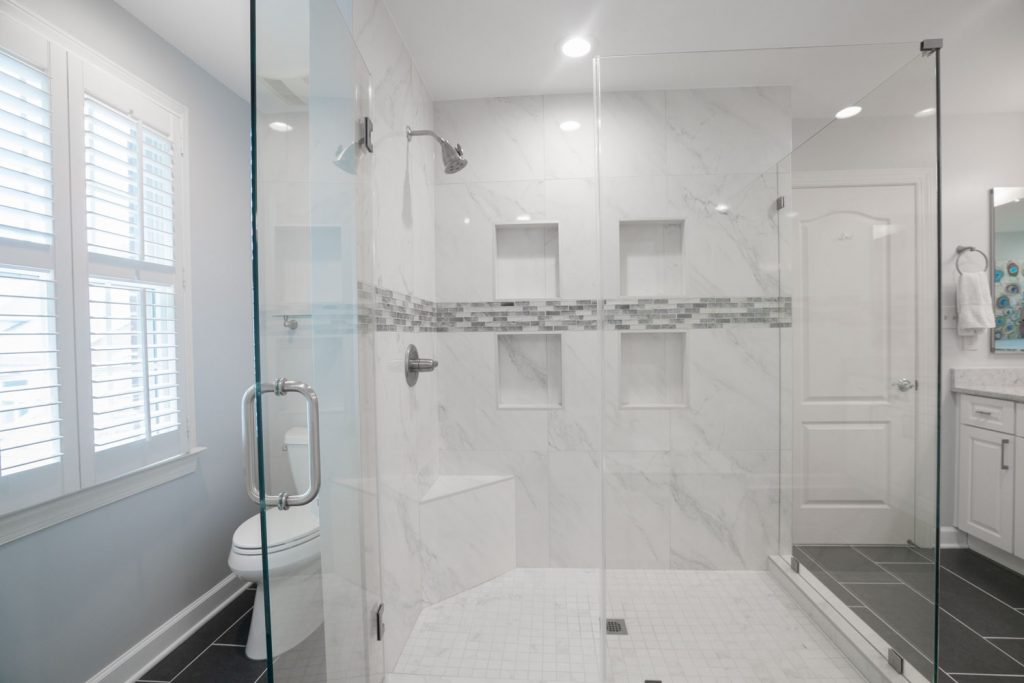 When working with a small bathroom remodel, stay clear of dark hues and contrasting colors. You can incorporate a monochromatic color scheme for a modern, fresh vibe.
You can opt for warm beige, ivory, soft grays to brighten up your small bath space. Do you think these colors are not for you? Try some new additions like pastel green, ice blue, and more.
What pairs best with neutral walls are, of course, all-white cabinets. This will truly open up the bathroom space and bring everything together as you work on the finishing touches.
While the overall color scheme is strictly neutral, you might want to add a splash of color. One can do so by placing brightly colored accessories across the small bathroom for that flair. Metallic faucets, bold colored towels, abstract soap dispensers, wicker baskets, etc. can inject some color into your small space.
One good thing about following these small bathroom remodel tips is that you can update any bathroom easily without doing much. If you're tired of the colors, simply replace the accessories, and you'll have a new, fresh-looking bathroom all over again.