Bathroom vanities, particularly a master bathroom vanity, are the focal point of a bathroom, and many homeowners agree. For example, a recent Houzz survey revealed that 76% of homeowners upgrade their vanities during a major bathroom remodeling. Some of them prefer understated decors choosing wood tones, while others go with bolder pops of colors.
We can understand at least one thing from this survey; people are not overlooking their vanity in their master bathroom nowadays. It seems people have come to understand that choosing the right master bathroom vanity will add beauty and character to their bathroom space when alongside their shower, bathtub, floor tiles, and wall tiles. But how can you choose the perfect master bathroom vanity for your bathroom? It can be an immense challenge if you are not familiar with this type of home renovation.
In this post, we are presenting you with the ultimate guide to make your master bathroom vanity perfect. Firstly, in this article you will find a decent amount of information about master vanity types, styles, and materials. Then, we will give you some tips on how to make the right choice for your space, followed by how to install a bathroom vanity. After that, you will learn the approximate costs of replacing a master bathroom vanity. Finally, we will share key maintenance requirements so you can enjoy your vanity for many years to come.
What are The Types of Master Bathroom Vanities?
As stated above, the master bathroom vanity is the focal point in most bathroom designs. Therefore, choosing the right design is very important. Typically, a bathroom vanity features a sink, countertops, cabinetry and drawers, as well as plumbing fixtures. However, there is a huge variety of vanity types and master bathroom vanity styles addressing different needs and tastes. Here, you will find the most common types of master bathroom vanities to give you a better idea.
Single Sink
A single sink vanity is ideal for smaller bathrooms or powder rooms, though they can come in various sizes. A single-sink master bathroom vanity can save significant space without having to sacrifice aesthetic beauty. You can find a variety of size and style options addressing the different functional and aesthetic expectations particular to your needs.
Double Sink
As the name suggests, a double-sink vanity is ideal for couples since it allows two people to get ready at the same time. Some double-sink vanities can be more substantial in larger bathrooms, and thus, they provide more space on the counter and more storage. The internet is a great place to find more inspirational ideas for master bathroom double sink vanities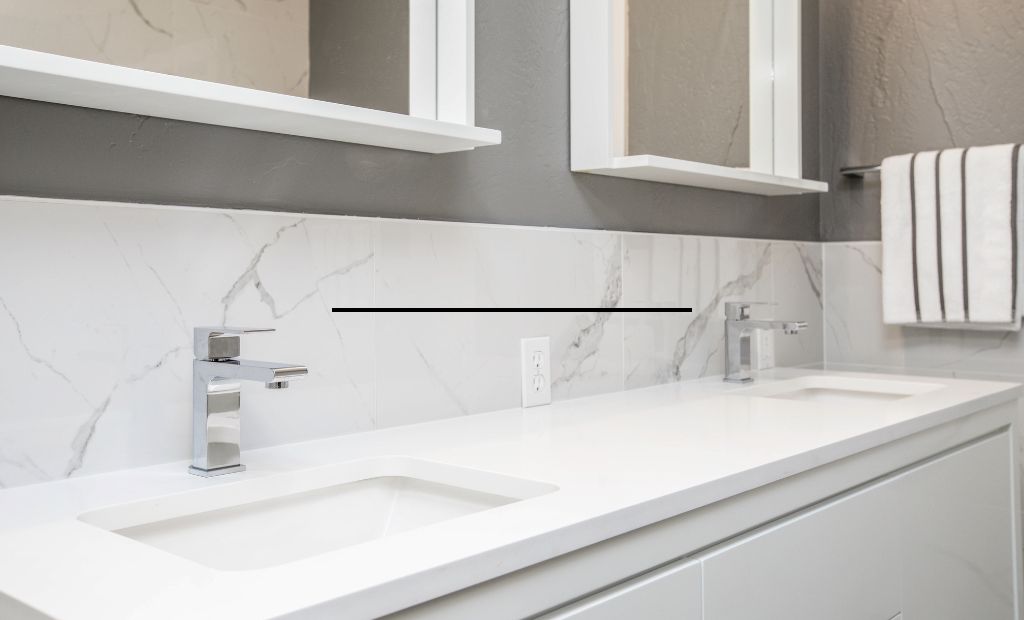 Wall-Mounted Vanity
Wall-mounted vanities, also called floating vanity or wall-hung vanity, are fixed onto the wall. They stand free from the floor and don't usually have storage underneath them. If you want a modern and sleek appearance and don't need extra storage, a wall-mounted master bathroom vanity can be the best choice for you.
Freestanding vanity
A freestanding vanity stands on the floor with relatively plentiful storage. It rests on the wall and hides the plumbing, so you can enjoy a less cluttered view. They are often larger scale, as well as being different in style, material, and color. Though they take up larger floor space, it is a good choice for those seeking extra storage at an affordable price.
Corner
A corner-type master bathroom vanity can be a brilliant solution for a half bath, a smaller bathroom area with no shower or bathtub. A corner vanity is an excellent space saver with reasonable storage. It is usually custom-made with regards to the exact measurements of the corner space.
What are the Style Options for a Master Bathroom Vanity?
The different types of master bathroom vanity address different functional expectations. However, the function is not the only criterion for homeowners. The artistic style also matters. Here you can see the three most common bathroom vanity style options.
Traditional Master Bathroom Vanities
Traditional master bathroom vanities bring an antique European feel to today's interior designs. The ornate design is usually dominant on the entire vanity set. Mirrors are the focal point with their ornate metal or wood frames. The cabinetry is usually made of classic hardwood, and has ornate trays for bathroom accessories.
Modern Master Bathroom Vanities
Modern designs are defined by one or more of the following words: simple, clean, sleek, sparse, and minimal. As for master bathroom vanity styles, the concept is reflected through neutral colors and airy cabinetry with a less cluttered look. It is also common to see legs carrying the sink instead of cluttered looking cabinets or drawers.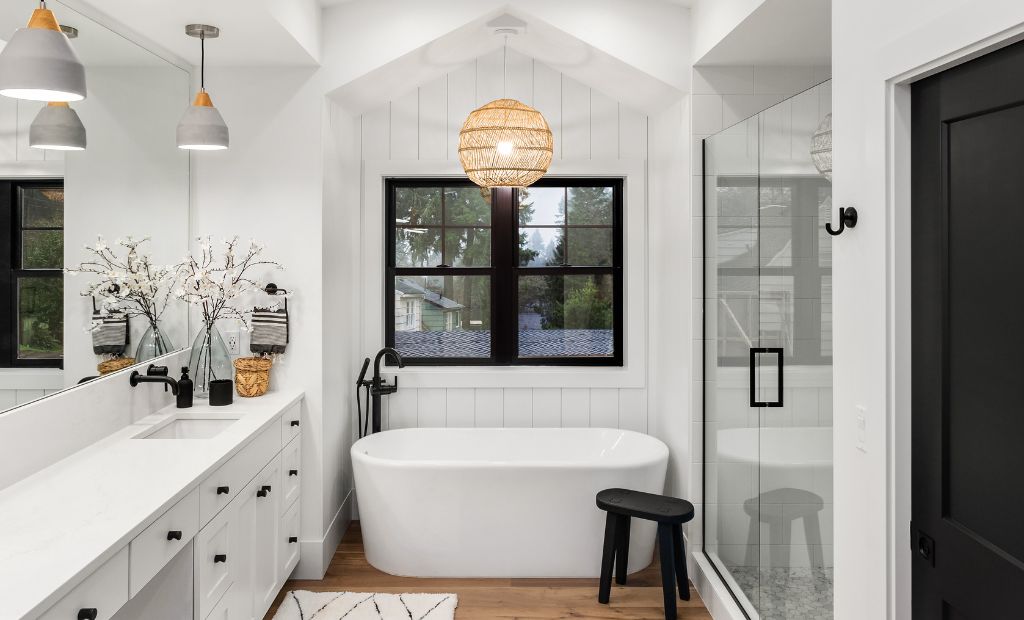 Rustic Master Bathroom Vanities
Rustic style is characterized by organic decorations that embrace all the imperfections of natural materials. In a master bathroom vanity, the idea comes to life through bleached and weathered cabinetry. The surfaces are usually matte, and the lighting is warmer, provided by fixtures made of natural materials. You can find interesting bathroom lighting ideas for rustic bathroom decors anywhere on the internet for inspiration.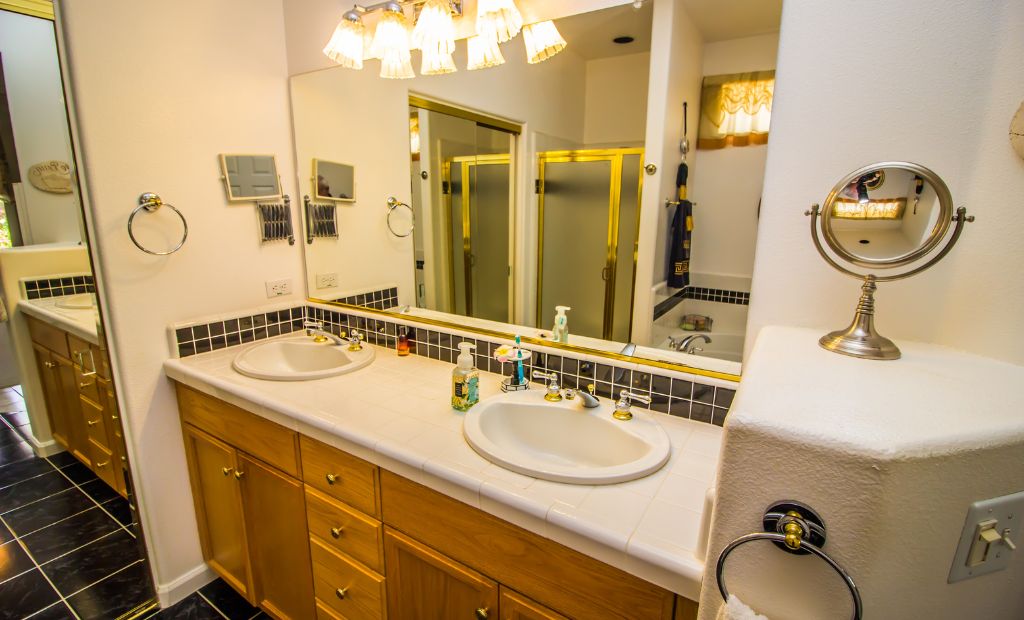 What are The Material Options for Master Bathroom Vanities?
Master bathroom vanities are expected to last for a long time without compromising style and functionality. Also, maintenance is a big concern for many homeowners. Thus, what material the vanity is made from is an important factor. Knowing about the different vanity materials will help you make your mind up when it comes to choosing the right vanity for you. Here are a few vanity types made from different materials:
Wood Master Bathroom Vanities
Wood is the most common material that you will see in cabinetry. There are vanities with wood counters and even sinks. They may or may not have cabinetry underneath them. Wood adds a natural and warm feeling to your bathroom. Wooden master bathroom vanities are beautiful looking, but they need to be oiled, varnished, or sealed periodically in order to last for years. Therefore, they may not be the best option for those seeking a low maintenance material.
Marble Master Bathroom Vanities
Real stones, like marble, have always been a sign of luxury and glamor. As for master bathroom vanities, marble usually includes only the countertop rather than the cabinets. However, there are floating vanity designs that are made entirely from marble. Marble vanities can make your bathroom space look more spacious and brighter, however, since marble is a porous natural stone, you need to seal the surface to maintain its perfect condition.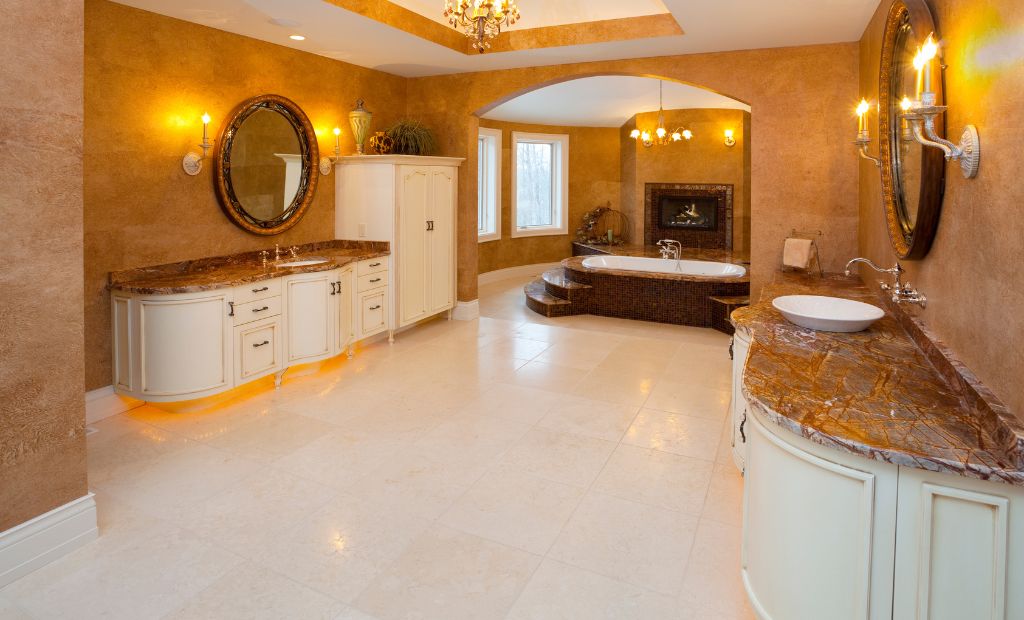 Glass Master Bathroom Vanities
If you want to have a really different and striking master bathroom vanity, then glass is the way to go. Thanks to their clean and streamlined look, glass vanities help you enjoy the minimal and contemporary style to the fullest. Especially when integrated sink designs maximize the aesthetic and design potential.
How to Choose the Right Master Bathroom Vanity?
Regarding the above-mentioned vanity types, styles, and materials, you might think choosing the right master bathroom vanity is an even more complex decision now. Just relax; you don't need to be overwhelmed by the abundance of options. The following points will help you understand how to narrow down the options. Read each criterion carefully and take notes.
Size and Space
As you can imagine, larger and smaller bathrooms will need vanities in different sizes and shapes. Consider your own bathroom area and try to estimate your storage needs as well as the space available for countertops. Depending on the total square footage and storage needed, you can focus more on convenient options for now.
Style and Design
This is a highly subjective choice. However, you can help yourself by determining whether you would like to keep your bathroom style consistent with the rest of your home or do you want to be more adventurous with your master bathroom vanity? It is the most private part of your home, so why not go bold? Depending on your choice, you can easily make a shortlist of potential vanity designs and styles.
Material and Durability
Homeowners have a broader selection of master bathroom vanity materials now than ever before. So, you should assess each alternative regarding your needs and expectations. If durability is your top concern, opting for vanities with stone surfaces, such as marble, quartz, or granite would be better for you.
If you are on a budget, laminate vanities are ideal due to their affordable prices. For some people, aesthetics, and style come first. For example, the luxurious feeling of glass or the warmth of wood may be indispensable to you. Thus, you will have to make a more aesthetic-based judgment call.
Storage Capacity
There are always things to store and hide in bathrooms, regardless of their size or style. Consequently, storage capacity is another concern for many homeowners. If you think you can find alternative storage options in other parts of the bathroom or home, you can forgo it and choose a vanity with little or no storage. However, if you are fond of practicality, you may wish to have your bathroom stuff (towels, perfumes, hygiene products, toiletries…etc.) at easy to reach places. If so, then you will probably prefer vanities with more storage.
Plumbing Considerations
Plumbing can be a great concern for those wishing to have a double sink vanity in their bathroom. If you want to have a master bathroom vanity with a double sink, you should check if the plumbing is feasible with your plans. Also, some people don't like to see pipes and other fixtures exposed under the sink. Those people should seriously consider vanity types with coverage under the sink. Usually, coverage is made possible with cabinetry under the sink and countertop above, but some stone and tile work can do the same job in some cases.
How Much to Replace Master Bathroom Sink and Vanity?
According to HomeAdvisor, replacing a bathroom vanity should cost anywhere between $300 to $3,800. Various factors may have an impact on price, including but not limited to:
Size and shape of your vanity space.
Whether it is a prefabricated or a custom-built design.
Countertop and cabinet materials.
Whether it is a single or double-sink vanity.
Plumbing work, including the fixtures.
Note that if you are having a full bathroom remodel in your home, you may find lower prices for the vanity replacement since the cost of the vanity will be included in the overall bathroom remodeling cost.
How to Install a Master Bathroom Vanity?
Installing a master bathroom vanity can be a DIY job if you buy a relatively lightweight prefabricated vanity and there is someone else to help you with installation. They are usually smaller laminate vanities with a single sink to be installed using the existing plumbing. However, due to the vanities' material types and complicated designs, most vanity installation jobs require professional help.
You can get professional help from your local contractors or from the stores where you bought the vanity. If it is a full bathroom remodeling project, replacing the vanity is already part of the renovation, and usually, the contractor does all the work in your bathroom. If it is only the replacement of your master bathroom vanity, then you can ask the store you purchased from if they have an installation service, and typically the service fee is included in the price.
Working with a professional has a lot of benefits. One of the most remarkable advantages is that getting professional helps ensure better safety during the procedure. This refers to the safety of you and your family members, the safety of your home, and the safety of your new master bathroom vanity. Also, professional contractors can give you valuable tips on design, so you can avoid bathroom design mistakes. Moreover, they can give you good advice on different vanity materials and their required maintenance so that you can get the most out of your new vanity.
KBR is a local contractor that you can ask for help when it's time to replace your master bathroom vanity, as well as many other home remodeling services. KBR is making homeowners' dreams come true in Northern Virginia, Maryland, and Washington, DC. Just drop by one of our stores or contact us via telephone or email in order to enjoy a hassle free transformation of your home.
How to Care for a Master Bathroom Vanity?
Upkeep of a master bathroom vanity is of critical importance. If you follow proper maintenance and cleaning routines, you can ensure that you will be using your vanity for a long time. Here are a few maintenance tips for you:
Wipe away any spills or stains as soon as possible.
Use a soft cloth or towel paper.
If you have drawers, keep their track clear of any debris.
Check for leaks and other plumbing problems regularly.
Although there are simple and effective tips that you can follow, you may still need professional help for more comprehensive care. For example, the problems with the cabinetry doors or drawers, and more seriously, plumbing issues with the system or fixtures, should only be fixed by a professional. They can also give your pipes a thorough cleaning when needed without damaging the other parts of your vanity.
Conclusion
To conclude, all we can say is that replacing your broken or outdated master bathroom vanity for a more modern one will most definitely beautify your bathroom. You can get this renovation as part of a full bathroom remodeling, or as a partial upgrade. As for choosing the right master bathroom vanity for your place, you are now better equipped to make that choice by taking these guidelines and your bathroom remodel budget into consideration.