It's quite easy to confuse a traditional kitchen with "country" or "old world". But traditional kitchens have this indescribable quality to them that makes the design all the more alluring for many.
Personally speaking, I love the idea of a traditional kitchen design. While the whole world is out there going after cubes and squares and clean lines — you can do something totally different, and kill at it. In the world obsessed with minimalism and a kitchen that gives off a very cold, nonchalant vibe — why not have a kitchen with a certain warmth to it?
That being said, I also believe in creating fusion design schemes. Traditional is warm and cozy, but contemporary is a matter of class in the present times. You can imbibe both those qualities with a fusion design scheme that focuses on simplifying certain design elements for a modern touch.
In this blog, I will show you exactly how to do that. Here are some ideas to create a traditional kitchen for an 18th-20th century aesthetic:
1. Glass-Front Cabinets
There can be something really mesmerizing about having glass-front cabinets in your kitchen. Why? In a traditional kitchen, cabinets also double up as ornaments of the kitchen. The very idea of turning something that is supposed to be just a storage unit into something to look at and admire — is what makes a traditional kitchen striking.
Think of it this way, that storage container you bought is now a part of your kitchen decor and not just there to store cereal. The whole idea of traditional kitchen design is to 'open up' space and make it as warm and homely as possible. And glass-front cabinets do it effortlessly, without making it your kitchen look ancient at the same time.
2. Natural Color Palette
The color of your kitchen and all the elements in the kitchen set the tone for the style and aesthetics.
Traditional kitchens are known to imitate the outdoors and hence have a natural color palette. Stick to neutral colors like brown, beige, and white when it comes to choosing the colors of your cabinets or your kitchen furnishings.
3. Tile Backsplash
Backsplashes are a great touch in any kitchen, regardless of the design.
However, backsplashes hold a different place in traditional kitchen designs. Tile backsplashes can be the perfect combination of functionality and design here. Whether its glass, terracotta or stone — backsplashes add a new level of design and style to the traditional kitchen design.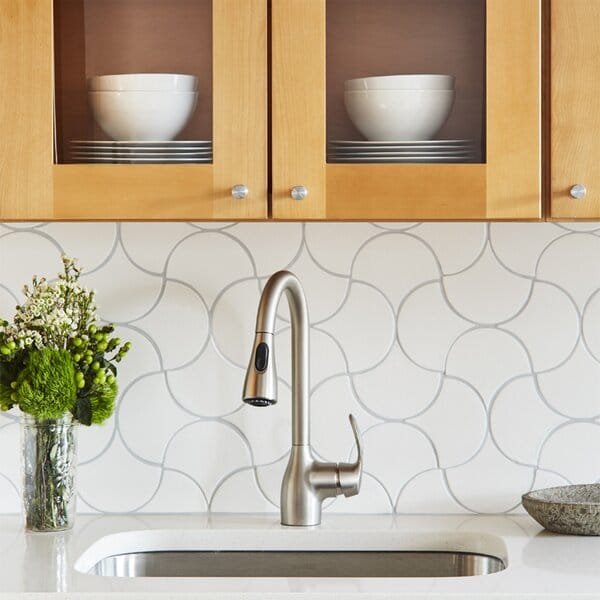 4. Furniture-Style Island
Incorporating architecture is an excellent way of bringing an old-world charm into your kitchen. Antique and vintage furniture give your kitchen an edge that nothing else can.
You can only go so far with replicating a style, but if you incorporate elements that resonate with the old world — you've got yourself a winner.
Since an island is the center point of your kitchen, using a furniture-style island as free-standing furniture is a unique traditional element to incorporate in your kitchen.
5. Incorporate the Outdoors
One of the main factors that distinguish traditional kitchen design from others is that it aims to bring nature indoors. You don't necessarily have to 'open up' your kitchen to the outdoors structurally, but merely incorporate elements that make you feel like you're amidst nature.
Installing wide windows is a good option, but you don't have to stop there. Using natural materials, or materials that imitate nature is another way to bring the kitchen design to life, or so to speak. Start with wooden furnishings, a stone beam, and you're pretty much ready for the traditional kitchen of your dreams.
6. Stick to a Pattern
You know, how sometimes you have to look up for answers and gain inspiration from the celestial beings? In this case, you might want to look down for a second.
Yes, we're talking about flooring. When most people talk about design, they tend to skip past the importance of having the right type of flooring. But as a matter of fact, it plays a huge role in maintaining the design scheme of ANY room, not just the kitchen.
You have to know that traditional kitchens and patterned flooring go hand-in-hand. So, consider opting for a weave or a random pattern on your kitchen floor to give it that edge before you consider a plain marble tile.
7. Use a Theme
If you think that there is a single design known as 'traditional kitchen,' then you are not alone.
That being said, this is not exactly right. Think of traditional kitchen design as a blanket term, and under this, you can incorporate the style of your own home. For instance, if you have a 'Spanish Colonial' house, you can fuse the elements of 'Spanish Colonial' design and 'Traditional Kitchen' design to find the sweet spot that works for you.
It is important to remember that your kitchen has to be in sync with the rest of your house. While there is some room to branch out — ultimately the kitchen should still be in harmony with the rest of your home. A drastically different kitchen not only looks odd but also affects the resale value of the house, and it can be a point of contention among future buyers.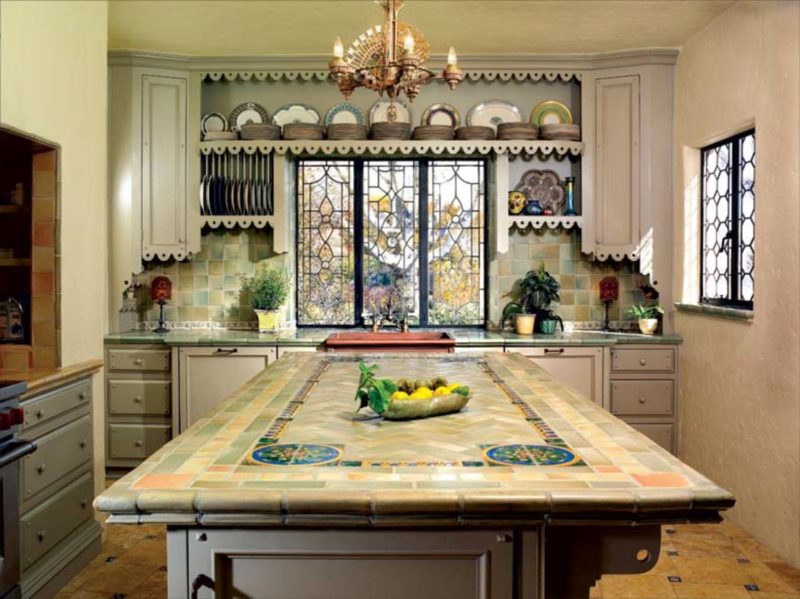 8. Create Focal Points
Your kitchen is among the busiest rooms in your house. At any given point of time, you've got SO much going on. To bring it together, you need to incorporate some focal points in your kitchen. By doing this, wherever your eyes may fall in the kitchen, they will always have something to pay attention to and focus on.
For instance, old-school door knobs on kitchen cabinets are a great way of adding a focal point. Focal points are also an excellent excuse for playing around and having fun while remodeling your kitchen. Want to mix and match? Go ahead! Want to experiment with different designs? The kitchen is all yours!
The Bottom Line
Apart from all these elements, be mindful of the ultimate output you are trying to achieve. A traditional kitchen has to exude warmth and homeliness before anything else. When you're remodeling your kitchen to give it a classic look, be mindful of including elements that bring a traditional sense of familiarity to the table. That will help you take your remodel to the next level.